Highlights and Takeaways from And1 Remix Tour's Winner-Take-All Tourney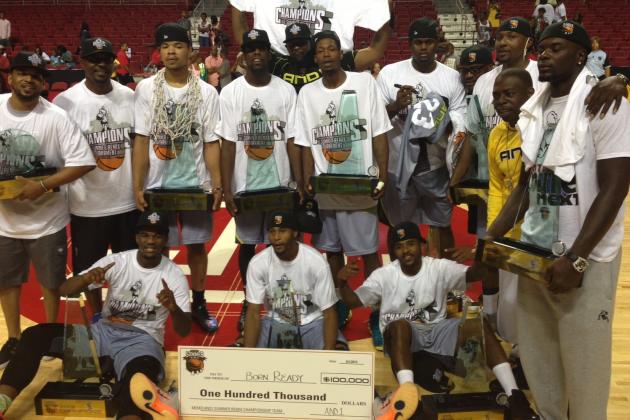 Photo via thesource.com
AND1 has raised the streetball stakes.
In celebration of its 20th anniversary, AND1 hosted a winner-take-all streetball tournament in Philadelphia, Pa. Twelve teams from all over the country showed up for the chance to take home a whopping $100,000 prize, the most lucrative purse in streetball history.
By the end of the weekend, only two teams remained—Born Ready and Summer Pro League.
Preceded by a dunk contest, the championship game played home to droves of intensity and impromptu drama. The crowd at Temple's Liacouras Center was an intimate one, but they remained thoroughly engaged as the tournament's final day unfolded.
When the final buzzer sounded and the ceremonial net was cut down, an oversized check was handed out to the winners, to players who really needed it. It was unlike any other competitive tourney.
Two decades after its inception, AND1 still delivers the ultimate streetball experience to its fans and players.
*All quotes and pictures were obtained firsthand unless otherwise attributed.
Begin Slideshow

»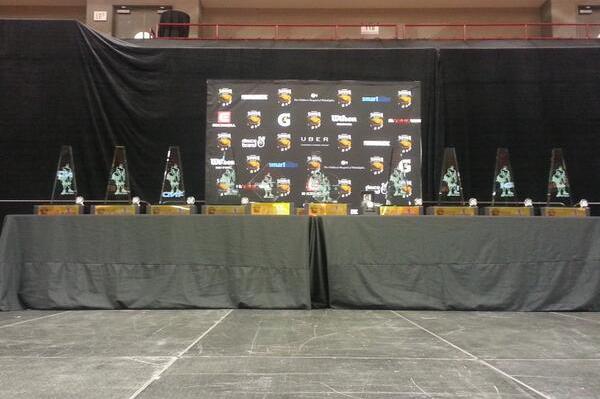 Photo via Twitter.
NBA contracts weren't awaiting the winners of AND1's Summer Remix Tournament, but this wasn't an exhibition display either. To the victor went $100,00, the largest cash prize in streetball history.
Each player from the winning team would be awarded $10,000, and with so much money on the line, there was no in-game showboating. Lobs were tossed, dunks dealt and handles showcased, but not with reckless abandon.
Bodies collided, whistles were argued and the benches were brought to their feet. Defense was played. The on-court atmosphere was not indicative of your average "streetball" contest.
Players wanted, they needed the cash. This was their livelihood. Either they won and walked away with $10,000 or they left with nothing.
No trophy. No bragging rights. And more importantly, no money.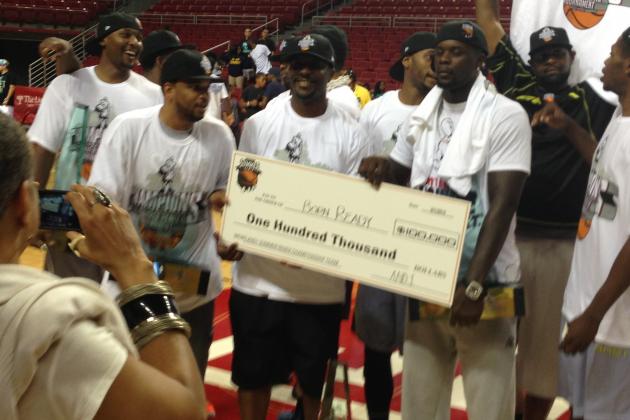 Born Ready, coached by Lance Stephenson of the Indiana Pacers, took the floor against Summer Pro League. Four quarters later, they paced themselves toward a 74-71 victory in dramatic fashion.
Players from the winning side weren't as serious afterward. There was laughing and smiling—lasting celebration. Yet there was also an air of gratitude. You could tell winning this money meant something.
"It's a blessing," Born Ready's Billy Baptist said of winning. "A lot of guys who play overseas, who have been home for the whole summer, some of our cash is depleted so it's a good way to keep some money in our pocket so we can keep working out good."
"I've got some bills and [I'll] put some gas in my car," he added.
Borne Ready's crew had plans for this cash. Not lavish visions of material spoils. Sensible plans. The kind that were essential to their survival.
Once the game tipped off, it was business not-like usual.
Any gimmicks or general sass came from the Emcee, Joe Pope. Crowd-pleasing dunks were history; this wasn't the dunk contest. Real money was on the line.
Even when Born Ready jumped out to a 10-0, and took a 40-30 lead into halftime, coach Stephenson wouldn't let his troops become complacent.
"I kept telling them to play aggressive, make the right plays and just be smart, don't make no bad decisions," he said of his halftime speech.
Summer Pro league came storming back in the second half, scrapping their way toward a one-point lead in the waning minutes. Borne Ready eventually regained the lead, though. Down by three inside 20 seconds to play, Summer Pro League caromed a game-tying trey off the rim; Born Ready had won.
A champ had been crowned.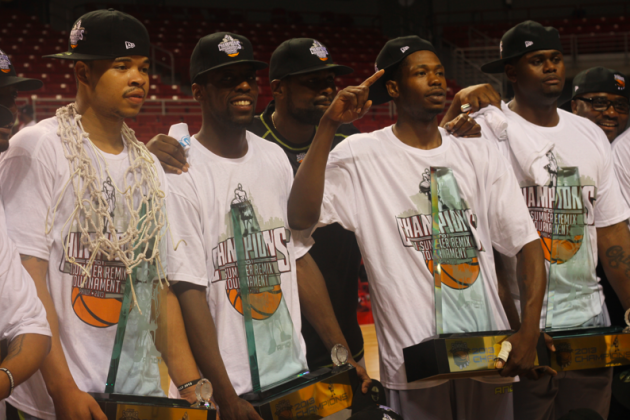 Photo via thesource.com.
Born Ready paraded around the court immediately following their three-point victory. They took pictures, received trophies and took in the five-figure payday each of them was about to receive.
"We played together," Stephenson said afterward, while his team was still relishing in their victory. "We held our heads the whole game. We never let down even when they were up one. We just played hard together."
Postgame reflection was brief, though, as it was back to work the very next day for some of the champs.
"You know what, I leave to sign a contract in Turkey so my flight is tomorrow night," Born Ready's Osiris Eldridge, the tournament MVP, said. "I have a quick turnaround, go back to Chicago and get ready to leave. I don't even think I have time to cash the check."
Eldridge was a winner; his team was a winner. But soon enough, it was back to reality, where their share of $100,000 would be put to good use—whenever they were able to claim it, of course.
Before the championship game was the dunk contest, where another $10,000 were at stake.
Justin Darlington, Guy Dupuy, Brandon Lacue, Rafal Lipinski, Haneef Munir and Chris Staples all took part in the event, which was judged by Stephenson, Michael Bivins (Sporty Rich, New Edition and BBD) and Linda Hill (AND1 Live Tour Director).
Participants used props in the form of people and improvised as they went along, all the while knowing 10 grand awaited the winner. As much as it was about electrifying the crowd, it was about impressing the judges, about winning. About earning a much-needed check.
"It is a different competition," Dupy said of the contest. "There's a lot of money on the line."
Money that Dupuy went on to win.