NFL Power Rankings: Teams with Best Shot at Moving Up List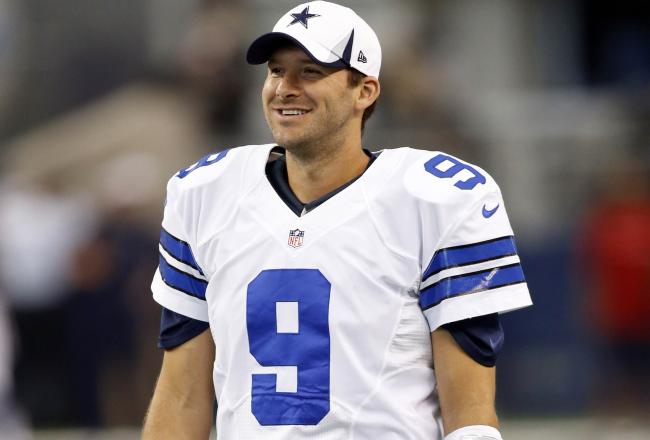 Tim Heitman-USA TODAY Sports
Don't sleep on the Dallas Cowboys, New Orleans Saints and Tampa Bay Buccaneers, despite their initial positions in most NFL power rankings.
They might not look like Super Bowl contenders as Week 1 of the NFL season prepares to kick off, but they have a lot of potential to rise up as the season moves on. It could take some time, but by the end, expect to see them potentially being discussed for positions inside the top 10.
Take a look at where they stand now among the rest of the teams in the NFL, and read about why they're candidates to make some big moves in 2013.
*Highlighted teams are italicized.
1. San Francisco 49ers
It's hard to imagine the San Francisco 49ers defense being better than it was last year. Add in a couple of new faces like Glenn Dorsey and Nnamdi Asomugha, and that could be a reality. Offensively, they'll need someone to step up at the No. 2 receiver position, but the addition of Anquan Boldin will help in the meantime.
2. Seattle Seahawks
The Seattle Seahawks are going to be a tough matchup again in 2013. With their dominant, stifling defense and balanced offense—even without Percy Harvin—Seattle is on the verge of big things.
The only question is whether or not the Seahawks can topple their divisional rivals to grab the top spot.
3. Denver Broncos
Defense might win championships, and the Denver Broncos are no slouches in that department, but so do Peyton Manning, Wes Welker, Demaryius Thomas and Eric Decker. That quartet is one of the most lethal you'll find anywhere in the NFL.
With Ronnie Hillman getting the nod at running back, they have plenty of speed on the field for Manning to exploit defenses.
4. Atlanta Falcons
The Atlanta Falcons should be happy that they don't have to play themselves in 2013. Starting a rookie cornerback and deploying aging defensive end Osi Umenyiora as their top pass-rusher aren't exactly breathtaking moves.
They have an electric offense with the ability to put up a lot of points, but they have to prove that they can stop top-flight offenses before they're ready to climb the rankings.
5. New England Patriots
People are doubting Bill Belichick and Tom Brady's ability to get by with undrafted free agents and replacement players. Losing Rob Gronkowski to start the season hurts, and Welker skipping town does too, but don't ever count this team out as long as those two are in town.
6. Green Bay Packers
A balanced Green Bay Packers offense could signal their return atop the NFC.
That is, of course, if they can prove capable of stopping the read-option. Colin Kaepernick exposed the Green Bay defense, running wild on them for an NFL-quarterback record of 181 yards in the playoffs last year.
7. Houston Texans
DeAndre Hopkins hopes to be the No. 2 receiver Andre Johnson has been missing all his life. If he pans out, the Houston Texans might finally find the proper balance offensively to get to the next level.
Their secondary has to keep some plays in front of itself, too.
8. Indianapolis Colts
What happens when you reunite a top quarterback like Andrew Luck and the offensive coordinator that helped groom him in college? Big things, the Indianapolis Colts are hoping. Establishing the run more in 2013 will help the youngster by keeping defenses honest.
9. Baltimore Ravens
Defending champions don't normally fall this far in the rankings. They also don't usually say goodbye to several of the key players that made their championship possible. Ray Lewis, Ed Reed, Paul Kruger, Cary Williams, Dannell Ellerbe and Bernard Pollard are all gone.
10. Cincinnati Bengals
This ranking is about Andy Dalton more than anything else. The Cincinnati Bengals got stronger on defense and added key offensive rookies in Giovani Bernard and Tyler Eifert.
But is Dalton ready to step up and lead them to the Super Bowl?
11. Washington Redskins
The Washington Redskins are one injury to Robert Griffin III away from dropping out of playoff contention and sliding down the rankings.
Even with RGIII, the 'Skins are likely going to have change up their game plan to help protect him. It's hard to imagine them making a deep run with backup Kirk Cousins starting, although he has proven capable at times in his young career.
12. New Orleans Saints
Even with the worst defense in NFL history, at least in terms of yardage allowed, the New Orleans Saints finished 2012 with a 7-9 record. That was without head coach Sean Payton—the man who led them to a Super Bowl victory—writing the script and calling the shots.
In 2013, Payton makes his triumphant return to the sidelines, and Drew Brees is probably giggling with excitement just thinking about it.
Even without Payton, Brees still threw for over 5,000 yards last year.
Where will the Saints finish in NFL power rankings?
But let's get back to their defense—we know the Saints offense will be as fine as ever. Rob Ryan enters the picture to help change the fortunes of a season ago. His attacking style is no stranger to New Orleans. Gregg Williams ran a similar setup when the team captured the 2009 Super Bowl.
But injuries have left the Saints D thin. It's hard to keep track of how many key players have been lost for the season. Above all else, though, Ryan's tenacious philosophy should help the team improve upon its dreadful performance of a season ago.
With an even marginally better defense, the Saints should be considered contenders once again.
13. Chicago Bears
Can new head coach Marc Trestman get the best out of Jay Cutler? Or does the team stop blaming struggles on the offensive line and start to look elsewhere for answers?
14. Minnesota Vikings
The Minnesota Vikings won a lot of close games last year. They didn't always look like the better team on the field when they did it, either. Inconsistency and poor play from quarterback Christian Ponder are a shame, too, because Adrian Peterson has NFL records on his mind.
15. New York Giants
Eli Manning got some help along the offensive line in April, but the New York Giants look a lot like the 9-7 team we saw on the field last year.
Can they keep up with the rising Dallas Cowboys and the Redskins?
16. Kansas City Chiefs
Andy Reid didn't come to Kansas City to lose. Perhaps he can finally get the most out the talented roster we keep hearing so much about.
Despite having an NFL record six players named to the Pro Bowl last season, the team won just two games.
17. Dallas Cowboys
Dallas has new offensive and defensive schemes heading into 2013. But will Tony Romo finally lead the Cowboys to the Promised Land? There are a lot of unknowns at play, but this is a team that could surprise.
Romo, fresh off of a huge contract extension, should benefit from Bill Callahan's new offense. The scheme will feature more two-tight end sets manned by Jason Witten and rookie Gavin Escobar. The quarterback will also have new weapons to work with in rookies Joseph Randle and Terrance Williams.
Where will the Cowboys finish in NFL power rankings?
Defensively, Monte Kiffin is leading a shift to a 4-3 alignment. Dallas has the personnel to pull it off already, so it shouldn't be much of a shock. DeMarcus Ware and Another Spencer both figure to have big seasons rushing the passer from their new defensive end positions.
In the Dallas secondary, free-agent acquisition Brandon Carr will form a formidable duo with Morris Claiborne at the corners.
Despite all of the changes, the Cowboys have the talent and coaching to pull off a big turnaround in 2013.
It might not happen initially, but they'll be on the rise before you can say "R-O-M-O."
18. St. Louis Rams
The St. Louis Rams defense ended up in the middle of the pack in terms of passing and rushing last year.
Adding some weapons for Sam Bradford in the offseason should help their offense, but how will it all come together?
Playing in the brutal NFC West surely doesn't help matters for Jeff Fisher's squad.
19. Pittsburgh Steelers
The Pittsburgh Steelers can't catch a break with their draft picks. Losing rookie running back Le'Veon Bell for significant time definitely hurts, but it's not going to matter much if their offensive line doesn't improve this year. In 2012, the unit produced a league-worst 1.7 yards before contact on running plays.
20. Cleveland Browns
Another new head coach and another shift in personnel leave the young and promising Cleveland Browns in unknown territory. On one hand, they have a potentially great running back in Trent Richardson, but on the other they have Brandon Weeden at quarterback. Weeden might shine in Norv Turner's offense, but the jury's still out.
21. Miami Dolphins
The Miami Dolphins spent big money this offseason improving their roster in some key areas. However, running back Lamar Miller has been inconsistent, and Ryan Tannehill is in virtually the same position as Weeden.
Their strong defense will help them contend, but winning games may be hard unless their offensive line can consistently win matchups.
22. Tampa Bay Buccaneers
The Tampa Bay Buccaneers boast an offensive line anchored by three Pro Bowlers: guards Carl Nicks and Davin Joseph and tackle Donald Penn. The starting five has a combined 320 total starts. Tampa also has Pro Bowl talent at wide receiver in Vincent Jackson and a future All-Pro in running back Doug Martin. Don't discount Mike Williams, either, on the other side of Jackson.
Where will the Buccaneers finish in NFL power rankings?
Questions about quarterback Josh Freeman have tempered expectations for the Bucs again this season. This year, though, is his contract year. Freeman will sink or swim and take the Bucs with him in whatever direction he goes.
On defense, the Bucs fielded league's worst pass defense from a season ago, but they seemed to have done a 180-degree turn this offseason. After getting torched all of last year, the Bucs bolstered their secondary by adding Darrelle Revis, Dashon Goldson and rookie Johnthan Banks. Their rush defense was the best in the game, allowing just 82.5 yards per game.
Was that just because of how easy it was to pass, or is the Bucs defense ready to re-emerge as one of the elite units in the NFL?
23. Carolina Panthers
Improvements on the defensive line were much needed in Carolina. Hopefully the Panthers can find a way to help linebacker Luke Kuechly slow down opposing rushers.
Offensively, Carolina didn't do much to help Cam Newton succeed.
24. Detroit Lions
Matthew Stafford is only going to last as long as his offensive line allows. And other than Calvin Johnson, the strong-armed quarterback doesn't have many viable options.
Although the Lions have a solid unit along the defense front, there are a lot questions about their secondary and overall depth on that side of the ball.
25. San Diego Chargers
Another team with issues on the offensive line is the San Diego Chargers. Just ask quarterback Philip Rivers. They also haven't improved very much offensively, have injury-prone and depleted skill players, and will have to battle against the Broncos and Chiefs four times this year.
26. Arizona Cardinals
Losing first-round pick Jonathan Cooper for the season stings a team deeply that was miserable in the trenches a year ago. Running the ball is going to be tough, and we've seen how well Carson Palmer performs when he doesn't have run support or time to throw.
27. Philadelphia Eagles
Chip Kelly's offense is going to be fun with Mike Vick at the helm. Whether it succeeds or goes up in smoke remains to be seen.
Defensively, the Philadelphia Eagles look like one of the worst units in the league, at least on paper.
28. Tennessee Titans
The Tennessee Titans made some big additions, literally, to their offensive line this offseason. Chris Johnson—and fantasy owners—are ecstatic about Chance Warmack and Andy Levitre paving the way for him this season.
Unfortunately for the Titans, Jake Locker doesn't look like he has clue.
29. Buffalo Bills
Rookie quarterback EJ Manuel will get his first shot in the NFL with rookie head coach Doug Marrone calling the shots. C.J. Spiller figures to be a huge part of Buffalo's offense—that's not a bad thing. However, Manuel lacks too many other weapons to really shine in his first season.
Defensively, the Bills figure to be a mess again, specifically in their secondary.
30. New York Jets
Picture a clip of the "Butt Fumble" on repeat for 30 consecutive minutes. Ladies and gentlemen, I present to you your 2013 New York Jets.
31. Oakland Raiders
Terrelle Pryor is starting in Oakland. That's pretty much all you need to know.
32. Jacksonville Jaguars
Jacksonville will struggle no matter who is behind center. Losing receiver Justin Blackmon—predictably—to a four-game suspension to start the season doesn't help matters.
The Jags were last in the NFL in sacks in 2012 and don't figure to be much better this year. Their defense will be rough, and they won't be able to score enough points to make up for that.
This article is
What is the duplicate article?
Why is this article offensive?
Where is this article plagiarized from?
Why is this article poorly edited?