2013 NFL Predictions: Teams That Will Reach Playoffs After Missing out in 2012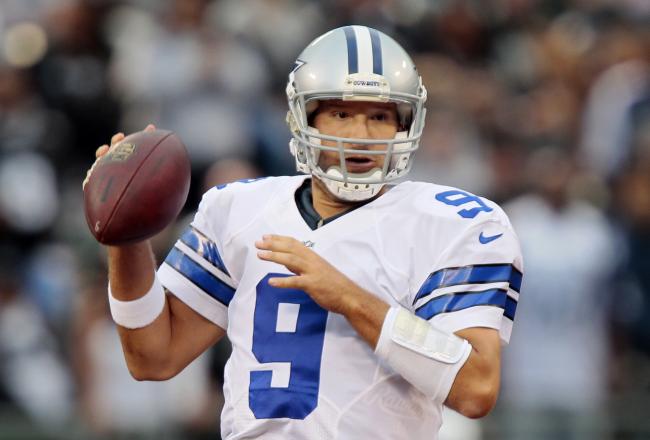 Brian Bahr/Getty Images
While most fans seem to agree that teams like the Denver Broncos, San Francisco 49ers and Seattle Seahawks will be title contenders this year, there are plenty of playoff spots up for grabs in both conferences that could go to pretty much anyone at this point. With that in mind, several teams who didn't qualify for the playoffs last season have a golden opportunity to do it this year.
Parity is one of the best things about the NFL, and it seems to play a role every season, as there are always a few surprise teams that exceed expectations. At the same time, there are going to be talented teams that disappoint as well. That was quite apparent in 2012, but many of the teams that played below their potential are now ready to bounce back.
Here are three teams that missed the playoffs in 2012 but are poised to make up for it by qualifying for the postseason in 2013.
Dallas Cowboys
Few teams in professional sports have perfected the art of disappointment like the Dallas Cowboys. The Cowboys are viewed as one of the most talented teams in the league on a yearly basis, but they seemingly always find a way to mess up.
It can't be said with 100 percent certainty that they'll avoid that same fate in 2013, but "America's Team" is due to get the job done. Many outlets are expecting bigger things out of the Cowboys this year, including NFL.com's Michael Silver, according to NFL Network.
'The Dallas Cowboys. It's finally their turn [to win the NFC East].' http://t.co/RQ0yeo7C38

— NFL Network (@nflnetwork) August 28, 2013
Provided Dallas is able to put it all together, it's easy to envision the Cowboys winning the NFC East this year. It starts with the offense, as the Cowboys could have the most explosive offense in the NFL. With weapons like Dez Bryant, Jason Witten and Miles Austin at his disposal, quarterback Tony Romo is in an advantageous spot. Romo is often criticized for his failure to come up big in important moments, but he is one of the best signal callers in the game from a statistical standpoint.
The Cowboys also have the potential for a great running game provided DeMarco Murray is able to stay healthy. On the defensive side of the ball, Dallas always seems to underachieve. However, that could change under new defensive coordinator Monte Kiffin. He knows how to properly utilize defensive talent, so star pass-rushers such as DeMarcus Ware and Anthony Spencer are in line for a huge season.
Defense truly is the key to Dallas' success this season, and Kiffin is going to implement a system that finally allows the talent of the personnel to shine through.
Pittsburgh Steelers
With an aging corps of players on the defensive side of the ball and injuries always lurking offensively, it seems like plenty of prognosticators are down on the Pittsburgh Steelers this year.
The Steelers had a rough 2012 campaign, as they went just 8-8, but there is reason for optimism in 2013. The biggest reason for that is the fact that the AFC looks weak on paper. The Broncos, New England Patriots, Houston Texans and Cincinnati Bengals seem like fairly safe playoff bets, but the other two spots are totally up for grabs.
The defending Super Bowl-champion Baltimore Ravens, who happen to be the Steelers' AFC North rivals, are definitely in the running, but they lost a lot of talent this offseason. Experts are down on the Steelers, and while they didn't bring in a ton of talent, the only thing they really lost was wide receiver Mike Wallace. He extremely inconsistent last season anyway, so that probably won't have a huge impact on Pittsburgh this year.
Despite the door being wide open, former Steelers running back Jerome Bettis isn't particularly excited by the team's prospects this season, according to ESPN's Cari Champion.
New ESPN analyst The Bus says his @steelers are least improved but 3rd in division with the possibility of being 2nd as season progresses.

— Cari Champion (@CariChampion) August 26, 2013
That is understandable after last year, but quarterback Ben Roethlisberger's health will play a big role. He was dominant before getting injured last season, so a full 16-game slate out of Big Ben would do wonders for Pittsburgh. The running game figures to struggle, but Roethlisberger is capable of being a high-volume passer.
Also, the Steelers had the league's best defense in terms of yards allowed last season, as they gave up just 276 yards per contest. They were the No. 6 scoring defense as well at 19.6 points allowed per game, so the Steel Curtain is still intact. As long as the defense remains strong, and a couple offensive weapons such as wide receiver Emmanuel Sanders and running back Le'Veon Bell step up, the Steelers will be in good shape this year.
New Orleans Saints
Which 2012 non-playoff team will reach the postseason in 2013?
The New Orleans Saints' 2012 season was essentially doomed from the start as they stumbled out of the gates and were never able to recover. The Saints went 7-9 and missed the playoffs for the first time since 2008, but their drought shouldn't last long.
Sean Payton is back as head coach after a yearlong suspension, and that alone should be a huge driving force for the Saints. With "Bountygate" now firmly behind them, the Saints are ready to get back to business, and perhaps seize the NFC South crown back from the Atlanta Falcons.
Even if the Saints are unable to win the division, though, a playoff berth seems likely. Having a great quarterback is half the battle in the NFL, so New Orleans is ahead of the game with Drew Brees under center.
Brees was spectacular once again last season, and he'll have a full complement of weapons, including Marques Colston, Jimmy Graham and Darren Sproles. Also, New Orleans recently re-signed former Saints wide receiver Robert Meachem, according to the team's official Twitter account.
The #Saints have signed WR Robert Meachem to a 1-year deal! pic.twitter.com/X0fr8BDTPQ

— New Orleans Saints (@Saints) September 3, 2013
Meachem admittedly looked washed up with the San Diego Chargers, but he and Brees already have a great rapport. The true concern, though, is on defense. The Saints defense was historically bad last season, as they allowed 28.4 points and an incredible 440 yards per game.
The Saints didn't make a ton of moves that would suggest the defense will be significantly better, but they did select safety Kenny Vaccaro in the first round, so they now have a playmaking threat in the secondary at the very least.
Even if the Saints defense isn't great, though, the offense guided by Payton and Brees will be good enough for a return trip to the playoffs.
Follow @MikeChiari on Twitter
This article is
What is the duplicate article?
Why is this article offensive?
Where is this article plagiarized from?
Why is this article poorly edited?