Despite a 44-30 loss to the No. 22 ranked Northwestern in Week 1, the California Golden Bears were able to put up quite the fight in head coach Sonny Dykes' debut in Berkeley on Saturday, August 31.
Needless to say, Cal's performance prompted some unique and interesting responses on Twitter.
The Bears have the luxury of playing in Northern California, near the heart of the tech world. As a result, there is no shortage of involved fans and opinions close to technology. Twitter is part of that relationship and there are a number of tweets that are worth taking a close look at following last Saturday's game.
Cal Is Relevant Again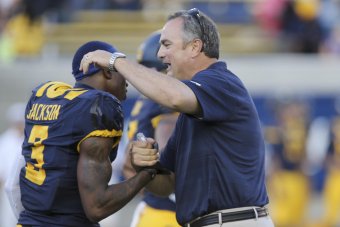 Kelley L Cox-USA TODAY Sports
Cal fans will remember last season. It was the year that ended former head coach Jeff Tedford's 11-year tenure in Berkeley, and a year that saw the Bears go 3-9 and a continued fall from prominence in the Pac-12 Conference.
Yet things appear as if Dykes is turning it around in Berkeley, and the team's performance in Week 1 may suggest such.
The team is no longer an embarrassment and the future may very well be bright.
Joe Davidson of the Sacramento Bee tweeted such on September 1.
Cal Bears being watchable is a nice 1st step http://t.co/pdG6NOTsaQ

— Joe Davidson (@SacBee_JoeD) September 1, 2013
Yes, there was a time—just a year ago—that was hard to watch. It seems as if that has changed. Cal looked good against a top-25 team and that has to be a positive sign moving forward.
As Davidson says, it is a good first step and one that plenty of Cal fans should echo.
To Be Injured or Not To Be Injured—That Is the Question
One of the more intriguing elements of last Saturday's game were allegations that Northwestern was intentionally having its players fake injuries to thwart the Bears' fast-paced offense.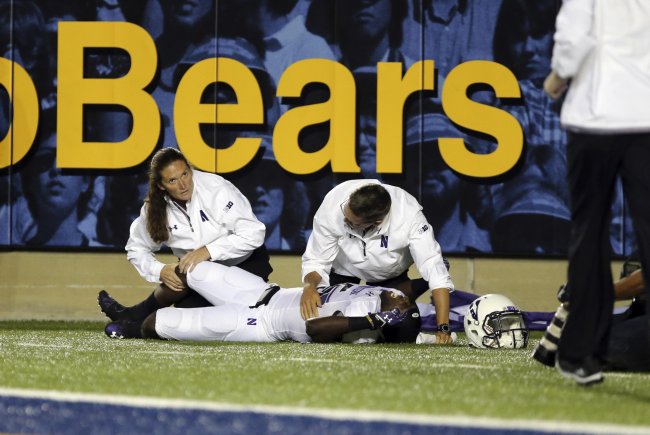 Kelley L Cox-USA TODAY Sports
While Dykes did not come out and state that the injuries were faked, he did acknowledge that they had an effect on his offense. In an interview published via CSN Bay Area's Kyle Bonagura, Dykes stated:
It affected it a lot. You know it was just unusual, it seemed like every time we had a first down they would have an injury. I hadn't seen that, didn't expect to see that, was disappointed that I saw that but that's the way it goes sometimes.
So what did the Twitter universe have to say about it?
Bonagura wonders if Northwestern was faking injuries.
Fakers? RT @CSNAuthentic: Flow of #CalBears offense impacted by Northwestern's injuries http://t.co/ANO54U6c6s

— Kyle Bonagura (@KyleBonagura) September 1, 2013
In addition, @Boodog4849 thought that it was the case. He also felt that penalties were not entirely going Cal's way.
Bad Karma Northwestern faking all these injuries.

— Boodog4849 (@boodog4849) September 1, 2013
California Golden Blogs were also pretty vehement in accusing Northwestern of faking injury.
Northwestern Has Signed With Life Alert As A Corporate Sponsor http://t.co/LDymteYqWv

— GoldenBlogs (@GoldenBlogs) September 1, 2013
Whatever the case, the apparent injuries to Northwestern beg further questions as to what the NCAA should do to prevent coaches from intentionally having players appear injured in situations where a timeout would be best saved.
Who Would Have Thought?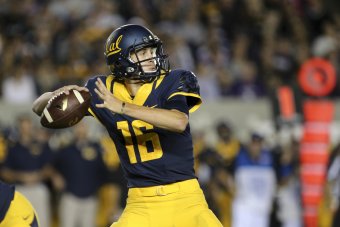 Kelley L Cox-USA TODAY Sports
The Bears have some talent—really good talent.
True freshman Jared Goff had a promising debut under center as he finished with 445 passing yards and two touchdowns. While he did throw three interceptions in the game, it is likely that Bears' fans will come to like this kid.
Wide receiver Chris Harper also had a big impact, netting 11 receptions for 151 yards and hauling in both of Goff's touchdown passes.
Like Goff, Harper may be a player to watch.
California Golden Blogs had this to say about Goff.
Raise your hand if you thought Goff would have almost 450 yards tonight. The future is bright for the #BearRaid

— GoldenBlogs (@GoldenBlogs) September 1, 2013
John Breech, NFL writer for CBS Sports, sang Harper's praises.
Chris Harper has been making my phone camera work hard tonight, here's his second TD #Cal pic.twitter.com/Jhize0JPej

— John Breech (@johnbreech) September 1, 2013
What these tweets mean is pretty simple. Cal is developing some talented athletes that will have a positive impact on the team over the course of this season. It will be exciting to see exactly what happens in the weeks that follow.
Sure, it was a loss and the Golden Bears' 2013 opener did not go according to plan.
Yet given the task that they faced, the fact that Cal put forth such a commendable effort speaks volumes. In spite of the alleged injury controversy, the Bears almost pulled this one off.
There were plenty of bright spots that surpass the questionable ones.
Thankfully, Twitter caught them all.
Peter Panacy is a featured columnist for Bleacher Report. Follow him @PeterMcShots on Twitter.