Recent College Stars Who Flamed out in the NBA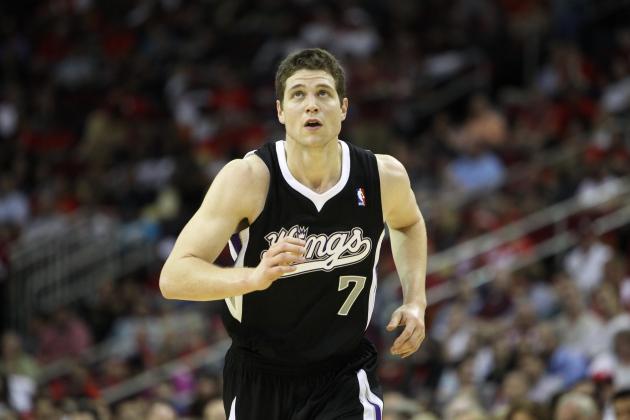 Brett Davis-USA TODAY Sports

Could Jimmer Fredette be the next Adam Morrison or Jonny Flynn? Some of the NCAA's best go the way of NBA dinosaurs long before it'd be fair to actually call them dinosaurs.
Guys like Fredette (or newest Los Angeles Laker Wesley Johnson) seem born to make us question NBA front offices. Fredette was taken by the Sacramento Kings with the 10th pick in 2011, Johnson by the Minnesota Timberwolves with the fourth selection in 2010.
Neither has averaged double-figure scoring in their combined five years of pro experience. To be fair, both are still young enough to turn that around—a possibility that's little consolation to the teams that drafted them.
Sticking around the best ballers in the business isn't easy, no matter how impressive those collegiate credentials are. Fredette and Johnson weren't drafted so highly by accident. Even if some blame lies with front offices and their draft boards, predicting how an elite prospect's skills will translate to the next level is never an exact science.
Over the last couple decades, there's ample evidence of that.
Begin Slideshow

»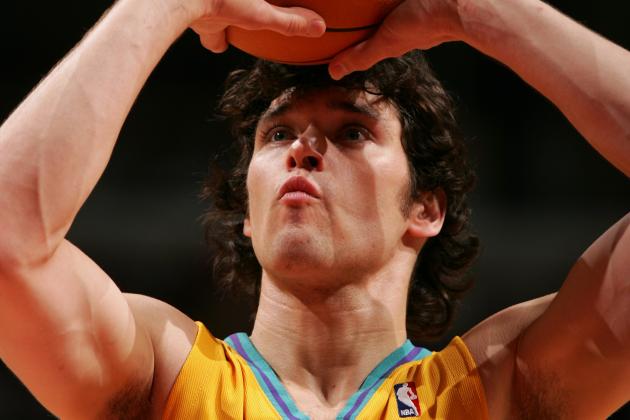 Jonathan Daniel/Getty Images

Gonzaga star Dan Dickau managed to stick around the NBA for a while but only had one season worth remembering (with the New Orleans Hornets in 2004-05). Maybe it's a stretch to call that kind of outcome "flaming out," but it was disappointing by Dickau's college standards for sure.
Before his NBA career stagnated, Dickau was a four-year stud at the NCAA level. He was a first-team All-American thanks to posting 21 points a game as a senior. His NBA legacy had more to do with his wife than any hoops-related accomplishment.
Not a total loss.
By the time Dickau moved on for good in 2008, he'd played with six different teams in as many years, eventually finishing on a relatively high note of playing 15.5 minutes a game with the Los Angeles Clippers in 2007-08.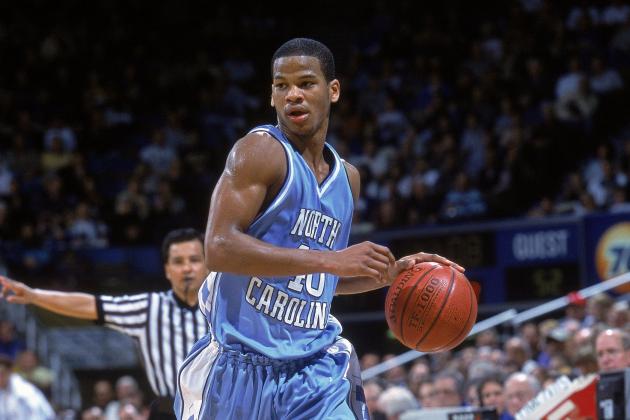 Jonathan Ferrey/Getty Images

An All-American First-Teamer and ACC Player of the Year in 2001, North Carolina's Joe Forte seemed to have all the makings of a prolific NBA scorer. In just his second season with the Tar Heels, Forte scored over 20 points a game.
In his entire NBA career, however, he played in just 25 games—and he never averaged anywhere near 20 points.
Forte himself chalks it up to the Celtics trying to make him into a point guard, taking him away from his bread-and-butter scoring tendencies. That's never an easy transition to make, and all the harder without enough regular playing time to get those floor-general skills down just right.
And by irregular playing time, we're talking less than 40 minutes total throughout the entirety of his rookie season.
That luck hardly turned around with the Seattle SuperSonics a year later. After he'd created a reputation as negative locker-room influence, the Sonics waived Forte and put an unceremoniously quick end to his NBA career.
Forte's been bouncing around the NBA D-League and overseas since 2004, retracing the same path followed by so many hastily ended NBA careers.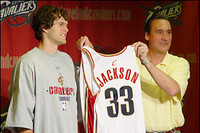 Luke Jackson's four-year career at Oregon was so good that the Cleveland Cavaliers thought it would be a good idea to take him with the 10th overall pick.
You can begin to understand why the organization ultimately failed to retain franchise face LeBron James.
Jackson never played in more than 36 games during any of his four pro seasons, and he's hardly to blame. He underwent two back surgeries before he could even escape his second campaign in Cleveland, ultimately fizzling out in limited action with the Clippers, Raptors and Heat before it was all said and done.
His best days quickly behind him, Jackson suffered through NBDL time and a couple of non-starter training camp invitations before regrouping and taking his talents to Northwest Christian University in Oregon as a coach.
Matthias Kern/Getty Images

Not all Duke products are equal, even the ones who break records.
Trajan Langdon temporarily broke Duke's for made three-pointers, establishing himself as an "Alaskan Assassin" with the kind of skill set that usually translates pretty well into the NBA.
But after three seasons with the Cleveland Cavaliers—who selected him with the 11th pick—Langdon's ability to shoot better than 40 percent from beyond the arc wasn't enough to keep him in the league. After a failed attempt to stick around with the Los Angeles Clippers, Langdon found his way to Europe and finally to the San Antonio Spurs' scouting department.
Langdon's playing days didn't last, but he's a reminder that there's more than one way to make an impact at the NBA level.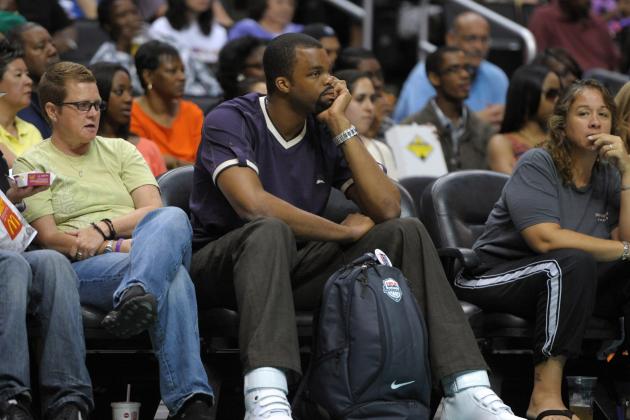 Kirby Lee-USA TODAY Sports

Shelden Williams was a double-double machine in his last two seasons with the Duke, beastly enough for the Atlanta Hawks to take him with the fifth overall pick in 2006.
The optimism didn't stop with the draft, though. In just six years of NBA action, seven different teams took a shot at the power forward hoping to see some semblance of his youth. Given that Williams' size was never ideal for the NBA ranks, his rebounding remained pretty impressive, especially when given the opportunity.
He averaged as many as six boards a game in his final NBA season (this one with the New Jersey Nets in 2011-12) but never got the kind of opportunities he had in the NCAA, averaging just 15.5 minutes over the course of his career.
In college, Williams' stout defense earned him a reputation as "The Landlord." In the NBA, he became better known as one of the league's less attractive players.
That pretty much sums up the difference between Williams' two careers.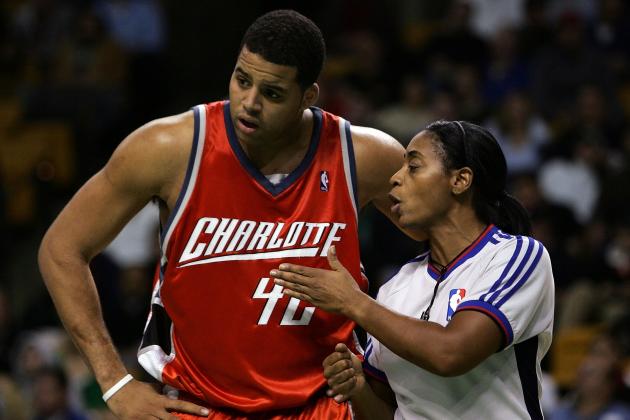 Elsa/Getty Images

An NBA career probably could have gone better when you find yourself unwanted by teams like the Charlotte Bobcats and Sacramento Kings.
That's where Sean May spent his four NBA seasons after playing like an absolutely beast for North Carolina until declaring for the draft before his senior year and subsequently being selected 13th by Charlotte.
May's mass made him dangerous in the paint while playing for the Tar Heels, but he was never tall or skilled enough for that size to translate at the pro level. Hard as it is to think about a guy like this as undersized, having a center's playing style without the length to pull it off is typically a deal-breaker in the NBA.
No matter how badly its worst team needed a big man.
May produced relatively strong numbers in his first two seasons with Charlotte, but early injuries and microfracture surgery in 2007 eliminated any chance to stick around the big leagues for long. He sputtered out to the tune of 3.3 points per game in just 37 games with the Kings.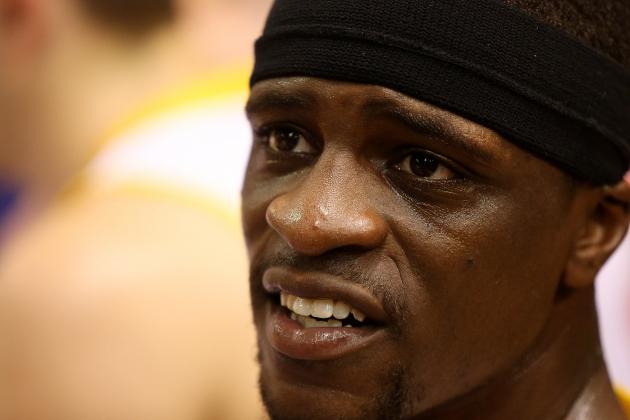 Morne de Klerk/Getty Images

Jonny Flynn still has a chance, but thus far the 24-year-old hasn't even come close to meeting expectations. He was initially selected sixth by the Minnesota Timberwolves immediately after the organization took Ricky Rubio, starting 89 games through his first two seasons while Rubio remained overseas.
Flynn's history at Syracuse—which began with 28 points in his very first game with the Orange—had given the organization enough reason to believe that he could stick with or without Rubio around.
However, Luke Ridnour's arrival in 2010-11 and an untimely hip injury (and subsequent surgery) led to a steep decline in Flynn's minutes and production, which actually weren't terrible as a rookie. Rubio's impending arrival made those results expendable, so Flynn looked to turn over a new leaf when traded to the Houston Rockets.
Instead, he played 11 games with Houston before being jettisoned directly to the Portland Trail Blazers, where he only played another 18 more.
Flynn spent last season playing in Australia.
If he can round out his game on the defensive end and return to some semblance of the rhythm he demonstrated as a rookie, there's still time to get off this list for good.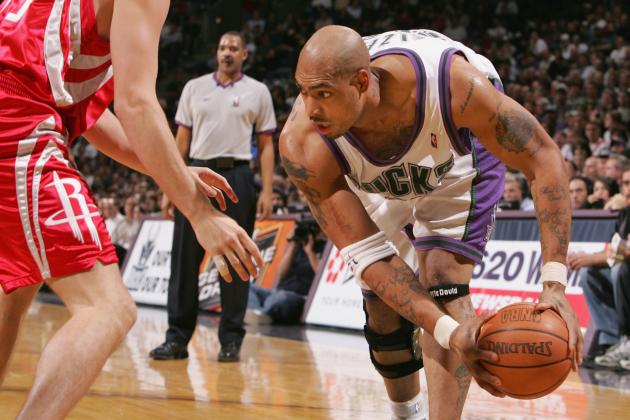 Jonathan Daniel/Getty Images

Marcus Fizer did enough damage in the Big 12 to tempt the Chicago Bulls into taking him with the fourth overall pick in 2000. In just three seasons with the Iowa State Cyclones, he became the school's fifth-highest scorer of all time.
At first, Fizer even seemed like he might have been worth the premium draft position—or at least like he was capable of getting there.
He followed up a somewhat successful rookie showing (9.5 points, 4.3 rebounds) with slightly more productive second and third seasons in Chicago but never averaged more than 25.8 minutes in a season. And after sporadic starts early on with the Bulls, Fizer settled into more of a role-playing capacity and eventually fell victim to a torn ACL that functionally sidelined his career for good.
After failed attempts to stick with the Milwaukee Bucks and New Orleans Hornets, you guessed it, Fizer wound up overseas.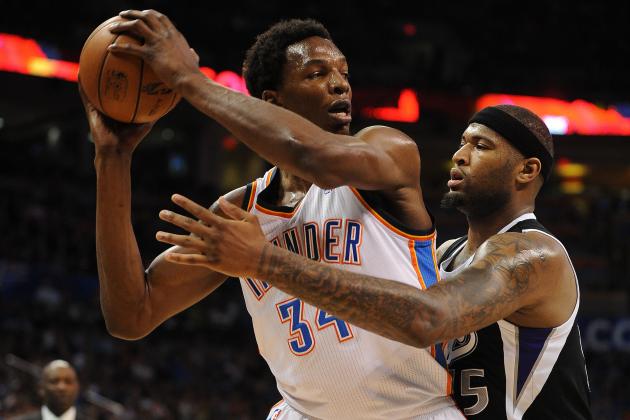 Mark D. Smith-USA TODAY Sports

With a 7'3" stature that makes a difference at any level, Hasheem Thabeet dominated the college level to the tune of over four blocks a game in both his sophomore and junior seasons, baiting the Memphis Grizzlies into selecting him with the second overall pick in 2009.
It's been a downhill spiral for Thabeet ever since, one that couldn't be stopped by stints with the Houston Rockets, Portland Trail Blazers or—thus far—the Oklahoma City Thunder.
Still just 26, Thabeet has two non-guaranteed years left on his contract, and his upside as a dominant interior defender should keep him around OKC at least until the Thunder find a better backup for Kendrick Perkins.
If his skills come along in the near future, he may even be a replacement option when Perkins' time is up.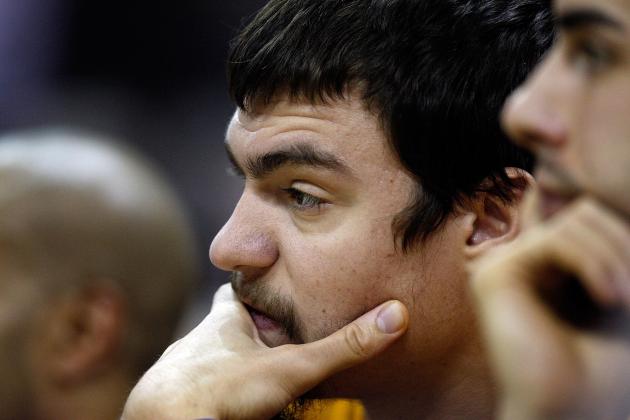 Ronald Martinez/Getty Images

Adam Morrison's abbreviated career was illustrious in all the wrong ways.
After picking up an Oscar Robertson Trophy with the Gonzaga Bulldogs, Morrison was taken with the third overall selection in 2006 by the Charlotte Bobcats.
The assumption was that he'd remain the kind of savant who led the nation in scoring as a junior, at the very least developing into a reliable second or third option.
That never happened.
After an inefficient—albeit reasonably productive—rookie campaign, Morrison suffered a torn ACL in the preseason that ended his 2007-08 season before it even started. Halfway through 2008-09, the Los Angeles Lakers took Morrison off Charlotte's hands after 44 games of scoring just 4.5 points a contest.
Here's where the "illustrious" part of Morrison's career happens (clearly). He picked up a couple of championship rings from L.A.'s bench—which probably isn't as awesome as it sounds. It even earned Morrison late-night ribbing from Jimmy Kimmel.
The dejected two-time champion finally slipped off the NBA's radar, finding some temporary employment overseas. Now he's on his way back to familiar territory, having landed an assistant coaching gig with his old Bulldogs.
It's not the thrill of an NBA lifestyle, but it will probably wind up being more rewarding than either of those rings.