Full Week 1 Stat Predictions for Dallas Cowboys Offense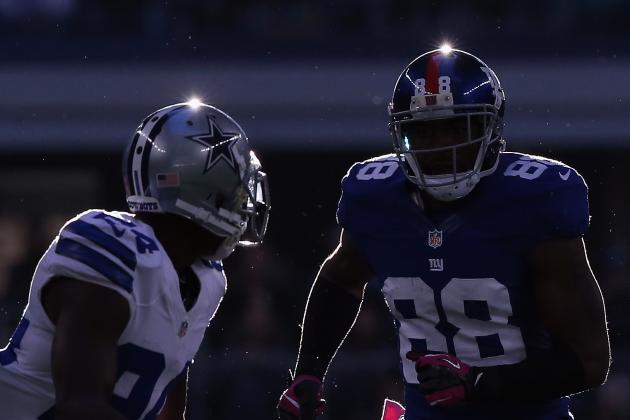 Ronald Martinez/Getty Images

The Dallas Cowboys are about as ready as they can be for the 2013 NFL regular season opener against the New York Giants this weekend. Sunday night's game will offer the first glimpse of things to come following an offseason of significant change.
For the Dallas Cowboys to start the season 1-0, the offense will need to produce and execute better than should be expected. I say this despite some encouraging signs that were witnessed throughout the preseason. I'm not sure how much confidence a still-evolving offensive line can generate.
Football games are generally very difficult to predict, whether it be final score, outcome, or just statistics. Injuries, turnovers and penalties might be the biggest three factors in determining games—but also highly unpredictable since nobody knows when these things will happen.
What we do know is that Dallas will utilize lots of two-tight end formations this year behind an offensive line that is questionable, at best. While a stronger commitment to the running game is necessary, we'll start to see how that plan unfolds in just a matter of days.
Stopping just shy of predicting a final score or outcome for Cowboys–Giants, here's a look at what needs to happen within the Dallas offense to give the Cowboys the best chance possible for victory. The offense is categorized by position and I'll also take a stab at other possible contributors lower on the depth chart.
All stats courtesy of ESPN
Begin Slideshow

»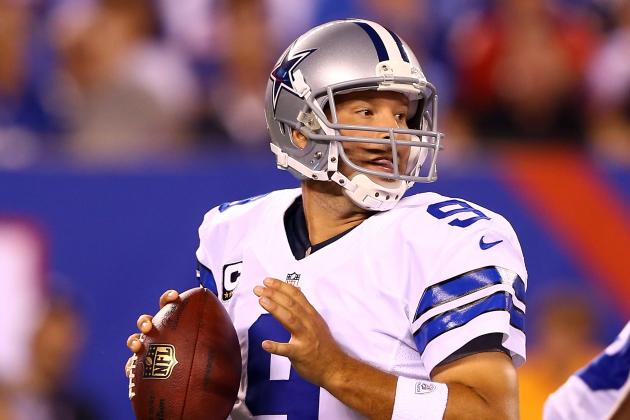 Al Bello/Getty Images
Tony Romo
Starter Tony Romo gets his first chance to justify the massive contract extension signed late last March. While some feel that Romo certainly hasn't earned the huge pay raise he received, it's actually quite clear that he has—somebody did actually give him the contract, after all.
Romo will be as good as he's able to be behind an offensive line that just added semi-retired offensive guard Brian Waters, as reported by ESPN.com's Tim MacMahon.
A greater concern over the readiness of Waters is the circumstances that brought him to Dallas in the first place. Injuries and youth will likely open up some lanes for New York to generate some pressure on Romo, as it has done in recent years.
Keep Romo standing up and he should clear the 300-yard mark with a quarterback rating of 90.0 or better—this is about all the Cowboys need in order to beat the Giants. Romo's performance in limited action this preseason suggests that he could have a huge day against a Giants secondary that will struggle to cover an array of pass catchers all over the field.
Assuming that Romo remains healthy, there's no need to factor in numbers for backup Kyle Orton.
Stats:
Tony Romo
Passing yards: 382
Passing attempts: 42
Touchdowns: 3
Interceptions: 1
Sacks: 3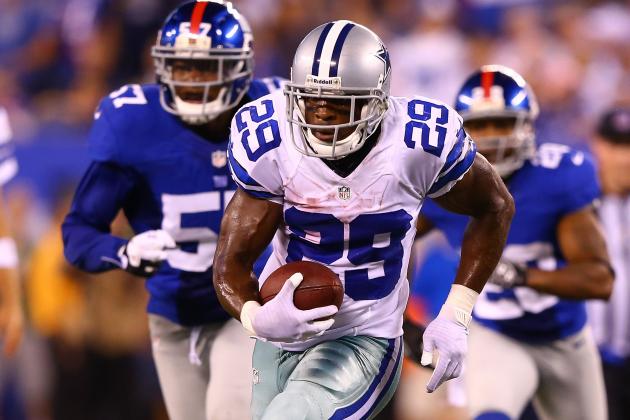 Al Bello/Getty Images
DeMarco Murray
The outcome of this game will depend highly on what happens with Dallas' committee of running backs, most of which are expected to play against New York.
DeMarco Murray did very little this preseason but did look somewhat dominant against the Cincinnati Bengals in Arlington. The big question is how long Murray can stay on the field given his steady injury history with the Cowboys.
There's a better chance than not that Murray makes it through given the presence of colleagues Phillip Tanner and rookie Joseph Randle—it'll be interesting to see if the latter sees any significant playing time in his first professional game. In other words, Murray shouldn't need to carry more than 8-10 times and this doesn't count receptions.
I don't expect a single 100-yard rusher, on either side, next Sunday night, but Cowboys running backs aren't limited to only carrying the ball to create damage. Romo is willing to go to his backs and the only bummer is that backup running back Lance Dunbar will be far from healthy, if he's even activated for the game.
If the Dallas running backs can account for over 150 yards of total offense and two touchdowns, Dallas will be in pretty good shape.
Stats:
DeMarco Murray
Rushing yards: 71
Rushing attempts: 9
Receiving yards: 22
Touchdowns: 1
Phillip Tanner
Rushing yards: 61
Rushing attempts: 7
Receiving yards: 12
Touchdowns: 0
Joseph Randle
Rushing yards: 0
Rushing attempts: 2
Receiving yards: 14
Touchdowns: 0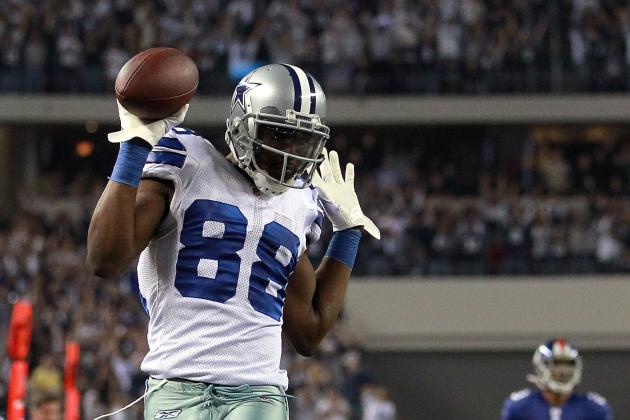 Ronald Martinez/Getty Images
Dez Bryant
The combination of Romo to wide receiver Dez Bryant looked awfully good during training camp and the two were noticed quite well in a couple of limited performances during preseason games.
No, Bryant probably won't pass the 2,000 yard-mark in 2013, but he is absolutely poised for a tremendous season. The former Oklahoma State receiver is entering his fourth season and he is in his prime as a player.
Bryant looks un-coverable, period.
Miles Austin also looks like he might have a little more explosion than what I've seen over the last couple of years. If Austin is healthy and catching passes, then Romo is a quarterback that's very difficult to stop.
Receivers like rookie Terrance Williams and veteran Dwayne Harris could also chip in some big plays as weapons that might not draw too much attention given the rest of the skill position players scattered about on offense.
Romo doesn't need a big day from any one receiver so long as all are contributing.
Stats:
Dez Bryant
Receiving yards: 94
Receptions: 6
Touchdowns: 2
Miles Austin
Receiving yards: 81
Receptions: 5
Touchdowns: 1
Terrance Williams
Receiving yards: 23
Receptions: 2
Touchdowns: 0
Dwayne Harris
Receiving yards: 19
Receptions: 3
Touchdowns: 0
Cole Beasley
Receiving yards: 7
Receptions: 2
Touchdowns: 0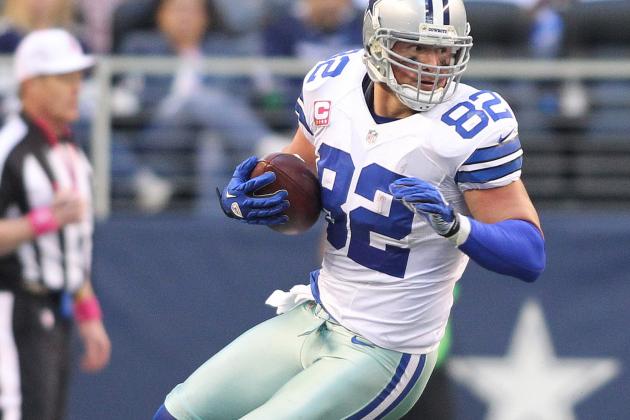 Tim Heitman-USA TODAY Sports
Jason Witten
So long as veteran tight end Jason Witten is playing in Dallas, Romo will be a Pro Bowl-caliber quarterback who's capable of shredding any opposing NFL defense. His combination of experience, height, hands and speed make him an aggravating matchup problem for safeties and linebackers.
Witten will be Witten, but perhaps more intriguing is exactly what impact a second tight end might make against New York.
This position could be the most critical area of the offense
Dallas spent a 2013 second-round draft selection on San Diego State tight end Gavin Escobar. The year prior the Cowboys spent a sixth-round pick on Oklahoma tight end James Hanna.
Maybe the Cowboys finally have the conviction to actually utilize a position they have been trying to deepen for years. Remember names like Anthony Fasano and Martellus Bennett?
If Witten's understudies contribute early against the Giants then the Dallas offense could roll.
Stats:
Jason Witten
Receptions: 5
Receiving yards: 51
Touchdowns: 1
James Hanna
Receptions: 4
Receiving yards: 21
Touchdowns: 0
Gavin Escobar
Receptions: 2
Receiving yards: 18
Touchdowns: 0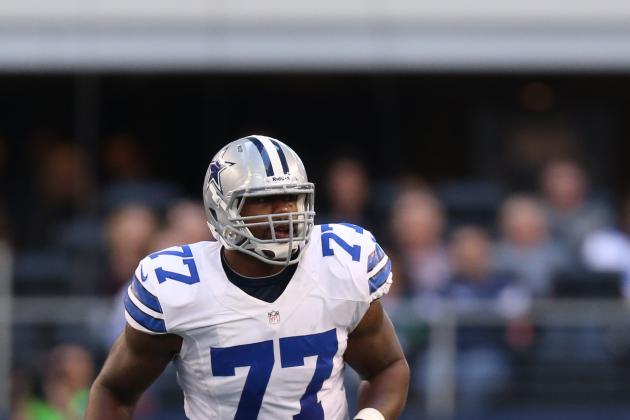 Matthew Emmons-USA TODAY Sports
Tyron Smith
`While skill positions will need to come up with some good numbers against the Giants, the offensive line will be charged with racking up as few numbers as possible. Things like quarterback sacks, hurries and penalties need to be kept to a minimum—all easier said than done.
Waters likely will not play in the regular season opener and it would change little if he did. The Cowboys have Ronald Leary recovering from a knee scope, although he is expected to start Sunday night.
It will be interesting to see if Dallas can function on offense with the possibility of Doug Free moving to offensive guard, at least for the time being. Then one has to wonder how effective Free's replacement at right tackle, Jermey Parnell, might hold up against some talented Giants defenders up front.
Yes, more questions than answers for Dallas on the offensive line, but that doesn't mean that this unit can't hold off New York.
Dallas needs to land some of the following benchmarks from its offensive line if the franchise is really expecting to beat the Giants for the first time ever in Arlington.
Stats:
Offensive line
Sacks allowed: 3 or less
Quarterback pressures allowed: 5 or less
Penalties: 2 or less
Rushing yards: 120 or better
Pancake blocks: 3 or better
Poor snaps: 0