Basketball Hall of Fame 2013: Date, Start Time and Expected Inductees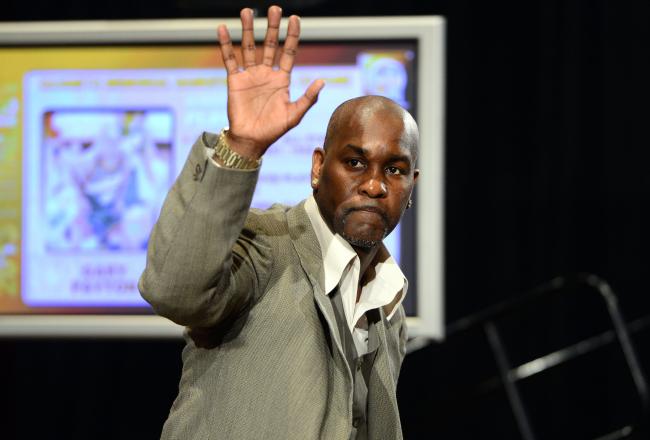 Bob Donnan-USA TODAY Sports
A number of events are scheduled at the Naismith Memorial Basketball Hall of Fame this weekend, but none is more important than Sunday's ceremony that will see 12 men and women enshrined within its walls.
Each member of this fantastic dozen helped to shape the game we know and love today in their own unique way.
There are six players, four coaches and two contributors in line to receive the game's highest honor and you absolutely won't want to miss the inductions.
Keep reading to find out when the ceremony and other events take place along with more about the men and women will be honored with enshrinement and more.
2013 Hall of Fame Enshrinement Ceremony Details
When: Sunday, Sept. 8 at 2 p.m. ET
Where: Naismith Memorial Basketball Hall of Fame, Springfield, Mass.
Watch: NBA TV
2013 Hall of Fame Inductees

| | | | |
| --- | --- | --- | --- |
| Name | Role | Main Affiliation | Committee |
| Roger Brown | Player [G/F] | Indiana Pacers | ABA |
| Dr. E.B. Henderson | Contributor | "The Grandfather of Black Basketball" | Early African-American Pioneers of the Game |
| Oscar Schmidt | Player [SG/SF] | Brazil, Unofficial All-Time Leading Scorer (49,737 career points) | International |
| Richard Guerin | Player [G] | New York Knicks, St. Louis/Atlanta Hawks | Veterans |
| Russ Granik | Contributor | Deputy Commissioner | Contributor |
| Gary Payton | Player [PG] | Seattle SuperSonics | North American |
| Bernard King | Player [SF] | New York Knicks | North American |
| Guy V. Lewis | Coach | University of Houston | North American |
| Rick Pitino | Coach | University of Kentucky, University of Louisville | North American |
| Jerry Tarkanian | Coach | University of Nevada, Las Vegas | North American |
| Sylvia Hatchell | Coach | Univerisity of North Carolina at Chapel Hill | Women's |
HoopHall.com
Complete Schedule of Events
Friday, Sept. 6
2013 Induction Celebration and Welcome Reception at Mohegan Sun, 8-10 p.m. ET
Saturday, Sept. 7
Eighth Annual Grey Flannel Basketball Hall of Fame Induction Auction, noon. ET
Enshrinement 2013 Autograph Session, 1-2 p.m. ET
Class of 2013 Press Conference, 2-3 p.m. ET (NBA TV)
2013 Family Reunion and Awards Dinner, 6-9 p.m. ET
Sunday, Sept. 8
2013 VIP Champagne Reception and Brunch, 11 a.m.–1 p.m. ET
2013 Red Carpet with Interviews by Jared Greenberg and Scott Howard-Cooper, 1 p.m. ET (NBA TV)
2013 Hall of Fame Enshrinement Ceremony, 2-5 p.m. ET
2013 Enshrinement Ceremony Post-Gala, 5-7 p.m. ET
Notable Inductees
Gary Payton, Player, North American Committee
Payton, better known as "The Glove", is widely regarded as one of the best point guards to ever play the game—especially on the defensive side of the ball.
The lockdown defender made nine All-Star Game appearances and was selected to the All-Defensive team nine times as well.
The 17-year veteran's crowning achievement came during the 1996 season, when he was selected as the first and only point guard to win the NBA's Defensive Player of the Year award.
He scored 21,813 points, dished 8,966 assists and recorded 2,445 steals during his tenure in the league.
Although he would win his sole title with the Miami Heat in 2006, Payton will best be remembered for his competitive fire, incredible defensive skills and relentless trash-talking during his time with the SuperSonics.
Jerry Tarkanian, Coach, North American Committee
Tarkanian was one of the most impassioned coaches to ever pace the sidelines of any sport at any level. He was never far from his now-famous towel, which he would constantly chew on throughout his career as the Rebels head coach.
Although it appeared strange to most onlookers, Tarkanian was not one to go against superstition. It clearly worked, as "The Shark" coached UNLV for 19 years and won at least 20 games in all but one of those seasons.
The 1989-90 season was perhaps Tarkanian's best, as the Rebels went 35-5 on their way to their first and only national championship. By the time Tarkanian left the school after the 1991-92 season, he had won 509 games and lost just 105.
Although problems with the NCAA would constantly plague the controversial coach, he will undoubtedly be remembered in a positive light for his contributions to UNLV and to the game of basketball.
Prior to joining UNLV, Tarkanian went 122-20 with Long Beach State and was 153-80 at Fresno State after his tenure with the Rebels. The 83-year-old finished his career with a 784-202 win-loss record.
Oscar Schmidt, Player, International Direct Elect Committee
Schmidt is one of the finest shot-makers the game of basketball has ever seen, although he isn't well known in the United States since he never played in the NBA.
Will Schmidt get more respect now that he's being inducted into the Hall of Fame?
The versatile forward was the top scorer in the Italian league seven times and is the only player in history to score more than 1,000 points during the Olympics. He led all scorers in three separate Summer Games—1988, 1992 and 1996—as a member of the Brazilian national team.
Unofficially, Schmidt is credited with scoring 49,737 points in a career that spanned both club and national team play. His playing career lasted an inordinate amount of time, as he began playing professionally in 1974 and did not call it quits until 2003.
He's already considered one of the greatest FIBA players of all time and was inducted to the FIBA Hall of Fame in 2010. It's about time that Schmidt be recognized stateside for his exploits as well.
This article is
What is the duplicate article?
Why is this article offensive?
Where is this article plagiarized from?
Why is this article poorly edited?