Vitor Belfort vs. Dan Henderson Head-to-Toe Breakdown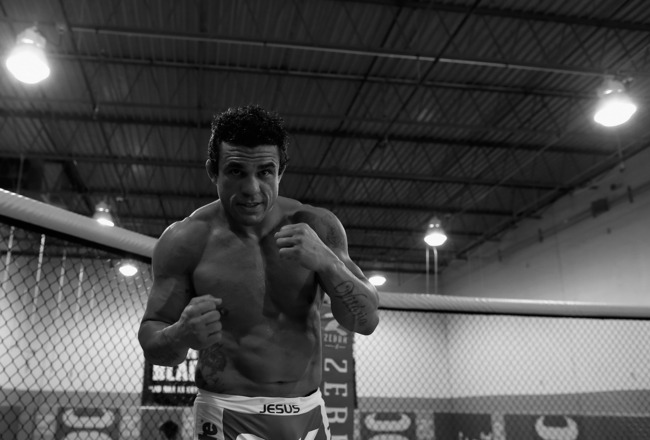 Chris Trotman/Getty Images
Vitor Belfort and Dan Henderson will meet again. The rematch has been booked for November 9th in Brazil.
The two legends of the sport met back in 2006 under the PRIDE banner. The bout was not what fans were hoping it would be, and Henderson would go on to pick up a unanimous decision victory. Belfort would test positive for elevated levels of testosterone after the fight as well.
Fast forward seven years and the two skilled fighters are still at the top of the MMA world.
The bout will be contested at 205 pounds. Belfort enters on a big two-fight win streak over top-five middleweight competition, but Henderson enters the bout dropping his previous two fights by decision to two of the best light heavyweights.
This is an interesting encounter. Here is your head-to-toe breakdown of the rematch.
Striking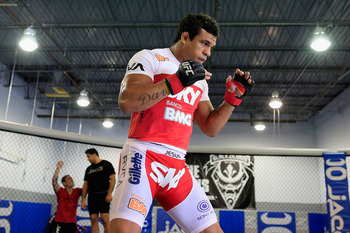 Chris Trotman/Getty Images
Both of these men possess huge knockout power, but it's Belfort who has the decided edge on the feet.
Henderson loves to slug it out, but he usually loads up for his huge haymakers. Belfort is more technical in his striking and has shown his diversity in recent fights.
Belfort has been more active with his kicks in his last two bouts. He stopped Michael Bisping with a head kick and floored Luke Rockhold with a spinning heel kick—something Henderson has never shown in his game.
The other major difference is speed. Belfort's hands are lightning quick. Henderson has the power to end Belfort's night, but Belfort has a clear striking advantage on paper.
Edge: Belfort
Grappling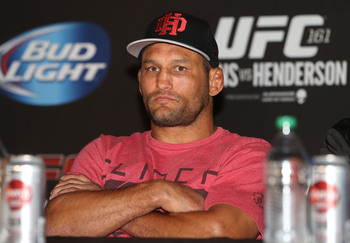 Tom Szczerbowski-USA TODAY Sport
If the fight ends up in a grappling affair, then the scales tilt drastically in Henderson's favor.
The former Olympian has the credentials to outgrapple anyone, but he rarely chooses to do so. He can stymie Belfort in this fight, make it ugly and grind out a win.
It's unlikely that he does, but if he chooses to it will say a lot about Henderson's desire to win. It's the safest route for him to pick up the victory.
Belfort isn't a terrible grappler, but he certainly isn't the best. He can get out of his depths at times, and at the end of the day, he isn't on Henderson's level.
Edge: Henderson
Submissions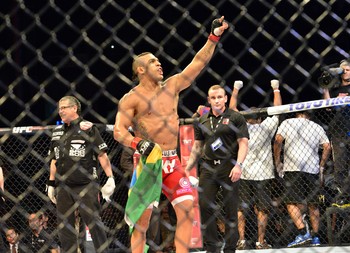 Jason da Silva-USA TODAY Sports
This is another clear advantage for Belfort.
The Carlson Gracie black belt has an underutilized submission game. Henderson, on the other hand, only has two submission wins to his credit. One of those was by strikes, and the other came in his second pro bout in 1997.
The odds of Henderson finishing via submission are slim. Very slim.
This fight probably won't end with a tap, but if it does, it will most likely be Henderson submitting to Belfort.
Edge: Belfort
X-Factors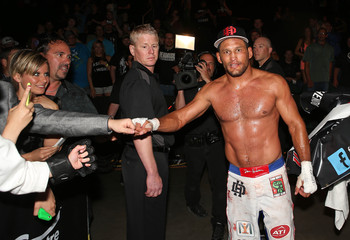 Tom Szczerbowski-USA TODAY Sport
Belfort's X-Factor: Circle Away from Henderson's Power
Henderson loves to end the fight with his "H-Bomb." Belfort can take that away by circling away from his power.
It will help Belfort get the better of the fight on the feet. He can also press the action with his own strikes to make Henderson defensive. The one thing he doesn't want to do is get in close enough for Henderson to grab ahold of him.
Both of these fighters are aggressive. Belfort can't get complacent. He has to be mindful of Henderson's big power at all times.
Henderson's X-Factor: Drag the Fight Out
Henderson isn't known for his fantastic cardio, but he still poses a threat deep in fights. He may slow down as a fight drags on, but his game isn't one built off of explosive moments. Belfort's is.
If he can grind on Belfort early, he will make him slow down considerably. That will help him out in a five-round battle.
After getting past the first 10-15 minutes, this fight could be all Henderson's in the final two rounds. A tired Belfort will not be able to stop Henderson from taking him down and controlling him. If Henderson chooses to wrestle, this is his fight to lose.
Prediction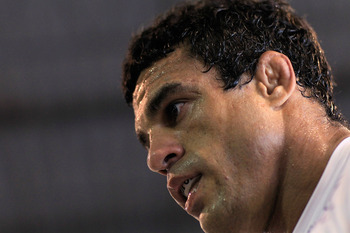 Chris Trotman/Getty Images
This fight could end up as a snoozer.
Henderson can outwrestle Belfort for 25 minutes en route to a victory. However, I don't see that happening.
The former PRIDE welterweight and middleweight champion has too much fun standing to play it safe. That will be his downfall. Father Time will finally catch up to Henderson.
I am going out on a limb and predicting that Belfort stops Henderson with strikes. Henderson has been rocked in recent bouts, but when Belfort has someone hurt, it's game over. He is a finisher of epic proportions. He'll find Henderson's chin in the first 10 minutes of action and finish.
Prediction: Belfort defeats Henderson by TKO in the second round.
Keep Reading