Predicting Which NBA Youngsters Will Take the Biggest Leaps in 2013-14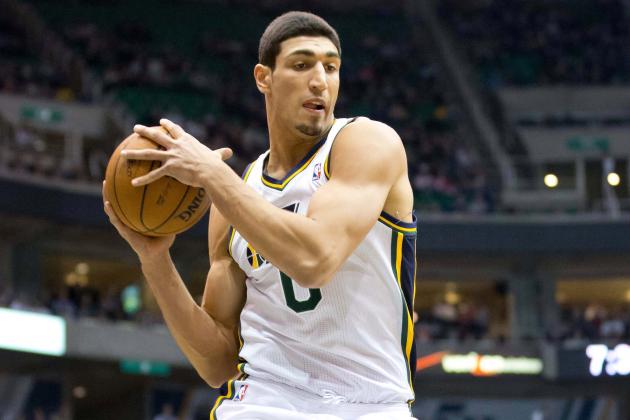 USA TODAY Sports

It's exciting to watch a young NBA player find his niche in the league and suddenly make monumental progress.
Entering the 2013-14 campaign, there are several second-, third- and fourth-year players primed to take big leaps in their careers.
The Eastern Conference owns a trio of young sophomores who are ready to dominate the paint and enjoy breakout years. In the West, some ex-reserves are poised to flourish in their new roles.
Which young bucks will make the biggest strides around the Association this season?
Begin Slideshow

»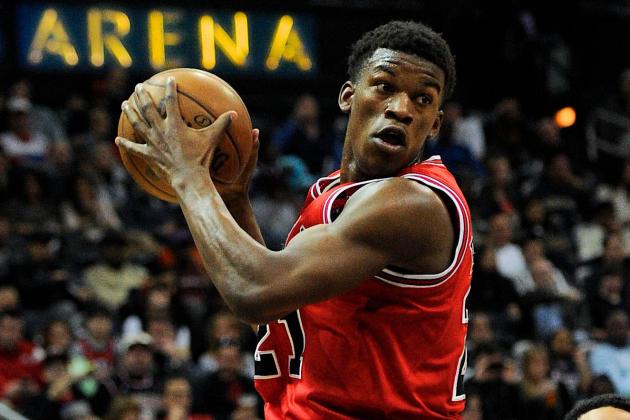 USA TODAY Sports

2012-13 Stats: 26.0 MPG, 8.6 PPG, 4.0 RPG, 47%FG, 38% 3PT, 15.2 PER
Tom Thibodeau's Chicago Bulls are thinner at shooting guard than they were in 2012-13, so Jimmy Butler will step into a featured role as the team pursues a title.
Butler is already a prolific wing defender, and he's well on his way to becoming an elite stopper. The area in which he'll make the biggest leap is on offense.
He scored just 8.6 points per game last year during the regular season, but he developed nicely throughout the season and finished strong. With growing confidence in his long-range shooting and ability to beat opponents off the bounce, he will quickly turn into a complete player.
The return of Derrick Rose will make Butler more dangerous as an off-ball weapon and transition target, so Central Division foes better buckle up.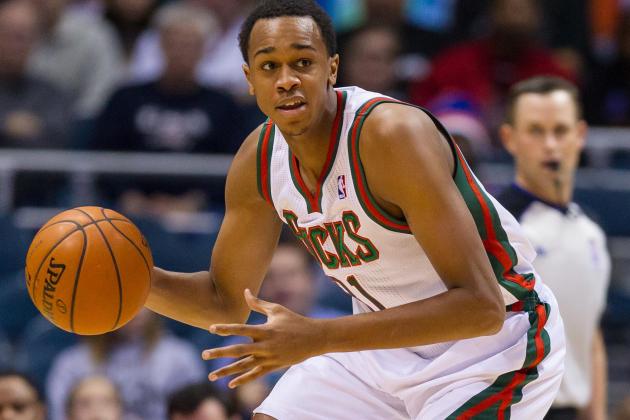 Jeff Hanisch-USA TODAY Sports

2012-13 Stats: 13.1 MPG, 6.0 PPG, 4.7 RPG, 48% FG, 18.2 PER
The frontcourt in Milwaukee is crowded, but second-year Bucks forward John Henson will find a way to earn more than 20 minutes per night.
Larry Drew's cast of big men includes Zaza Pachulia, Larry Sanders, Epke Udoh and Ersan Ilyasova. Sanders and Henson hold wild cards because they're the youngest and have the greatest upside.
Henson's rebounding prowess and offensive instincts are too good to keep on the sidelines. He has a keen awareness of where to be in relation to his defender, and he uses his length to finish with dunks, hook shots and mid-range jumpers.
He showed some solid stretches of defense in summer league play, effectively protecting the rim on the low block. That doesn't guarantee that he'll succeed when it counts, but it's a good sign.
Look for him to take a giant step forward during this transitional year for the Bucks.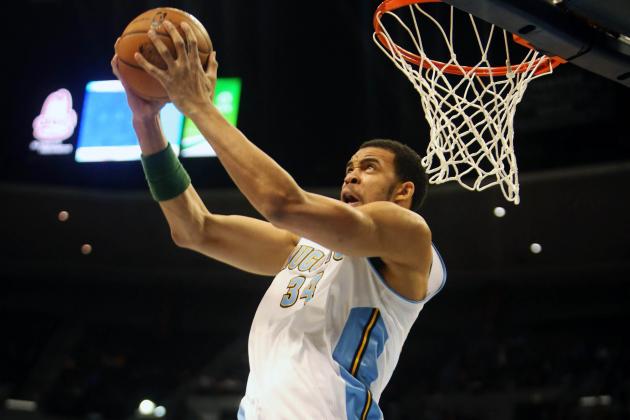 Chris Humphreys-USA TODAY Sports

2012-13 Stats: 18.1 MPG, 9.1 PPG, 4.8 RPG, 2.0 BPG, 58% FG, 20.7 PER
He's not exactly fresh out of high school, but Denver Nuggets center JaVale McGee is nevertheless a young player whose moment has arrived.
With a 7'6" wingspan and top-tier athleticism, he can cover a ton of space both horizontally and vertically. The five-year pro can go over anyone to score, and he blocks countless shots because opponents can't gauge how fast he closes the gap.
Assuming new head coach Brian Shaw gives him 28 to 32 minutes per game, McGee could notch 16 to 18 points along with eight to 10 rebounds and nearly three blocked shots. That's a terrific impact in all three phases of the big-man world.
He's at a point in his career where he's due to break through. This is his year.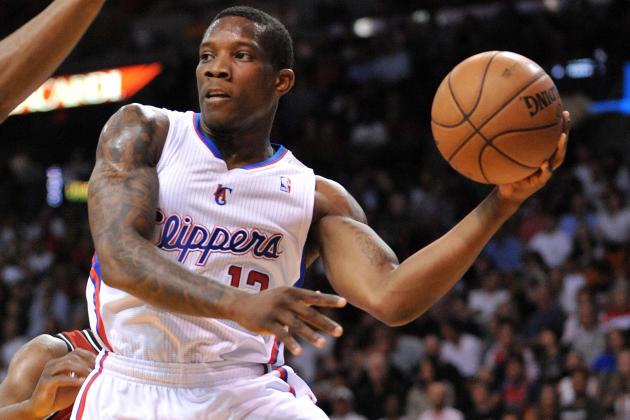 USA TODAY Sports

2012-13 Stats: 20.4 MPG, 8.5 PPG, 3.1 APG, 45%FG, 40% 3PT, 17.5 PER (with Los Angeles Clippers)
Although the Phoenix Suns are bound for a gloomy season, one major bright spot will be newcomer Eric Bledsoe.
The former backup point guard for the Los Angeles Clippers will finally be a prominent piece, a focal point of his team. He's ready to apply what he learned from Chris Paul and utilize his freakish athleticism and playmaking aptitude.
Bledsoe will have to share the ball with Goran Dragic, but his jump shot has developed to the point where it shouldn't be an issue. He'll serve as an effective combo guard who can initiate offense when needed or operate from the wing and hurt opponents as a 2-guard.
On the other end of the floor, he's going to be equally exciting. Bledsoe averaged 2.5 steals per 36 minutes in 2012-13 and thrived as a speedy deterrent to opposing floor generals.
Most NBA fans have seen glimpses and chunks of Bledsoe's capabilities. Now we'll enjoy sizable portions every night.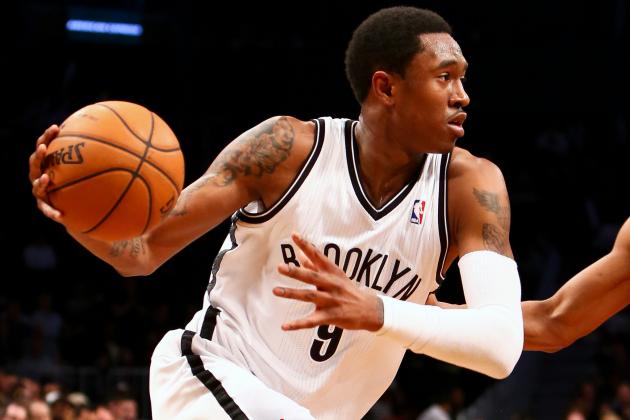 USA TODAY Sports

2012-13 Stats: 12.5 MPG, 5.4 PPG, 1.4 RPG, 46% FG, 27% 3PT (with Brooklyn Nets)
One of the most talented young scorers in game, MarShon Brooks was stashed on the bench for most of the 2012-13 season. Brooklyn Nets coaches Avery Johnson and P.J. Carlesimo weren't enamored with his defense, so he struggled to work his way into the rotation.
After the dust settled from the Nets' blockbuster trade with the Boston Celtics, Brooks found himself in position to earn substantial playing time. On Beantown's new-look team led by Brad Stevens, Brooks has a chance to be a featured wing scorer off the bench.
He could potentially see 20-25 minutes per game because he's one of the best shot-creators and shot-makers on the roster. Brooks has a knack for weaving his way to the rim when it seems impossible, and he also uses his tremendous length to generate jumpers.
You can bet he'll work hard to accompany this offensive prowess with a newfound defensive presence and awareness. He may never be a big-time stopper, but he certainly has the tools to improve as a team defender.
A change of scenery could translate to a breakthrough campaign for Boston's new arrival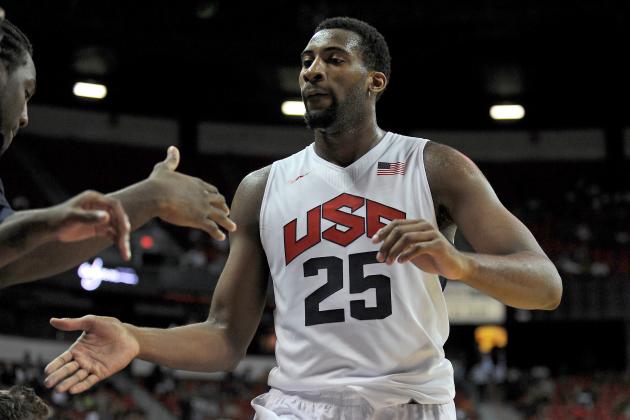 Stephen R. Sylvanie-USA TODAY Sports

2012-13 Stats: 20.7 MPG, 7.9 PPG, 7.6 RPG, 61% FG, 21.6 PER
In 2012-13, he turned heads. In 2013-14, he will drop jaws.
Detroit Pistons center Andre Drummond is one of the most physically imposing players in the NBA. When he gets more playing time, touches and confidence, it's going to be a long winter for Eastern Conference adversaries.
His size and explosiveness allow him to snare rebounds with ease and protect the rim against anyone. Offensively, he relies on sheer power to catch the ball deep and finish strong. As his finesse game continues to progress, he will be difficult to combat.
Drummond ripped down nearly eight rebounds in 20.7 minutes per game, so he will be a double-double factory when he plays 30 minutes per night.
I anticipate him making massive strides in skill development and overall production. He will directly influence the Pistons' playoff push in 2013-14 and subsequent championship quests.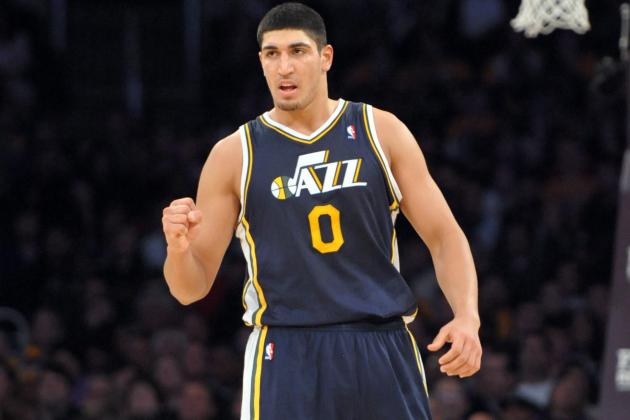 Kirby Lee-USA TODAY Sports

2012-13 Stats: 15.4 MPG, 7.2 PPG, 4.3 RPG, 54%FG, 17.6 PER
The bad news in Utah is that the Jazz have to rebuild.
The good news that is we're going to see a lot more Enes Kanter.
He and Derrick Favors played behind Al Jefferson and Paul Millsap the past couple years, and now that the veteran free agents have bolted, it's Kanter's time to deliver.
During his modest playing time the last couple years, he has shown that he has the power, fundamentals and mid-range jumper to have a superb NBA career. Kanter's an excellent pick-and-roll target, utilizes power spin moves and is uncontainable on the glass.
He needs to put it all together for 30-35 minutes each night as he acclimates to the starting role. In the short term, he's going to be impressive, and in the future, he's going to be outstanding.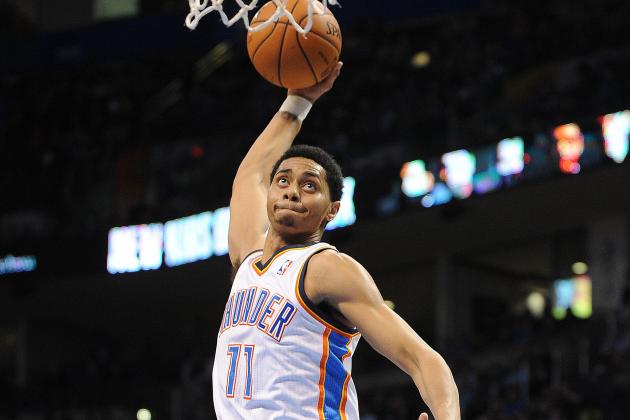 Mark D. Smith-USA TODAY Sports

2012-13 Stats: 6.4 MPG (23 total games), 3.1 PPG, 0.8 RPG, 35% FG, 30% 3PT
Oklahoma City Thunder shooting guard Jeremy Lamb spent most of his rookie campaign wearing warmups or playing in the D-League. He was deep on the bench of Scott Brooks' championship-caliber squad.
Those days will be a distant memory when he's raining jumpers as a key reserve in 2013-14.
With Kevin Martin gone, Lamb could work his way into a key role, perhaps even as the sixth man. The scoring repertoire is certainly there, as he owns advanced ball-handling skills and a fluid shooting motion. If he keeps defenses on their toes by driving and not settling for jumpers, he'll be a highly useful weapon.
From an experience and production standpoint, Lamb's second season will be exponentially different from his first.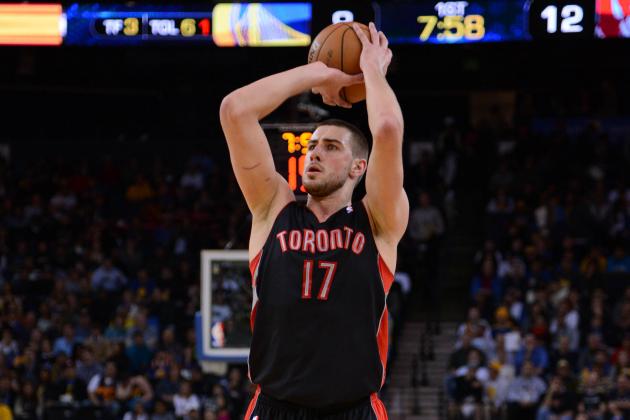 Kyle Terada-USA TODAY Sports

2012-13 Stats: 23.9 MPG, 8.9 PPG, 6.0 RPG, 56% FG, 15.6 PER
After watching Jonas Valanciunas dominate summer league play, Toronto Raptors fans are praying that it translates to the 2013-14 season.
Their prayers will be answered, because the Lithuanian tower is a multidimensional force. He's stronger, more skilled and more assertive than he was during his rookie year.
In addition to his usual pick-and-roll presence, Valanciunas has upgraded his hook shot, using it with either hand. But those hooks wouldn't be as effective or possible without his improved physique; he's bruising his way to the low block these days.
He's also more comfortable than ever from 15 to 20 feet, and those jump shots will be the key to earning extra minutes.
Some post players take a painfully long time to blossom in the NBA. That won't be the case for Valanciunas.