Ravens Coaches Fit Newsome's Mold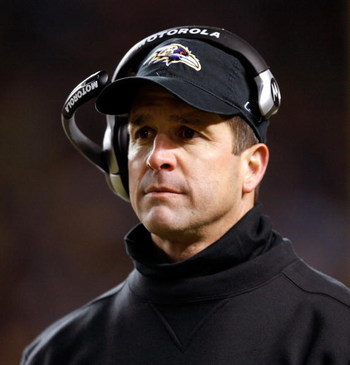 It was a season ago that the Baltimore Ravens dumped nearly their entire coaching staff, ousting Brian Billick and bringing in young gun John Harbaugh.
Harbaugh might have been green when it came to leading an NFL team, but he proved his worth last season in taking the Ravens to an AFC Championship Game appearance.
This season, the Ravens have said goodbye to the final holdover from the Billick era; Rex Ryan is now in charge of his own team in New York.
But take a look at the 2009 Ravens coaching staff, study them a bit, and there is something oddly familiar. We've seen these guys before.
That's because Ozzie Newsome, the Ravens general manager, has a pretty good mold for what he wants his coaching staff to look like.
He finds coaches that fit his mold, just like players, and just drops them in. If that sounds a little too similar to an old-fashioned sci-fi movie, I apologize. But the system works.
So I present to you your 2009 Ravens coaching staff, led by The Mastermind himself, Ozzie Newsome.
The Mastermind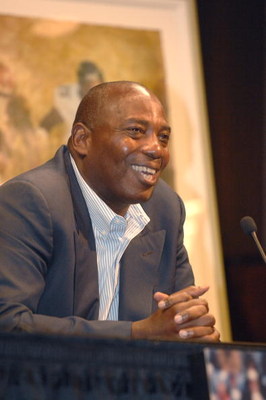 OZZIE NEWSOME, General Manager.
HOW HE GOT HERE: Newsome was a Hall of Fame tight end of the Cleveland Browns, playing 13 seasons and amassing gaudy statistics across the board.
Almost immediately after his retirement as an athlete, Browns' owner Art Modell hired Newsome as an assistant scout. When the team came to Baltimore in 1996, Newsome came with them, taking his role as Vice President of Player Personnel.
In 2002, Newsome received his latest bump, becoming the Ravens official general manager and executive vice president.
WHAT YOU NEED TO KNOW: Newsome is known as one of the best general managers in the league today, if not the best. He is especially adept at evaluating players as well as analyzing his team's needs.
Like any good general manager, Newsome knows his team inside and out.
Newsome has a system for his teams–both on the field and on the sidelines–and he sticks to it.
Newsome targets exceptional athletes at all positions in an attempt to give his coaches plenty of options on game day.
His "best athlete, regardless of team need" mantra on draft day has become the standard by which all draft classes are measured.
The Personality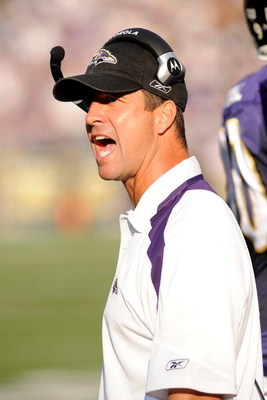 JOHN HARBAUGH, Head Coach
HOW HE GOT HERE: Harbaugh was hired in early 2008 following the firing of Brian Billick.
The Ravens had originally targeted Cowboys coordinator Jason Garrett and offered him the position, but Garrett elected to stay in Dallas.
Harbaugh was a darkhorse candidate for the Ravens job. Prior to coming to the Ravens, he spent 10 seasons in Philadelphia as a coach for special teams and the secondary.
Harbaugh is one of few head coaches in the NFL to have never been a coordinator.
WHAT YOU NEED TO KNOW: While many fans may not want to hear it, Harbaugh is archetypically similar to his predecessor, Brian Billick. And that's not a bad thing.
In Ozzie Newsome's master plan for football domination, head coaches are as much about attitude as they are about expertise. When Billick came to Baltimore, he brought with him a level of self-confidence that the franchise had been lacking in its first three seasons.
Last season, Harbaugh brought his own brand of confidence to the Ravens.
Harbaugh is the stereotypical no-nonsense, nose-to-the-grindstone, earn-every-inch coach that every team would like to have at its helm.
He may not be a guru of offense or defense, but that is why the team employs coordinators. Harbaugh's role on this team is to engage and motivate his players.
Harbaugh's approach last season drew some criticism from veterans who asserted that their coach was demanding too much and not showing them enough respect.
But Harbaugh's message eventually got through: respect is earned through work and attitude, on and off the field.
Harbaugh is young and still learning, but he has the most important characteristics the Ravens want in a head coach: a personality.
The Professor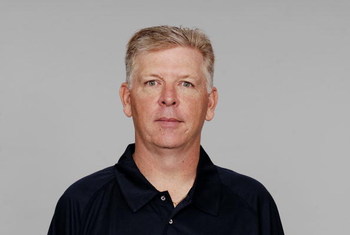 CAM CAMERON, Offensive Coordinator
HOW HE GOT HERE: Cam Cameron is one of the most respected offensive minds in the game today. He has been in the NFL for a total of 11 seasons, with several stops along the way.
Cameron is best known for his work with the San Diego Chargers from 2002 to 2006. Under Cameron's guidance, the Chargers produced some of the most prolific scoring offenses in NFL history, including LaDainian Tomlinson's record-setting 31 touchdown season.
He is also known for his unsuccessful stop in Miami in 2007, leading the Dolphins to a 1-15 record and being fired after only one season.
Cameron came to the Ravens last season with Harbaugh to restructure the offense and shape the team's trio of young quarterbacks.
Cameron also coached John Harbaugh's older brother, Jim, while at the University of Michigan.
WHAT YOU NEED TO KNOW: Cameron's prowess at guiding an offense is not in experimentation or trickery, but in smart and consistent play-calling.
He plays it straight most times; the Ravens' "Suggs Package" last season is about as wild as Cameron gets. Fans should become accustomed to Cameron's relatively conservative style.
But Cameron's true role with the Ravens is as a teacher and leader for the Ravens' young quarterbacks, especially Joe Flacco.
Cameron's system is designed to protect Flacco as he matures and finds his feet. His offense this year will continue to focus on the run, allowing Flacco to feel the game out before letting him loose.
The only question with Cameron is how long before he really takes the training wheels off for Flacco. If the two continue to click this Summer, the playbook could open up a bit sooner.
The Schemer
GREG MATTISON, Defensive Coordinator
HOW HE GOT HERE: Mattison has been coaching in football for more than 35 years. He is easily the oldest and most experienced of the Ravens coaching staff.
Despite all that, this is only his second season in the NFL. He came to Baltimore last season from the University of Florida where he helped to win a National Championship with one of the country's best defenses.
He joined Harbaugh last season as the Ravens linebackers coach, but with an understanding that the job of coordinator would open up with Rex Ryan's departure.
WHAT YOU NEED TO KNOW: Mattison is just the latest in a long line of brilliant defensive minds for the Ravens, and like his predecessors, he is blessed to be coming into a position with such a group of talent to work with.
Mattison's defensive style should seem familiar to Ravens fans as well. His focus starts on the defensive line, where big men will eat up blockers and ends will wreak havoc on quarterbacks.
It's simple really: shut down the run, force the pass, and then hit the quarterback as many times as possible.
Mattison may not subscribe fully to Rex Ryan's infamous "organized chaos" schemes, but that doesn't mean his defense will be boring.
In a recent interview, Mattison was asked if he was experimenting with his defense. His response was that experimenting implies failure sometimes.
He was tweaking the defense, and coming up with his own ploys, but not "experimenting." How diplomatic.
The bottom line is that much like the Ravens previous three defensive coordinators, Mattison is planning to take full advantage of every last weapon Newsome gives him–from Ray Lewis and Terrell Suggs, to Ed Reed and a speedy secondary, to Haloti Ngata and Kelly Gregg. In Baltimore, defensive coordinators are schemers and Mattison will fit right in.
The Drill Sergeant
JERRY ROSBURG, Assistant Head Coach and Special Teams Coordinator
HOW HE GOT HERE: Rosburg was brought in by Harbaugh almost immediately after his own hire last season. The two had worked on special teams together at the University of Cincinnati in the mid-1990's.
After his time in Cincinnati and before coming to Baltimore, Rosburg spent time as a head coach at North Dakota State as well as time as a special teams coordinator for the Cleveland Browns and Atlanta Falcons.
Under his leadership, the Browns were consistently ranked as one of the league's best special teams units.
WHAT YOU NEED TO KNOW: Rosburg is primarily a defensive special teams coach, to paraphrase his own words.
His primary goal on special teams is to make sure that the Ravens' opponents aren't scoring points or getting anywhere close.
That starts, he believes, with fundamentals. To again take his own words, he is going to "make good football players and let the players play."
Rosburg's own assessment of his coaching style might be a bit misleading. Whenever you hear "make good football players" and "fundamentals" come out of a coach's mouth, think "hardass."
But that's just the way the Ravens and John Harbaugh like it. Remember, not only did Harbaugh coach with Rosburg, but Harbaugh was also a special teams coach himself.
The tenacity that Harbaugh expresses can be directly related to his time as a special teams coach. Special teams coaches are notoriously tough because precision and discipline are their business. Rosburg is no exception.
Keep Reading

Baltimore Ravens: Like this team?