Blueprint for the New York Yankees to Secure the Final AL Wild-Card Spot
Rich Schultz/Getty Images
Despite a trying season that has seen the team ravaged by injuries, the New York Yankees are still very much in the hunt for a postseason spot, trailing by just 2.5 games for the second wild-card slot in the American League.
The AL wild-card picture in general is still very much up in the air, with six teams still legitimately in the running for a postseason berth. The entire group is separated by 4.5 games top to bottom.
AL Wild Card Standings (as of Sept. 4)

| | | |
| --- | --- | --- |
| Oakland Athletics | 79-59 | +2.5 |
| Tampa Bay Rays | 76-61 | - |
| New York Yankees | 74-64 | 2.5 |
| Baltimore Orioles | 73-64 | 3.0 |
| Cleveland Indians | 73-65 | 3.5 |
| Kansas City Royals | 72-66 | 4.5 |
MLB.com
If nothing else, this should make for a terrific final month of the season, and you could state a case for why each of these teams will ultimately find themselves playing in October. But for the sake of this article, we're going to focus on the Yankees.
As recently as Aug. 7, the Yankees were just one game over .500 at 57-56. That left them seven games back for the second wild card with four teams ahead of them in the standings for that spot.
Since then, they've gone 17-8 and closed the gap considerably while playing some of their best baseball of the year heading into the final month of the season.
So what do the Yankees need to do to cap off this impressive late-season push and reach the postseason? Here is a look at their blueprint for securing the final AL Wild Card.
Win 6-of-10 on Their Upcoming Road Trip
Many will be eyeing the Yankees' upcoming weekend series against the rival Red Sox as a potential turning point in the team's season, and while a series win would certainly give them a boost, as long as they can split that series, they'll still be in good shape.
Instead, the real test will be the games immediately following that series, as the team goes on the road for a 10-game trip through the AL East.
The trip opens with four games against the Orioles, who are hot on their tails in the wild-card standings, followed by three-game series against the Red Sox and Blue Jays.
Many times, walking away from a lengthy road trip with a .500 record is acceptable, but that's not going to cut it this time around. If the Yankees can split their series with the Orioles and then come away with series wins against the Red Sox and Blue Jays, they should continue to make up ground in the standings during what is their most difficult remaining stretch.
Win Series Against the Tampa Bay Rays, Sweep Houston Astros to Close out the Season
After a three-game series with the San Francisco Giants immediately following the aforementioned road trip, the Yankees welcome the Tampa Bay Rays to town for a three-game homestand.
The Rays will likely be the team the Yankees are still chasing at that point, and they have to come away with 2-of-3 in that series if they're going to continue to close the gap in the standings.
Both clubs then close out their season on the road against teams below .500, but the advantage goes to the Yankees as they will take on the lowly Astros, while the Rays face a Blue Jays team that has the talent to make things very difficult for them.
Get CC Sabathia Back on Track
For as good as Hiroki Kuroda (11-10, 2.99 ERA) and Ivan Nova (8-4, 2.88 ERA) have been this season, if the Yankees are going to have any chance of making a meaningful postseason run, they need their ace, CC Sabathia, to get back to pitching like one.
The big left-hander is 12-11 with a 4.91 ERA on the season and a disastrous 3-3 with a 7.38 ERA in eight starts since the All-Star break.
Generally among the league's top workhorses, he's pitched past the seventh inning in just one of his last eight starts and has only three quality starts during that stretch.
CC Sabathia's Starts Since the All-Star Break

| | | | | | |
| --- | --- | --- | --- | --- | --- |
| 7/21: @ BOS | 5.0 IP | 7 ER | 9 H | 2 BB | 5 K |
| 7/26: vs. TB | 5.0 IP | 7 ER | 9 H | 3 BB | 6 K |
| 8/2: @ SD | 5.2 IP | 5 ER | 11 H | 3 BB | 4 K |
| 8/7: @ CWS | 7.1 IP | 3 ER | 5 H | 0 BB | 1 K |
| 8/13: vs. LAA | 6.0 IP | 2 ER | 3 H | 6 BB | 7 K |
| 8/18: @ BOS | 5.1 IP | 6 ER | 7 H | 5 BB | 5 K |
| 8/24: @ TB | 6.1 IP | 3 ER | 6 H | 2 BB | 7 K |
| 8/30: vs. BAL | 5.2 IP | 5 ER | 7 H | 1 BB | 4 K |
Baseball Reference
The team really has no choice but to stick with him and hope he figures it out. If he can turn things around and pitch like an ace the rest of the way, it would go an awfully long way toward helping the Yankees get where they want to be.
Get a Few Quality Starts from David Huff
The Yankees announced on Wednesday that they have finally moved the struggling Phil Hughes to the bullpen, with David Huff taking his spot in the rotation, according to Matt Snyder of CBS Sports.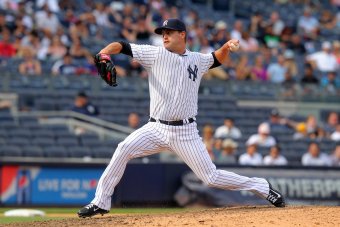 Brad Penner-USA TODAY Sports
Hughes is just 4-13 on the season with a 4.86 ERA, and he's been even worse since the All-Star break at 0-4 with a 5.71 ERA.
Huff, a left-hander who was claimed off waivers from the Indians back in May, has spent the majority of the season in Triple-A, posting a 3.90 ERA and 9.0 K/9 mark in 92.1 innings of work.
He is also 2-0 with a 1.13 ERA in 16 innings of work in the majors, and the 29-year-old has a chance to prove he belongs at the big-league level next season with a few strong September performances.
Keep Hitting, Scoring Runs Like They Have the Past Month
Offensive production from their injury-riddled lineup has been the biggest concern for the Yankees for much of the season, but it's their offense that has carried them during their recent run of success.
The team ranked sixth in runs scored (127) and fifth in OPS (.755) among AL teams in the month of August, as a healthy Curtis Granderson and Alex Rodriguez, along with pickups Alfonso Soriano and Mark Reynolds, have given the team a much-needed boost.
Get Adequate Production out of Veterans Derek Jeter and Ichiro Suzuki
While the offense has been significantly improved of late, the team still has a pair of offensive black holes in the form of shortstop Derek Jeter and right fielder Ichiro Suzuki.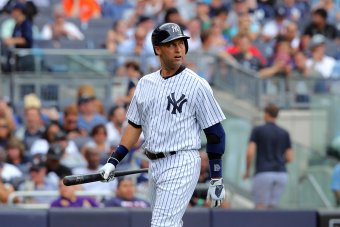 Brad Penner-USA TODAY Sports
Finally healthy, Jeter has hit just .222/.294/.311 in 45 at-bats since the All-Star break. No one expects him to carry the offense at this point, but if he can give the team something out of the No. 2 spot in the lineup, it would be a huge help.
As for Ichiro, he's struggled since the All-Star break as well, hitting just .239/.266/.283 in 138 at-bats. Considering he brings virtually zero power to the table and does not have the elite speed he once did, if he's not hitting around .300, he's essentially useless from an offensive standpoint.
If those two guys can even combine for something like a .265/.325/.380 line the rest of the way, it would be a noticeable upgrade over what they've done in the second half to this point.
Conclusion
The Yankees have dealt with adversity all season, and the fact that they're even in the discussion for a playoff spot is a testament to how much they have overcome.
Will the New York Yankees reach the postseason?
The odds are still stacked against them, with Baseball Prospectus giving them a 10.5-percent chance of reaching the postseason and ESPN slightly more generous at 16.4 percent.
With 24 games to play, there is still plenty of time for them to close the 2.5-game gap between them and the second wild-card spot in the American League.
If they're going to pull that off, however, they'll likely need to succeed in the aforementioned areas. Stranger things have certainly happened, and either way, the final month of the 2013 MLB season promises to be an awfully entertaining one.
This article is
What is the duplicate article?
Why is this article offensive?
Where is this article plagiarized from?
Why is this article poorly edited?