Picks, Predictions and Prognosis for Every Week 2 Big Ten Football Game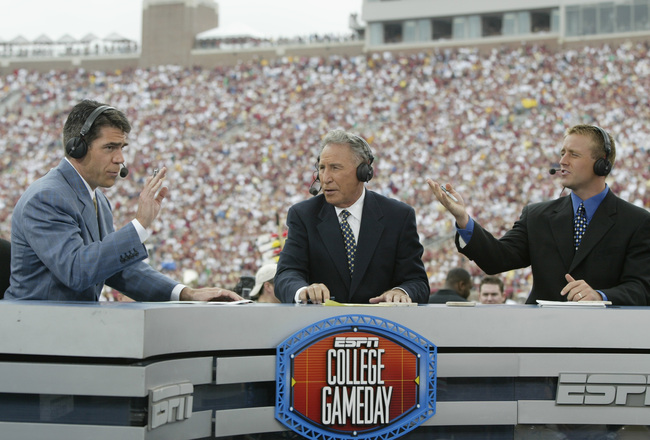 College GameDay heads to Big Ten country for first time. Will ND vs. Michigan live up to the hype?
Craig Jones/Getty Images
Congratulations, you survived our first tour through the cupcake factory. What was your favorite flavor?
Oh, wait...I'm sorry, that was just our first plant. It's time to wake up and do it all over again in Week 2 as the Big Ten schedule promises to bring us even more and perhaps worse cupcakes for us to sift through this week.
So as we sit through a day full of brutal matchups to get to the main course of Notre Dame vs. Michigan on Saturday night, just know we are here with you.
It is about that time. Come on in to the cupcake factory one more week; we promise it will be worth it. All of our Week 2 picks are inside.
2013 Picks (12-0, 8-4 ATS) *ATS=Against The Spread
All lines courtesy: VegasInsider.com
South Florida vs. Michigan State (-17.5)
Mike Carter-USA TODAY Sports
Saturday, Sept. 7 at noon ET (ESPNU)
This game was supposed to be an intriguing and potentially difficult matchup for the Spartans. Not so much if you are to believe Week 1 results. USF got steamrolled by McNeese State by the score of 53-21.
Sure, it was just one week, but that's no way to debut your program to the general public if you are Willie Taggart.
It's safe to say that the Bulls offense and defense were miserable. In fact, both quarterbacks that played in the loss were a terrible 9-of-20 passing. No way around it, the Bulls were brutal.
However, on the other side of this matchup, Michigan State's offense was nothing to write home about against Western Michigan last week either. They couldn't find a 100-yard rusher (Jeremy Langford had 94 yards) and they couldn't find a quarterback with any consistency.
Oh, and MSU's wide receivers had a severe case of the drops for about the millionth time in the past two seasons.
All of that said, Michigan State's defense is spectacularly awesome. They can win you football games by themselves, and against South Florida, I expect them to be able to control running back Marcus Shaw (he went for 145 yards last week) and whomever USF decides to throw out there in East Lansing.
Prediction: Michigan State 29, USF 13
Tennessee Tech vs. Wisconsin (-45)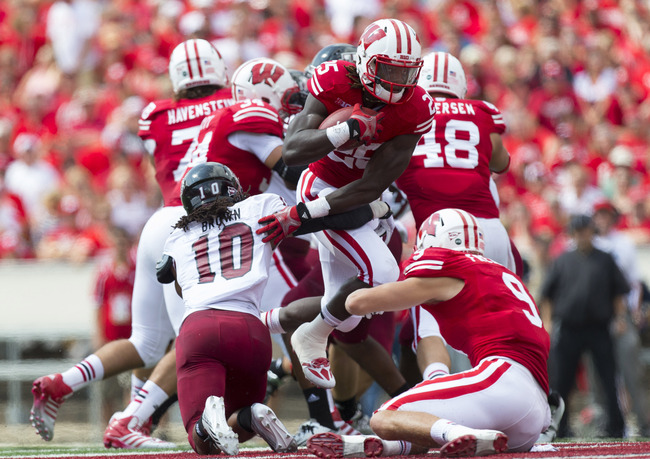 Jeff Hanisch-USA TODAY Sports
Saturday, Sept. 7 at noon ET (BTN)
The Gary Andersen era got off to a flying start last weekend as they rolled over UMass, 45-0, in one of the biggest mismatches for Big Ten teams in Week 1.
Fast forward a week and we'll all be treated to the biggest mismatch of Week 2 as No. 21 Wisconsin takes on Tennessee Tech in the ultimate payday game.
Wisconsin's defense has a clean sheet to its name to start the season and it could be a very realistic goal to keep that clean sheet going through two games.
Offensively, the Badgers showed a propensity to be explosive last week, scoring four of their six touchdowns on plays of 50 yards or more. They also had three running backs (James White, Melvin Gordon and Corey Clement) go for 100 yards or more each.
Simply put, it was the exact opposite of how 2012 started and that's exactly what Badger fans were hoping to see.
As for the opposition this week? Tennessee Tech's biggest challenge to Wisconsin could be the sheer numbers they can throw at you in their spread offense. Ten players had rushing attempts in their Week 1 win over Cumberland College (transitioning from NAIA to DII) and that could mean the Badgers need to find ways to stay fresh on the defensive side of the ball.
The only question for me is if 45 points is just a bit too much in this matchup. I mean, I won against the spread last week by a whole 0.5 point.
Prediction: Wisconsin 55, Tennessee Tech 3
Eastern Michigan vs. Penn State (-27)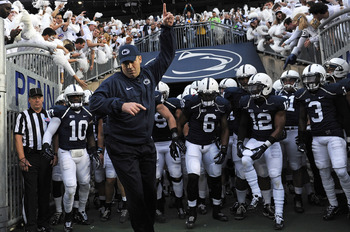 Patrick Smith/Getty Images
Saturday, Sept. 7 at noon ET (BTN)
Christian Hackenberg looked like a college quarterback last week. That's a massive complement to a true freshman making his first start in his first ever game and on a big stage as well.
Penn State's 23-17 win wasn't overly impressive, but they showed they can compete against a fellow BCS team and that the transition everyone was scared of all offseason long won't be all that bad after all.
Now, Week 2 brings an easier test—no disrespect to Ron English and the Eastern Michigan coaching staff.
It's just reality, given the struggle the Eagles had in beating FCS foe Howard last weekend.
Remember that flavor testing on our cupcake factory line? Well, this one could taste really bad. In fact, if it weren't for Wisconsin's matchup, this could be the most lopsided game of the week.
Expect Hackenberg to throw for over 300 yards and three touchdowns before giving way to Ferguson midway through the third quarter.
Prediction: Penn State 41, Eastern Michigan 10
Cincinnati (-13) vs. Illinois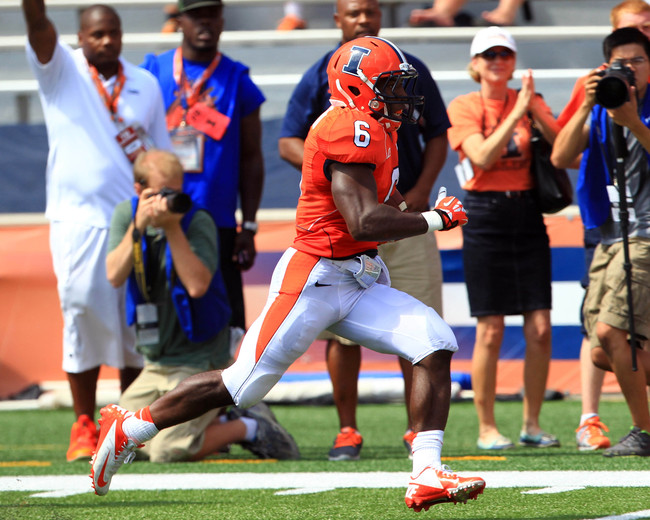 Pat Lovell-USA TODAY Sports
Saturday, Sept. 7 at noon ET (ESPN2)
Cincinnati had perhaps one of the most impressive wins of any BCS team against a fellow BCS team last weekend, and the bad news for Big Ten folks is that it came at the expense of Purdue.
The question is, will we get a repeat of that painful memory in Week 2 as the Bearcats travel to Champaign to take on an Illini squad that had all sorts of issues against Southern Illinois last weekend?
Smart money says yes, especially given Illinois' struggles defensively. Cincinnati is about 100 times better offensively than the Salukis.
However, if you are looking for a reason to pick Illinois and the points, I would point to two people: Josh Ferguson and Nathan Scheelhaase. The latter was named the Big Ten Offensive Player of the Week following his performance in the win over Southern Illinois.
The senior quarterback threw for 415 yards and two touchdowns in the win and looked a lot more like the freshman and sophomore version of himself than the one we saw over the past year and a half.
Unfortunately, this team is going up against a vastly better defense. Still, expect this one to be closer than the experts think. Tim Beckman has the offense heading in the right direction, but will the defense follow suit?
Prediction: Cincinnati 35, Illinois 27
Missouri State vs. Iowa (-24)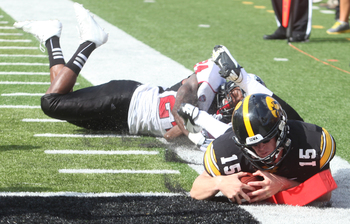 Matthew Holst/Getty Images
Saturday, Sept. 7 at noon ET (BTN)
Something tells me that the next time Iowa coach Kirk Ferentz sees a Northern Illinois team staring at him on the other side of the field will be too soon. Both of the last two matchups ended in dramatic fashion, and unfortunately for the Hawkeyes, they came up on the short end at home last week.
I hate to say this, but I told you so...I just thought NIU would win by a larger margin.
The hot seat for Ferentz has only gotten hotter with that loss, but it should cool down a ton this week as an FCS foe (and not a good one at that) comes to Kinnick.
Jake Rudock looked competent for the most part last week in the loss (21-of-37, 256 yards, one touchdown, two interceptions) and it appears that the offense could be on the way to being better than average.
Too bad the defense can't say the same thing. Watching that NIU game, one should have seen a lot of the same issues that plagued the defense a season ago, and that's a problem.
Week 2 provides an opportunity for the Hawkeyes to right the ship, so to speak, with the Bears of Missouri State in town. Could it be that this is the catalyst game for Iowa?
Expect the Hawkeyes to dominate in our fourth cupcake game of the week.
Prediction: Iowa 37, Missouri State 13
Indiana State vs. Purdue (-17)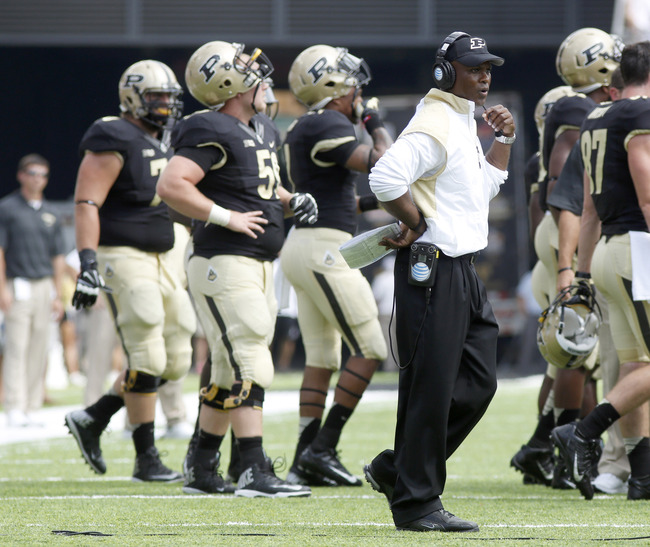 David Kohl-USA TODAY Sports
Saturday, Sept. 7 at noon ET (BTN)
Poor Darrell Hazell. That butt-kicking his team received was about as far away from how he imagined his debut as Purdue's head coach as possible.
Now, it's about picking up the pieces from the 42-7 loss and figuring out how to take a positive outlook on things.
Good thing Week 2 gives them an opponent perfect for taking out their frustration in Indiana State.
The Sycamores are coming off their own version of a butt-kicking, giving up 73 points to Indiana in their Week 1 loss.
One can't be too harsh on Purdue for that loss last week in my book. Cincinnati is a vastly underrated team in 2013 and Purdue threw a ton of freshman and first-time starters out there to the slaughter.
Quarterback Rob Henry has plenty to work on in the pass game and so too does the offensive line, but I expect you'll see a vastly different team come out into Ross-Aide Stadium this Saturday.
Look for Henry to right the ship and for Akeem Hunt to explode in the running game as well. The question is if this defense is even capable of allowing their offense a missed possession or two.
Indiana State showed it has some home run hitters of its own against the Hoosiers. However, they don't have enough on defense to keep this one as close as the Vegas folks think.
Prediction: Purdue 44, Indiana State 17
San Diego State vs. Ohio State (-24)
Saturday, Sept. 7 at 3:30 p.m. ET (ABC)
Ohio State didn't jump out and crush opening week opponent Buffalo, only winning by 20 points (sarcasm ALERT). That "horrible" victory didn't sit well with some AP voters and Ohio State is now No. 3 in the country according to those folks.
Expect Urban Meyer to find a way to use that as motivation, because we all know Meyer is capable of finding even the littlest of things to pump his team up.
That's a good thing, because on paper, this is a massive mismatch. Especially since San Diego State was one of the eight teams last week to lose to an FCS foe, getting trounced by Eastern Illinois, 40-19.
How that happened, we'll never know, but those who were pointing to this game as a potential surprising upset sure are looking like fools now.
Jordan Hall looked incredible in his debut and Braxton Miller was, well, Braxton Miller. Only, he showed improvement in the passing game, completing 68 percent of his passes in the W over Buffalo.
Look for that formula to win them this one in a game I think won't be even close to the spread.
Prediction: Ohio State 55, San Diego State 17
Syracuse vs. Northwestern (-10)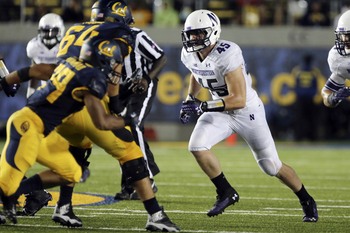 Kelley L Cox-USA TODAY Sports
Saturday, Sept. 7 at 6 p.m. ET (BTN)
The good news for Northwestern fans is that it appears that Kain Colter will likely be available following a hit to the head last week that kept him out of the vast majority of his team's win over Cal.
Beyond that, we also saw a lot more depth in the running game thanks to Treyvon Green and his 129 yards and 8.1 average per carry. A good piece of news considering Venric Mark is still day-to-day heading into Week 2.
Northwestern also went into a territory that hasn't been kind to Big Ten teams throughout history and blew the doors off a Cal team that no one really knew what it would look like.
It's safe to say I was impressed with that Northwestern team from last week.
Of course, we're moving on to Northwestern vs. Syracuse and everyone remembers the crazy game these two played last year.
Sorry folks, you aren't going to see a repeat of that at all. Syracuse doesn't have Ryan Nassib coming back and the defense is likely to have major issues stopping the Wildcats offense once again.
Perhaps the biggest difference is that Northwestern found a semblance of defense the rest of the 2012 season and in particular last week. It's a much more physical and much more explosive unit and there was a reason Collin Ellis was named the Big Ten Defensive Player of the Week.
That's why Northwestern wins and wins big at home to move to 2-0 on the year. Going over the spread here is an easy pick.
Prediction: Northwestern 44, Syracuse 24
Navy vs. Indiana (-5.5)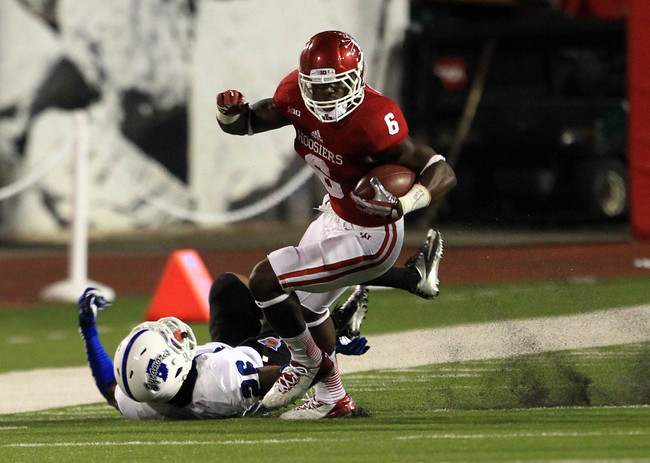 Pat Lovell-USA TODAY Sports
Saturday, Sept. 7 at 6 p.m. ET (BTN)
Cupcake or intriguing game? That's the dilemma in this game.
On the one hand, Indiana's offense can explode at any given moment and they are likely to roll just a few points on the Navy defense.
However, the Midshipmen also can control the line of scrimmage and pound a team into submission.
So the challenge is to figure out which style wins out, especially given the fact that Navy took down the Hoosiers last year, 31-30.
For me, the X-factor in this game is one Tevin Coleman (pictured above). He is a dynamic playmaker in the rushing game and adds something to the Hoosiers offense they didn't have last year: the ability to make you worry about the running game.
The other part is it appears that the defense for Indiana has improved and gotten more athletic, especially in the front seven. Could that be the difference between winning and losing?
Prediction: Indiana 41, Navy 27
Southern Mississippi vs. Nebraska (-31)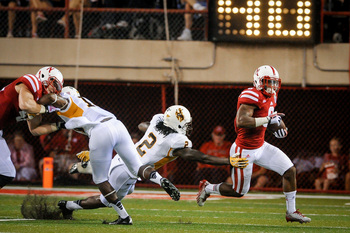 Eric Francis/Getty Images
Saturday, Sept. 7 at 6 p.m. ET (BTN)
Another week, another late game on the Big Ten Network for the Huskers. Surely Nebraska fans are hoping they don't see a repeat of last week's insane 37-34, and we've got good news for you: you won't see that happen this week.
LOCK IT DOWN.
While Wyoming showed the world that Nebraska's defense didn't deserve their blackshirts, Southern Miss is in an awful way themselves, and this is another in the long assembly line of the cupcake factory the Big Ten is taking us on a tour of again in Week 2.
Nebraska still has Taylor Martinez, Ameer Abdullah, Quincy Enunwa and Kenny Bell, right?
Okay, good. That's all you need to know about this one. Expect an angry and young defense to not pull another crappy performance again.
All I know is I wouldn't have wanted to have been in on a Nebraska defensive meeting this past week.
Prediction: Nebraska 45, Southern Miss 13
Notre Dame vs. Michigan (-3)
Saturday, Sept. 7 at 8p.m. ET (ESPN)
Rivalry? What rivalry...
Okay, that's just Brian Kelly's opinion and he's entitled to it, however wrong it may be.
However, on the field, the question for both of these teams is if their quarterback, Tommy Reese or Devin Gardner, can hold up against the opposing defense.
Michigan's defense looked like one of the best in the conference in Week 1 and Tommy Reese looked like a changed QB.
Sorry, I'm not buying Tommy Reese as a changed QB at all. He did it against Temple folks, c'mon!
However, I'm also not sold that Devin Gardner will eat up the Fighting Irish defense either. In fact, ND's defense could be better than it was a season ago and that's a scary thought.
Watch the battles up front in this game. Whichever team is winning them is going to win the football game.
Having this one under the lights and with Michigan feeling a lot of disrespect from the Irish, I say the Wolverines find a way to win it and freshman Derrick Green plays a key role with a late touchdown to win another close one in this rivalry.
Prediction: Michigan 27, Notre Dame 20
Minnesota (-21.5) vs. New Mexico State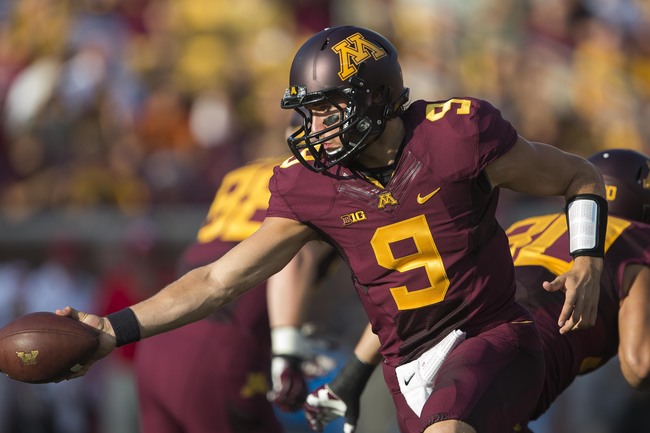 Jesse Johnson-USA TODAY Sports
Saturday, Sept. 7 at 8 p.m. ET (BTN2Go)
Oh Minnesota...
Really? How did you decide a home-and-home series with New Mexico State was a good idea?
Just how terrible could this matchup be? Up until Tuesday afternoon, this game was in serious danger of not being on television anywhere.
The positive of this matchup is that it is a great chance for Gophers quarterback Philip Nelson to show off his arm. Lord knows he didn't do it in Week 1, going all of 10-of-22 for 99 yards passing with a touchdown and an interception.
If Minnesota is going to make the jump they need, Nelson can't just run the ball all over opponents, he needs to be a better passing QB.
Speaking of getting better. Minnesota couldn't have been happy with their defensive performance in Week 1 outside of Ra'Shede Hageman.
However, the health of running back Donnell Kirkwood (ankle) should give us all a bit of pause in this matchup. Kirkwood is expected to be a huge part of the offense, and without him, the running game is vastly different.
New Mexico State is a bad football team and if Minnesota can't win this game, even on the road, they are in some serious trouble as a program moving forward.
Prediction: Minnesota 44, New Mexico State 20
Keep Reading