Mayweather vs. Canelo: Money Defeats Canelo Alvarez Via Majority Decision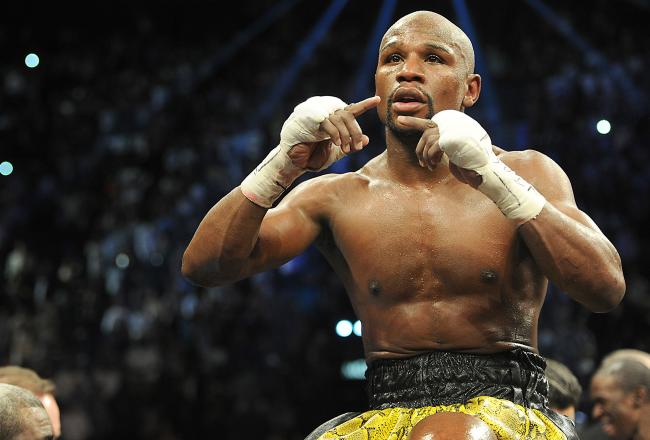 Jayne Kamin-Oncea-USA TODAY Spor
Floyd "Money" Mayweather entered Saturday's fight against Saul "Canelo" Alvarez with something to prove to the detractors who constantly question his resume, and he fired a resounding shot in the their direction as he defeated the younger boxer by majority decision.
Yahoo! Sports' Dan Wetzel had the news:
Mayweather wins majority decision. Closer than fans thought

— Dan Wetzel (@DanWetzel) September 15, 2013
Alvarez fought valiantly, but Mayweather won in familiar fashion. He controlled the ring, forced Alvarez to fight his fight and eventually wore the young power puncher down.
Both men had undefeated records on the line as Mayweather is now 45-0, while Alvarez has dropped to 42-1-1. The unblemished record has seemingly always meant a lot to the 36-year-old Mayweather, and it has to be even more meaningful the older he gets. Facing a rising star like Alvarez was a major risk, but Mayweather passed the test with flying colors as he so often has before.
Although Mayweather had already defeated stars like Miguel Cotto, Shane Mosley, Juan Manuel Marquez and Oscar De La Hoya heading into Saturday's bout, some hesitate to call him one of the best boxers ever because they believe he hasn't faced all-time greats.
Alvarez certainly can't be considered one of the all-time greats yet since he is just 23 years of age, but he was on track to enter that discussion down the line. Perhaps he still is, but Mayweather dealt him a major blow. Alvarez was viewed as the future of the sport and as a guy who could potentially be the face of boxing. However, none of that mattered to Mayweather.
While Alvarez is young, strong and explosive, it became clear during the fight that he wasn't polished enough to contend with Mayweather tactics. Alvarez's lengthy track record seems to suggest that he can almost match Mayweather in terms of experience, but aside from bouts against Mosley and Austin Trout, Canelo had never really been challenged prior to Saturday night.
Mayweather was at a different level than anything Alvarez has ever seen. It truly was a vintage performance on Mayweather's part as he used his quickness, elusiveness and defensive acumen to frustrate Alvarez at various points. With 30 knockout victories to his credit, Alvarez seemed to be looking for an opening to put Mayweather on the canvas, but that opportunity never presented itself.
Over the years, Mayweather has always had a way of controlling the tempo of the fight to his liking. He likes to bait his opponents in before walloping them with counterpunches, and he was able to do that against Alvarez. Some analysts were concerned that Mayweather wouldn't be able to handle Alvarez's power, but it was essentially a nonfactor.
Mayweather may not be the most exciting fighter in the sport today, but his win over Alvarez proved that he is unquestionably the best. That was already apparent to most prior to Saturday night, but there were some people who still needed convincing. Mayweather stepped up to the plate by seeking out a quality opponent, and he knocked it out of the park.
Do you consider Mayweather vs. Alvarez a fight-of-the-year candidate?
Now that this chapter is over, it will be interesting to see where each man goes. Mayweather pretty much has his pick of the litter as every fighter within a couple weight classes of him is champing at the bit. A fight with Mayweather means an absolutely huge payday, so Mayweather will be able to sit back and allow the offers to roll in.
Even though Alvarez lost on Saturday, he would surely love a rematch with Mayweather. Money has a lot to do with that, but he probably feels as though he needs to beat Mayweather to validate his status. There isn't much of an incentive for Mayweather to do that, though, so it's possible that Alvarez will have to build himself back up by beating other boxers.
Whatever the case, this was a fantastic fight that will long be remembered due to the fact that Mayweather answered the bell and came through with a masterful performance.
Follow @MikeChiari on Twitter
This article is
What is the duplicate article?
Why is this article offensive?
Where is this article plagiarized from?
Why is this article poorly edited?