Odds of MLB's Top September Call-Ups Eventually Becoming All-Stars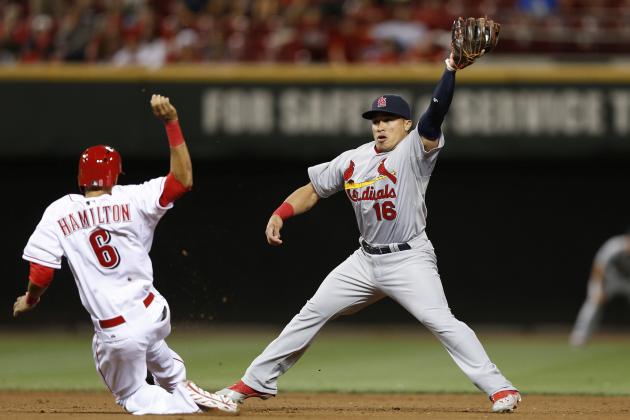 Joe Robbins/Getty Images
Billy Hamilton recorded his first stolen bases on Tuesday night.
The door to The Show opened for a few of baseball's top prospects with the expansion of the active roster on September 1.
The Detroit Tigers wasted no time promoting outfielder Nick Castellanos, as the team purchased his contract from Triple-A Toledo before Sunday's game and managed to get him a pair of at-bats in his big league debut.
Meanwhile, the Cincinnati Reds ultimately decided to promote Billy Hamilton with the hope of using his elite speed in some capacity over the final month of the season. Sure enough, the 22-year-old wasted no time making an impact. After entering the game as a pinch runner in the seventh inning, he proceeded to steal second base—against Yadier Molina nonetheless—before coming around to score on a double by Todd Frazier. He accounted for the Reds' lone run in their 1-0 win over St. Louis.
Both Castellanos and Hamilton have been ranked as consensus top-50 prospects in each of the last two seasons. Therefore, it shouldn't come as a surprise that they both have the ceiling of a future All-Star. However, they aren't the only call-ups with All-Star potential.
Here's a look at the odds of MLB's top September call-ups eventually becoming All-Stars.
Begin Slideshow

»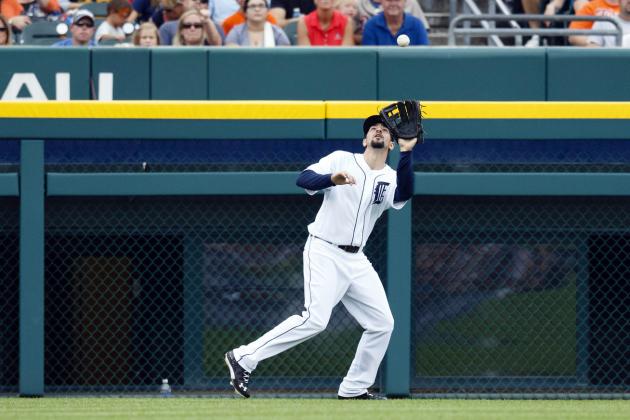 Rick Osentoski-USA TODAY Sports

Nick Castellanos emerged as one of the more projectable young hitters in the game during his rapid ascent through the Tigers' system. The 21-year-old is a natural hitter with advanced bat-to-ball skills and an inside-out swing that enables him to keep the barrel in the zone for an extended period of time.
Despite his struggles at Double-A Erie last year after the All-Star break, the Tigers confidently promoted Castellanos to Triple-A Toledo to begin the 2013 season. While he was one of the younger everyday players at the level, the outfielder demonstrated an improved approach and overall feel for the strike zone, amassing more walks and fewer strikeouts.
And after tallying 30-plus doubles in each of the last three seasons, the right-handed hitter showcased consistent over-the-fence pop this year for the first time in his career.
Odds: 70 percent
Of all prospects called up on September 1, Castellanos is the safest bet to become an All-Star. And if he comes close to reaching his ceiling, then it could be an annual occurrence.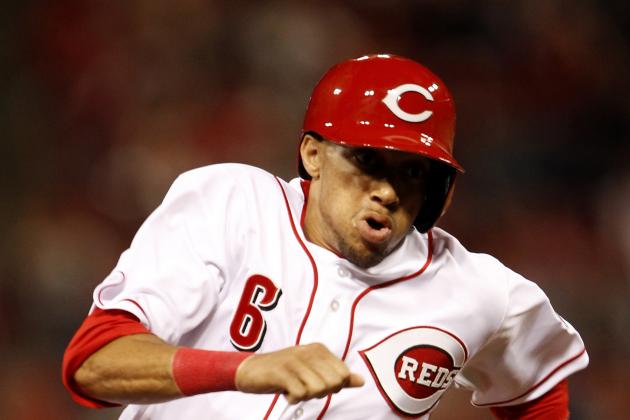 Frank Victores-USA TODAY Sports

After a monster 2012 season in which he posted an .830 OPS with 112 runs scored, 159 hits and a record-breaking 155 stolen bases across two levels, the expectations for Billy Hamilton's highly anticipated follow-up campaign were both overblown and unrealistic.
Assigned to Triple-A Louisville for the 2013 season, the 22-year-old's bat-to-ball ability and on-base skills regressed at the more advanced level. However, Hamilton—without question the fastest player I've ever seen on a baseball field—was actually more successful on the basepaths this year than he was a season ago.
Still, his combination of fringy plate discipline and an overaggressive approach was exploited, resulting in excessive weak contact and a poor walk rate.
Odds: 47 percent
Hamilton's game-changing speed gives him the ceiling of a truly dynamic player in the major leagues. And if that projection comes to fruition, he should be an All-Star several times over.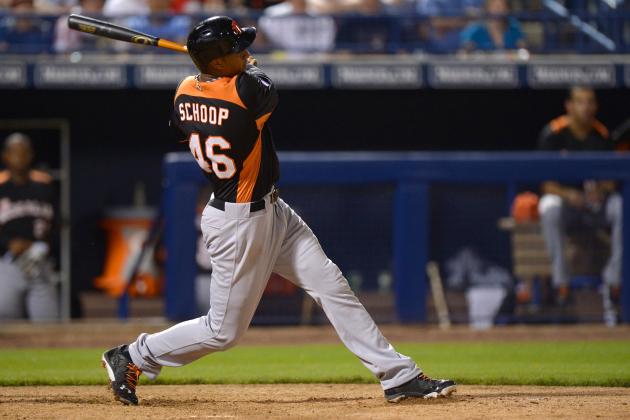 Jake Roth-USA TODAY Sports

Jonathan Schoop was one of the youngest everyday players in the Eastern League last season, though that didn't prevent the then-20-year-old from batting .245/.324/.386 with 24 doubles and 14 home runs in 124 games at Double-A Bowie. More significantly, he solidified his status as the Orioles' future at the keystone.
Moved up to Triple-A for the 2013 season, Schoop got off to a sluggish start with a .636 OPS in April and then missed roughly six weeks after suffering a stress fracture in his back in mid-May. The 21-year-old struggled to find rhythm at the plate upon returning to action in late July, though it was understandable considering his time on the disabled list and overall lack of experience at the level.
Following his promotion to the major leagues on September 1, Schoop will have the chance to get his feet wet over the final month of the season. And if the Orioles are officially eliminated from the playoff hunt, expect the team to audition him at second base with the hope of locking him into an everyday role in 2014.
Odds: 15 percent
Schoop is not and never will be the next Manny Machado, so don't expect that type of production at any point during his career. While he has the upside of a first-division regular at second base, I don't think we're talking about an All-Star-caliber player.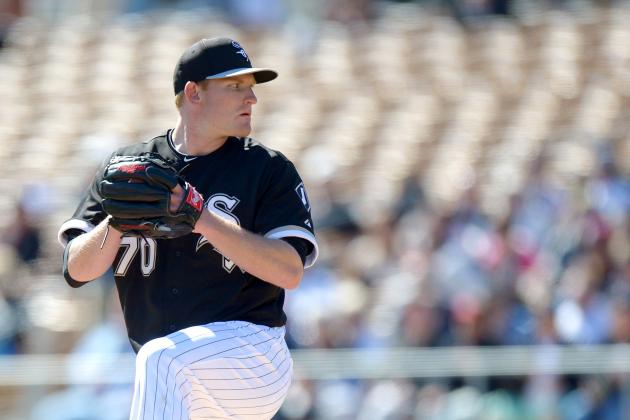 Jake Roth-USA TODAY Sports

A second-round selection in the 2011 draft out of the University of California, Erik Johnson has thrived at every level during his ascent of the White Sox's system. However, despite his overwhelming success, the right-hander has never been discussed as one of baseball's top pitching prospects and has flown beneath the radar. Well, that won't be the case for much longer, as Johnson will take the mound for his major league debut (at Yankee Stadium) on Wednesday night.
After excelling at Double-A Birmingham over the first half of the season, Johnson was promoted to Triple-A Charlotte in late June. Even though he missed most of July with an oblique strain, the 23-year-old still dominated to the tune of a 1.57 ERA with 57 strikeouts in 57.1 innings (10 starts).
A 6'3", 225-pound right-hander, Johnson features a mature four-pitch mix, as he'll work comfortably in the low- to mid-90s with his fastball and complements it with one of the better sliders in the minors. He also works in a curveball and changeup, both of which project to be at least average pitches.
Odds: 20 percent
While Johnson's stats in the minor leagues suggest a future ace, he actually has a more realistic ceiling as a No. 3 starter—which is still really, really good. However, if his success in the minors translates similarly in The Show, then we could be talking about a potential All-Star.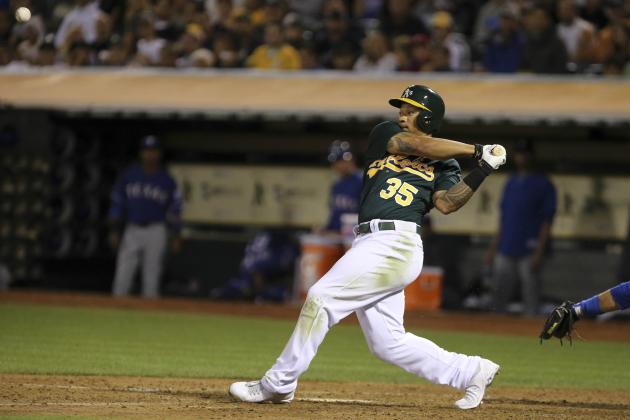 Kelley L Cox-USA TODAY Sports

The No. 10 overall selection in the 2010 draft, Michael Choice was regarded as one of the best power hitters in his class and proved he was for real the following year by launching 30 home runs in 118 games at High-A Stockton. However, his power was also accompanied by a high strikeout rate, which, in turn, raised questions about Choice's potential hit tool.
Rather than revamping his high-maintenance swing or piling up meaningless home runs in the hitter-friendly Pacific Coast League, the 23-year-old focused on refining his approach this season at Triple-A Tacoma. As a result, he posted a career-best .302 batting average and .390 on-base percentage while reducing his strikeout rate.
Odds: 30 percent
If Choice can make consistent contact in the major leagues, it should allow him to utilize his plus raw power. While he currently projects as an everyday right fielder on a first-division team, Choice could conceivably find himself on an All-Star squad given the untapped potential.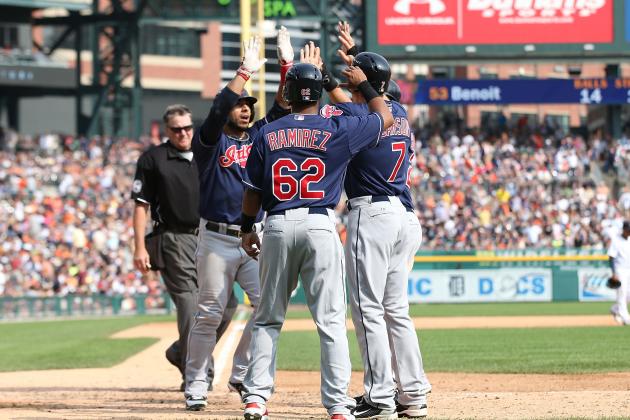 Leon Halip/Getty Images

Jose Ramirez was called up to the major leagues on September 1, despite having played in only 180 games at a full-season level. Coming off of a breakout 2012 campaign with Low-A Kane County in which he posted an .865 OPS with 20 extra-base hits and 15 steals in 67 games, the Indians promoted Ramirez directly to Double-A Akron for the 2013 season.
As one of the younger everyday players at the level, the 20-year-old held his own with a .272/.325/.349 batting line and 41/39 K/BB ratio in 113 games. At the time of his promotion, Ramirez led the Eastern League with 38 stolen bases and ranked fourth with 78 runs scored.
Besides the fact that he's only 5'9" and plays second base, Ramirez's tools and overall upside draws comparisons to Jose Altuve's. More specifically, both players possess an above-average hit tool and plus speed suited for the top of the order. While Altuve was named to his first All-Star team last season, Ramirez profiles more as a starter on a first-division team.
Odds: 10 percent
As a player who gets the most of his natural ability and tends to surpass expectations, there's a chance that Ramirez makes an All-Star team or two during his career.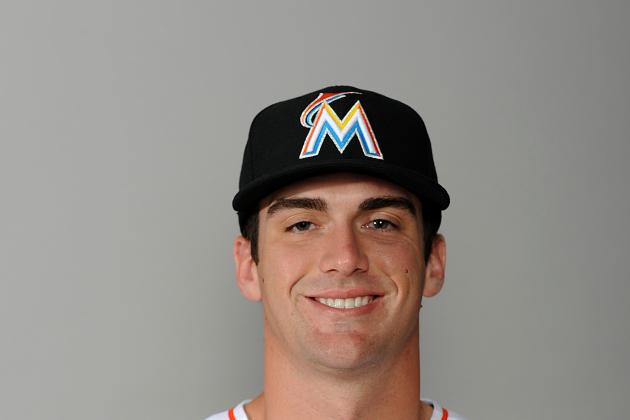 USA TODAY Sports

Acquired last July in the deal that sent Omar Infante and Anibal Sanchez to Detroit, Brian Flynn was viewed as a guy who could move quickly if he ever put everything together. Well, that's exactly what happened this season, his first in the Marlins' organization. After registering a 1.57 ERA over four starts for Double-A Jacksonville, the 23-year-old was promoted to Triple-A New Orleans, where he's posted a 2.80 ERA and 122/40 K/BB ratio in 138 innings.
At 6'7", 240 pounds, the left-hander has done a better job repeating his delivery and working on a consistent downhill plane this season. As a result, Flynn has shown improved command of his low-90s fastball, which has, in turn, made his secondary offerings (curveball/slider/changeup) all the more effective. Given his size, handedness and four-pitch mix, Flynn could open the 2014 season in the Marlins' starting rotation with a strong showing this September in the major leagues.
Odds: 5 percent
He has a realistic chance of reaching his ceiling as a No. 4 or 5 starter, but nothing about him screams All-Star potential.