Dennis Allen's decision to go with Terrelle Pryor as the Raiders starting quarterback appears to be the worst-kept secret in the NFL, with Vic Tafur of the San Francisco Chronicle citing two league sources as confirming Pryor as the Week 1 starter.
It's also a move that makes every bit of sense in the world, particularly for a team looking for any ray of hope it can find.
Pryor clearly outplayed Matt Flynn in the preseason. He engineered more scoring drives, put up better numbers and moved the offense in a way that Flynn couldn't.
Granted, much of it came against backups while Flynn had to go against opposing teams' starters. Yet it was clear, almost from the first preseason game, that Pryor brings a different vibe to the offense than his counterpart.
Critics will point out that Flynn is the more polished passer of the two, and there is truth to that. Yet Pryor possesses something that Flynn clearly does not, and that's his game-breaking ability on the ground. Given how more and more teams around the NFL are incorporating the spread option into their offense, Pryor's athleticism and speed can't be overlooked.
He's still very much a work in progress, but he's the best (and only) choice the Raiders have at this point.
The Speed
Going all the way back to his childhood, Pryor's best asset has been his ability to run fast with the ball. He ran for more than 4,000 yards in high school, then added another 2,100 while at Ohio State.
In the NFL, Pryor's biggest weapon will once again be his speed.
Oakland's offensive line struggled in pass protection during the preseason, which is part of the reason Flynn lost the starting job. The veteran backup couldn't escape the pass rush from New Orleans and fared only slightly better the following week against Chicago.
Pryor, on the other hand, was able to move around and avoid potential sacks, keeping plays alive. He averaged 9.4 yards on 14 carries and scored the Raiders lone rushing touchdown in the preseason.
That's pivotal because, until Oakland proves it can be successful throwing the ball, defenses will stack the box in an effort to take away the running game.
The real challenge for Pryor is picking the right spots to run. He's been so focused on becoming a complete quarterback that at times during the preseason he passed up chances to run and instead forced some throws into coverage.
The other thing to consider is this: At 6'4" and 233 pounds, Pryor is bigger and stronger than running backs Darren McFadden and Rashad Jennings and only slightly trimmer than fullback Marcel Reece. So even when defenses get a hand on him, Pryor is no easy takedown.
Throwing
A year ago Pryor looked like he had picked up a football for the very first time. His throwing mechanics were awful and his footwork was a mess. It was no surprise the former Ohio State star spent so much time on the bench.
Fast forward to the beginning of training camp this year and there was an entirely different quarterback on the field. The passes, so wobbly a year ago, were much crisper coming out of Pryor's hands. There was also a noticeable different zip on the ball, giving Pryor the ability to make downfield throws that he wasn't able to in 2012.
That doesn't mean he's ready to unseat Tom Brady or Peyton Manning as one of the elite quarterbacks in the AFC.
Pryor still has a tendency to hold on to the ball too long. Making touch passes over incoming defenders has been a big challenge as well.
There's also the issue of accuracy. Pryor had the lowest completion percentage of all the quarterbacks on the Raiders' preseason roster, and his rating of 59.5 is hardly Pro Bowl material.
He also gets happy feet at times, usually when the first read isn't open. A year ago Pryor had a problem staying loaded on his back foot, which resulted in several off-target throws.
Still, Pryor is vastly improved as a passing quarterback from what he was a year ago. As long as the Raiders don't have to throw 40 times a game or more, Pryor should be OK.
Analysis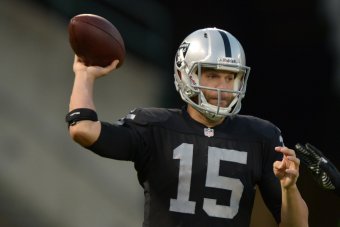 Kirby Lee-USA TODAY Sports
If Oakland's offensive line was in better shape, there's probably not even a debate going on over who should start. Flynn, who was with Green Bay at the same time current Raiders general manager Reggie McKenzie worked in the Packers personnel department, would be the guy.
However, the offensive line is a mess and there has been no cohesion to the offense except for when Pryor has been on the field. His ability to keep plays alive and to avoid sacks is priceless and can't be undervalued.
The Raiders are still a longshot to end their playoff drought, and it will take a monumental effort from the quarterback to keep this team from missing out on the playoffs for an 11th consecutive year.
Pryor, the last draft pick made by Hall of Fame owner Al Davis, might not be the quarterback to get the Raiders back into the postseason, but he's clearly a better fit in Oakland under the current conditions than Flynn.