Biggest Questions Facing Chiefs in Week 1 Contest with Jaguars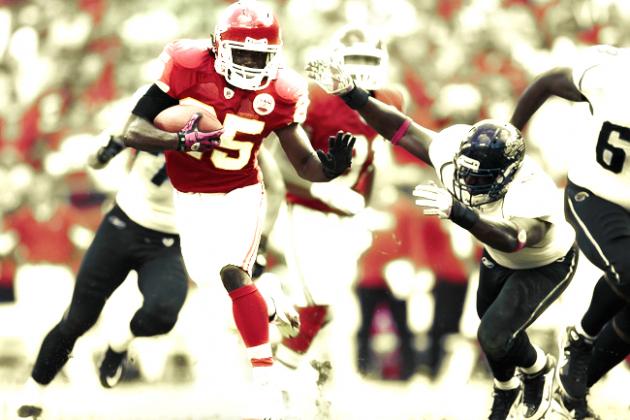 Jamie Squire/Getty Images
Image edited by Brett Gering
This Sunday, the first whistle that reverberates throughout EverBank Stadium will officially mark the beginning of the Andy Reid era in the City of Fountains.
The Kansas City Chiefs' newest starting signal-caller, Alex Smith, will face a Jacksonville Jaguars defense that ranked 30th in total yards and points allowed in 2012.
Coach Reid's first test entails beating a team whose fans are so starved for buzz-worthy water-cooler talk that they petitioned President Barack Obama to "Call NFL Jacksonville Jaguars GM David Caldwell and tell him to stop ignoring the Jaguars fans and sign Tim Tebow!"
That almost makes me feel like Clark Hunt should've forfeited the No. 1 pick and claimed it as a tax write-off under charitable donations. Almost.
With the exception of a solid draft, the Jaguars have done little to bolster an ailing roster, and that ailing roster is currently a 3.5-point home underdog heading into Sunday's opener.
That's not saying that Jacksonville can't overcome the odds, though. This is the NFL: A Romeo Crennel-led Chiefs squad upset the 13-0 Super Bowl favorites in the same year that Tebow notched a playoff victory over the No. 1 defense. In overtime. On a passing play.
Kansas City, on some level, has piqued the curiosity of nearly every NFL enthusiast throughout the offseason. On Sept. 8, Reid will begin answering the smorgasbord of questions on his plate and feed five curiosities in particular.
Statistics provided by Pro Football Focus (subscription required).
Begin Slideshow

»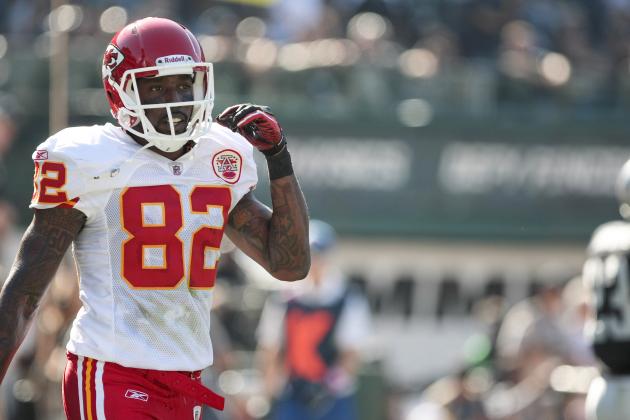 Kelley L Cox-USA TODAY Sports

Star wideout Dwayne Bowe will be sizing up a rookie cornerback, Dwayne Gratz.
Half man, half grizzly Dontari Poe will line up across from arguably the league's most feeble center, Brad Meester.
Due to a four-game suspension, Blaine Gabbert's favorite target, Justin Blackmon, won't be suiting up. As a result, Kansas City's lockdown corner, Brandon Flowers, will be guarding Cecil Shorts (who is vastly underrated but susceptible to jams at the line of scrimmage).
Collectively, the Jaguars defense churned out the league's worst pass rush in 2012 and did little—if anything—to address the issue over the offseason.
If Kansas City hopes to take shots down the field, this is the team to test its luck against.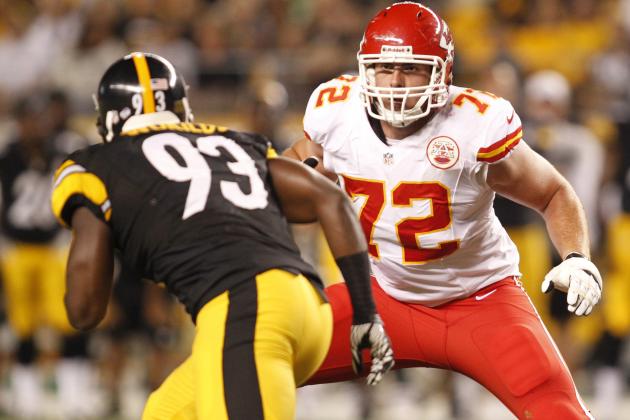 Charles LeClaire-USA TODAY Sport

After the Senior Bowl, draft aficionados debated Eric Fisher vs. Luke Joeckel with the conviction of rural Alabamians arguing Ford vs. Chevy (minus the Skynyrd shirts and PBR spit cans).
When the Chiefs take the field, the majority of Fisher's snaps should revolve around blocking Tyson Alualu. In three seasons, Alualu has strung together less sacks than Justin Houston—who will line up opposite of Joeckel—managed last season alone.
The two respective assignments obviously don't make for an apples-to-apples comparison.
Fisher brings a blue-collared attitude to the table, which undoubtedly endeared him to his head coach. However, Andy Reid likely drafted No. 72 because he's more athletic than his peer, and the Chiefs' linemen will be tasked with blocking in space on a regular basis.
Joeckel, on the other hand, has looked more comfortable than Fisher during conventional dropbacks.
The No. 2 overall pick battled a hip flexor throughout the preseason, but he has seemingly recovered and is absent from the injury report. Fisher's development has been bogged down by a trio of injuries, including a shoulder that continued to handicap him throughout practice this past week.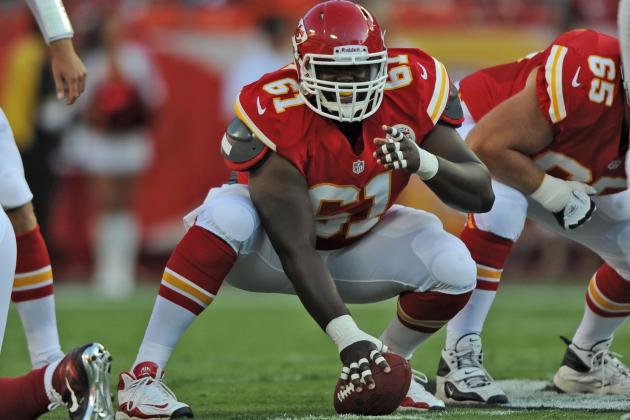 Peter Aiken/Getty Images

The starting offensive line performed inconsistently throughout the preseason.
To compound the issue, Eric Fisher will storm out of Sunday's tunnel with a wounded shoulder, and Jon Asamoah missed Wednesday's practice with a calf injury.
If Asamoah is rendered to a 305-pound cheerleader, Geoff Schwartz is the presumed replacement.
While Schartz is a more than serviceable substitute, Asamoah is, at this point, Kansas City's most dominant and well-rounded blocker.
But while chemistry isn't on the Chiefs' side, conditioning is.
The linemen have acclimated to the demanding tempo that Andy Reid has established, which could pay off in the second half.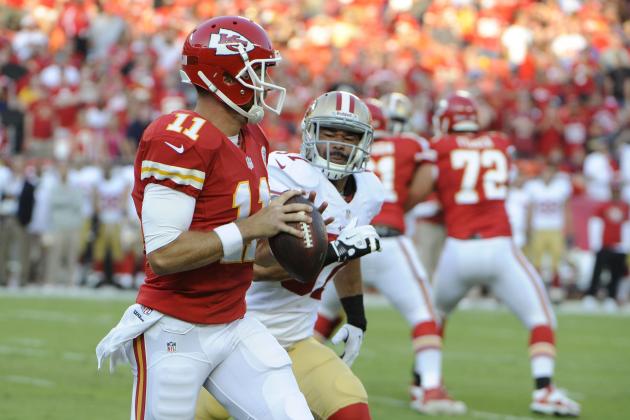 John Rieger-USA TODAY Sports

This offseason, everyone—players, media, fans, etc.—raved about the team's downfield passing game. After Week 1 of the preseason, Dwayne Bowe told The Kansas City Star, "We've got one game down, three more to go and then the real season starts. And that's when you'll see Bombs Over Baghdad."
Either Bowe is about to be one disillusioned wide receiver, or Andy Reid is set to unveil a secretive downfield passing game with Oprah-like excitement.
During the preseason, Alex Smith only attempted two passes of 20 yards or more, accounting for a meager 4.2 percent of his throws—the fourth-lowest percentage among qualifying quarterbacks.
Kansas City has the speed to stretch the field. The Chiefs utilized three-wide receiver sets in 49 percent of the club's preseason snaps, and the pairing of Donnie Avery and Dexter McCluster owns enough pure speed to make Heisenberg (NSFW) file for bankruptcy.
But does Alex Smith tote the arm strength?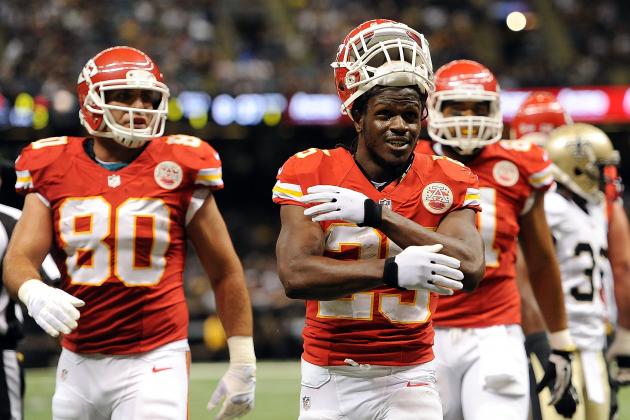 Stacy Revere/Getty Images

Speaking of speed, it would be borderline blasphemous to mention it without referencing Jamaal Charles.
If No. 25 ran a 40 in track apparel, the bottom of his shoes could double as a George Foreman grill.
But how many handoffs will he cradle on Sunday?
Charles rarely saw the field after the team's preseason premiere at New Orleans. And in that game, the rusher's notable contributions didn't stem from his running, but his route running.
Whether it be from splitting out or releasing to the flat, Kansas City's home-run hitter is sure to snatch his share of receptions against the Jaguars.
However, if the Chiefs hope to deliver on their promise of a vertical passing game, play-action will serve as the key to the equation.
Charles could run in place for five minutes and signal a rescue plane via smoke plume, but his Mach speed is rendered useless if shoddy blocking can't clear him for takeoff.
For more Chiefs news, follow Brett on Twitter: