The Ultimate Fighter 18: Team Rousey vs. Team Tate, Episode 1 Live Results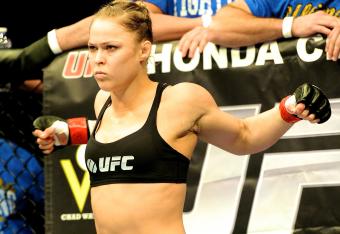 The Ultimate Fighter settles in for its 18th season with new coaches Ronda Rousey and Miesha Tate on Wednesday evening at 10 p.m. ET.
The storied program will make the switch to its new home, Fox Sports 1. The premiere episode will feature 32 UFC hopefuls, 16 male bantamweights and 16 female bantamweights, squaring off and trying to make it into the house.
The UFC released the names of the 32-person cast.
Stay tuned for live coverage of The Ultimate Fighter 18 as the highly anticipated season gets underway. It will be a fight-filled first episode that you won't want to miss.
Welcome to The Ultimate Fighter. Bleacher Report will have wall-to-wall coverage of this season each and every week. That includes a weekly column from Jessamyn Duke! It will be a blast. Stick around.
The first fight will be – Shayna Baszler vs. Julianna Pena. The first female picks will begin the season immediately. Huge fight.
Tim Gorman is the first to criticize his female coach saying, "Is that her name? I don't even care if she picked me last because I don't even know what her name is." A clueless buffoon. I have a feeling he will be drinking some alcoholic beverage and making poor choices this season.
Team Tate: Julianna Pena, Sarah Moras, Raquel Pennington, Roxanne Modaferri, Cody Bollinger, Chris Holdsworth, Josh Hill, Tim Gorman
Team Rousey: Shayna Baszler, Jessamyn Duke, Peggy Morgan, Jessica Rakoczy, Chris Beal, David Grant, Anthony Gutierrez, Michael Wootten
Team Rousey selects Shayna Baszler. That could be a deadly duo.
Team Tate drafts Julianna Pena No. 1. A surprise, but Tate trains with Pena. So, maybe not too big of a shock.
The end of the fights, and deliberations begin. Teams being picked next. Tate will have first pick.
That triangle was horrible, it's like the dude never even went to geometry class.

— MiddleEasy (@MiddleEasy) September 5, 2013
Round 2
Bollinger turns up the pace. De Freitas is noticeably slower in the second. Bollinger landing hard shots. Big uppercut connects. De Freitas is tough to eat these shots, but how much is too much? Bollinger landing mor and more, and De Freitas finally wilts.
Cody Bollinger pours it on in the second to earn his house key.
Round 1
Bollinger presses the action early. Bollinger takes down De Freitas down. De Freitas gets slammed after trying to accomplish something with his legs. Weird position. They stand back up. Strong leg kicks coming from De Freitas. He locks in a guillotine, but Bollinger moves him to the fence to defend. Bollinger landing strong ground and pound after he gets out of the choke. De Freitas goes for a triangle, gets slammed, but nearly locks it in. Still a bit of space for Bollinger. The round ends.
How much do you think "experience" matters when someone straight wants it more? -Cat

— UFC (@ufc) September 5, 2013
Rafael de Freitas (6-0-1) meets Cody Bollinger (14-3).
The show loses two of its most interesting in-house characters in LaRosa and Evinger. Both ladies talked a lot of smack about Tate on social media, and neither advance. She gets the last laugh.
LaRosa opens with a stiff punch, and Moras takes her down right away. Moras threatens with submissions. Moras seemed to control the fight on the ground, and she upsets the vet with a decision. Tough break.
Tara LaRosa (21-3) is up next. Longtime veteran, and formerly a topped ranked flyweight. She meets Sarah Moras (3-1).
Hot pink hair, I'm a fan! Julianna has elbows, also a fan. Smash! Boom! Bang! Good aggression girls! -Cat

— UFC (@ufc) September 5, 2013
Tate was not very complimentary of the fight. Rousey compliments Guiterrez's decision win.
Matt Munsey (4-1) vs. Anthony Guiterrez (4-0) begins promptly. No extended pre-fight family showcase for these two.
The highlights focused on Pena's early aggression. She landed numerous stiff strikes. In the second, it was more of the same. Aggression. All out aggression. A lopsided decision to advance.
Gina Mazany (3-0) meets with her father and brother before her fight. She takes on Julianna Pena (4-2).
Dana White and Miesha Tate are still impressed with Fisette. They would have liked to have seen him in the house as well.
Round 1
Fisette is aggressive early on. They clinch. Fisette takes Holdsworth down. Fisette keeping heavy on Holdsworth, but he transitions to an armbar anyway. He loses the submission. Holdsworth now locks up a triangle. It's deep. Fisette is being saved by his hand. Holdsworth sticks with it, and starts looking for the arm. Holdsworth pulls down on his head. Fisette slips his head out, and he tries to land ground and pound furiously. Fisette gets put on his back by being too aggressive. Holdsworth advances to mount. Arm-triangle is deep. Fisette taps.
Holdsworth advances with an arm-triangle submission.
This article is
What is the duplicate article?
Why is this article offensive?
Where is this article plagiarized from?
Why is this article poorly edited?