Boise State Football: Are the Broncos Still a Nationally Relevant Program?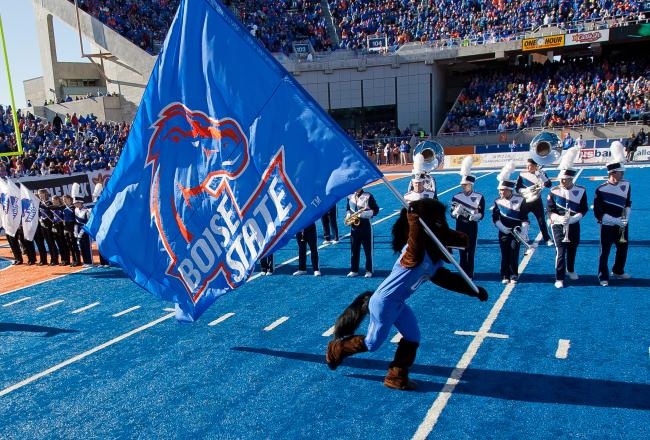 Are Boise State's glory days gone?
Otto Kitsinger III/Getty Images
When Boise State head coach Chris Petersen looked up at the scoreboard at Washington's Husky Stadium last Saturday night and saw that ugly, lopsided final tally of 38-6 in favor of the opposition, feelings of frustration, disappointment and embarrassment must have naturally set in.

After the coach dealt with his players and staff, finished with his media obligations that night in Seattle and finally had a moment to himself to sit and reflect back on the game, he likely recalled all the missed tackles, the missed assignments and missed chances his team had in the blowout defeat. You have to wonder, though, if the normally positive-minded Petersen also dealt with some other, more troublesome thoughts and tougher "big picture" questions as well.

Is this is it?

Is the run over?

Is this finally the end of Boise State's time as college football's most talked-about mid-major program?

Are the days of being the sport's darling dark horse done?

Admittedly, one rough season-opennig performance should never be considered a sign of demise for a program. 20 other FBS teams from non-BCS conferences lost to a BCS opponent in Week 1, and it's highly doubtful that any of their coaches are asking themselves those types of doom and gloom questions right now. However, the Broncos are in a unique situation that simply can't be compared to others.

This is a program that has managed to put together an incredible run of consistent success since Petersen took over back in 2006. The numbers during his tenure speak for themselves: 84 total victories (an average of 12 wins per season), five conference championships and five bowl wins. His current .903 winning percentage is still better than that of any active head coach on the FBS level.

Unfortunately, getting handled by the Huskies is just the latest sign of slippage for Petersen's squad.

At the time, last year's season-opening loss to Michigan State seemed like an aberration, mainly due to the fact that Boise State had beaten all five of the BCS teams that they had played in the four previous seasons (Oregon in 2008 and 2009, Virginia Tech in 2010,Georgia and Arizona State in 2011). Now, though, you have to wonder if it was the start of a troubling trend.

Thus is life for a program whose one nationally notable marquee game is its season-opener. When you perform well on the big stage and beat a big-name opponent, you get soaked in accolades. But when you lose, you have to deal with the questions and criticisms.

That's what's now left following the loss to Washington: questions.

The sustained success, the many wins, the SportsCenter stories and the BCS bowl trophies are all tremendous accomplishments—but they are also all in the past. Just like all sports, college football is a win-now business. The focus is on what you're going to do next Saturday—not what you did five years ago.

Go ask Virginia Tech fans about what they care about more: Frank Beamer's eight straight double-digit win seasons from 2004 to 2011 or the current struggling state of the Hokies program? Then go ask Texas fans the same question about Mack Brown. Or go ask USC or Miami fans about how quickly a powerhouse program's fortunes can change.

History tells us that when it comes to college football, it's easy to go from being a headline maker to yesterday's news rather quickly.

After three straight seasons, which all resulted in trips to the lightly-watched Las Vegas Bowl instead of a big-time BCS bowl destination, it's at least fair to wonder if Boise State's best days are in the rearview mirror.

With the Broncos making the decision to decline a lucrative contract to join the Big East (now called the American Athletic Conference) in order to stay put in the Mountain West, you have to wonder what the future holds for them, as college football prepares for a major landscape-altering shift into a playoff era.

Still, even for a school in a so-called lesser conference, you can't help but appreciate what the Broncos have been able to accomplish under Petersen's watch. It's utterly remarkable. Unfortunately, though, every wave of success—no matter how high it reaches—will eventually break.
It's only a question of when it will happen—not if.

Seven straight double-digit win seasons is supremely impressive. But as it stands right now, pushing that streak to eight looks like it's going to be a formidable challenge. You can easily make the argument that the Broncos have six more losable games left on their schedule against capable opponents, such as Fresno State, Utah State, Nevada, BYU, Wyoming and San Diego State.

A seven- or eight-win season in 2013 could serve as a turning point for the program, and not in a good way. That means a loss of momentum, a loss of national buzz—and most importantly, a loss of credibility.

There's a good chunk of the college football crowd, including pretty much every SEC fan I've ever talked to, who have never taken the Broncos seriously from the start. They're the naysayers who have labeled Boise State as just a glorified junior college with an overrated team, which plays on a silly blue field. Still, there's also a substantial number of believers who hopped on the bandwagon and bought into the hype after the memorable upset victory over Oklahoma in the 2007 Fiesta Bowl.

That was the big statement win that set the wave of success in motion.
Now, though, even those supporters and bandwagon riders—and even the old Boise State faithful, who loved the team before it became a nationally recognizable name—have to see the signs of weakness and vulnerability, which were fully on display in the Week 1 loss to Washington.

As long as Petersen is at the helm, it's likely that the Broncos will always be an annual contender in the Mountain West. But it remains to be seen whether Boise State can get back to the level of being a threat on the national scene ever again.

Whether you love Petersen's squad or always felt like the team was overrated, you at least have to appreciate the Broncos' rise to prominence. It was a rare story that captured the attention of the college football world and kept it captivated for a longer period than anyone could have imagined.

Sadly, the fun always has to end at some point, and every successful run, no matter how great, must come to a close.
While it's too early to say that Boise State's time in the sun is over, it's certainly not too early to wonder about just what the future truly holds for the boys in blue.
This article is
What is the duplicate article?
Why is this article offensive?
Where is this article plagiarized from?
Why is this article poorly edited?

Boise State Football: Like this team?