Clemson Tigers vs. South Carolina State Bulldogs: Complete Game Preview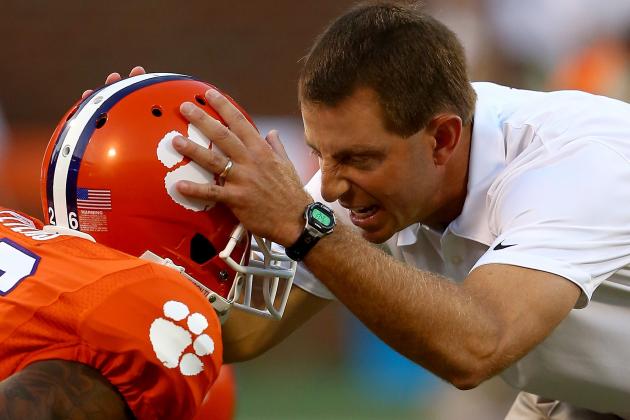 Streeter Lecka/Getty Images
Dabo Swinney wants to keep his team's attention against South Carolina State.
Last week's results
Clemson (1-0) beat then-No. 5 Georgia 38-35.
South Carolina State (0-1) lost at Coastal Carolina 27-20.
Most important story lines of the week
Will Clemson be motivated?
It's a natural question, given the emotional nature of Clemson's win over Georgia, which made the Tigers the first non-SEC team ever to score back-to-back wins over top-10 SEC teams. Those Bulldogs are followed by a slightly less powerful group of Bulldogs in South Carolina State.
The in-state FCS program went 5-6 in 2012 and is coming off an opening-week loss to fellow FCS team Coastal Carolina. Couple their visit with a lower-energy 12:30 p.m. kickoff, and you have a recipe for a letdown.
Clemson coach Dabo Swinney said all the right things about S.C. State, noting that seven FCS teams beat FBS opponents in week 1, led by North Dakota State's stunner at Kansas State. Swinney wants his team to know that each of the 12 weeks of the season are valuable, that they represent what players work for all year long. Play without energy, he said, and you get beat. If the Tigers come out flat, it won't be for lack of effort on his part.
Where can Clemson improve?
Despite the impressive win, Swinney knows the Tigers have plenty of room for improvement. Clemson receivers dropped six of Tajh Boyd's passes last week, including key bobbles by juniors Martavis Bryant and Charone Peake. In addition, junior star wideout Sammy Watkins muffed a punt which was recovered by Georgia, and senior special teams player C.J. Jones saved a near-disaster when he scooped up a punt which had deflected off freshman linebacker Ben Boulware into the end zone.
Clemson allowed 545 yards of total offense to Georgia, and there were issues with soft coverage and poor tackling which led to more yardage. South Carolina State uses a quick-tempo offense which logged 58 rush attempts last week, which could test the Tigers' defense.
Will more young players see time?
Only five true freshmen saw action against Georgia—Boulware, defensive end Shaq Lawson, nickel back Korrin Wiggins, wide receiver Mike Williams and safety Cordrea Tankersley. That number should rise this week; cornerback Mackensie Alexander and tight end Jordan Leggett are expected to return from minor injuries which sidelined them against UGA. With Clemson a massive favorite, expect Swinney to empty his bench early on and get young players key experience.
Time: 12:30 p.m. ET
Place: Memorial Stadium, Clemson, S.C.
TV: Fox Sports Net (regional)
Radio: Clemson and South Carolina State radio networks (regional)
Spread: Clemson -52 via VegasInsider.com
Begin Slideshow

»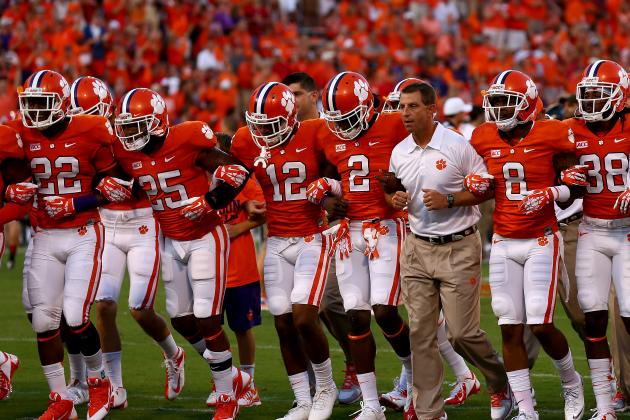 Streeter Lecka/Getty Images
Clemson must show up with intensity against FCS foe South Carolina State.
1. Show up with fire
Clemson has acquired a perhaps unfair reputation for playing down to its opponents; over the last three years, the Tigers' losses have come at Georgia Tech, at N.C. State, against South Carolina, against West Virginia in the Orange Bowl, at Florida State and at South Carolina. Of those, only Georgia Tech and N.C. State were unranked. Two years ago, Clemson was tied at the half against in-state FCS foe Wofford before pulling out a 35-27 win. However, under Swinney, the Tigers' other FCS games have looked like this: 49-3 over Coastal Carolina, 58-21 over Presbyterian and 41-7 over Furman.
2. Play fast
Clemson ran 76 offensive plays last week, but offensive coordinator Chad Morris wasn't happy. He said senior quarterback Tajh Boyd slowed the offense down by taking too long to look at the sideline for the next play's signal, and noted a pair of three-and-outs. Without them, the Tigers could have run at least six more plays; Morris wants to add 2-3 plays per game to Clemson's 82-play average from a year ago. In his eyes, the Tigers can always play faster. An FCS foe is no reason to slow down.
3. Stop the run
South Carolina State will try and establish the run early, if its 58-rush game against Coastal Carolina is any indication. Clemson struggled at times to contain Georgia, which rolled up 222 rushing yards. These Bulldogs don't have Todd Gurley or Keith Marshall in their backfield, but the idea is the same: win the line of scrimmage and win the game.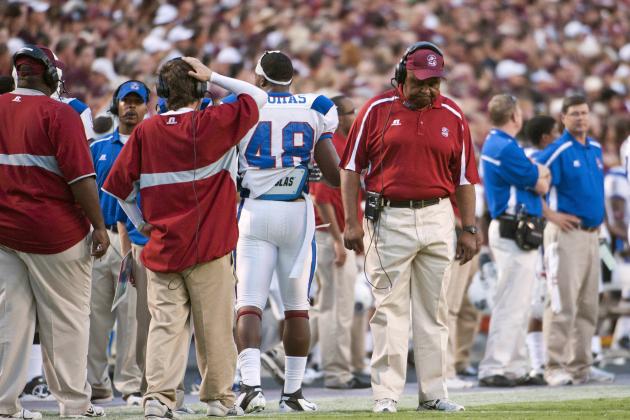 Brendan Maloney-USA TODAY Sports
South Carolina State hopes for better results Saturday than 2012's 70-14 loss at Texas A&M.
1. Catch the Tigers off-guard
Clemson has spent this week basking in national adulation, rising to No. 4 in the Associated Press top 25—its highest ranking since September 1988. For any hope of an upset, coach Buddy Pough's group must start fast and hope Clemson gets off to a flat start.
2. Force turnovers
Last week, Clemson committed one key turnover and nearly another against Georgia. A key of any upset is forcing turnovers, and South Carolina State won't escape Death Valley victorious without forcing the Tigers into several mistakes.
3. Don't get rattled
With a 12:30 p.m. start, the raucous environment that exemplified the Georgia game won't be duplicated. However, this will still be the largest crowd S.C. State will play in front of all season long. The Bulldogs must keep their poise, something that didn't happen last season at Texas A&M in a 70-14 defeat.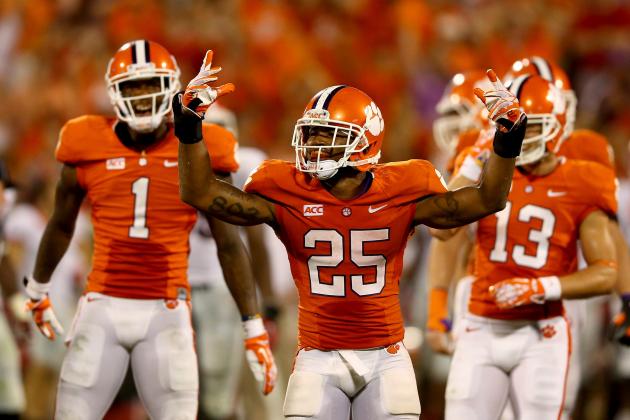 Streeter Lecka/Getty Images
Clemson senior tailback Rod McDowell had a breakout game against Georgia.
Senior RB Rod McDowell
After nearly transferring two years ago while buried on the depth chart, McDowell broke out in a big way against Georgia with 132 rushing yards on 22 carries. He is a physical, fast runner who should see the lion's share of carries against S.C. State, although sophomore Zac Brooks, junior C.J. Davidson and junior D.J. Howard will also see time.
Junior WR Martavis Bryant
Following two inconsistent seasons, coaches raved about Bryant's spring and preseason. However, save a timely grab of Georgia's final onside kick, Bryant had an opener to forget, going catchless and dropping a potential big gainer down the left sideline. Coaches say they're still confident in him, pointing to tight end Brandon Ford, who dropped five passes in the 2012 season opener against Auburn but rebounded for an All-ACC senior year. This week will be a big confidence booster for him.
Freshman CB Mackensie Alexander
Alexander was one of Clemson's top 2013 recruits and expected to see significant early playing time in an uncertain secondary. However, he pulled a groin in his first practice, an injury which hampered his progress for an entire month. He is now ready to go and healthy. Saturday, he'll get his first chance to live up to the hype.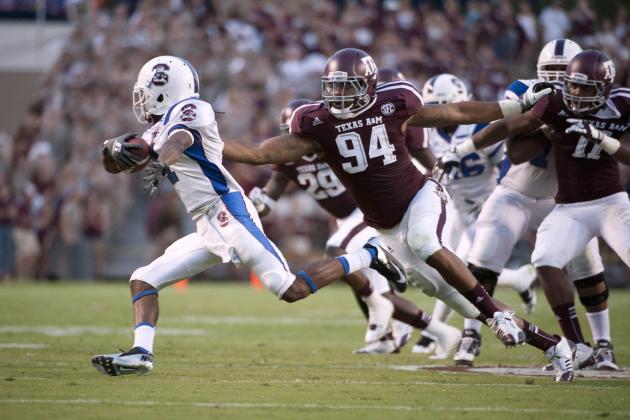 Brendan Maloney-USA TODAY Sports
South Carolina State faces a tall task Saturday at Clemson.



Senior QB Richard Cue: Cue is a dual-threat quarterback who passed for 178 yards and one score, then rushed for 15 yards and a touchdown last week against Coastal Carolina. A year ago, he rolled up 1,819 yards passing with 11 scores through the air, adding 322 rushing yards and two touchdowns on the ground.



Senior WR Justin McDonald: McDonald is a breakaway threat. He had four catches for 108 yards against Coastal, including a 74-yard touchdown. He was named the MEAC's Offensive Player of the Week for his efforts. That could be a concern for a Clemson defense which gave up multiple big plays against Georgia.



Junior LB Justin Hughes: Hughes is regarded as one of the top linebackers in the FCS. He had 10 tackles and a sack last week against Coastal, and will be watched closely by Clemson's offensive coaches and offensive linemen this week.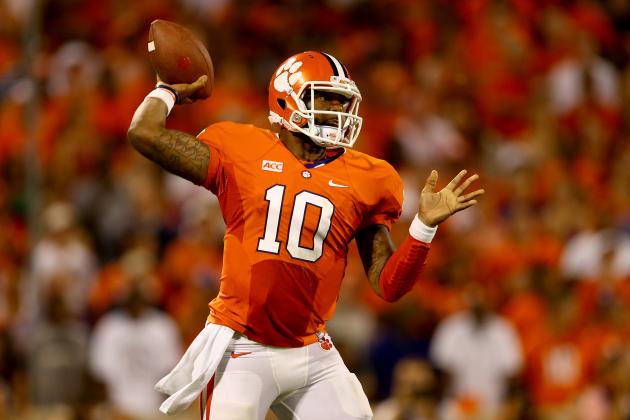 Streeter Lecka/Getty Images
Senior quarterback Tajh Boyd knows South Carolina State is not to be taken lightly.
"I know everybody looks at the schedule and thinks that it's S.C. State versus Clemson. It's an FCS team, but if you think that way then you get beat. I think there were eight FCS teams that beat FBS opponents last Saturday.
"If you don't come ready to play then you get beat, that's the bottom line. You go out and play with low energy and you turn it over and you are not dialed in then you get beat. Everybody for us is a nameless, faceless opponent." – Clemson coach Dabo Swinney, on taking South Carolina State seriously.
"Everybody knows. You see it all the time on TV. It's football – anything can happen. We're trying to perform to our standards. You look at North Dakota State beating Kansas State. It's football. Things happen. You control what you can control each play." – Clemson senior quarterback Tajh Boyd on being motivated to play an FCS foe.
"If losing a game is 'pulling a Clemson,' there's a lot of people 'pulling a Clemson' out there." – Swinney on the program's reputation of playing down to lesser foes.
*Unless noted, all quotes were gathered first-hand by the article's author.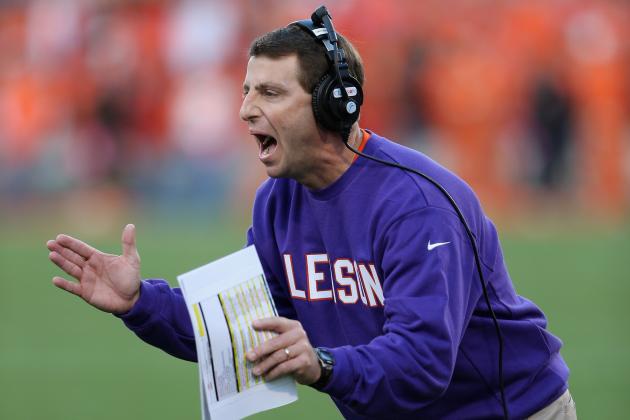 Streeter Lecka/Getty Images
Dabo Swinney has had success keeping his team motivated for lesser foes.
Two years ago, boos chased Clemson into the locker room as the Tigers ended the first half tied with in-state FCS foe Wofford. Swinney remembers it well, saying "I was booing, too." The Tigers won that game, and many players from that day remain on the roster. Outside of that day, Clemson hasn't had recent problems with FCS foes. Over the last two years, the Tigers have established themselves as one of the most consistent teams in FBS, one of six programs to remain in the AP top 25 for the last 30 weeks. That's the sign of a well-coached, well-disciplined program, which shows up in weeks like this.
Swinney preaches playing against "nameless, faceless opponents," which fits right into this week's plan. The Tigers are far more talented than these Bulldogs, and it should show early. Expect a blowout win with lots of playing time for reserves and youngsters.
Clemson 54, South Carolina State 10.