With a little bit of luck, discipline and heart, the New York Jets pulled out a dramatic one-point win over the Tampa Bay Buccaneers in the final seconds.
Scroll down for grades and analysis for each of New York's positional units in the big Week 1 victory.
Final
New York: 18
Tampa Bay: 17
New York Jets Game Grades

| | | | | |
| --- | --- | --- | --- | --- |
| Positional Unit | First-Half Grade | Final Grade | | |
| Pass Offense | C+ | B | | |
| Run Offense | D | C- | | |
| Pass Defense | B | B- | | |
| Run Defense | A- | A- | | |
| Special Teams | B | A+ | | |
| Coaching | B- | B+ | | |
vs. Buccaneers Week 1
First-Half Analysis for the New York Jets
Pass Offense: Geno Smith flashed both good and bad play in the first half of his NFL debut. Smith led the Jets to a field goal by converting three straight third downs and had a couple of nice throws that led to a touchdown at the end of the half. However, he tried to do too much too often. Smith fumbled, took a costly sack, and nearly threw a pick instead of just throwing the ball away. It didn't help that Geno was under pressure consistently.
Run Offense: The Jets couldn't do anything in the first half against a stout Tampa Bay run defense. Bilal Powell and Chris Ivory were continually greeted by Buccaneers defenders at the line of scrimmage, and the two combined for just 16 yards on 10 carries. New York's offensive line wasn't able to get any push up front throughout the first 30 minutes.
Run Defense: The Jets rush defense was absolutely phenomenal in the first half. The front seven dominated the Buccaneers offensive line throughout the half and Doug Martin was unable to get any space. Martin had just 10 carries for 23 yards, although he did score a touchdown.
Pass Defense: The Jets pass defense was hot and cold throughout the first half. Antonio Cromartie struggled to cover Vincent Jackson, as Jackson finished the half with a game-high four catches for 78 yards. However, the Jets managed to get pressure on Freeman and Dawan Landry came up with a huge game-changing interception towards the end of the half.
Special Teams: Robert Malone and Nick Folk were solid in the first half. Malone's terrific punt inside the five led to a safety and Folk nailed a 43-yard field goal. New York's return game did nothing of note, though.
Coaching: Rex Ryan's defensive schemes were solid in the first half, as the unit continually pressured Freeman and shut down Doug Martin. Marty Mornhinweg attempted several direct snaps and had Jeremy Kerley throw the ball, but it didn't result in anything substantial.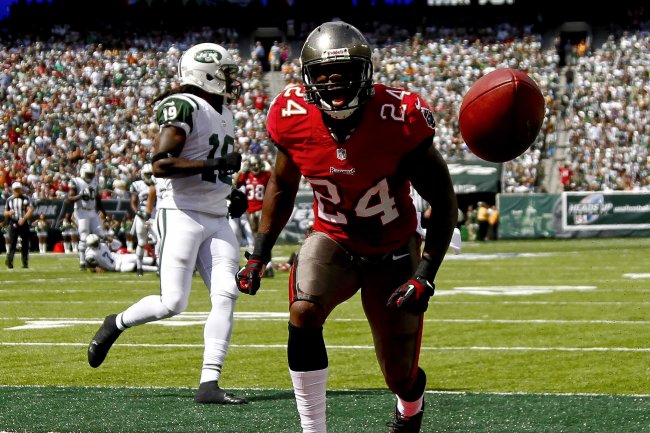 Jeff Zelevansky/Getty Images
Final Analysis for the New York Jets
Pass Offense: After committing some costly turnovers in the first half, Geno Smith settled down and had a solid second half of action. He took sacks and threw it away when under pressure and converted on several big third downs. Smith also orchestrated a terrific last-second drive to get the Jets the win. New York's offensive line allowed way too much pressure on the rookie, though. That needs to be improved.
Run Offense: The Jets had more success running the ball in the second half, but they still struggled to pick up yardage on the ground. Smith finished as the team leader in rushing yards with 47, and his final scramble will be on highlight reels for a while. However, the offensive line was pushed around all game long by a stout Tampa Bay front.
Pass Defense: The Jets' pass defense was mostly solid, but the unit allowed a backbreaking catch-and-run to Vincent Jackson in the final two minutes. Jackson torched the secondary all day long, as he compiled seven catches for 154 yards. The Jets did manage to get pressure on Freeman throughout the game, though, as they racked up three sacks and five quarterback hits.
Run Defense: The Jets shut down Pro Bowl running back Doug Martin most of the day, as New York's defensive front got the push up front. However, they did allow Martin to score a touchdown and break a huge run in the final minutes of the game. Martin finished the game with 24 carries for 65 yards.
Special Teams: The Jets special teams stood out as a strength. Robert Malone hammered two punts inside the Buccaneers' 10 and had another 84-yarder, and Nick Folk nailed all three of his field goals, including a clutch 48-yarder to win the game.
Coaching: Marty Mornhinweg let Geno Smith throw it, and it was mostly successful. Rex Ryan's defensive schemes paid dividends, as the front seven forced pressure and shut down Doug Martin. You also have to give the Jets coaching staff credit for the discipline of the team. While the Bucs committed 13 penalties for 105 yards, New York had just six penalties for 45 yards.