With some of the world's top tennis players displaying great form once again, the U.S. Open is headed towards a dynamic finish.
While there have been plenty of players performing at a high level at this year's final major, I don't see anyone denying the top two seeds on the men's and women's side from advancing to the finals, which is really the way it should be.
The players who have proven themselves to be the best over the course of the year are playing the best at the end of it.
So, without further ado, check out my predictions for the champions of the 2013 U.S. Open.
Women: Serena Williams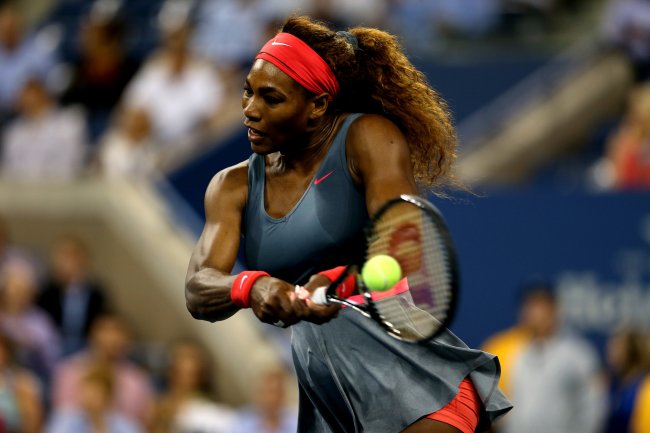 Matthew Stockman/Getty Images
Serena Williams is slamming her way through the U.S. Open field.
The four-time U.S. Open champ has only lost 13 games in her run to the semifinals. The scary thing for the rest of the women's qualifiers is that she has been getting better as this tournament rolls on.
Facing Spain's 18th-seeded Carla Suarez Navarro, Williams hung a double bagel on her, 6-0, 6-0. That was the first time a women had qualified for the semifinals at Flushing Meadows by shutting out her opponent since 1989.
It's Serena's world, we're just living in it. Into semis with 6-0, 6-0 win. #Ashe #usopen WATCH MATCH POINT: - http://t.co/l7LRgz156y

— US Open Tennis (@usopen) September 4, 2013
And that might night even be the most impressive statistic. The match lasted 52 minutes—with the first set lasting only 19 minutes.
Of the 71 points in the match, Williams lost only 18 of them. Needless to say, it was a solid performance.
Up next for Williams is Li Na. Li is playing great, but she can't handle Williams on hard court while Williams is playing at her current level.
That will lead to a likely showdown with No. 2 seed Victoria Azarenka in what should be a great final match. The two have met 16 times with Williams dominating their matchup by winning 12 of the first 13.
However, Azarenka has won two of the last three meetings and the last two times they've met on hard court. Still, the way Williams is rolling right now, I don't see Azarenka stopping her.
Men: Novak Djokovic
Mike Stobe/Getty Images
As impressive as Williams performance was on Tuesday, still had to contend with Novak Djokovic for the best showing of the day.
Djokovic took on Marcel Granollers in Round 4 and cruised to a 6-3, 6-0, 6-0 win. Like Williams, those dominant numbers don't tell the whole story.
WATCH MATCH POINT in #Djokovic's decisive 4th round win on #ashe. #usopen Presented by @Heineken_US. - http://t.co/89hCh12B10

— US Open Tennis (@usopen) September 3, 2013
Djokovic didn't lose a single service point in the first set, which was the only set where the unseeded Spaniard won a game. That was due to the fact that Djokovic began to ratchet up his legendary return.
Djokovic won 68 percent of his receiving points In the second set and then impressively bettered that number in the third set as he won 92 percent.
It took Djokovic just one hour and 18 minutes to win the match, and it took him just 44 minutes to win the last two sets.
Djokovic: "I've played one of the best matches of my life" #USOpen

— Novak Djokovic Mex (@DjokovicMexFans) September 3, 2013
Djokovic next faces No. 21 seed Mikhail Youzhny in the quarterfinals. A win there would lsend Djokovic on to a likely matchup with longtime rival Andy Murray in the semifinals. The winner of that one lines up to possibly face Rafael Nadal in the final.
As we know, both of those two guys are turning in tremendous years and are capable of beating Djokovic. This is especially true for Nadal. The Spaniard has lost only three matches all year and not one on hard court.
Prior to the start of this tournament, I was on the Nadal bandwagon. However, that was before I saw Djokovic take his game to another level.
A final between Djokovic and Nadal would be epic, but I can't pick anyone except Djokovic to take the men's title this year.
All tournament stats via USOpen.org.