College Football Week 2 Predictions: Picking All Top 25 Games Against the Spread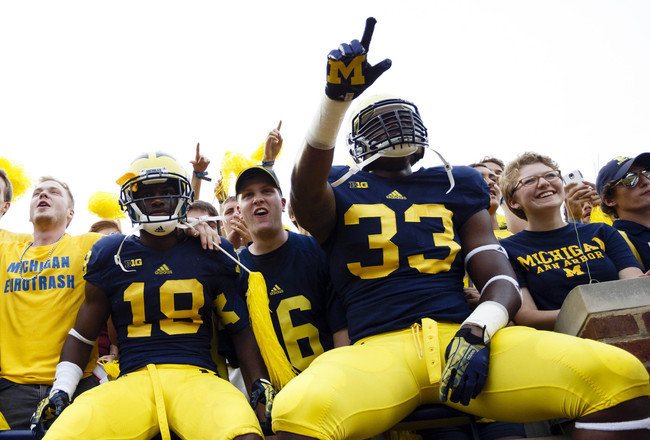 Rick Osentoski-USA TODAY Sports
If college football's Week 2 slate of games were a car, it would be a 1997 Toyota Corolla.
There are highlights, certainly, like the power windows (Georgia-South Carolina), the sun roof that amazingly still functions (Notre Dame-Michigan) and the impressive spoiler you attached yourself because of excessive peer pressure (Florida-Miami).
Other than that, however, it lacks meaningful depth. Yes, Texas-BYU, your objection has been noted, and you can be the anti-lock brakes for this exercise.
But Las Vegas serves as the ultimate equalizer in situations such as these, providing point spreads of all shapes and sizes for these games. It's clear that Vegas is already on its game. The favorite covered 38 games in Week 1, while the underdog covered in 37. Not bad, Vegas. Not bad.
In the case of the updated AP Top 25 and Week 2 matchups, many of these point spreads are monstrous.
No matter, let's pick some winners.
Overall Record Against the Spread Entering Week 2: 13-7
No. 25 USC (-14.5) vs. Washington State
Kirby Lee-USA TODAY Sports
The good news for USC is that the defense—particularly the defensive line—looks like it will be a menace if it stays healthy. The bad news is that opposing defenses will appear just as menacing until the Trojans' offensive line sorts itself out. And then there's the whole quarterback situation.
Washington State has its own batch of issues, but it hung tough with Auburn, easily covering a double-digit spread in the opener. The problem, however, is that the Cougars allowed 6.4 yards per carry, and that doesn't bode well for a second consecutive road trip to start the season.
Is putting faith in a sputtering offense scary? Is backing Lane Kiffin as a two-touchdown favorite dangerous? Oh, you bet, but the alternative isn't exactly comforting, either.
The Pick: USC (-14.5)
No. 24 TCU (-43) vs. SE Louisiana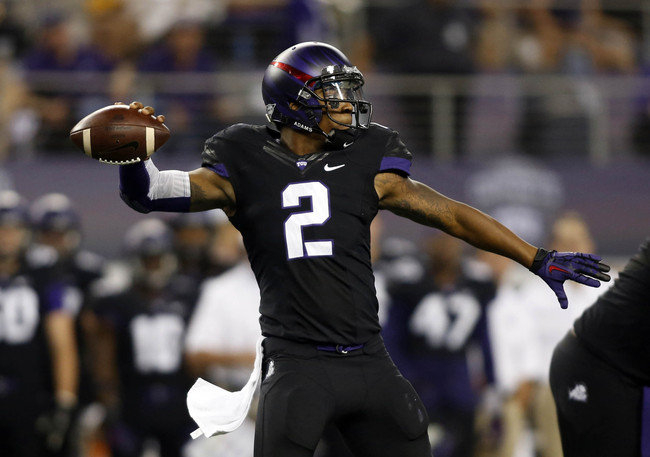 Tim Heitman-USA TODAY Sports
TCU goes from Louisiana State to Southeast Louisiana, which would be like running a marathon and following it up with a trip to the chocolate factory.
The difference, however, is that instead of getting 4.5 points, the Horned Frogs will be giving 43.5. Just your run-of-the-mill 48-point swing between weeks.
While there was a lot to like about TCU's opening weekend loss, including running back B.J. Catalon, who can absolutely fly, this offense might take time to hit its stride. Playing SE Louisiana can jump-start this, certainly, but it's a lot of points for a team that may shut it down early.
TCU will travel to Texas Tech for a game on Thursday night next week, and the starters may exit early because of it.
The Pick: SE Louisiana (+43)
No. 22 Nebraska (-28) vs. Southern Miss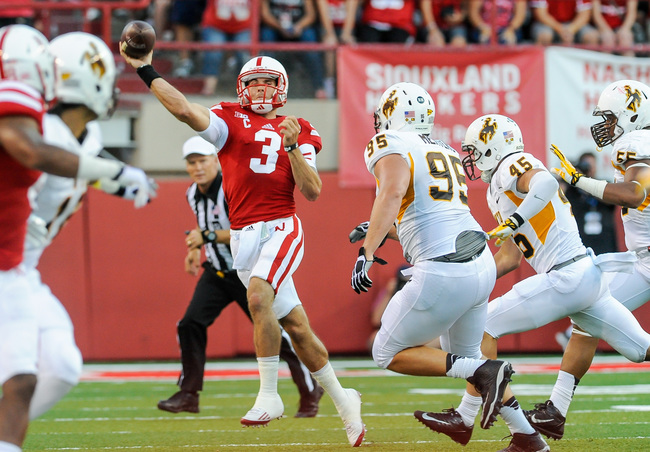 Eric Francis/Getty Images
As a 31-point favorite, Nebraska almost lost outright to Wyoming. The Cornhuskers' defense struggled—lather, rinse, repeat—and Taylor Martinez hurt his non-throwing shoulder in the second half.
Martinez plans to play in Week 2, and while backing Nebraska as a four-touchdown favorite seems somewhat foolish given the timing, Southern Miss just scored 15 points in a loss to Texas State. Yes, the same Texas State that lost seven of its last nine games to end 2012.
Look for running backs Ameer Abdullah and Imani Cross to go absolutely wild in this one, and look for Nebraska to get on track in a big way.
If it is close, well, I fear for the poor Nebraska message-board servers.
The Pick: Nebraska (-28)
No. 21 Wisconsin (-44.5) vs. Tennessee Tech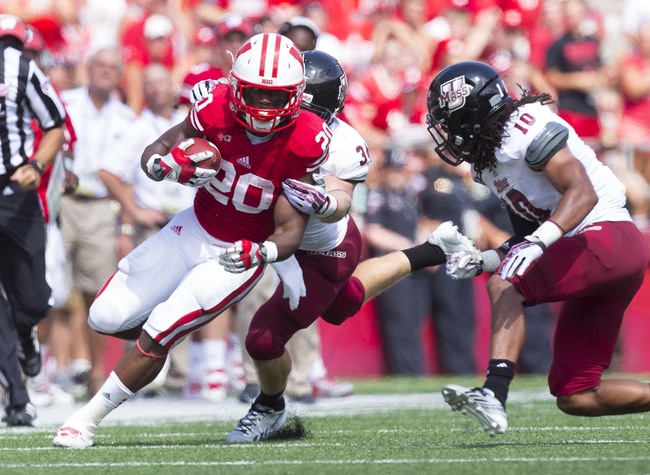 Jeff Hanisch-USA TODAY Sports
Yes, we already talked up the folks and Vegas, but let's talk them up a bit more. Wisconsin closed as a 44.5-point favorite in Week 1, and the Badgers went on to beat Massachusetts by the coincidental score of 45-0.
Not bad, Vegas. Not bad.
Strangely enough, Wisconsin is listed as a 44.5-point favorite yet again in Week 2—your strength of schedule joke goes here—this time with Tennessee Tech coming to town.
With the Badgers set to take on Arizona State in a massive early-season matchup next week, however, don't look for them to show much here. It still may not matter, but that angle is good enough for me to accept rather than a six-touchdown cushion.
The Pick: Tennessee Tech (+44.5)
No. 19 Northwestern (-10.5) vs. Syracuse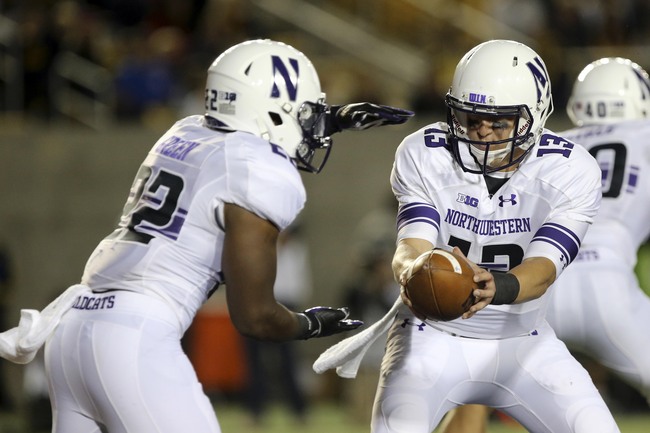 Kelley L Cox-USA TODAY Sports
Northwestern is banged up. Starting quarterback Kain Colter suffered a concussion, starting running back Venric Mark is still ailing, and starting cornerback Daniel Jones is out for the season with a knee injury.
There is good news, however. For one, Northwestern ground out a tough win (and cover) at Cal, a tricky scenario to start the season. More importantly, both Colter and Mark are listed as day to day. Both seem likely to play against Syracuse.
The Orange hung tough against Penn State in the opener, although there is room for concern. Syracuse averaged just 1.9 yards per carry, while starting quarterback Drew Allen completed just 13-of-37 passes. That doesn't bode well for a young team on the road, albeit against a banged-up squad.
The Pick: Northwestern (-10.5)
No. 16 Oklahoma (-20.5) vs. West Virginia
Mark D. Smith-USA TODAY Sports
Do you remember this matchup last year? Oh, it was fabulous: 99 points, 1,440 yards of total offense and 344 yards rushing…from a wide receiver. Yes, Tavon Austin was a cheat code.
Fast-forward a year later, and things are—well, different. West Virginia nearly lost to William & Mary as a 32-point favorite, and the Mountaineers have issues.
Oklahoma isn't exactly in powerhouse form, either, although the defense pitched a shutout against a scrappy Louisiana-Monroe team. Trevor Knight struggled at quarterback—at least passing the ball—but he should get a healthy boost against this defense.
It's not the most confident lean ever, but I'll lay the 20.5 points.
The Pick: Oklahoma (-20.5)
No. 15 Texas (-7.5) vs. BYU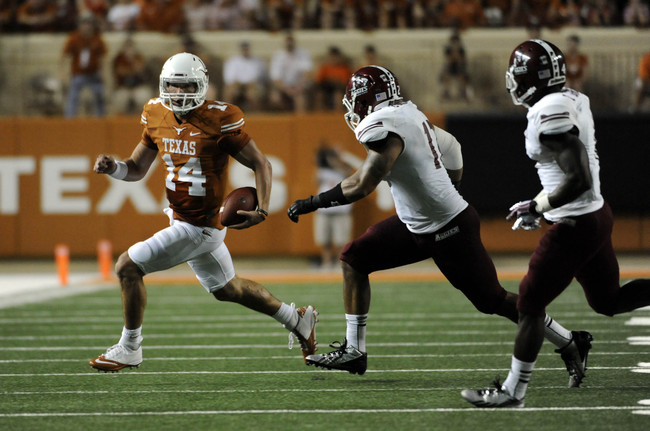 Brendan Maloney-USA TODAY Sports
There's something fishy with this game and—more specifically—this point spread. Texas opened up as only a 3.5-point favorite at BYU, although that line quickly started moving up.
It has since settled in the vicinity of a touchdown, which will still generate plenty of Longhorn support after BYU lost late at Virginia in its opener. Texas started slow against New Mexico State and then exploded for more than 700 yards in a blowout.
The BYU defense is more than capable of keeping the Cougars in this game, but will quarterback Taysom Hill improve on the 13-of-40 passing performance that he delivered in Week 1? He has to, right? Right? Maybe?
Texas will likely win, but I'll side away from the public and take the points in a peculiar matchup. Vegas, what's going on here?
The Pick: BYU (+7.5)
No. 14 Notre Dame (+3.5) vs. No. 17 Michigan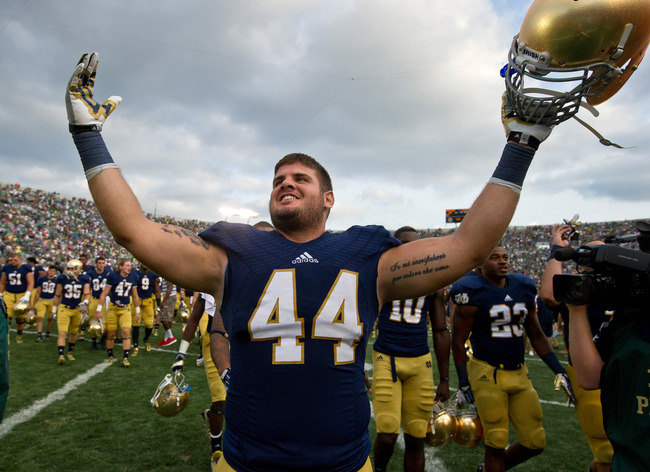 Matt Cashore-USA TODAY Sports
Brian Kelly doesn't think this is the greatest of rivalries, but this is a juicy fillet on the Week 2 menu.
Tommy Rees was fabulous for the Irish in the opener against Temple, throwing for more than 250 yards and three touchdowns…in the first half. Just like everyone predicted.
Michigan quarterback Devin Gardner was not nearly as sharp, turning the ball over twice. The turnovers didn't hurt, however, as Michigan cruised to a 59-9 win over Central Michigan.
What will be the difference in this game? For one, home field, which is massive in such an even matchup. And two, Devin Gardner's ability to run the football. Temple quarterback Connor Reilly ran for 65 yards against the Irish, and Gardner is an upgraded threat.
The Pick: Michigan (-3.5)
No. 13 Oklahoma State (-26) vs. Texas-San Antonio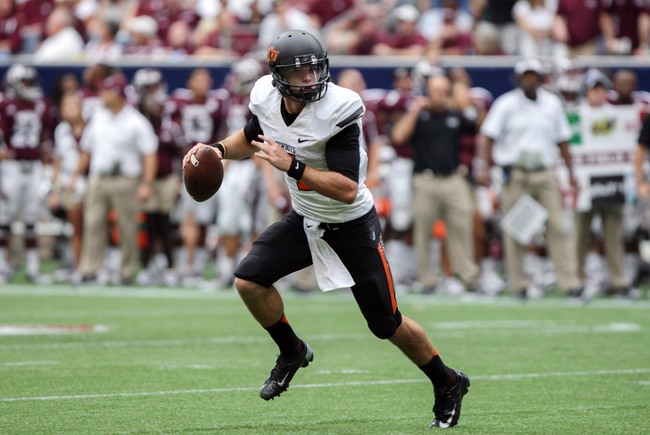 Troy Taormina-USA TODAY Sports
Oklahoma State covered the 12.5-point spread against Mississippi State, although it did so with defense. Yes, defense. It was weird.
The offense struggled, although it moved the ball more efficiently when J.W. Walsh entered the game at quarterback. Walsh will get the start against Texas-San Antonio, a better team than many realize.
The Roadrunners won their opener against New Mexico, although they gave up 118 yards (7.4 yards per carry) to New Mexico quarterback Cole Gautsche. That's bad news against Walsh, who enters as the Big 12's leading rusher after one game.
Although I feel guilty picking against the Roadrunners (what a mascot), look for the Oklahoma State offense to return to form.
The Pick: Oklahoma State (-26)
No. 12 Florida (-3) at Miami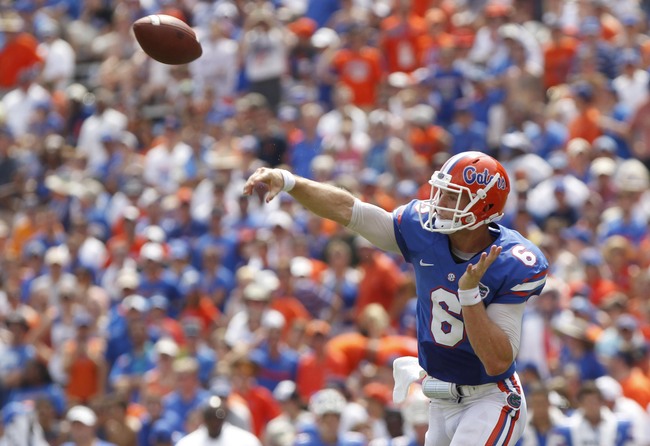 Kim Klement-USA TODAY Sports
Hello, dangerous home dog.
Florida will attempt to overpower the Hurricanes on the line of scrimmage, much like it did against Toledo in the opener. Miami, meanwhile, will look to run its offense through running back Duke Johnson, who looked absolutely fabulous in the opener against FAU.
If the Hurricanes wideouts can catch the football—and that is a big if after watching their performance in Week 1—then Florida might not be able to match the output. If Miami can't block Gator defensive lineman Dominique Easley, who was a tank with feet in Week 1, the offense may not function.
Something's got to give...and it will be the Hurricanes at home. Oh, save your Miami football attendance joke.
The Pick: Miami (+3)
No. 9 LSU (-34.5) vs. UAB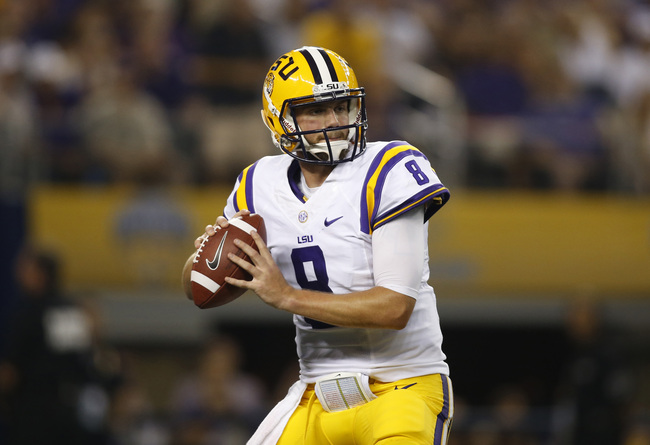 Tim Heitman-USA TODAY Sports
LSU, I owe you an apology. I picked against you last week, and I thought you would lose outright. Oops.
The Tigers converted on 13 of 19 third downs, and Zach Mettenberger was superb against one of the nation's best secondaries. LSU also continues to produce running backs who look absolutely miserable to tackle pretty much yearly.
Yet, with the deserved praise out of the way, 34.5 points seems a bit on the high side. UAB hung tough with Troy—covering the 4.5-point spread in a loss—and it will likely cover a much larger number here.
Will it be close? Oh, goodness no. But close enough in this context.
The Pick: UAB (+34.5)
No. 8 Louisville (-40) vs. Eastern Kentucky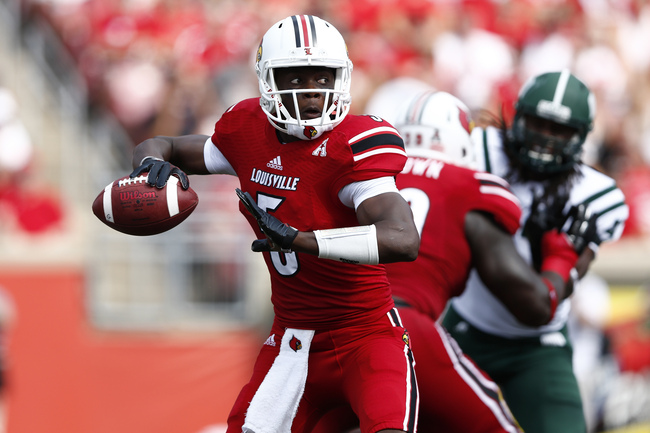 Joe Robbins/Getty Images
Louisville dismantled Ohio in the opener, covering the 20-point spread with ease. Teddy Bridgewater was surgical—as he often is—and he will continue this trend against Eastern Kentucky. Well, yeah.
What was more impressive with the Louisville performance, however, was how the defense completely shut down the Ohio offense. When you're thinking about laying 40 points, this part's important.
How long will Teddy Bridgewater play? Well, hopefully long enough to eliminate the nearly six-touchdown handicap. In Teddy We Trust.
The Pick: Louisville (-40)
No. 7 Texas A&M (-48) vs. Sam Houston State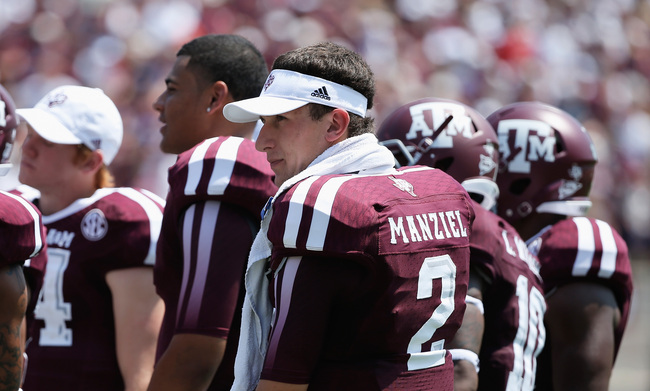 Scott Halleran/Getty Images
Johnny Manziel's eventful second half was not enough to give Texas A&M the cover against Rice. Apparently, pointing at the scoreboard during a game does not count as a two-touchdown bonus—which it should.
Get on it, NCAA.
A&M's mop-up opponent before Alabama is none other than Sam Houston State, which waxed Houston Baptist 74-0 in the opener. The scouting report on Houston Baptist is limited, but needless to say it does not have a Johnny Manziel on the roster.
Still, look for this game to play out a lot like the 2012 version. A&M will jump out to a massive lead and then Sam Houston State will hang on to cover. The Bearkats scored 21 points in the fourth quarter last season, and by that point on Saturday, Kevin Sumlin will be game-planning for Nick Saban.
The Pick: Sam Houston State (+48)
No. 6 South Carolina (+3) at No. 11 Georgia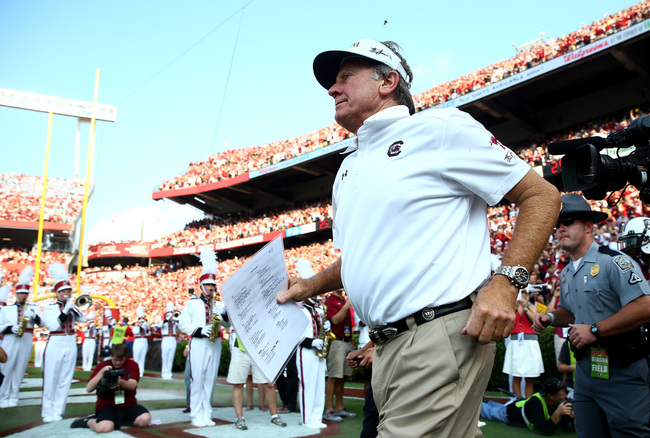 Streeter Lecka/Getty Images
Go ahead and pick your storyline: Jadeveon Clowney's illness/conditioning, the possibility of Georgia starting 0-2, Steve Spurrier throwing whatever is on his head or this Georgia fan crying again are just a handful of the items to take note of heading into this massive SEC East tussle.
Still, even with Georgia's lackluster finish in Week 1, the oddsmakers have pegged the Dawgs the favorite. The spread actually opened up at -5 in Georgia's favor, but it was quickly bet down to three. This confidence from Vegas is telling, and three is good enough for me
Home field in the marquee games is critical, just ask—well, Georgia. Look for Aaron Murray to return to form and Todd Gurley to continue to destroy everything in his path.
The Pick: Georgia (-3)
No. 5 Stanford (-26) vs. San Jose State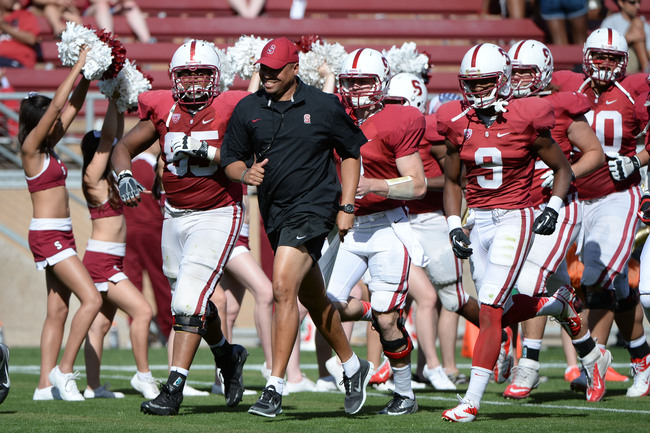 Kyle Terada-USA TODAY Sports
Stanford opened the 2013 season with a bye—which it easily covered against. No problems there. The Cardinal will now kick off the 2013 season against one of the more intriguing quarterback prospects in the country.
David Fales and San Jose State covered the 19.5-point spread in the opener against Sacramento State by completing the 24-0 shutout. Now the Spartans will head on the road to take on a significant upgrade in talent.
Stanford's offensive line could overpower this game, but San Jose State has the offense to bite back. Head coach David Shaw also has to replace key playmakers on offense, and the points may not flow freely early.
Don't look for an upset, but look for Fales to provide enough firepower to cover the number.
The Pick: San Jose State (+26)
No. 4 Clemson (-52.5) vs. South Carolina State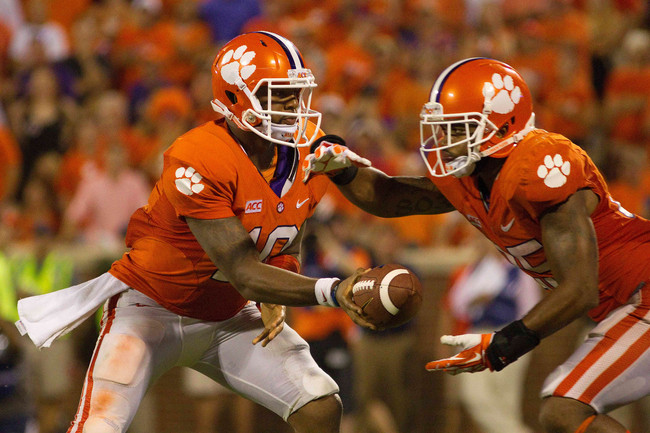 Joshua S. Kelly-USA TODAY Sports
BREAKING: 52.5 points is a lot of points.
After beating Georgia at home as a two-point underdog, the Tigers have been handed the largest point spread of the week. The biggest question in this one: How many points does Dabo and Co. want to win by?
If the answer is 80, it will likely be 80, but look for Clemson to let off the gas early.
South Carolina State played Arizona and Texas A&M in back-to-back weeks in 2012 and lost by the combined score of 126-14. Clemson, after an eventful and emotional Week 1, won't be playing for the slaughter rule.
Well, maybe.
The Pick: South Carolina State (+52.5)
No. 3 Ohio State (-27.5) vs. San Diego State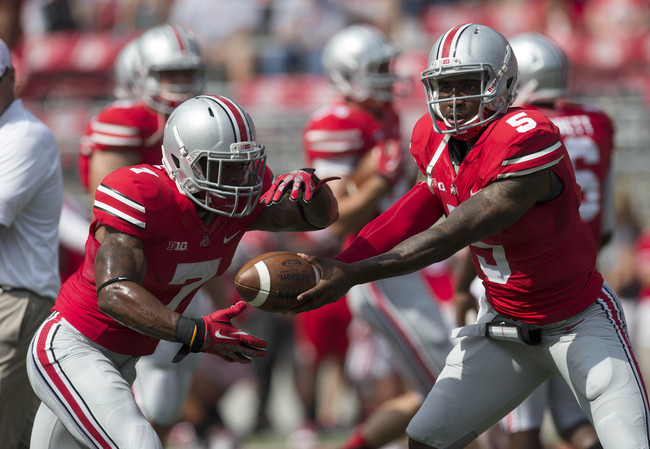 Greg Bartram-USA TODAY Sports
San Diego State allowed 533 yards to Eastern Illinois, which does not have a Braxton Miller. The Aztecs were also outscored 33-6 in the final three quarters of their opener at home, which is not optimal.
Ohio State struggled at times against a feisty Buffalo team, although these "struggles" require perspective. The offense started sharp, then pretty much everyone on the Buckeyes were dealing with cramps and things got sloppy.
Expect Urban Meyer to fix things, and look for running back Jordan Hall to have another monster game.
The Pick: Ohio State (-27.5)
No. 2 Oregon (-21.5) at Virginia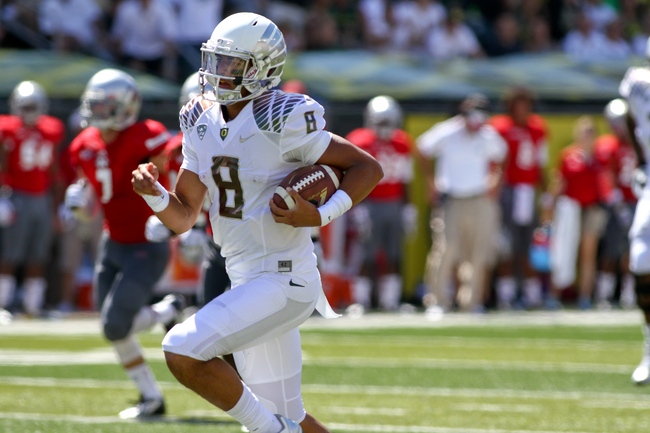 Christopher Barth/Getty Images
As more than a 55-point favorite in Week 1, Oregon covered the number against Nicholls State. Yes, it was Nicholls State, but the Ducks again showcased the offense we've grown to expect, even with a new play-caller.
Oregon now heads across the country to take on a Virginia team feeling good after besting BYU as a slight home dog. Still, Virginia totaled only 223 yards of offense (against a good defense), but this output will not suffice in this matchup.
Although the three-touchdown spread seems like a lot to lay on a cross-country trip on the road—and it is—Oregon is capable of swallowing this handicap in its entirety in roughly seven minutes.
It's not the most confident play of the weekend, but 21.5 is just not enough to make me take the other side.
The Pick: Oregon (-21.5)
Keep Reading