6 Ways Tottenham Can Cement a Top-4 EPL Finish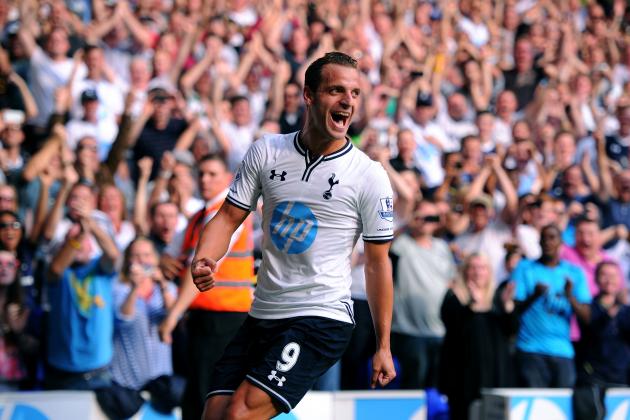 Michael Regan/Getty Images

This year could be the year Tottenham return to the Champions League.
Spurs fans have no doubt been saying it for years now, but with all the offseason moves that the North London club have made this summer, the 2013-14 season seems like their best chance in recent history to turn their European dream into a reality. However, signing new players doesn't necessarily equate to instant success, with a lot of hard work ahead for Spurs.
To finish in the top four, firstly, Tottenham are going to need to finish above Arsenal. The two Manchester clubs and Chelsea seem incredibly unlikely to finish outside of the Champions League spots—meaning that the race could again come down to the two North London clubs, just like it did in the 2012-13 season.
Finishing above Arsenal isn't exactly an easy task for Tottenham.
18 years have passed since North London was painted white, per se. At the time, Arsene Wenger was just another manager. Andre Villas-Boas was still a teenager.
Yet this could be the year where it all changes.
Read on to see six ways that Tottenham can ensure that they not only finish above their London rivals but also confirm a 2014-15 UEFA Champions League berth.
Begin Slideshow

»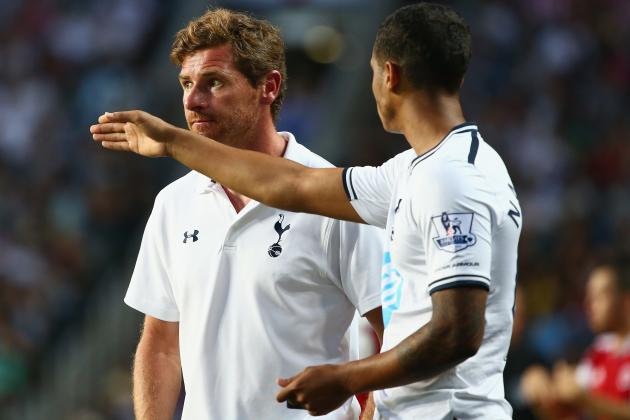 Robert Cianflone/Getty Images

It's no secret that Villas-Boas is a big fan of the 4-3-3 formation. He used it (successfully) in his time at FC Porto; he tried to use it (unsuccessfully) at Chelsea.
And with Spurs' summer signings giving him the flexibility to chop and change his squad in a myriad of different ways, look for the 4-3-3 to again come to the fore.
Paulinho's strengths in CM make him a potential candidate in the middle of the field, with the likes of Christian Eriksen and (to a lesser extent) Mousa Dembele and Lewis Holtby almost capable of playing that role as well. Erik Lamela and Nacer Chadli give the club the width they lacked at times last year, and with Roberto Soldado at striker, Spurs could quickly become one of the most versatile attacking teams in England.
Throw in the likes of Gylfi Sigurdsson (who could get more of a run in his desired central midfield role) and Aaron Lennon out wide, and Spurs could well thrive.
Villas-Boas must remember, though, that the formation won't work in every single outing, and that a 4-2-3-1 will also produce great results for the club. It's important that he—and the players—do their homework well this year and utilize different formations where possible.
Few Premier League clubs have the versatility and flexibility that Tottenham have in attack this year; they would be wise to use that strength to their advantage.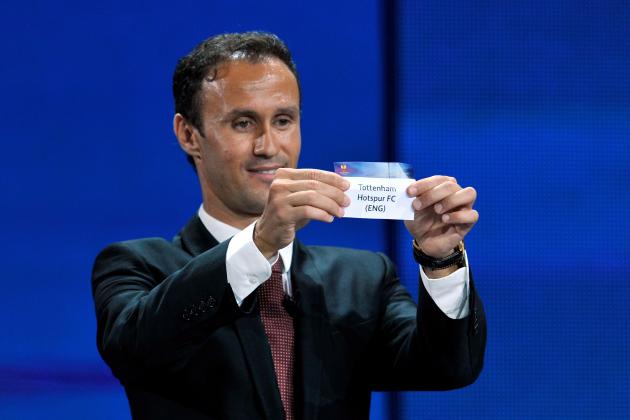 Harold Cunningham/Getty Images

Tottenham Hotspur kicked off their Europa League campaign in fine style this year—thrashing Dinamo Tbilisi in both legs. Bleacher Report's Thomas Cooper noted that Villas-Boas—in his matchday programme—spoke of the importance that the Europa League had in his mind this season.
We showed last season that it was possible to play Thursday evening in the Europa League then Sundays in the Premier League, and it is something we will be certainly taking forward again into this campaign. Our focus will be the exact same...

This is a competition full of tradition and I have always considered it a major achievement to win such a trophy... I know the players feel the same way.
Only one problem there, Andre. It didn't quite work like that last season.
Tottenham did have great success in the Europa League last year before being knocked out by FC Basel, but that success came at the expense of the Premier League.
The corresponding league match after their Europa League fixture often produced an inconsistent performance. Maybe it was players being tired and overworked; maybe it was the squad not adjusting to different tactics and players; maybe it was simply the travel of it all.
Loss 2-1 to Manchester City (12th November, 2012)
Loss 2-1 to Everton (10th December, 2012)
Loss 3-2 to Liverpool (3rd March, 2013)
Loss 1-0 to Fulham (18th March, 2013)
Draw 2-2 to Everton (7th April, 2013)
Win one of those games, and they would be in the Champions League.
Oh, and if you think it's not a big deal, look what happened this year. Tottenham played Dinamo Tbilsi and then lost to Arsenal in their North London derby.
Spurs must get the balance between the two competitions right.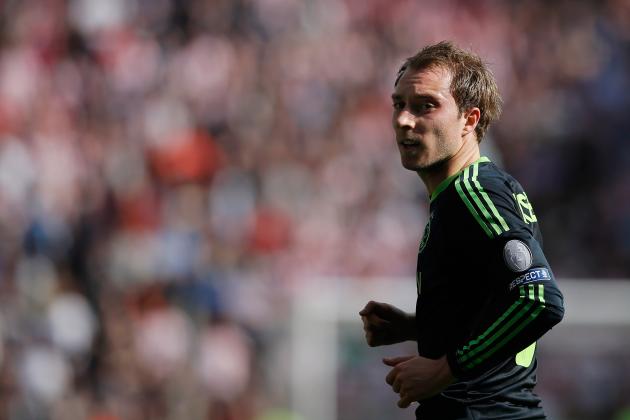 Dean Mouhtaropoulos/Getty Images

White Hart Lane will be buzzing about all the new signings the club has made this summer, but it's important for Spurs to give their new guys time to adjust.
Christian Eriksen (pictured) will likely be playing in a different role to what he was at Ajax. The same goes to a lesser extent for Nacer Chadli and Erik Lamela.
As mentioned earlier, the sale of Gareth Bale has given Tottenham a slew of new creative options to use this season, and has made them one of the strongest Premier League teams on paper. However, it's important to remember and realize that it takes a while for the "best team on paper" to become the best team on the field—and that will be the same for Spurs this year.
Tottenham aren't going to start winning games by an incredible margin, and it's little surprise that despite their signings, their two wins this year have been both 1-0.
North London is experiencing a lot of changes at the moment. Villas-Boas and the players have to learn to adjust and so must the fans. They must be prepared to give the club time, and then reap the rewards as their world-class signings show why they were brought in over the summer transfer window.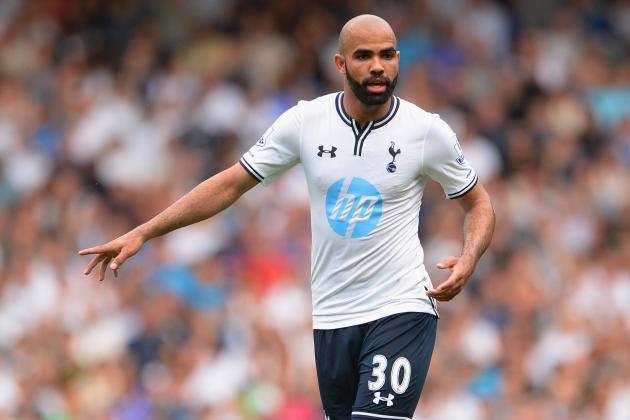 Michael Regan/Getty Images

With all of their summer signings, the tendency for Tottenham will be to get as many of them on the field as possible. That, in itself, isn't a bad thing at all.
However, the issue comes when they try and fill the field with players at the expense of stars already in their squad. One big one this year could be Sandro.
Arguably Spurs' best player to start the season last year, Sandro was forced out for several months with injury. Tottenham were forced to sign Lewis Holtby as cover and utilize Dembele in a more box-to-box role than an all-out attacking one—meaning that when Sandro was healthy again, Villas-Boas had several options at his disposal to use in central midfield roles.
The signings of Paulinho, Etienne Capoue and to an extent Eriksen have made central midfield even more congested (although Capoue is now out with injury himself).
Take note, Villas-Boas: Don't neglect Sandro this season.
According to Squawka, Sandro averaged more defensive actions per game last season than any other Spurs midfielder. He won a strong 65 percent of his attempted tackles and, despite less minutes than most players, finished with the best defensive ranking out of their midfield options.
Sandro is an absolute beast in defensive midfield and must be used there this season by Villas-Boas as much as possible—even with so many other options available.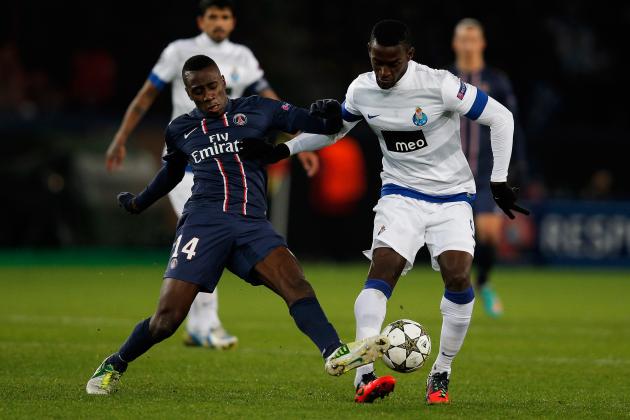 Dean Mouhtaropoulos/Getty Images

One of the temptations that can come from spending so big in the summer window (like Tottenham have done) is to put away the cheque come the January window.
That's not to suggest that AVB needs to go out and splash over £100 million like he did this summer, but it is to say that if a hole is starting to appear in his squad come the middle of the year, then he needs to fix it. Tottenham need to be prepared to add wherever possible and bring in the right talent to ensure that they keep their plans for a top-four finish on the right track.
An early area where they may need strengthening is up front.
Roberto Soldado is a world-class striker, but behind him, Tottenham don't quite have the first-class talent that they may well need to be competitive this season.
Jermain Defoe isn't getting younger and Emmanuel Adebayor isn't getting any less temperamental and unless Villas-Boas plans on playing Soldado 50 to 60 games this season, he may well look to bring in another top-tier striker to play alongside or as a replacement for the former Valencia man.
Bleacher Report's Frank Wagner has suggested Edin Dzeko as that man; FC Porto's Jackson Martinez could also be worth a look if Daniel Levy can negotiate a good price.
Either way, it's important for Tottenham to keep looking for new talent, consolidating their squad where possible and not just reflecting on their summer stars.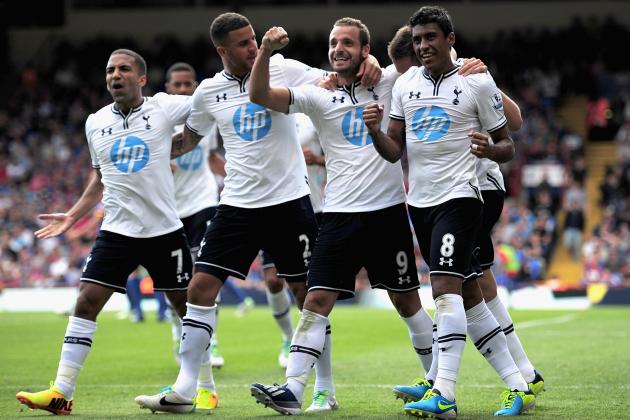 Jamie McDonald/Getty Images

Perhaps a strange point to finish on, but it's important for Tottenham—fans, staff and players alike—to ensure that they enjoy life without superstar Gareth Bale.
Bale was a faithful servant of the club and an important star last year for them, but his time is no more. Bale is at Madrid, and there's nothing anyone can do about that now. Tottenham need to focus on what they do have in front of them and not yearn for the chance to have the Welsh winger back in their squad—wishing that they'd never sold him to Madrid this summer.
Perhaps an interesting lesson can be learned from Zlatan Ibrahimovic.
Ibra joined Inter Milan from Juventus in 2006 for £20 million. He won the Serie A title in all three of his years and two SuperCoppa's as well, before making a £56.5 million move to FC Barcelona in 2009—stating he wanted to win the Champions League (implying that he couldn't do that at Inter).
Sound familiar to a certain Mr. Bale at all?
Then Inter Milan manager Jose Mourinho invested the £56.5 million earned in the sale of Ibrahimovic wisely—adding the likes of Thiago Motta, Wesley Sneijder, Lucio, Diego Milito and Samuel Eto'o. And that season, Inter Milan won the treble.
Ibrahimovic: "I'm joining Barcelona to win the Champions League." Inter win the treble. #momentsiwillneverforget

— Jimmy Watson (@CurvaNordSoul) March 27, 2013
Obviously Tottenham won't (and can't) win the treble this year, and they most likely won't even win the Premier League. However, they can finish in the top four and have already made the important first step by wisely investing the money that they earned from Bale's exuberant transfer fee. Now they simply need to start enjoying the post-Bale era, and creating new legacies and heroes at White Hart Lane.
We'll call it the Zlatan rule.
Hit me up on Twitter for more sports goodness: Follow @dantalintyre