Pre-Training Camp Player Power Rankings for Denver Nuggets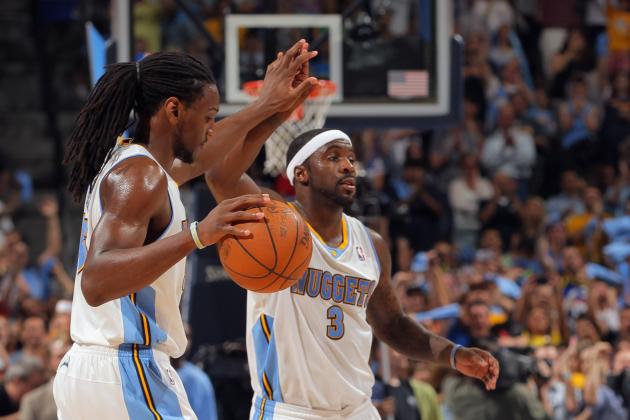 Doug Pensinger/Getty Images

We are exactly one month away from the Denver Nuggets' first preseason game.
But before the Nuggets take on the Los Angeles Lakers at the Staples Center on October 6, we need to see how the Denver players stack up against each other and how they fit on the 2013-14 team.
It's been a painful offseason for the Nuggets after another first-round playoff exit, although there are several new additions to the roster. They include Nate Robinson, J.J. Hickson, Randy Foye and Darrell Arthur.
With Andre Iguodala, Kosta Koufos, Corey Brewer and Julyan Stone being replaced, there is a significant shakeup in how the rotation will look. Add that there are a lot of well-known names on this Nuggets squad, but no superstars, we have to split hairs to distinguish some of these rankings.
(All NBA statistics are from Basketball-Reference.com)
(All summer league statistics are from RealGM.com)
(All salaries are from Hoopsworld.com)
Begin Slideshow

»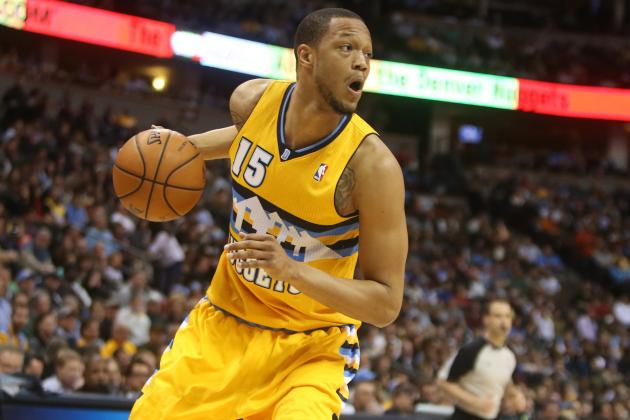 Chris Humphreys-USA TODAY Sports

Anthony Randolph
Anthony Randolph didn't get a lot of playing time in his first year with the Nuggets, but when he was given an opportunity, he made a fair impact.
The lefty plays good defense, has solid touch around the rim and makes the hustle plays. Randolph also finds gaps in the defense and sneakily can show off some athleticism.
It'll be tough for Randolph to crack the primary rotation, but if one of the big guys gets hurt or needs a night off, he's a good option to turn to in relief.
Timofey Mozgov
With George Karl no longer as the head coach, it's not exactly a surprise that Timofey Mozgov was given an extension to the Nuggets. But when Yahoo! Sports' Adrian Wojnarowski reported that it was for $14 million over three years, I was stunned.
That's a substantial contract for someone that only played 8.9 minutes last season and has never averaged more than 5.4 points and 4.1 rebounds in his career. Mozgov will have the seventh-highest contract on Denver in 2013-14 at $4.4 million.
The good news for Mozgov, other than the contract, is that Koufos is out of the picture and he's the only pure center other than JaVale McGee. He'll get an opportunity to impress new head coach Brian Shaw in the preseason.
Jordan Hamilton
Jordan Hamilton enters his third season with the Nuggets and it's the final guaranteed year of his contract.
His time on the floor has been fairly limited thus far by only seeing 9.9 minutes. Hamilton has been stuck behind Danilo Gallinari, Wilson Chandler and Corey Brewer.
In the 2013 summer league, Hamilton posted 15.8 points, 5.8 rebounds and 1.5 steals. However, his most noteworthy improvements were his three-point shooting at 44 percent and an 85.7 percentage at the free-throw line.
With Brewer gone and the Nuggets not acquiring any small forwards in the offseason, this is an ideal time for Hamilton to make his move.
Quincy Miller
Going into the 2013 summer league, Quincy Miller arguably needed the best run in Vegas of all the Denver players. Miller racked up some suitable numbers in just 21.4 minutes, including 9.8 points, six rebounds and 1.7 blocks.
Miller spent last season going back-and-forth between the Nuggets and the Iowa Energy in the Development League. Miller only saw the court seven times with Denver for a mere 3.7 minutes.
If Miller is going to have a future in Denver, he will have to show his summer-league efficiency in the regular season if he gets the chance.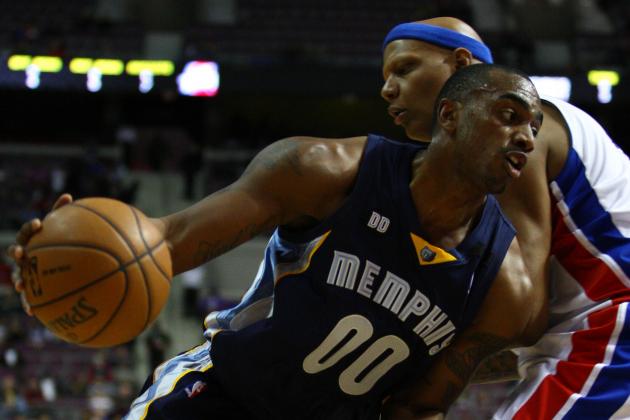 Raj Mehta-USA TODAY Sports

The addition of Darrell Arthur may not seem like a big deal, but his value could be greater than advertised.
In his four NBA seasons, he's never averaged more than 9.1 points, but he's a solid role player that fits Denver's needs. Arthur is someone that can defend power forwards inside and small forwards on the perimeter.
More specifically, he's a good fit in pick-and-roll defense, because he can switch for the on the ball-screen, hedge or continue to guard the big man. Offensively, Arthur stretches the floor and can be used in the pick-and-pop.
It may not show up on the stat sheet, but Arthur can help balance this Nuggets team out. He should get somewhere between 15 and 20 minutes per game.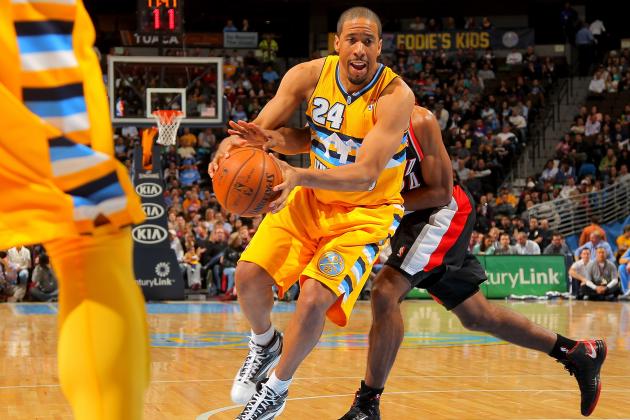 Doug Pensinger/Getty Images

It's tough to rank Andre Miller this low, but with all the modest pieces Denver brought in during the offseason, the veteran slipped down the list.
Miller's playing time for next season is up in the air. Entering the picture behind Lawson is the energetic Nate Robinson, who averaged 13.1 points for the Chicago Bulls last season.
Miller is in his last guaranteed year of his contract with the Nuggets. He's creeping up in age (now 37 years old) and with combo-guard Randy Foye also on the team, Miller's minutes should continue to descend.
There were times that Miller and Ty Lawson were on the floor at the same time, and Miller is coming off a season of 9.6 points and 5.9 assists. He can still make an influence occasionally, such as his Game 1 performance against the Golden State Warriors or when he recorded 20 points, nine assists and seven rebounds at the Oklahoma City Thunder.
Although, it appears Denver is turning the page and looking for a bigger spark offensively from the perimeter. It's hard seeing how Miller fits into the equation with a significant role, but since this is one of the younger teams in the league, his knowledge and experience will be useful in helping the Nuggets make strides.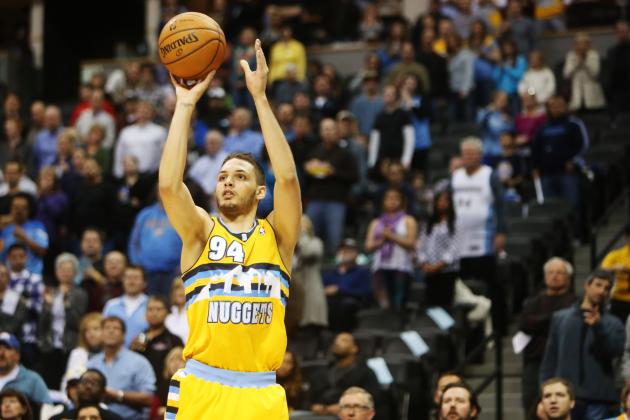 Chris Humphreys-USA TODAY Sports

Evan Fournier was quite the surprise last year.
He spent much of his rookie season on the bench, but injuries broke out in April and he racked up 12.3 points and 1.4 steals in 22.8 minutes for his last nine regular-season games. Fournier also started the last three games as well as the first four playoff games against Golden State.
Still, it's a small sample size and he will turn 21 years old the day before Denver's regular-season opener October 30 at the Sacramento Kings. We've seen flashes of Fournier attacking the basket and draining three-pointers, but is he ready to do that each night against the better teams in the league?
Fournier did a solid job forcing 13 steals in those final nine regular-season contests, but can he prevent Klay Thompson and Danny Green from catching fire? Will he keep Iguodala and James Harden out of the lane?
Again, he's young and there is potential, but we really don't know what Fournier is capable of. He could be the guy that starts beside Lawson if the Frenchman blossoms into an every-night shooting guard, but it's too early to put those expectations on him.
He should be getting at least 20 minutes, but it's best to have Fournier come off the bench for now.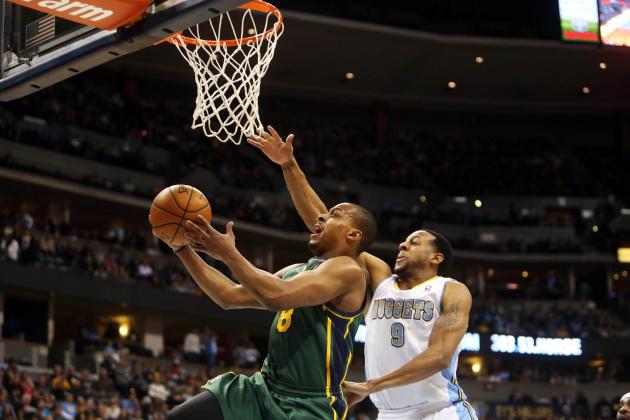 USA TODAY Sports

With Iguodala gone, Randy Foye brings in two necessary qualities to this Nuggets squad: starting experience and three-point shooting. Foye has started just over 60 percent of his 471 regular-season games and shot 41 percent from behind the arc last season.
Even though this is Foye's first season in Denver, this will be the fifth different franchise he's played for in eight years. The fact that he's continued to provide respectable numbers in several different systems is a good sign for Shaw and the Nuggets.
This gives Foye an advantage in making the starting five for the 2013-14 season. Improving the outside shooting is a priority and Foye will be the man for that.
At the same time, Foye shouldn't live and die by the three, and he'll need to drive to the hoop and keep the defense off balance. Foye has taken 38.4 percent of his field-goal attempts from three in his career, but it's escalated to 55.2 percent in his last two seasons. Granted it comes with the territory when he's at the 2 versus the 1, but without Iguodala there, Foye needs to take some of the pressure off of Lawson.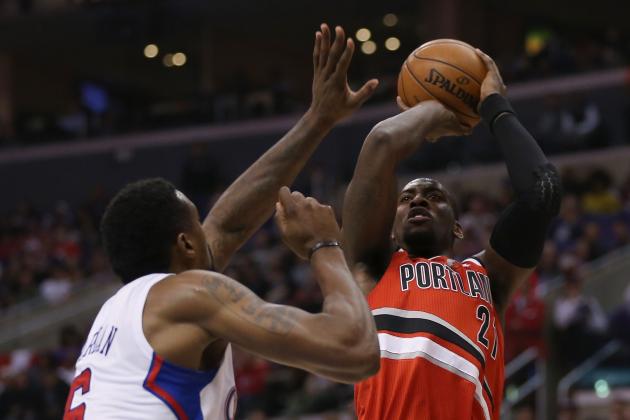 Jeff Gross/Getty Images

J.J. Hickson really started to find his groove with the Portland Trail Blazers last season in posting 12.7 points and 10.4 rebounds as the starting center.
Assuming McGee and Kenneth Faried are in the starting five, Hickson won't be hitting those numbers in 2013-14, but he will be the premier offensive big man off the bench.
It's not that he will draw double teams and take over games, but he will keep the defense honest with his balanced offensive game and high-percentage shots. He has touch around the rim, can score outside the paint and has a fair amount of explosiveness.
It may not be the level of explosiveness Denver fans are accustomed to seeing with their other two post players, but he will add to the play above the rim. That'll be important in making sure the Denver bench doesn't come out flat, or that they bring a necessary spark if the starters get off to a slow start.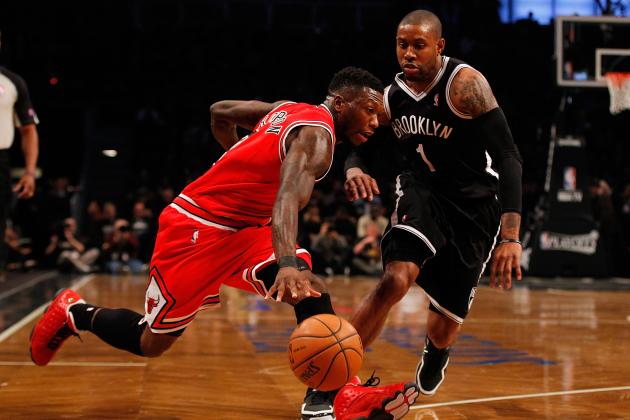 Mike Stobe/Getty Images

Just when you thought the Nuggets finished making moves in free agency, they added more firepower to their backcourt and signed Nate Robinson.
Similar to Foye, Robinson has spent much of his NBA career switching teams and this will be his sixth different franchise. Even though he'll be coming off the bench to support Lawson, Robinson continues to play with an endless motor and should excel with Denver's energetic big men.
We also saw last season that KryptoNate can catch fire and be a dangerous offensive threat. He dropped 34 against Denver, 35 versus New York and 34 in Game 4 of the first round against Brooklyn.
It'll be tough for Denver to match last year's NBA-best 106.1 points, but Robinson's contributions will be a significant factor in maintaining a high-powered offense.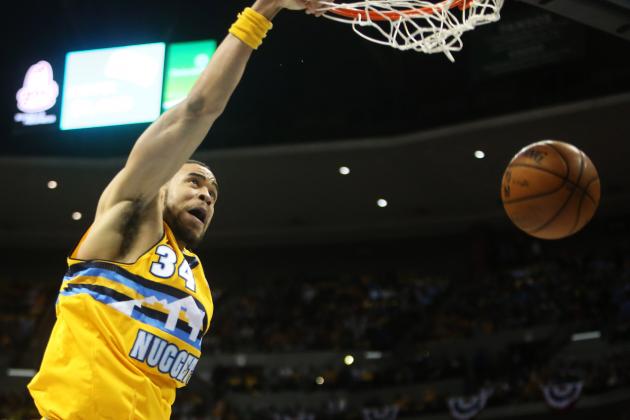 Chris Humphreys-USA TODAY Sports

Now that Koufos is with the Memphis Grizzlies and JaVale McGee will likely start at center, the importance of his production can't be overstated.
McGee has been a monster off the bench with his relentless energy, ferocious dunks and stupendous rejections. His 20.8 PER last year was the highest on the team and was a big reason why Denver set a franchise-record 38 home wins.
Now McGee needs to be more than just a boost. Development and consistency are the keys.
McGee will be playing alongside Faried and make one of the most athletic starting frontcourts Denver has ever seen. But McGee won't have success against Tim Duncan, Marc Gasol and Dwight Howard by just trying to go over the top or relying on offensive rebounds.
Can McGee establish position in the post and finish off the glass? Will he keep players from going underneath or around him? Does he have that crazy motor for 28 minutes instead of 18? Can he stay off Shaqtin' A Fool?
Shaw was responsible for developing some of the rising stars on the Indiana Pacers while he an assistant coach. If (and it's a big "if") he can do the same for McGee, it's scary to think what Denver's frontcourt will be like.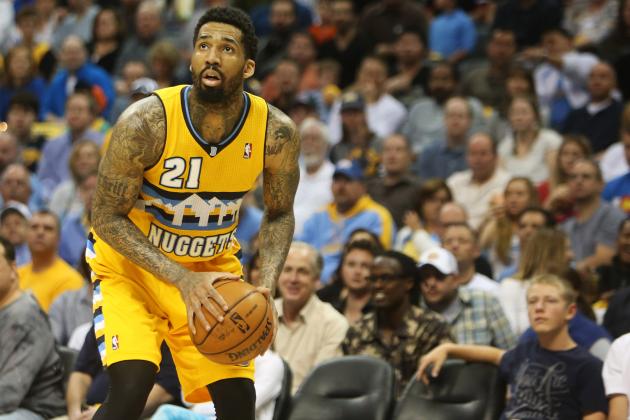 Chris Humphreys-USA TODAY Sports

Wilson Chandler better get ready to play anywhere from the 2 to the 4.
After he was fully healthy last season, Chandler was essentially the sixth man off the bench, but that changed when injuries forced George Karl to shuffle his lineup multiple times.
Since Danilo Gallinari's return isn't clear for the upcoming season and Brewer is in Minnesota, there's a good chance Chandler is the guy starting at the 3.
But when Gallo returns, a lot of things could happen. Does Chandler slide down to the 2 and bump Foye or Fournier out of the starting lineup? Should Chandler go back to playing the sixth-man role, but share the offensive workload with Robinson and the other shooting guard on the perimeter? Maybe Chandler plays power forward next to Hickson and drags a defending big man away from the basket?
That's the beauty of having someone like Chandler. He's tall, athletic, can score in isolation and create mismatches. Plus, he was Denver's best three-point shooter last season at 41.3 percent.
With some improvements defensively, he could get paid closer to eight figures annually.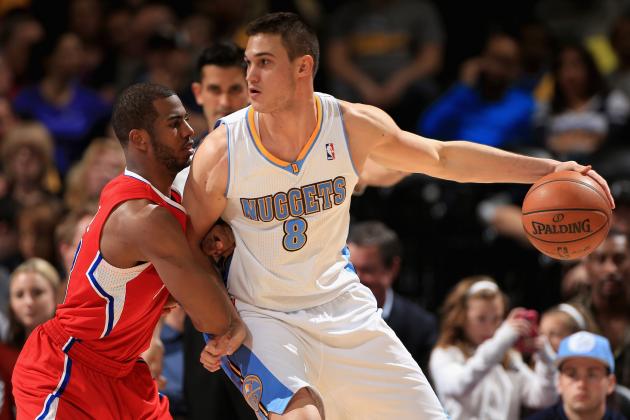 Doug Pensinger/Getty Images

According to Benjamin Hochman of The Denver Post, instead of coming back in February as originally thought, Danilo Gallinari could return as early as December.
If that's the case, Gallinari deserves to be at No. 3. Gallinari had one of his best seasons last year with 16.2 points and 5.2 rebounds.
The challenges the 6'10" Italian presents can be a daunting task for defenses, since he's a three-point shooter, can take opponents off the dribble and post up. He may not be a superstar, but his production and presence was a colossal loss for Denver heading into the 2013 playoffs.
Some may think Chandler should continue to be the starter at small forward when Gallinari returns, but Gallo's diversity is too valuable to pass up. Chandler is a better fit as a sixth man or at shooting guard.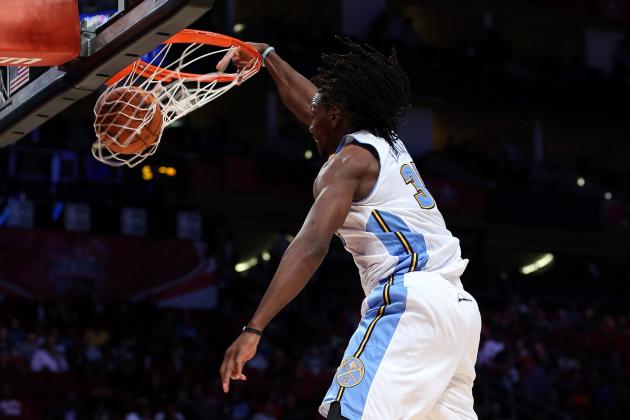 Ronald Martinez/Getty Images

As one of the most exciting players to watch in the league, Kenneth Faried continues to improve in his bright young career.
The Manimal's role increased from his rookie to sophomore season, where he nearly averaged a double-double with 11.5 points and 9.2 rebounds in just 28.1 minutes.
This year should be even better now that McGee will likely start with him.
It was easier for defenses to cheat to Faried when Koufos was in the game, because he didn't pose as much of a threat athletically. Since McGee will catch and throw down nearly any lob pass, Faried will have more one-on-one opportunities.
Faried is only 6'8" so he does have a disadvantage in becoming one of the elite big men in the NBA. But if he takes his unstoppable motor and acrobatic skills, then enhances his shooting range and passing skills, the Manimal will be one of the most unique forwards in the game and drive opponents crazy in a seven-game series.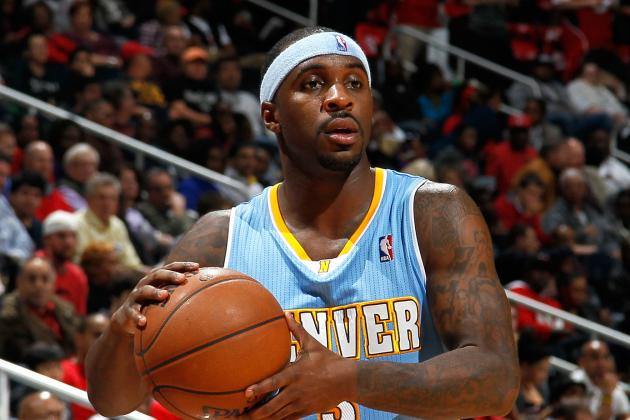 Kevin C. Cox/Getty Images

We are going to learn a lot about Ty Lawson this year.
Lawson's always had the gift of pushing the ball up the floor, getting to the rim or nailing the mid-range jumper. We know he can find the open man whether it's Gallinari for three or Faried on the alley-oop.
But this season we'll find out if Lawson can be a go-to guy and take on more of a leadership role. He will be the one connecting the dots with a new head coach to make things run smoothly.
Without Iguodala by his side, Lawson's going to take on a bigger workload in terms of penetrating the lane and getting players involved at the correct spots at the right time. There's also greater responsibility for him on the defensive end without Iguodala to lean on for defensive help against the best point guards.
Furthermore, the Nuggets went by committee as far as who took the final shot last year, which generally involved a high-ball screen trying to get the defense to switch, or just simply going in isolation.
Lawson is coming off his best season with 16.7 points and 6.9 assists. He's the best player on the team and his numbers this year should be closer to his 2013 postseason statistics of 21.3 points and eight assists.
Nevertheless, his overall impact of making others better around him and taking over at the appropriate times will largely determine Denver's 2013-14 success.