49ers' Aldon Smith Named in Lawsuit over 2012 House Party Shooting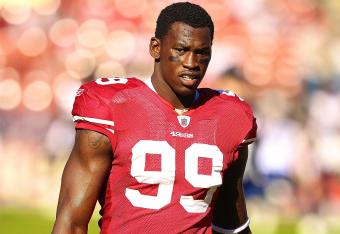 San Francisco 49ers star linebacker Aldon Smith has been named in a lawsuit along with former teammate Delanie Walker involving an alleged shooting incident at a house party in June 2012.
According to Tony Kovaleski of NBC Bay Area, alleged shooting victim Ronndale Esporlas filed the lawsuit in Santa Clara County on Tuesday. It claims that Smith and Walker "repeatedly and illegally fired weapons on numerous occasions" at the party.
UPDATE: Friday, Sept. 6
According to Tony Kovaleski of NBCbayarea.com, a second lawsuit has been filed stemming from the 2012 house party in San Jose at Smith's house:
The second lawsuit filed this week in Santa Clara County comes from an attorney for Aaron Reyes, who is a friend of Ronndale Esporles, the plaintiff in the first lawsuit filed earlier this week.

Reyes said, like Esporles, he received serious, catastrophic and permanent injuries.

In the lawsuit filed for Reyes, he claims Smith and Walker knew of gang members at the party. It goes on to report during the course of the party, both players became aware that there were gang members and persons armed with weapons on the premises.
UPDATE: Thursday, Sept. 5
Tracy Kaplan and Mark Gomez of the San Jose Mercury News report Aldon Smith could face criminal charges for possession of illegal firearms:
Only days before the start of the NFL season, the Santa Clara County District Attorney's Office is leaning toward prosecuting San Francisco 49ers star linebacker Aldon Smith on charges of possessing illegal assault rifles—charges that carry a range of possible punishments, from probation to three years in jail.

Smith bought the weapons in Arizona where they are legal, but allegedly failed to modify them to comply with California's stricter gun laws, sources familiar with the case said.

[...]

Sources familiar with the Smith matter say the Rosen administration, leery of appearing too soft on the wealthy, is close to making a final decision about charging Smith after fielding accusations of pandering to the rich by not charging [Ahmad] Brooks.
Kaplan and Gomez also passed along a statement from Assistant District Attorney Scott Tsui discussing Smith's treatment in the case:
"We're not treating anyone differently," said Assistant District Attorney Scott Tsui, making it clear that the DA did not play favorites no matter who is charged.

[...]

The risk in the Smith case, the sources said, is that in an effort to avoid the appearance of giving the linebacker special treatment, prosecutors may wind up treating him more harshly than they would someone who isn't a celebrity.

That's because Smith isn't just a suspect—he's also a victim and a key witness in the stabbing and shooting cases against the gang members.
Kaplan and Gomez then passed along a statement from Smith:
"I just really focus on what I focus on, and that's football," Smith said Wednesday from the team's training facility in Santa Clara. "I'm focusing on playing against Green Bay" in Sunday's season opener.
UPDATE: Wednesday, Sept. 4
Mike Florio of Pro Football Talk has an update from the San Francisco 49ers and Tennessee Titans about yesterday's lawsuit.
Predictably, neither team has much to say about the situation.

"The 49ers organization has been aware of this matter concerning Aldon Smith for some time," 49ers G.M. Trent Baalke said in a statement issued to PFT. "We will continue to monitor the situation closely, but will have no further comment at this time, as this is an ongoing legal matter."

The Titans had no comment, and the league office has said it is looking into the matter.
Original Text
Per Kovaleski's report:
The lawsuit also claims Smith and Walker consumed significant quantities of alcohol and were legally intoxicated. It also said the players knew the handguns were illegally possessed.

Smith and Walker appeared on the balcony of Smith's home to try and end the party and began to fire shots into the air, according to the lawsuit.

The lawsuit claims Walker then made his way to the driveway where he allegedly fired more shots into the air and toward others attending the party.
Per the NBC Bay Area report, Aldon Smith's attorney declined comment, and Walker's new team, the Tennessee Titans, had not gotten back.
This was the same party at which Smith was a stab victim, and where two people were sent to the hospital for treatment of gunshot wounds.
Any potential problem involving Smith is a significant, negative development for the 49ers organization. Smith has encountered off-field troubles before, as he was arrested and charged with a DUI in January 2012.
Despite being used primarily as a situational pass-rusher as a rookie, the No. 7 overall pick in 2011 racked up a total of 14 sacks his rookie campaign. He flashed noticeable improvements in his overall game his second year, where he upped his sack total to 19.5.
It is important to stress that these are nothing but allegations in the suit at this point. However, should any major legal issues follow, losing an All-Pro of Smith's caliber for any amount of time would be a substantial blow to the 49ers defense and organization.
This article is
What is the duplicate article?
Why is this article offensive?
Where is this article plagiarized from?
Why is this article poorly edited?