During our time with the Cincinnati Bengals on HBO's Hard Knocks, we've gone on quite a ride. Mike Zimmer stole our hearts with his genuine sincerity, Hue Jackson made us laugh, James Harrison taught us that he can't lose an arm-wrestling contest and Marvin Lewis never failed to provide the harsh reality of any situation.
On Tuesday, Sep. 3, this year's edition of Hard Knocks came to an end. Some players were cut, others offered their rendition of John Mayer songs and the coaching staff displayed their character, once again. From Zimmer displaying his chops as a master bowman to Lewis making the hard decisions, we heard it all.
In the end, it was Jay Gruden who offered the quote of the summer.
Jay Gruden: "Love the s--- out of what you do, because this is the greatest job in the world right here."

— Zac Jackson (@FSOhioZJackson) September 4, 2013
Now, here's what you missed.
Mike Zimmer is a Renaissance Man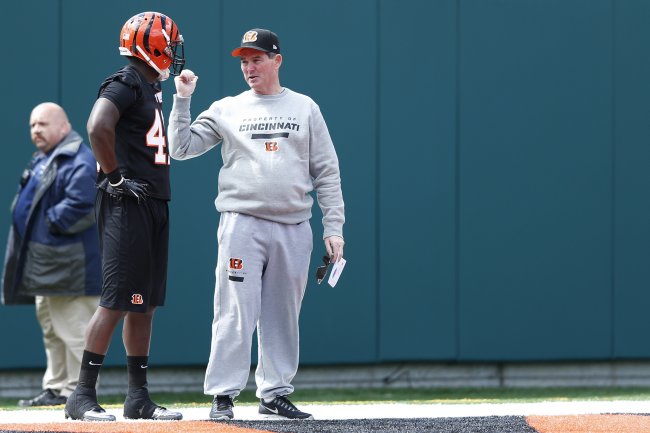 Joe Robbins/Getty Images
During the course of this season's Hard Knocks, few individuals have been as endearing or attention-grabbing as Bengals defensive coordinator Mike Zimmer. He's one of the most respected men in the NFL and has transformed Cincinnati's defense into one of the best in the league.
On this week's edition, he mastered something new: the use of a bow-and-arrow.
Mike Zimmer, expert bow hunter

— Joe Reedy (@joereedy) September 4, 2013
Let's put that into context.
During the opening minutes of the episode, Zimmer was seen wearing a University of Kentucky shirt while practicing shooting arrows with his son, Adam Zimmer. Adam is the defensive backs coach for the Bengals and has a bond with his father that ranges further than just shutting down opposing offenses.
Just don't think that makes him exempt from criticism on his shooting form—and no, we're not talking basketball.
During the course of their arrow-shooting exhibition, the older Zimmer proved to be a master of his side-craft. The younger one, however, was not as lucky, struggling to shoot the arrows with any type of conviction.
Zimmer let him hear about it, taunting his son for not being strong enough to fire a bow-and-arrow. While some may view this as cruel, the two shared a laugh and Twitter came to one conclusion:
Mike Zimmer is amazing.

— Chris Roling (@Chris_Roling) September 4, 2013
How could anyone argue?
Domata Peko is Having a Boy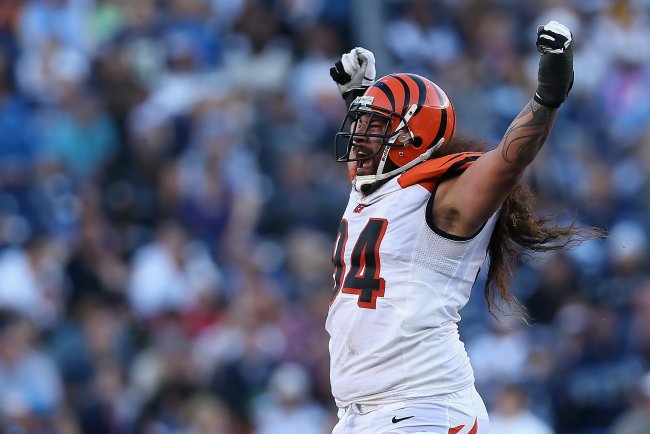 Jeff Gross/Getty Images
One of the best aspects of Hard Knocks is the fact that it gives you a look inside of the life of an NFL player. Rather than simply touching upon what happens at the practice facilities, it delves into the every day struggles and joys that said athletes endure.
This week, the show followed defensive lineman Domata Peko as he prepared for the birth of his third child.
Congrats to @DomataPeko and his wife Anna who are expecting their 3rd kid! Find out the gender of their new addition TONIGHT on #HardKnocks!

— NFL Films (@NFLFilms) September 4, 2013
The ultrasound revealed that Peko's third child will be a boy.
The defensive lineman is entering his eighth year in the NFL, spending every one of those seasons with the Bengals. Cincinnati drafted him in the fourth round of the 2006 NFL draft following his collegiate career at Michigan State.
In that time, he's become one of the most popular players in Cincinnati and one of the better defensive tackles in the NFL.
In a rare break from what we see on the field, fans were granted with the opportunity to see the softer side of a 6'3" and 322-pound lineman. Not only did we see his reaction to the ultrasound, with Peko inevitably responding with some NSFW comedy, but it reminded us that NFL players are humans too.
Even if some people don't care to hear about their personal lives.
Hard Knocks imitating Facebook with ultrasound pictures. I'll be back next scene.

— Zac Jackson (@FSOhioZJackson) September 4, 2013
Not all of us are so cynical, as most were touched by the look into the life of an NFL player. All I can do is say congratulations to Peko and his family.
John Conner vs. Orson Charles
David Kohl-USA TODAY Sports
I'm beginning to think that whichever franchise John Conner ends up with will inevitably be the team selected for Hard Knocks. If not, then he has inside information on which team HBO will select for the annual series.
Unfortunately, that approach wasn't enough to land him a job.
Conner has been in competition with former Georgia Bulldogs tight end Orson Charles for the role of fullback. Charles, 22, was selected by the Bengals in the fourth round of the 2012 NFL draft and displays potential at the position, while Conner is a Hard Knocks veteran who was drafted in 2010 by the New York Jets.
In the end, Bengals head coach Marvin Lewis used Conner as an example of what it takes to be an NFL player. Then Lewis cut him.
Marvin Lewis shows Orson Charles a play made by John Conner to demonstrate what he needs to do in the NFL. Then Lewis cuts Conner. Tough biz

— Doug Kyed (@DougKyedNESN) September 4, 2013
Don't say the Bengals aren't committed to the future.
Charles stands at 6'3" and 245 pounds, possessing the ability to break out of the backfield and catch passes. Perhaps the best comparison for him is Tennessee Titan Delanie Walker, due to the fact that they can both line up in any number of positions and either block or catch passes.
Conner, meanwhile, is a traditional fullback—the worst thing you can be in today's NFL.
Don't have your son be a Fullback, not a traditional one anyway

— Robert Littal (@BlkSportsOnline) September 4, 2013
Conner has the respect of millions with his experience on Hard Knocks and dedication to the game, but he didn't have enough to make the cut. Charles will be Cincinnati's fullback in 2013.
Aaron Maybin: Not His First Love?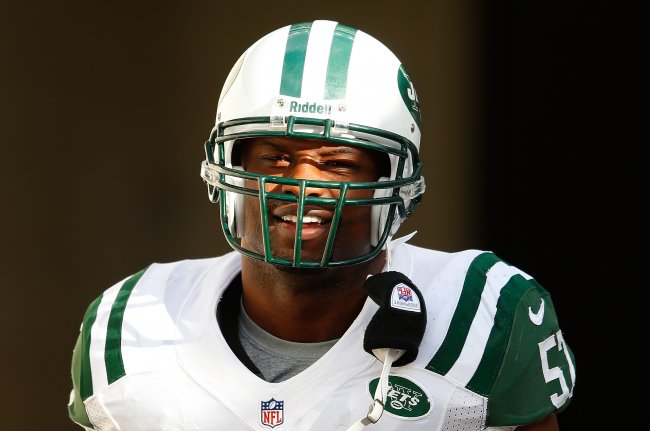 Jim Rogash/Getty Images
During the 2009 NFL draft, Aaron Maybin was drafted No. 11 overall by the Buffalo Bills. Once a superstar linebacker for Penn State who was fresh off of a monstrous season in which he picked up 12 sacks and turned heads in every game, Maybin is now synonymous with the term "bust."
Four years later, he's out of a job.
Maybin was cut by the Bengals earlier this preseason, but the cameras caught up with him to check in on what he's doing now. Not only was Maybin introspective, but he said the phrase that has the Bills kicking themselves.
"Football wasn't my first love."
"Football wasn't my first love" -Aaron Maybin. Somewhere a former Bills executive threw up in his mouth. #notoneofhisfirst10loves

— Steve Bennett (@Sports_Casters) September 4, 2013
What was? Painting.
That may leave you scratching your head, but Maybin has skill. The paintings that were displayed had many in the Twittersphere backing off of the "bust" talk for a moment and offering some form of praise.
Some are even interested in becoming collectors.
I think I would buy an Aaron Maybin painting - very talented! #hardknocks

— Russell Scibetti (@rscibetti) September 4, 2013
To each their own, and for Maybin, the NFL just wasn't his to cherish.
Terrence Stephens Channels John Mayer
What if I told you that Terrence Stephens stole the show on the season finale of Hard Knocks? The 6'1" and 315-pound defensive lineman was the star of the evening because he displayed his soft side.
If you don't believe me, you must have missed his rendition of "Gravity" by John Mayer.
Terrence Stephens is our winner on #HardKnocks tonight for that fantastic rendition of "Gravity."

— Josh Fendrick (@JoshFendrick) September 4, 2013
And you thought I was joking.
Stephens was both singing and playing the guitar for his teammates, channeling his inner-Mayer to wow the masses. As a result, Stephens became a Twitter sensation and put the world on notice of his singing chops.
You can't find many people who weren't entertained.
Big boy was KILLING that Gravity song on Hardknocks lol

— Mr.ESPN (@IAMCTYS) September 4, 2013
If only he followed this performance with, "Your Body is a Wonderland."
Final Cuts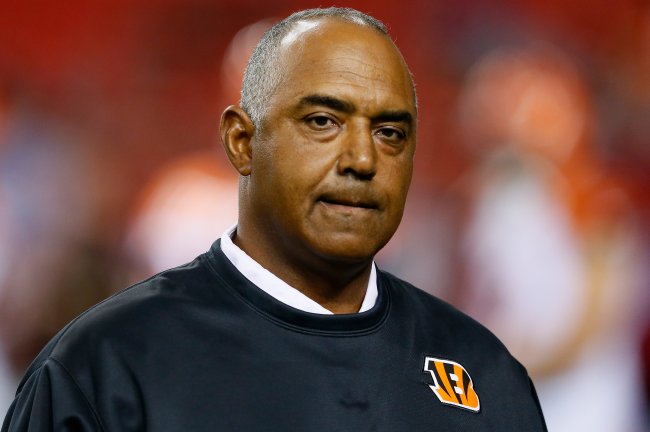 Kevin C. Cox/Getty Images
The most difficult moment on any season of Hard Knocks is watching the players who fall victim to the final roster cut. Whether they're names you know or players you've never heard of, the raw and true emotion that comes with waiting to hear their future is gut-wrenching.
Once the players know, it doesn't get much prettier—not even for the spectators.
I get a pit in my stomach for final cut-down day on Hard Knocks even though I know who makes it and who doesn't.

— Andrew Perloff (@andrewperloff) September 4, 2013
Fortunately, it wasn't all heartbreaking.
Seeing Conner get cut was tough, but not every player was given bad news when it comes to making the final cut. In fact, arguably the best moment of the entire show was the result of a player making the cut.
Jayson Dimanche is the player who provided that thrill.
Dimanche, a 22-year-old linebacker out of Southern Illinois, was one of the players who entered the season-finale with his future in doubt. The Bengals have made a concerted effort to improve their front seven over the past several years and depth is already present on the roster.
In one of the greatest scenes of the season, coach Lewis told Dimanche that he made the team, and he reacted in a way that words cannot describe.
Jayson Dimanche calling his "Mommy." Priceless. #HardKnocks

— Zac Jackson (@FSOhioZJackson) September 4, 2013
When a 240-pound linebacker can be brought to tears of joy, you know why we watch Hard Knocks.
With James Harrison filming the camera crew and jokes being sent around the facility, the season came to a close. The Bengals' roster is now set, the preview period of the NFL is all but finished and the regular season is a mere days away.
If we learned one thing from our experience with the Bengals, it's that Cincinnati is ready for the season. Are you?