Full Week 1 Stat Predictions for Cincinnati Bengals Offense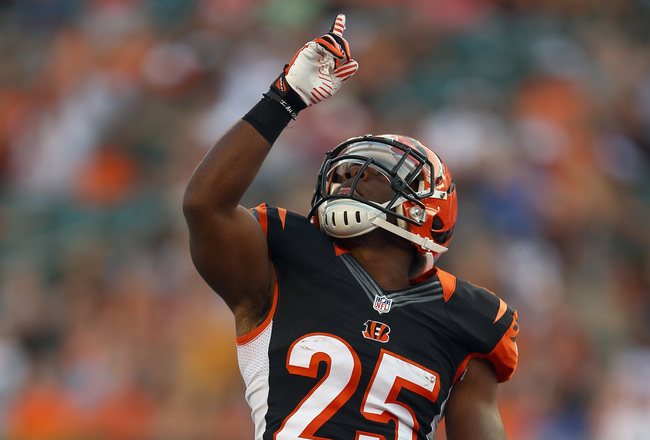 Andy Lyons/Getty Images
Finally, Week 1 of the NFL season is upon us. It seems that it's been a lifetime since the Super Bowl ended.
The Cincinnati Bengals are now preparing to meet the Chicago Bears this Sunday. The team is looking to bounce back from yet another disappointing ending to what was a promising season.
There are a lot of reasons to be optimistic in 2013, so with Week 1 in sight, who will be the standout stars of the offense?
Tight Ends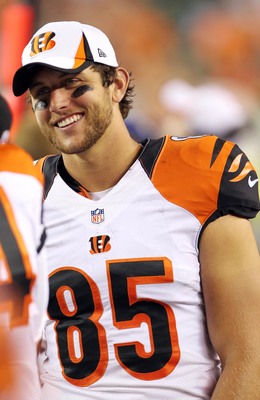 Brian Spurlock-USA TODAY Sports
Tyler Eifert—2 receptions, 37 yards
The Bengals' first-round selection back in April has shown a lot throughout his short time in black and orange. He is a monstrous body on the line to block against the run and has some of the better hands among tight ends in the game.
Eifert's mediocre statistics in this first game won't be any sort of knock on him. It's just that Chicago has an incredibly talented defense.
While I anticipate him seeing more than two targets, getting away from Bears defenders will prove difficult for the rookie in his debut.
Jermaine Gresham—3 receptions, 28 yards
Gresham is the veteran tight end on the team and has come under a lot of scrutiny this offseason. His performance in January against Houston was absolutely abysmal, with his tendency to drop passes on full display.
In this game, even the veteran won't be able to escape Chicago pressure. Gresham possesses some of the best athleticism on the team, given his speed and strength, but it isn't going to be enough to make a huge impact on the Bears.
Unfortunately, it doesn't appear the tight ends will be making a huge contribution outside of blocking.
Wide Receivers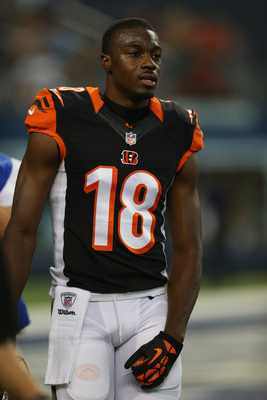 Ronald Martinez/Getty Images
A.J. Green—4 receptions, 57 yards
Despite a tremendous secondary in Chicago, it wouldn't surprise me to see A.J. Green see a lot of separation. He's athletic enough and definitely quick enough—his low numbers are going to be attributed to the play of Andy Dalton (more on that later).
Green is going to be ready for the season opener despite a brief preseason injury. Last season, Green fell just shy of topping 100 catches.
I expect him to accomplish that feat in 2013, but Chicago just won't be a great game for the passing attack.
Mohamed Sanu—2 receptions, 18 yards
Sanu has shown a great amount of physicality this preseason, and with the injury to Green, he's seen a lot of time.
What we're going to see from Sanu on Sunday is not a lack of talent, but a lack of experience. Green will be double-teamed, but of course, the Bears aren't going to stick both Tim Jennings and Charles Tillman on him.
That means Sanu will have to deal with one of the two, and I don't think he'll have an easy time finding separation from one of the better corners in the NFL.
Marvin Jones—1 reception, 38 yards, TD
Yes, I'll take the sleeper pick for the lone passing touchdown in the game. As I've made clear, the Chicago defense is going to largely be able to contain the Cincinnati passing game.
However, I think the guy they'll forget about is Marvin Jones—the man who started opposite A.J. Green in January's Wild Card Game against Houston. What Jones has is a good set of hands and great speed.
I expect that to come in handy when he catches a dump pass five yards past the line and breaks loose to the end zone.
Ryan Whalen—1 reception, 7 yards
Dane Sanzenbacher—1 reception, 6 yards
Running Backs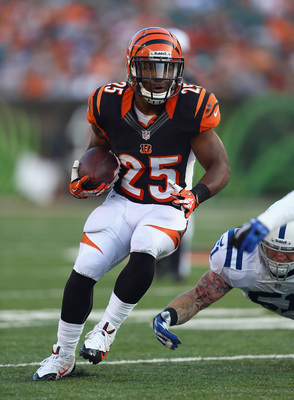 Andy Lyons/Getty Images
BenJarvus Green-Ellis—15 carries, 53 yards, TD
The Law Firm had one of his better seasons in 2012, despite a decrease in the amount of times he saw the end zone.
Make no mistake, he'll be the lead guy in 2013.
The bruiser has never been a tremendous runner for yards, but Green-Ellis can pound his way through the line into the end zone.
Chicago's defense isn't quite as formidable against the run as it is the pass (the difference isn't big, though), so I can see the running game picking up some slack.
Giovani Bernard—11 carries, 62 yards, TD
At UNC, Bernard averaged right around six yards per carry over the course of two seasons. I think it will stay that way, if only for one game.
Bernard has looked pretty good in his preseason appearances, and I think that has earned him a fair amount of playing time come Sunday. His speed complements the power of Green-Ellis, and you can bet that Bernard will be outrunning the Bears linebackers.
Not only do I expect him to score in his first regular-season game, but I think Bernard will break off a 20-yard score to blow the game open.
Orson Charles (FB)—2 receptions, 7 yards
I have high hopes for Orson Charles now that he's made a transition from the tight end position to H-back.
A second-year man out of Georgia, Charles has experience catching passes in his college days. While he'll be largely a blocker in the backfield, he just might see a pass or two come his way as well.
Quarterback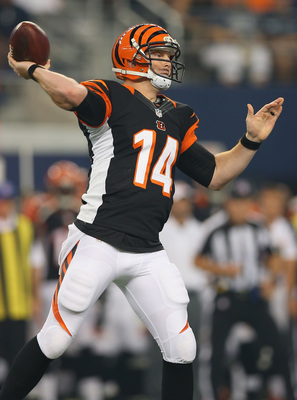 Ronald Martinez/Getty Images
Andy Dalton—16-of-28, 198 yards, TD
What the Red Rifle has done for the Cincinnati Bengals in his first two seasons has been outstanding. He's thrown for over 7,000 yards and his touchdowns hugely outweigh his interceptions.
Unfortunately, Dalton is still missing that star power that quarterbacks like Aaron Rodgers and Matt Ryan possess. There are still a lot of holes in his game. Against a tough defense in Chicago, I don't anticipate it being a game to write home about.
Tim Jennings and Charles Tillman make up one of the best secondaries in the game, while Julius Peppers and Lance Briggs will be charging at Dalton all game long. I don't expect him to struggle so much so that it's bad, but this is not going to be one of Dalton's best performances.
Keep Reading

Cincinnati Bengals: Like this team?