The 2013 NFL regular season will commence on Thursday, Sept. 5, when the Baltimore Ravens travel to play the Denver Broncos in a rematch from the 2013 AFC playoffs. With this in mind, fans across the world are counting down the hours until the action begins.
The question is, which teams will walk away with season-opening victories?
Predicting and watching the NFL regular season is all but a national pastime, but that doesn't make it anything close to scientific. No established formula has been created to determine the results of NFL games, as one must instead look at a wide array of factors that determine each specific game.
Even still, we can evaluate the statistics and determine which teams will emerge victorious during Week 1.
NFL Week 1 Predictions

| | | | | |
| --- | --- | --- | --- | --- |
| Date | Road Team | Score | Home Team | |
| Sep. 5 | Baltimore Ravens | 20-31 | Denver Broncos | |
| Sep. 8 | Cincinnati Bengals | 17-13 | Chicago Bears | |
| Sep. 8 | New England Patriots | 34-17 | Buffalo Bills | |
| Sep. 8 | Miami Dolphins | 19-10 | Cleveland Browns | |
| Sep. 8 | Atlanta Falcons | 34-30 | New Orleans Saints | |
| Sep. 8 | Tampa Bay Buccaneers | 14-9 | New York Jets | |
| Sep. 8 | Tennessee Titans | 16-23 | Pittsburgh Steelers | |
| Sep. 8 | Minnesota Vikings | 24-35 | Detroit Lions | |
| Sep. 8 | Oakland Raiders | 13-28 | Indianapolis Colts | |
| Sep. 8 | Seattle Seahawks | 27-16 | Carolina Panthers | |
| Sep. 8 | Kansas City Chiefs | 21-13 | Jacksonville Jaguars | |
| Sep. 8 | Arizona Cardinals | 13-24 | St. Louis Rams | |
| Sep. 8 | Green Bay Packers | 27-21 | San Francisco 49ers | |
| Sep. 8 | New York Giants | 31-38 | Dallas Cowboys | |
| Sep. 9 | Philadelphia Eagles | 17-20 | Washington Redskins | |
| Sep. 9 | Houston Texans | 27-16 | San Diego Chargers | |
NFL.com
Baltimore Ravens at Denver Broncos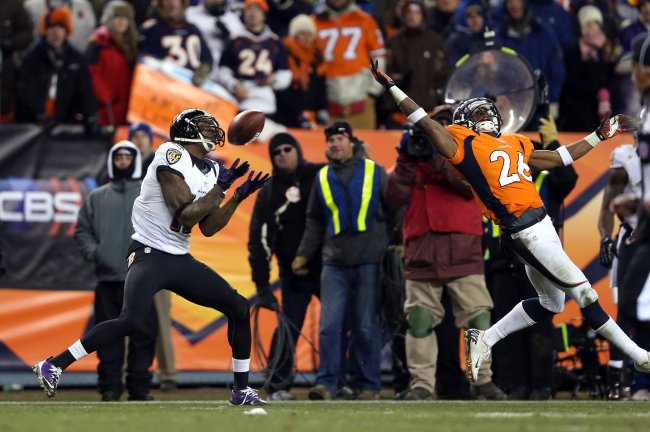 Jeff Gross/Getty Images
Date: Thursday, Sept. 5
Time: 8:30 p.m. ET
TV: NBC
As previously alluded to, the season will open with a rematch of the 2013 AFC playoffs. Last season, the Ravens used an infamous touchdown pass from Joe Flacco to Jacoby Jones to eventually earn a 38-35 double-overtime victory.
Don't think Denver has forgotten how close it came to a Super Bowl run of its own.
Not only do the Broncos have the better roster in 2013, but this game will be played in Colorado. During the 2012 NFL regular season, the Ravens went 4-4 on the road, and Denver was 7-1 at Mile High Stadium.
They may be the reigning Super Bowl champions, but don't forget that the Ravens have close to an entirely restructured defense.
If that's not enough, the world's recent love affair with Flacco seemingly has us forgetting that Peyton Manning plays for the Broncos. Manning quieted concerns about his health by posting the second-highest passer rating in the league at 105.8 during the 2012 regular season, with only Aaron Rodgers ahead of him.
All of this adds up to one simple fact: The Broncos won't let the Ravens take another one in Denver.
Denver Broncos 31, Baltimore Ravens 20
Atlanta Falcons at New Orleans Saints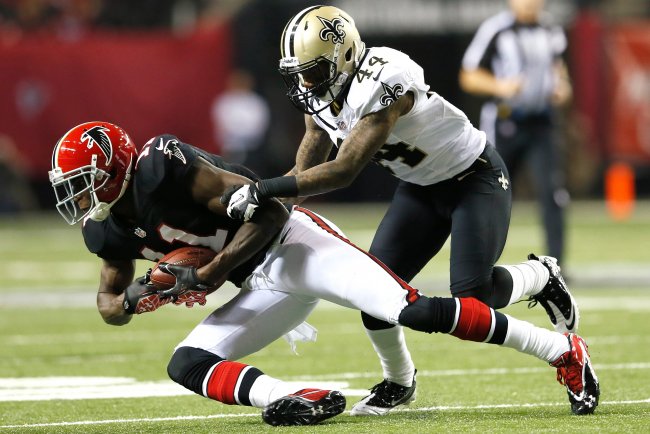 Kevin C. Cox/Getty Images
Date: Sunday, Sept. 8
Time: 1:00 p.m. ET
TV: Fox
In a clash between the NFC South's top contenders, the Atlanta Falcons will travel to play the New Orleans Saints. The Falcons enter the game as the favorites, and rightfully so, but the last time Atlanta won in New Orleans was 2010, when it took home a 27-24 overtime win.
As we all know, rivalries mark times in which records are thrown out of the window and the factor of passion comes into play. For that reason, we must look not only at the basic statistics but also the underlying truths.
With Sean Payton returning to the sidelines, there's reason to believe that the Saints will be able to ride that momentum to a victory. With that being said, the Falcons finally overcame the postseason hump in 2012-13 and were a second-half collapse away from defeating the San Francisco 49ers and reaching the Super Bowl.
If any team has something to prove, it's Atlanta.
The Falcons have an improved offense, if that's possible to imagine, after replacing Michael Turner with Steven Jackson at running back. The Saints, meanwhile, haven't done much to improve one of the worst defenses in the history of the NFL.
It'll be a high-scoring affair, and I'd normally side with Drew Brees in that instance, but Atlanta needs to prove its legitimacy with a big road win.
Atlanta Falcons 34, New Orleans Saints 30
Green Bay Packers at San Francisco 49ers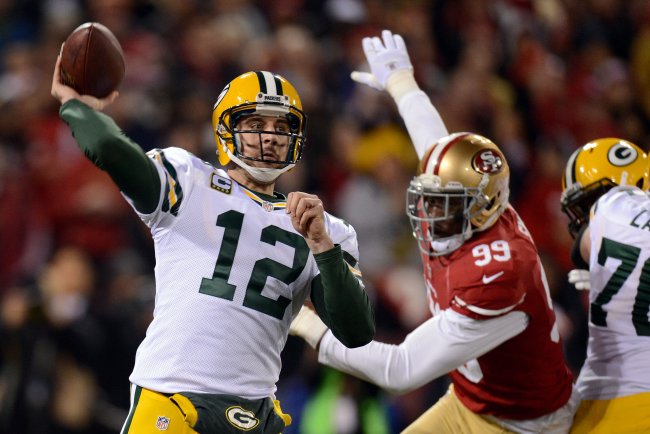 Thearon W. Henderson/Getty Images
Date: Sunday, Sept. 8
Time: 4:25 p.m. ET
TV: Fox
Just like it did in 2012, the 2013 NFL regular season will begin with the Green Bay Packers playing the San Francisco 49ers during Week 1. The 49ers defeated the Packers in 2012, winning 30-22 in a defensive slugfest in Green Bay.
Expect a different result in 2013.
For one reason or another, it appears as if the Packers have become the Super Bowl contender that the world has forgotten. In that time, the 'Niners have translated an appearance in Super Bowl XLVII into the status of a favorite in 2013-14.
That's all fine and well, but what we know is this: Green Bay returns a majority of its players, and the 49ers are without Michael Crabtree and Mario Manningham during Week 1. In other words, Colin Kaepernick's first test of 2013 will come against Aaron Rodgers, and his No. 2 receiver will be either Quinton Patton or Kyle Williams.
If that's not enough, the 'Niners are replacing both of their safeties and will receive a season-opening test against the best quarterback in the NFL.
The 'Niners are a legitimate Super Bowl contender and may end up as the team that goes on to win it all. With that being said, the Packers lost to San Francisco twice in 2012 and have a statement to make in this clash.
For that reason, the Packers pull off a Week 1 upset.
Green Bay Packers 27, San Francisco 49ers 21