Having already suffered through a fifth straight season without a major championship, it was expected Tiger Woods would claim a third FedEx Cup title to provide a much-needed measure of redemption to his 2013 campaign.
After a less-than-inspired performance in the Deutsche Bank Championship over the Labor Day weekend, even that consolation prize is in doubt.
A week after struggling with back issues but still nearly winning The Barclays, Woods turned in one of his most uneven performances of the year at TPC Boston. While the majority of the field was going really low, Tiger managed just two subpar rounds and finished at four under, an astounding 18 shots behind winner Henrik Stenson.
The performance left him in a tie for 65th, matching his worst finish of the year on tour, and dropped him into second place in the FedEx Cup standings behind the Deutsche Bank winner.
#PGA #GOLF Tiger Woods shoots final-round 73 at Deutsche Bank Championship: Tiger Woods has played two... http://t.co/WDg1fbCK7C #SPORTS

— PGAPlayerNews (@PGAPlayerNews) September 2, 2013
Now, with the FedEx Cup playoffs taking a week off, Tiger has time to rest his mind and body while he looks to fix what's gone wrong since he fired a second-round 61 en route to winning the Bridgestone Invitational just five weeks ago.
"It wasn't my week," Woods told ESPN.com's Farrell Evans following play on Monday. "I didn't play well and didn't make anything, so consequently I wasn't close to the lead.
"I just didn't putt well. I didn't have a feel for my [putting] lines. My lines were just off."
It seems as if we've heard that before over the past month or so.
Since his eighth career Bridgestone victory, Tiger was essentially a no-show at the PGA Championship and then battled back spasms and poor putting at Liberty National in the first playoff event more than a week ago.
To be fair, it's been an unusually busy stretch for Woods, who has now played four of the past five weeks as the FedEx Cup playoffs have so closely followed the season's third World Golf Championship event and final major of the year.
While by no means an excuse, Tiger appeared sluggish and uninspired at times this weekend, especially in the final two rounds—he limped home a combined three over in the final 36 holes.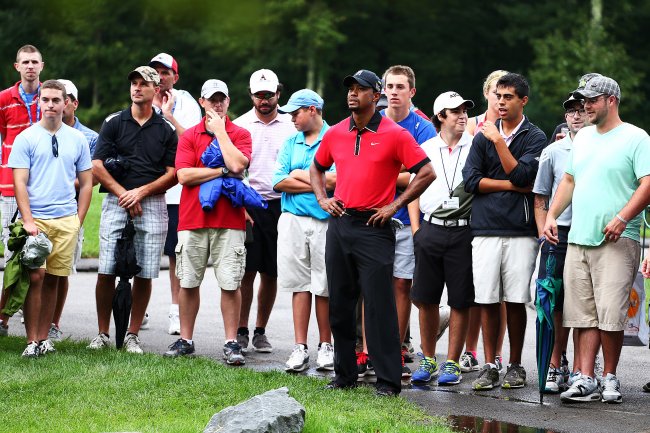 Andy Lyons/Getty Images
Aside from possible fatigue—an explanation certainly not offered up by Woods at any point—the same pesky culprits that have hampered the top-ranked golfer in the biggest of events this year certainly got him yet again at the Deutsche Bank.
Tiger didn't drive the ball nearly well enough to take advantage of a soft and receptive TPC Boston. Once again he saw a number of opportunities go wanting on the perfectly manicured but slow greens. He never got on a real roll and missed out on a chance to win a sixth event this year by a wide margin.
After a decent 68-67 start, Woods' game went slightly sideways during the third round.
The world No. 1 missed more than half the fairways on Sunday, costing him the opportunity to take advantage of the course's reachable par fives and handful of short par fours. As a result, Tiger entered the fourth round 13 shots behind Sergio Garcia and hopelessly out of the tournament.
He was equally sloppy in the final round, posting a two-over 73 to slip further down the leaderboard and ultimately out of the catbird seat in the playoffs, which turns to the BMW Championships outside of Chicago next week.
RT @golfodds: BMW Championship odds are up ... Tiger 5/1, Scott 12/1, Mickelson 12/1, Stenson 15/1, Rose 15/1, McIlroy 15/1, Stricker 15/1

— Shane Bacon (@shanebacon) September 3, 2013
Between now and then, Woods needs to discover some confidence with his driver for the first time in a long time and regain his touch on the greens. Not since that near-record performance at Firestone Golf Club more than a month ago has he been dialed in with the putter. The results have certainly shown that.
That said, it's not all doom and gloom for the 14-time major champion.
The poor effort at TPC Boston notwithstanding, Woods remains in solid shape to win that third FedEx Cup championship if he can spend the next nine or so days sharpening his rebuilt swing and turning his short game from shortcoming to actual weapon.
In 2009, the last time Tiger captured the FedEx Cup, he failed to win the first two events only to capture the BMW title in his third playoff start and cruise to the playoffs crown.
Tiger used to be unbeatable in Chicago in part, Steve Williams used to say, cos Michael Jordan would watch; if he didn't win, he'd get grief

— Robert Lusetich (@RobertLusetich) September 3, 2013
A repeat of that would certainly serve him well. But the reality is, save for a complete meltdown at Conway Farms, Tiger is certain to be among the top five when he arrives at the Tour Championship a little more than two weeks from now.
That means a victory at East Lake would assure him of the FedEx Cup title and significantly strengthen his case for layer of the year honors over the likes of Adam Scott and Phil Mickelson. Any golfer in the top five at the Tour Championship is assured a playoffs title with a win at the season-closing event.
"We're just trying to play for position, going into East Lake," Woods said of what awaits (per Evans). "After Chicago it's important that I'm in the top five, hopefully first."
On the strength of his five-win "regular season," Woods has essentially ensured he'll be in the top five in Atlanta.
The larger question, however, is what form he'll be in when the championship is ultimately decided.
Will it be the Tiger who's been tentative off the tee and confused on the greens during the past month, or will the dominant player of early 2013 re-emerge at just the right time?
The answer to that question will ultimately decide the direction of the 2013 FedEx Cup. It will also determine whether Tiger will at least have another FedEx conquest and a cool $10 million to help him forget about his struggles in the events that truly matter the most to him.