Tennessee Volunteers vs. Western Kentucky Hilltoppers: Complete Game Preview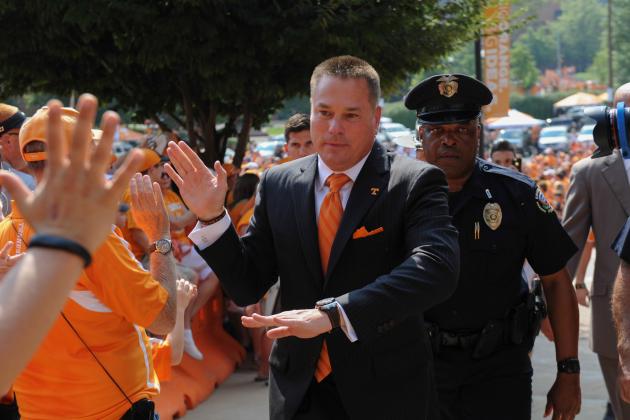 Randy Sartin-USA TODAY Sports

The Tennessee Volunteers are looking forward to their first test of the season with a home matchup against the Western Kentucky Hilltoppers on Saturday.
The Toppers have turned in back-to-back winning seasons and are now coached by Bobby Petrino. The Vols have a great opportunity to test their meddle.
This is the last game before Tennessee embarks on a brutal two-game road stretch at Oregon and Florida. The trip won't seem quite so daunting, however, if the Volunteers can enter it with a 2-0 record, but it certainly won't be as easy as last week.
This isn't the same Western Kentucky team that started their first full season in the FBS against the Vols in 2009.
Time: 12:21 p.m., ET
Place: Neyland Stadium, Knoxville, Tenn.
TV: SEC Network, ESPN3.com
Radio: Sirius 158, XM 201, Knoxville 99.1 FM, Nashville 104.5 FM, Memphis 92.9 FM
Spread: Tennessee -14 (according to Vegas.com)

Begin Slideshow

»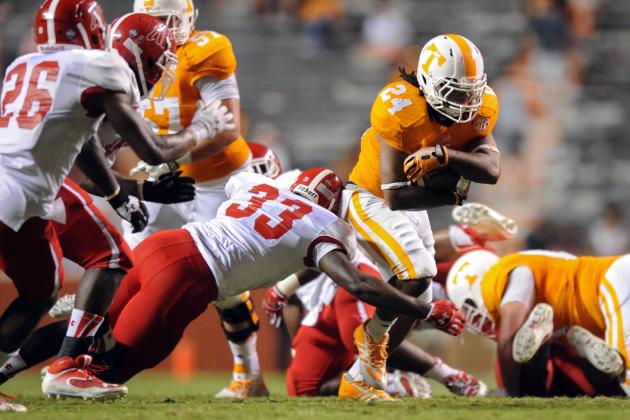 Randy Sartin-USA TODAY Sports

After an exciting, and extremely easy, first game against Austin Peay, Tennessee will confront a quality opponent in Western Kentucky. Just showing up will be nowhere near enough to win.
The Volunteers got their running game going early in Week 1. With a new quarterback and young wide receivers, it will be vital for Tennessee to move the ball with Rajion Neal and Marlin Lane in the first quarter. Tennessee's elite offensive line has to knock Western Kentucky off the ball and set the tone.
On the opposite side of the ball, Western Kentucky running back Antonio Andrews can't be allowed to run free. He's coming off a 2012 season that saw him rush for over 1,600 yards and 11 touchdowns. Daniel McCullers will need to disrupt the blocking patterns designed for the Hilltoppers' star running back.
Finally, Volunteers quarterback Justin Worley has to seal the deal. More than once last week, he had good protection and open receivers but underthrew his targets. At least two intended touchdown passes, both to Marquez North, were left on the field due to timid tosses.
Worley will have to lead Tennessee on at least one key scoring drive to win.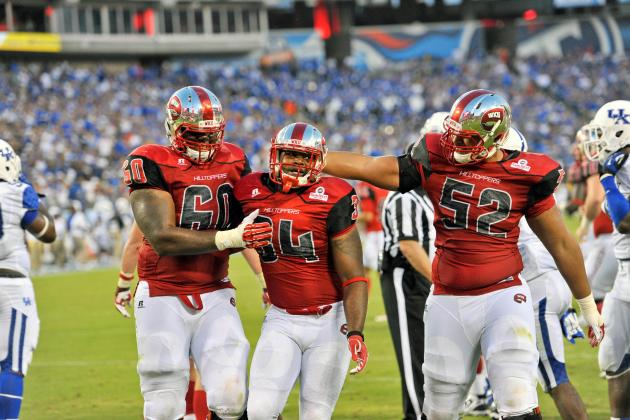 Jim Brown-USA TODAY Sports

It starts and ends with offensive firepower for any Bobby Petrino-coached team.
Western Kentucky put up 35 points on Mark Stoops' new Kentucky team last week and they'll look to do the same against Butch Jones and the Volunteers on Saturday.
The Volunteers' cornerbacks are vulnerable. One is an underachieving Justin Coleman while the other is true freshman Cameron Sutton. Quick screens, wheel routes like the one Austin Peay executed and misdirection are the keys to an effective offensive game plan.
Head coach Butch Jones has said that "eye discipline" is important for the Vols. If they aren't disciplined, the Hilltoppers will take advantage.
On defense, forcing Tennessee quarterback Justin Worley to get rid of the ball could lead to turnover opportunities. He's new to the job and has three starting receivers with less than three two years of combined college experience.
Of course, beating the Tennessee offensive line is a massive undertaking.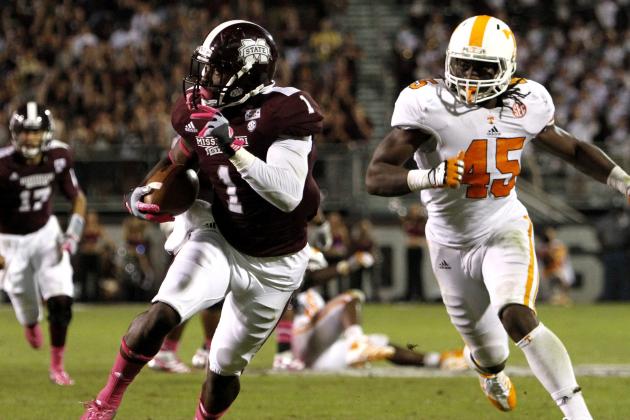 Butch Dill/Getty Images

Cameron Sutton, CB
The freshman starter for Tennessee will be picked on by offensive guru Bobby Petrino. After all, the head coach of Western Kentucky has been known to draw up passing plays that account for the location of the referee, so that he can be used as a screen.
The reason Sutton got the starting job when Riyahd Jones went down is because of his cool composure. That composure will be tested this weekend and will be something to keep an eye on.
Marquez North, WR
The other true freshman starter was also the Vols' leading receiver against Austin Peay. There were some jitters, though. He had a couple tough passes that could have been caught, but were dropped. Judging by his body language, North believed he should have reeled them in.
Western Kentucky provides a great step up in competition. North only had three receptions in his first game, but it's clear that he's not a typical freshman. A big play from North is part of the winning formula.
A.J. Johnson, LB
In limited playing because of the blowout win last week, Johnson tallied only two tackles in his first game as a potential 2013 All-SEC linebacker. His ability to stop the Hilltoppers' running game might be the most important defensive factor in the game.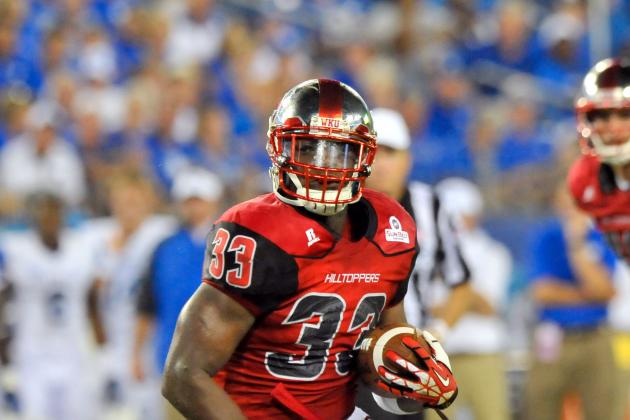 Jim Brown-USA TODAY Sports

Antonio Andrews, RB
Andrews rushed for 99 yards against the strong front seven of Kentucky. He ran for over 125 yards seven times last year and had more than 400 receiving yards. He's easily the most important player on Western Kentucky's offense.
If an upset is in the stars, expect Andrews to play a key role in it.
Andrew Jackson, LB
The Antonio Andrews of the defense is Jackson. He racked up 122 total tackles in 2012, including 20 against Florida Atlantic. In SEC games, Jackson has averaged 8.75 tackles. If it's important for Rajion Neal to get going early, then blocking Jackson is integral to that strategy.
Butch Jones raved about Jackson in his Monday press conference, via UTsports.com:
"Andrew [Jackson] is as good of a linebacker as I've seen in a long, long time. He can impact the football game. He can change the course of a football game and I think they feed off his energy."
Jim Brown-USA TODAY Sports

Butch Jones on Western Kentucky from his Monday press conference, via UTsports.com:
They're well coached, they're very dynamic on offense. They're going to challenge you defensively just because of the different personnel groupings they use... we're going to have to be extremely disciplined.
Bobby Petrino on Tennessee from his Monday press conference, via AllforTennessee.com:
We get to watch them on video from last week's game. They're very very good, very sound in their technique, very well coached. We're going to see how match up with them when we get going against them.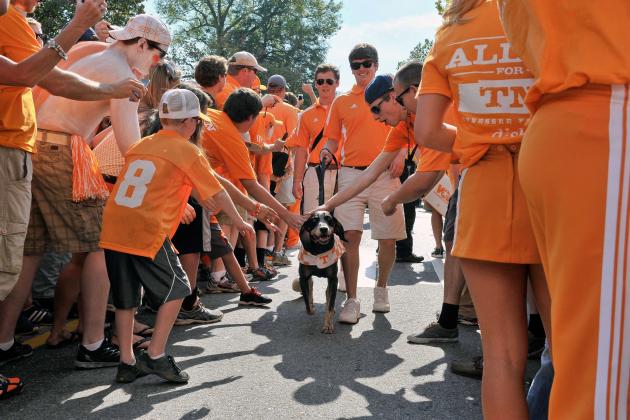 Jim Brown-USA TODAY Sports

Tennessee is favored by 14 points over Western Kentucky. The Volunteers opened as a nine-point favorite, but strong betting on the side of the Big Orange pushed that spread wider.
This is going to be a very good game and I am excited. It's fun to see what your players and new coaches can do against a solid opponent and Western Kentucky is exactly that.
The Hilltoppers will put up some points, there's no doubt about that. Bobby Petrino has been scoring lots of a points for a long time, but the Volunteers will hold their own on defense.
Marquez North has a big touchdown catch in him and the true power of the Tennessee offensive line still hasn't been realized.
I expect a close game for at least three quarters with the Vols being able to get a little breathing room by the end.
Tennessee 30, Western Kentucky 21