NFL Week 1 Picks: Home Teams That Don't Stand a Chance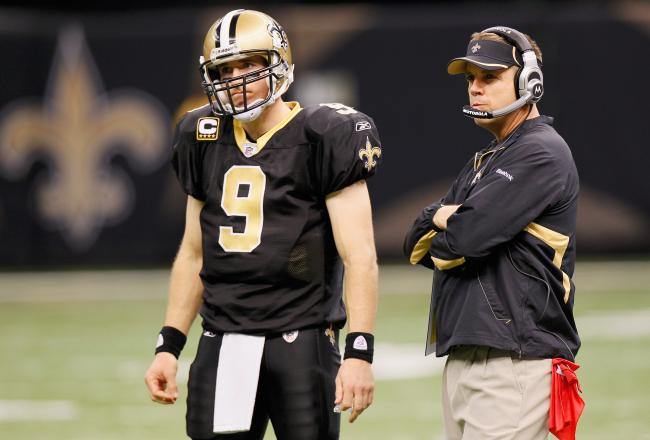 Kevin C. Cox/Getty Images
Normally being the home team in an NFL game can be seen as a huge advantage—as is the case in most sports—but Week 1 of the NFL season presents some matchups that leave the home squad doomed to lose.
The New Orleans Saints have a fresh start of sorts in 2013, as their head coach Sean Payton returns to the sidelines following a season-long suspension in 2012. Things are looking up for New Orleans, but its season won't begin to rise until after Week 1.
It may be up for debate as to who the worst team in the league will be this season, but it isn't up for debate that the Jacksonville Jaguars will be one of the top candidates to finish as such. Their opening-week showdown will be the start of a long, frustrating season for the Jags.
The San Diego Chargers had nothing short of a disappointing season in 2012 after going 7-9. Questions remain for this squad on both sides of the ball—particularly at quarterback—and that has expectations low for the upcoming season.
Let's take a look at why each of these teams don't stand a chance at winning their season-opening game at home.
The full 2013 NFL schedule with game times and television information can be found on the NFL's official website.
Week 1 Picks
| | |
| --- | --- |
| Game | Winner |
| Baltimore at Denver | Denver |
| Tampa Bay at New York Jets | Tampa Bay |
| Arizona at St. Louis | St. Louis |
| New York Giants at Dallas | Dallas |
| New England at Buffalo | New England |
| Cincinnati at Chicago | Chicago |
| Miami at Cleveland | Miami |
| Atlanta at New Orleans | Atlanta |
| Tennessee at Pittsburgh | Pittsburgh |
| Minnesota at Detroit | Detroit |
| Oakland at Indianapolis | Indianapolis |
| Seattle at Carolina | Seattle |
| Kansas City at Jacksonville | Kansas City |
| Green Bay at San Francisco | San Francisco |
| Philadelphia at Washington | Washington |
| Houston at San Diego | Houston |
New Orleans Saints (vs. Atlanta Falcons)
It's all well and good that the Saints have their head coach returning this season, but that doesn't mean they will somehow emerge superior to the true favorites of the NFC South, the Falcons.
Atlanta is a Super Bowl favorite in many circles, while the Saints are a somewhat trendy pick to be a playoff team after a disastrous 2012 season. It's true that Payton will have a positive effect on the Saints that will propel them to a better record, but defense remains the issue in the Big Easy.
The Saints' dreadful defense from a year ago didn't get the face-lift it needed, so things don't figure to be much different than the unit that was No. 31 and No. 32 against the pass and run, respectively. To make matters worse, the Falcons and Matt Ryan sport an elite passing attack and a new addition to their backfield, Steven Jackson, who will add some much needed credibility to their ground game.
Granted, the Saints will put some points on the board with their great offense, but the Falcons also have a strong enough defense to contain them enough to keep their point total within reason. Even if the Falcons' defense totally fails, they have a ton of firepower to utterly dominate and outscore the Saints.
Falcons 34, Saints 21
Jacksonville Jaguars (vs. Kansas City Chiefs)
Where don't the Jaguars have question marks on their roster?
Jacksonville's best player, Maurice Jones-Drew, hasn't been totally healthy during the preseason, so doubts about his foot remain after a season-ending injury in 2012. Even if he's healthy, Jones-Drew will be the focal point of every opposing defense he faces, and he doesn't have much help around him to alleviate that issue.
At quarterback, the Jaguars haven't made up their mind about who will start just yet, but regardless of whether it's Blaine Gabbert or Chad Henne, things are looking bleak in that respect. Adding to the Jags' difficulty in the passing game, the team's best wide receiver Justin Blackmon isn't suiting up because of a suspension that will KO him for the first four games.
Meanwhile, Kansas City is bringing a much-improved roster on the field in Week 1, with new quarterback Alex Smith adding some stability behind center. With no shortage of options to go to, whether it's Dwayne Bowe, Donnie Avery or Jamaal Charles, Jacksonville's defense should have its hands full with little talent to stop what Kansas City is packing.
Plain and simple: The Chiefs are a better team in just about every facet of the game, and that losing recipe for the Jaguars is something this team should get used to the rest of the way.
Chiefs 21, Jaguars 6
San Diego Chargers (vs. Houston Texans)
Doubts about the viability of Phillip Rivers moving forward are plentiful, and, after a season that saw him throw for 1,000 yards less than he did in 2011, it's clear they are valid. Whether you want to blame that on a decline or a lack of options, the Chargers don't have a promising outlook in 2013.
San Diego didn't make many improvements to their offense that finished No. 24 and No. 27 in the pass and run, respectively, so don't expect many big things this season. Danario Alexander emerged as a top target for Rivers near the end of 2012, but a torn ACL has ended that budding relationship for now.
The Texans are a talented team on the defensive side of the ball and proved so after finishing No. 16 and No. 7 against the pass and run respectively. San Diego will have one heck of a time establishing the run with Ryan Mathews, so that will lead the Chargers to lean on their passing attack, which certainly didn't work out last season.
On top of that, the Texans were No. 2 in the AFC with 12 more takeaways than giveaways, so this is a team that can force turnovers on defense and take care of the ball on offense. San Diego simply doesn't play responsible enough to handle what Houston can do.
The Texans can also pound the rock with Arian Foster and have weapons through the air like Andre Johnson and DeAndre Hopkins for quarterback Matt Schaub to throw to. All those options will be too much for the Chargers' inferior defense to handle and that will lead to a rough start to the 2013 campaign for San Diego.
Texans 24, Chargers 13
This article is
What is the duplicate article?
Why is this article offensive?
Where is this article plagiarized from?
Why is this article poorly edited?