Full Week 1 Stat Predictions for New England Patriots Offense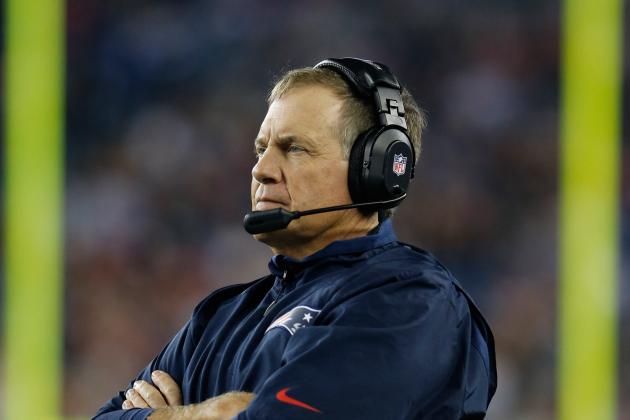 David Butler II-USA TODAY Sports
It's finally time for the regular season to start. How will the Pats' offense fare?
We're headed down the home stretch of the final week leading up to the New England Patriots' regular season opener on Sunday against the Buffalo Bills, and that means we're all looking for ways to kill time before kickoff.
Let's do that by profiling the Pats offense against the opposing Bills defense.
Here are some predictions regarding the Patriots offensive stats in Week 1.
Begin Slideshow

»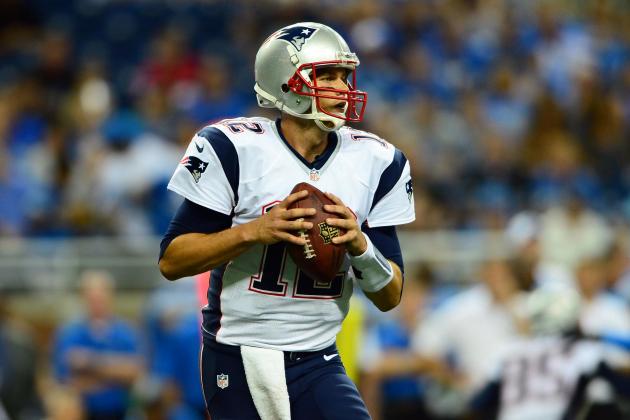 Andrew Weber-USA TODAY Sports

Tom Brady has played well in his 22 career games against the division rival Bills, racking up 51 touchdowns to just 17 interceptions with a 65% completion rate and a 103.0 passer rating, per Pro Football Reference.
With Bills top cornerback Stephon Gilmore being out eight weeks with a "hand/wrist issue," and with the Bills already being thin along the cornerback depth chart, I expect Brady's domination of Buffalo to continue.
There may yet be growing pains with the fresh group of skill position players surrounding him in their first real competition. As a result I expect a lower completion rate from Brady than his career averages against the Bills.
Otherwise, this should be another impressive game from a man we've come to expect impressive things from.
Prediction: 30-of-49, 282 yards, 9.4 YPA, 61% completion rate, 3 TDs, 0 INTs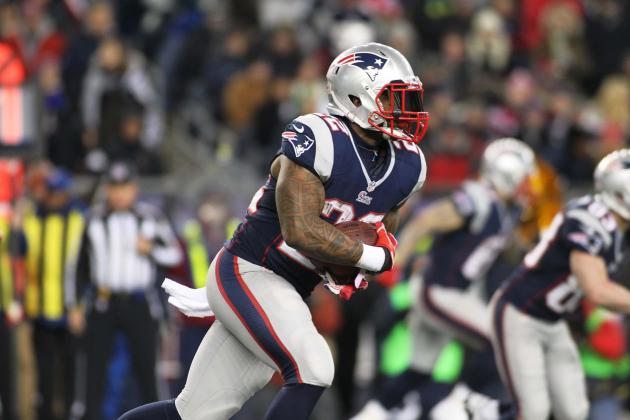 Stew Milne-USA TODAY Sports

The Bills aren't especially adept at stopping the run. They were 31st in the league in rushing defense last season, and not much should change in that area in 2013. New defensive coordinator Mike Pettine (formerly with the Jets) focuses more on penetration than maintaining gap responsibility.\
As a result, feature back Stevan Ridley should get his chances if he's patient but decisive with his gap selection. Bills linebacker Manny Lawson along with rookie Kiko Alonso may move the dial a bit more in Buffalo's favor, but Ridley should still manage a solid day.
As for Shane Vereen, I expect him to be a valuable third-down back in this game, serving as the Pats' answer to Pettine's penetrating defense when it's critical to move the chains. His shiftiness should serve well against a defense that will be focused on getting after Brady, and he'll be able to slip through the cracks for short-yardage receptions in a pinch.
For all his size and athleticism, LeGarette Blount has never been much of a short-yardage back. Still, I predict he'll get a few chances in the redzone in Week 1, if only to give him a shot to prove his worth on the roster. It's also possible that he'll get a chance to return kickoffs with Leon Washington recently being cut.
Prediction for Ridley: 17 carries, 85 yards, 5.0 YPC, one TD
Prediction for Vereen: Four carries, 24 yards; three receptions, 25 yards, 1 rec TD
Prediction for Blount: Three carries, 10 yards, 1 KO return for 16 yards
Greg M. Cooper-USA TODAY Sports

If you've been out of the country for the last six months, you may not know most of these names. That's because the Pats have completely overhauled their wide receiver depth chart, with Julian Edelman and "Wide-Receiver-in-Name-Only" Matthew Slater being the only players to return at the position in 2013.
Even against the shoddy Bills secondary, there will likely be bumps in the road. I expect drops, miscommunication and mistimed routes. Those will probably be standard fare for a receiving corps that features three rookies among the top five wide outs on the depth chart.
I also expect some dynamic play from a very talented group of athletes.
Amendola has been the most reliable of the bunch in preseason, and Brady loves his slot receivers. I expect a healthy Amendola to be among the league's top-10 in targets by the end of the year.
Expectations are sky-high for the undrafted Kenbrell Thompkins, who shot his way up the Patriots depth chart after a sensational offseason. I expect him to cool off a bit coming into his first game, though, as the Pats don't typically lean on rookie receivers. Still, I think he'll be solid in his NFL premiere.
The Pats' highest drafted wide receiver, Aaron Dobson, lost a bit of steam this preseason with the emergence of Thompkins. He'll likely only play in three-wide-receiver sets, with Thompkins starting alongside Amendola in the two-wide-receiver base. Dobson has big-play ability, but until he can pass Thompkins, we likely won't see much of it in Week 1.
It seems as though Julian Edelman may have been passed over by a number of younger receivers on the depth chart. Still, the Pats saw fit to bring him back for another season following a foot injury that ended his 2012 campaign.
Edelman is a key special teamer who adds some offensive value on bubble screens and short routes, so he'll likely be active over Josh Boyce in Week 1 (unless they name Boyce the top kick returner). Edelman has the advantage of system familiarity over everyone else on this list, though, so expect a few looks his way in Week 1 while Brady seeks out a new binky.
Prediction for Amendola: 11 catches, 109 yards, one TD
Prediction for Thompkins: Four catches, 53 yards
Prediction for Dobson: Two catches, 28 yards
Prediction for Edelman: Three catches, 21 yards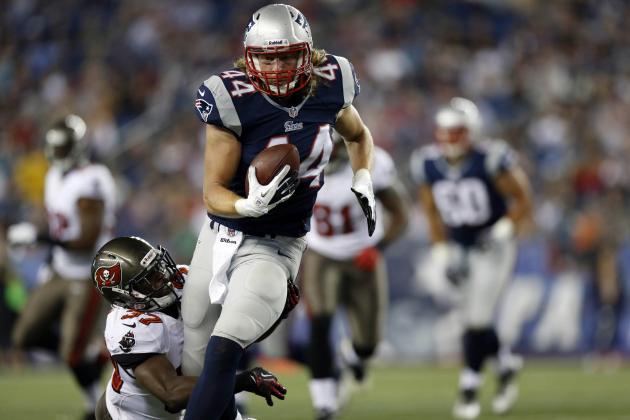 Greg M. Cooper-USA TODAY Sports

The other sensational Pats' undrafted rookie free agent is Zach Sudfeld, who may now be in line to start as the Pats' top tight end in week 1.
Sudfeld's size, hands and athleticism make him a unique weapon at the flex tight end position, and his versatility makes him a Belichick prototype.
The Bills are very good at covering tight ends (they finished second in the league last year, per Football Outsiders), and rookie Kiko Alonso may help add to the team's success in that department. To that end, I don't expect Sudfeld to go off in this game. Still, the Pats will move him along the line to give Buffalo different looks and exploit mismatches in order to get Sudfeld playmaking chances.
Michael Hoomanawanui provides solid depth for the Pats at tight end, but as a starter, he's fairly redundant when paired alongside Sudfeld. Neither are elite blocking tight ends, and "Hoo-man" is a decent receiving option, but he is not a game-changer. I expect a couple catches from the big man with the big name, but mostly as short-route safety option on disguised blitzes.
Prediction for Sudfeld: Five catches, 36 yards, one TD
Prediction for Hoomanawanui: Two catches, 10 yards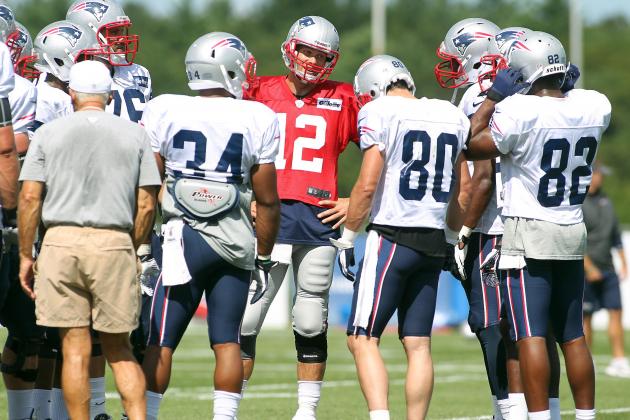 Stew Milne-USA TODAY Sports

After a disappointing end to last season, I expect the Pats offense to come out ready to play in Week 1. Pats games against Buffalo have recently trended in the "barnburner" direction, and I expect this one to be no different.
My prediction for the Pats' offense includes four touchdowns (three passing; one rushing) and 401 total yards (282 passing; 119 rushing). I expect them to put up 34 points (including two field goals) in a Week 1 win.