Players Who Hurt Shot at 2013 Heisman with Week 1 Performance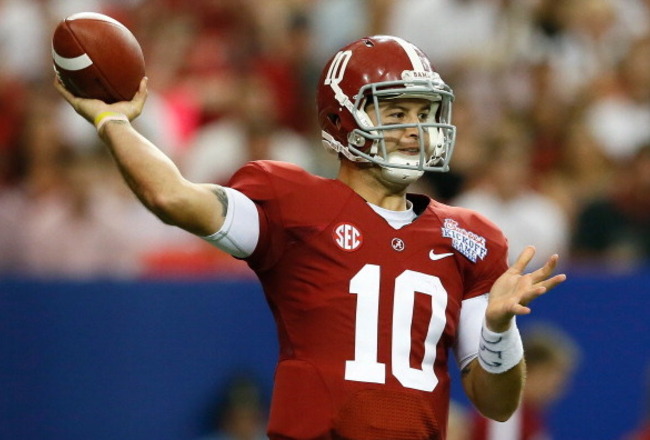 Kevin C. Cox/Getty Images
You can't win the Heisman in Week 1 and you can't lose it either. The season is a marathon, not a 40-yard dash; only a long body of work can secure or forfeit football's most famous award.
But while the Heisman can't be lost in Week 1, it can certainly go from plausible outcome to pipe dream. Especially for players whose teams played a prime-time game, one wanting performance could be enough to cripple their stock.
It's too early to call time of death on their Heisman stock—sure. But the nurses are sitting by its bed to monitor.
DE Jadeveon Clowney, South Carolina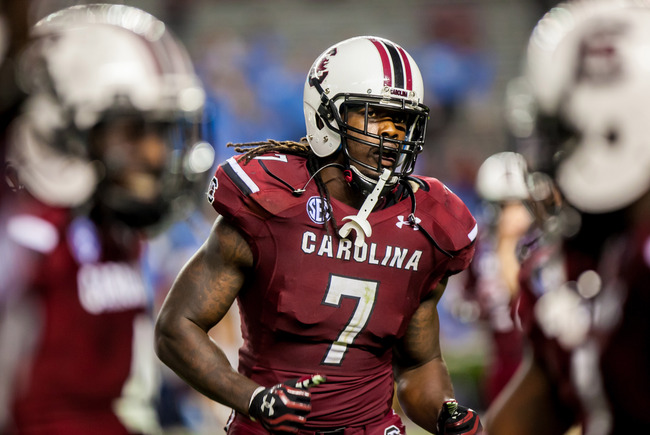 Jeff Blake-USA TODAY Sports
Much (if not all) about Clowney's "bad game" was overblown.
Not only was it August in South Carolina—a hotbed of muggy hotness—but UNC ran the ball away from Clowney whenever it could. Not only was he double-teamed on pass rushes, he was chasing plays down like a madman on the other side of the field.
It's fine that he got a little gassed.
While that criticism is unfair, though, it doesn't change the damage he did to his Heisman stock. A true defensive player like Clowney needs to play a near-perfect season to win the trophy. Already he's 0-for-1 in putting together stats, which, fair or not, are requisite for being invited to New York.
Clowney should be more worried about defending the Ted Hendricks Award, given each year to the nation's best defensive end. The past four winners (Clowney included) have recorded at least one sack and two tackles for loss in their first game.
Clowney posted three tackles period.
QB AJ McCarron, Alabama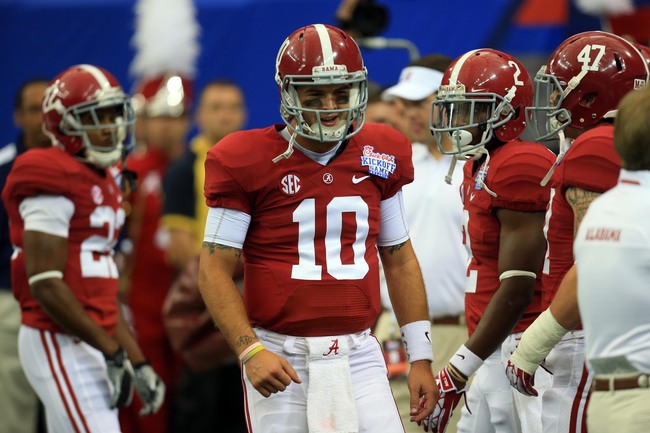 Daniel Shirey-USA TODAY Sports
There's a difference, sometimes, between winning quarterbacks and Heisman quarterbacks, but McCarron was supposed to be a mishmash of both.
After simply "managing the offense" as a sophomore, he broke out statistically in 2012, once Nick Saban allowed him to open up the passing game. McCarron led the nation in passing efficiency and threw 10 touchdowns to every pick.
Those stats took a big step back in the Tide's opener, when McCarron finished 10-of-23 with 110 yards, one touchdown and one interception. His efficiency of 89.3 was the lowest of his career, rivaled only by last year's game at Florida and markedly worse than the rest of his performances.
If Virginia Tech's defense proves dominant this year, voters might learn to forgive his bad game. But if the Hokies allow one—just one—quarterback to go off against them, McCarron's Heisman bid is on life support.
QB Aaron Murray, Georgia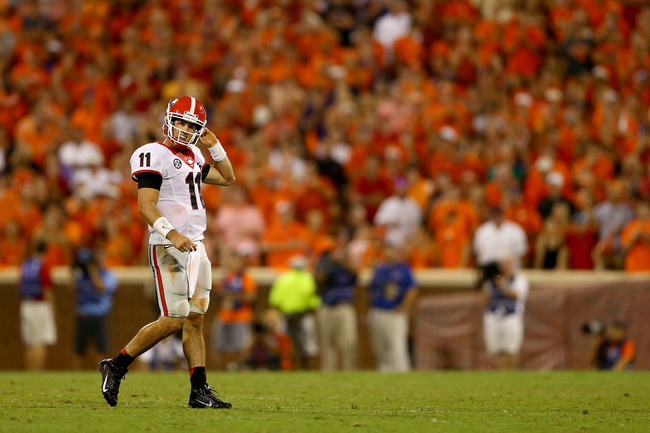 Streeter Lecka/Getty Images
Murray played well enough on Saturday night, finishing the game with 323 yards on 69 percent completions. But in Murray's unique case, "well enough" is no longer "good enough."
Make sense?
Murray has been around for a while now, but his career is starting to look like that of a bridesmaid—not a bride. He's already proven he can post gaudy numbers, but now he needs to prove he can beat quality opponents.
So long as he keeps coming up short on the scoreboard, no matter how he does in the box score, Murray will always come up short on the Heisman ballots. He needs to run the table if he wants to restore his candidacy.
RB T.J. Yeldon, Alabama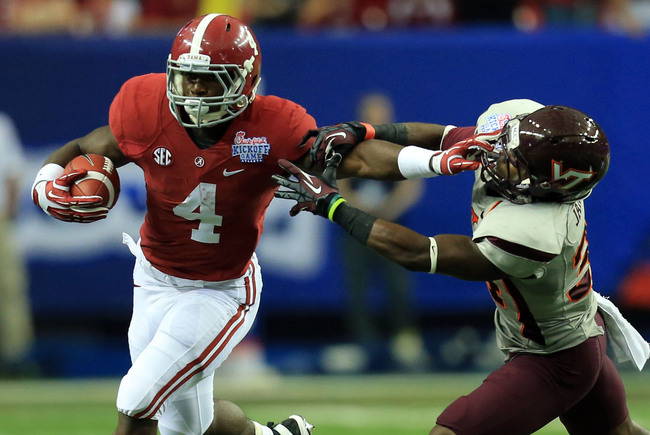 Daniel Shirey-USA TODAY Sports
McCarron wasn't the only Alabama skill player to hurt his Heisman chances on Saturday; explosive tailback T.J. Yeldon also struggled to get out of the blocks.
This, of course, had very little to do with Yeldon himself. Alabama's rebuilt offensive line looked lost against the Hokies, struggling to integrate new starters against a big and experienced group.
There wasn't much room for Yeldon—who relies on space—to operate in, resulting on just 75 yards on 17 carries, one touchdown and zero receptions.
Much like his quarterback, Yeldon needs Virginia Tech's run defense to play well all season. That would validate his struggles and, in supplement with a big performance in conference play, restore his (admittedly small) chances of winning the Heisman.
RB Ka'Deem Carey, Arizona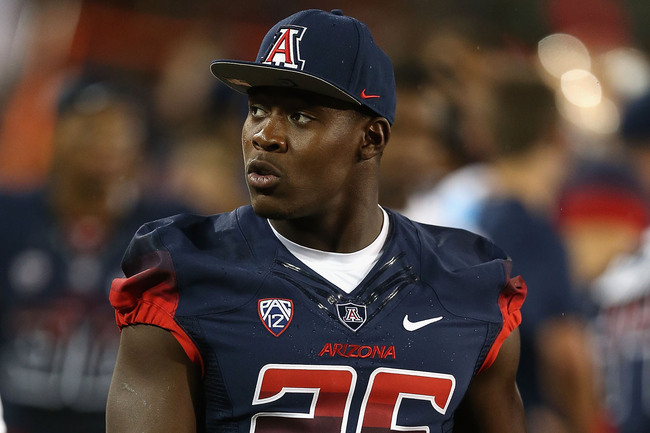 Christian Petersen/Getty Images
Carey, the nation's leading rusher in 2012, was suspended right before kickoff and missed a prime opportunity to pad his stats.
You can't lose a Heisman in Week 1—especially when the opponent in question is Northern Arizona—but Carey's stock, in particular, took a massive hit.
Arizona might be decent this year, but it is by no means a BCS (or even Pac-12) contender. Carey's Heisman bid would have been (and still will be) predicated on stats and stats alone. And one game might be enough to cripple that case.
Carey rushed for 1,929 yards last season, over 200 more than any returning running back in the nation. If he keeps producing at that pace, he might still be able to repeat as rushing champ.
But the Heisman seems far-fetched.
Keep Reading