Pitt vs. FSU: 5 Things We Learned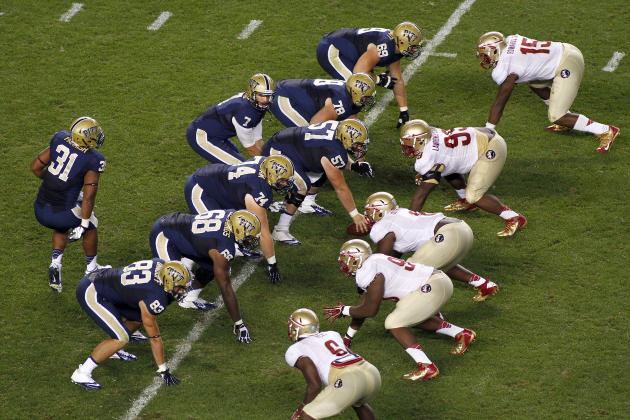 Justin K. Aller/Getty Images

Pitt was unable to make a favorable first impression in the ACC in a 41-13 drubbing by Florida State at Heinz Field Monday night.
Sometimes, a fledgling team like the Panthers can learn more from a lopsided loss than it can from your typical early-season victory. Indeed, as I predicted when I glanced at this game earlier, lessons were learned.
No lid-lifting game ever defines an entire season alone. But in Pitt's case, we now know more about its offense, its opposition, its coaching, and its fanbase.
Here are my five biggest takeaways from Monday's Panther loss.
Begin Slideshow

»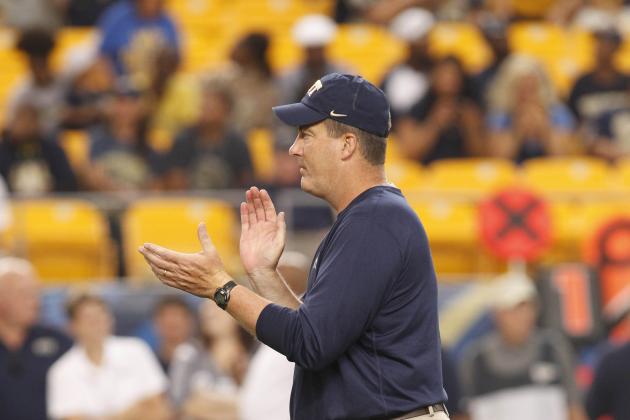 Charles LeClaire-USA TODAY Sport

For a team that appeared madly in love with its tight ends during training camp, the Panthers, ironically, looked like they had no earthly idea how to defend one Monday night.
FSU tight end Nick O'Leary caught four passes for 47 yards, with three of those for touchdowns. On two of his end-zone trips he had enough time to watch Heinz Field dry from the storm that delayed the opening kickoff.
Last year, Pitt ranked 20th nationally against the pass, albeit facing a generally lower level of talent. Still, we've seen its seasoned defense, which returned eight starters, at its best, and this wasn't it.
Not wanting to let the football game morph into a track meet, head coach Paul Chryst and defensive coordinator Matt House played not to lose.
When one plays with that mindset, a loss is typically what happens.
"We didn't do what we were supposed to do," said safety Jason Hendricks in a postgame interview, who faulted the defense's lack of fundamentals. "They forced us out of our game a little bit, and it made things difficult."
Great teams will do that. However, by calling for more aggressive coverage, Chryst and House could have at least put their team in a little better position to hold its own against the No. 11 (now No. 10) 'Noles. The Panthers were constantly playing their receivers as though they had communicable illnesses.
Much as the locals have tried to forget recent coaching regimes, it was eerily reminiscent of the "we may lose by 30, but at least we won't give up the big play" approach used by Dave Wannstedt and Paul Rhoads. Giving excellent athletes that much respect only got Pitt what it deserved in its matchup against FSU.
Working with defensive backs is supposed to be House's forte. On that night, even considering the caliber of opponent, it didn't show.
He's two years removed from being a film guru in the NFL, and Chryst is two years into his first head coaching job of any kind since the World League of American Football was a thing.
The players love to play for them, and they may very well be, in the long run, the right men for their respective jobs. But, from time to time, their inexperience at those jobs is still evident.
"That part I didn't question one bit," Chryst said of his team's collective effort. "We certainly need to play better, and that's my job, to help these guys."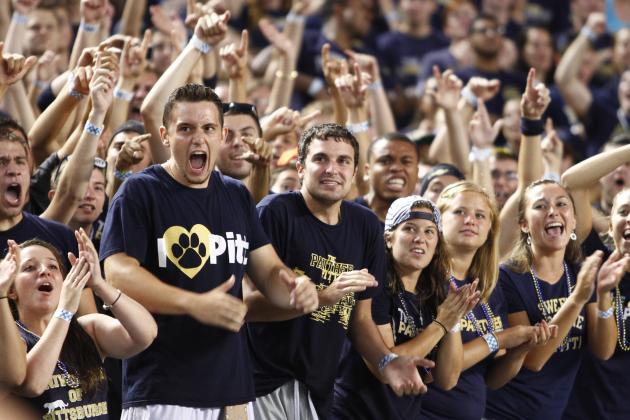 Justin K. Aller/Getty Images

The announced attendance Monday was 65,500, marking the first sellout for Pitt since Notre Dame came to town Sept. 24, 2011. Regardless of what colors you might have worn, Heinz Field was as live as it had been for a college football game since that ill-fated December afternoon in 2009 I dare not revisit--and I'm including a Backyard Brawl in that span.
By the end of the third quarter, when "Sweet Caroline" blared, and "The Panther Pitt" bolted to study for their biochem exam on Tuesday, the building looked as cavernous as it had for any other home game.
Which reminds me...
To the in-house entertainment staff who insist upon playing Neil Diamond, and to spectators, young and old, who insist upon indulging them when the hosts are getting their doors blown off (and on national television, no less):
You're not helping.
But I stray...
That self-interruption not withstanding, you'll hear nothing derogatory about Pitt fans from me, even those who either leave home games early or don't show up at all. Who could blame them?
If a pizzeria on or near campus promised tantalizing specials, but then it constantly served you food that was over- or under-cooked, would you continue to patronize it?
If somebody recommended a mechanic who seemed inexpensive, but then talked you into paying for bonus repairs--with hidden service fees--that proved unnecessary, would you return?
If you were stood up by the same girl at the same movie theater several Friday nights in a row, would you ask her out anymore?
To be a Pitt fan is to be that trusty BFF who's been cheated on repeatedly, heaven forbid, but somehow still believes in love.
This is what athletic director Steve Pederson and his subordinates must understand. People want to love this football program. But the program hasn't loved them back.
Looking at the consumer culture of NCAA football, Pittsburgh will never be Happy Valley or Morgantown. But let's look at the example set by the other two teams that play on the North Shore; give this town a product worth watching, and it will pay to watch it.
This administration can only get away with selling hope and the popularity of visiting opponents for so long. Until Pitt wins risk-reward games like its ACC opener, the pressure on the administration will only mount.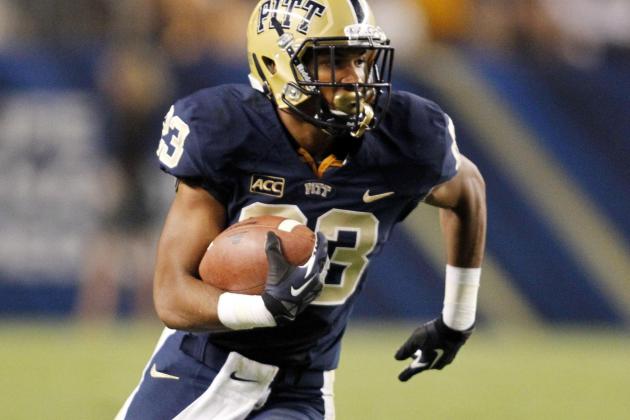 Charles LeClaire-USA TODAY Sport

The fact the Panthers used a dozen freshmen Monday night produced one of the biggest positives in a game marred by numerous negatives.
Rookie receiver Tyler Boyd picked up right where he left off the last time he played at Heinz Field. The former Clairton co-captain and consensus 2012 WPIAL Player of the Year led his team with 54 yards rushing on a mere three carries.
On his first attempt, he sprinted around left end for an 18-yard gain and a first down he made look easy against a characteristically fast defense. Five plays later, Pitt scored its lone touchdown.
"I thought it was going to be really tough, but I expected too much, I guess," Boyd said. "Every time we ran that play, we were on point."
He caught two passes for 26 yards, including a 17-yard tap dance along the near sideline in the second half that set up a field goal by fellow frosh Chris Blewitt, who, so far, has risen above his surname.
Plus, were it not for his tactical mistake of running in the general direction of kicker Roberto Aguayo, Boyd would have scored on special teams. Instead, he settled for a team-best 71 return yards.
If there was a Panther who deserved points, even if they came in garbage time, it was him.
If there was a Panther who deserved more touches, period—which underscores my earlier comments about Chryst's M.O.—it was him.
"We're trying to find ways. I was impressed with the way he handled everything," Chryst said. "We've just got to keep going there."
I was afraid I'd have to pull out my smartphone just to show him Webster's definition of "loss" after the game. But Boyd, bless his maturity, laughed it off.
"It definitely hurt me," said the young man who helped drive a state-record 63-game winning streak in high school. "But I just have to keep my composure, stay in the game, and keep playing. We just have to go out there and win the next one."
If his feel-good story read best, then consider that of pure freshman tailback James Conner a solid second. He finished with 34 yards on nine carries, showing off some of his brute strength.
Also aiding the backfield were freshman fullback Jaymar Parrish and redshirt freshman Adam Bisnowaty at left tackle. At times Pitt was able grind out yardage with its ground game against a very capable defensive front.
To divorce oneself from the immediate frustration of another season-opening loss is to see that this freshman class will make Pitt a better team in the foreseeable future.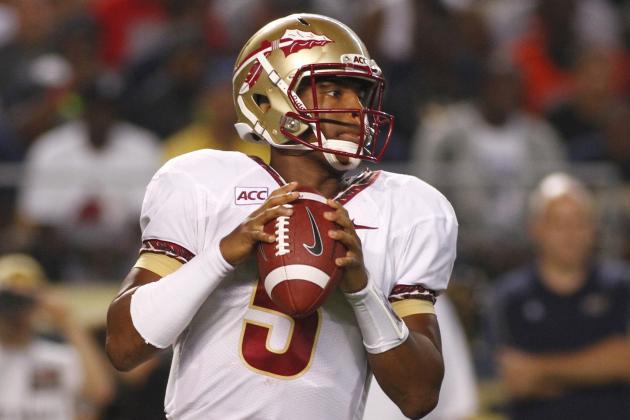 Justin K. Aller/Getty Images

Monday provided a golden opportunity for Pittsburghers to do something they often loathe to: bite their tongues and give the other guys credit.
Not to give anybody any ideas, but if more redshirt freshmen began their collegiate careers looking as brilliant as FSU quarterback Jameis Winston did, they'd be begging the NCAA to extend its one-and-done policy from the gym to the gridiron.
Winston connected on 25 of 27 attempts for 356 yards and four touchdowns. One of his two incompletions—I repeat, two—came as a result of his intended target landing out of bounds.
Allow me to repeat something else—redshirt freshman.
While you pick up the pieces of your exploded head, I'll also mention his 25 yards rushing on eight carries, including a five-yard TD. After failing to immediately respond to a 7-0 Pitt lead, Winston led FSU to points on each of its next seven drives.
When facing an inexperienced quarterback, the objective is to make him win the game by himself. Although none of FSU's running backs did palpable damage, Winston had no problem with that, completing passes to seven different receivers.
He carved up the Panthers in the pocket and on the go, especially on third down, where he was 7-of-11. Furthermore, outside of sacks by Nicholas Grigsby and Aaron Donald, in addition to one the latter should have had, he was barely touched, thanks in part to an offensive line that, collectively, looked like it could play in the NFL tomorrow.
"I hadn't seen him, so I can't say [whether] I was surprised, but I was certainly impressed with him," Chryst said.
Tajh Boyd began his Heisman candidacy by leading Clemson to a humongous win over visiting Georgia that put the Tigers in the AP Top 5, and he is the rightful flag-bearer for ACC quarterbacks right now. But Winston, who was mentioned as a long-shot candidate for the award this summer, gives the Seminoles every reason to believe they can hold off the Clemsons of the world for another BCS berth.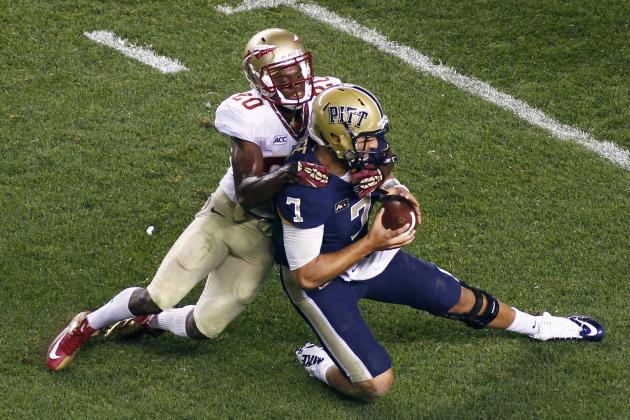 Justin K. Aller/Getty Images

The thing I really miss about basketball season is, if Jamie Dixon were at the podium, he would concoct a way to make this seem not so bad.
Kidding aside, the whole point of even staging this matchup at the beginning of the season was to find out if Pitt is ready to be "it" again. It should come as no surprise they clearly aren't.
Tom Savage, though he did make some impressive plays downfield, showed us what happens when a quarterback doesn't play for three years.
The defense, particularly the linebackers, looked sloppy and quite over-matched. And even if you don't think that unit was maladjusted, Chryst and company still erred by not putting the ball in the hands of their best player (Boyd) more regularly.
In stark contrast, the Panthers had few answers for Florida State's linebackers, led by Telvin Smith, who finished with eight total tackles and two for loss. FSU, as a team, sacked Savage three times and registered seven hurries, along with five breakups and two picks.
"I think a lot of it is my eyes. I got a little antsy staring down some receivers," Savage explained. "I'll take full responsibility, and we'll go from here."
The upside to getting humbled by a potential two-time champion of a power conference is we now know what the Panthers have to work with.
"We saw a lot of bright spots in our offense, and I'm excited to build off of that," Savage added. "I think our offense is going to be something special, and I'm excited to watch it progress."
Besides Boyd's big night, former All-Big East honoree Devin Street posted a career single-game best 141 yards receiving on six catches. Meanwhile, Savage, with help from those two, proved the Panthers can afford to take more chances deep this year. The ground game, buoyed by Parrish, showed an ounce of promise here and there, and special teams appeared sound.
The Panthers couldn't have begun their first year under Paul Chryst much worse. But they ultimately found a way to earn bowl eligibility, and to play well in games in which few expected them to do so.
No loss should be taken lightly, but there's a distinct difference between getting embarrassed at home by an FCS team and getting embarrassed at home by a BCS bowl participant that's probably going to embarrass several teams this year.
"That was a good team we played. They beat us in a lot of phases," Chryst said. "I liked our guys' approach, guys certainly competed, but we've got to do more that. This is where we're at right now, and it's all about going forward."
Either Monday's game will be remembered as the first of many ho-hum stumbles by Pitt, or a game from which, like any responsible team in transition, it learns and grows. We'll find out soon enough.
(All quotes were obtained firsthand, unless otherwise noted.)