Georgia Bulldogs vs. South Carolina Gamecocks: Complete Game Preview
Streeter Lecka/Getty Images
Things don't get any easier this Saturday for the Georgia Bulldogs as they try to shake off a heartbreaking 38-35 loss by rebounding against the South Carolina Gamecocks.
South Carolina enters the game ranked sixth in both the AP and coaches polls following a 27-10 home victory over North Carolina on Thursday.
Here's what you need to know:
Date: Saturday, Sept. 7
Time: 4:30 p.m. ET
Place: Sanford Stadium, Athens, Ga.
Television: ESPN
Radio: Georgia Bulldog Radio Network
Spread: Georgia by 3, via Covers.com
Georgia Keys to Victory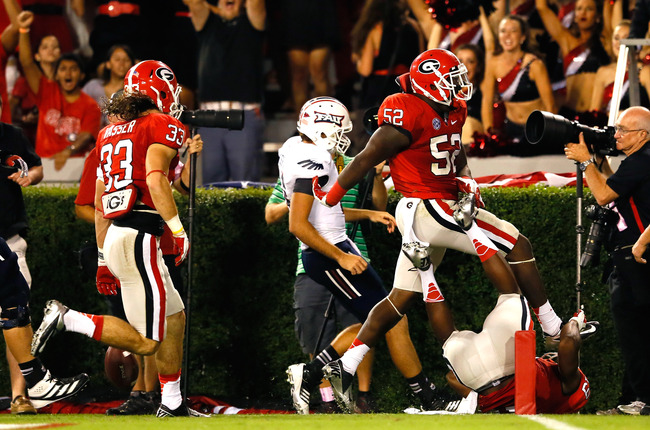 Kevin C. Cox/Getty Images
Georgia is still very much in the hunt this season, but the Bulldogs must win against South Carolina to remain contenders in the SEC East.
Control the Line of Scrimmage
Georgia was blown off the ball on both sides of the line of scrimmage on Saturday. Aaron Murray was pressured for much of the day, and very few holes were opened up for the running backs. Thankfully, Todd Gurley was opportunistic enough to take advantage of a few gaps, but Keith Marshall struggled to find space. Georgia's deep and experienced offensive line needs to live up to the hype this week.
Defensively, Georgia needs to limit South Carolina's ground attack. Connor Shaw was a pedestrian 11-of-20 passing for 149 yards and one touchdown in the Cocks' season opener. If Georgia can keep him in the pocket and limit Mike Davis (12 carries for 115 yards against UNC) and Brandon Wilds (12 carries for 64 yards), the Bulldogs will have a shot.
Limit Turnovers
South Carolina's defense is expected to be much better than Clemson's, and that probably makes Georgia fans nervous. But Georgia was in last week's game despite losing the turnover battle. If Georgia loses the turnover battle this week, the game might not be close.
Force Turnovers
To help the offense out, the defense needs to make a few plays. The only turnover against Clemson came when Sammy Watkins muffed a punt. Georgia needs to put pressure on Shaw and force a few mistakes.
South Carolina Keys to Victory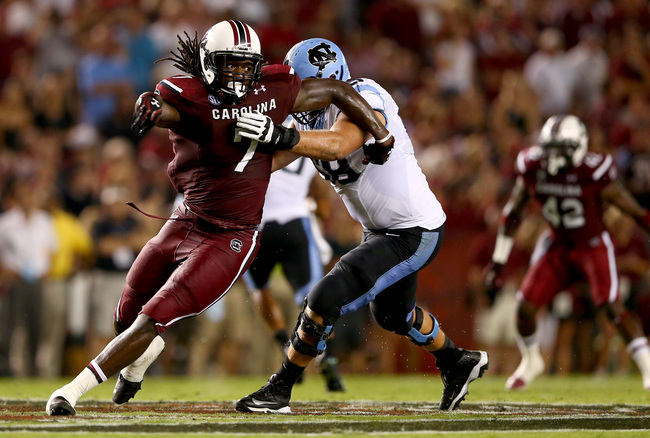 Streeter Lecka/Getty Images
South Carolina has been on the outside looking in at the SEC Championship Game for each of the past two seasons despite defeating Georgia. Another win in the series gives the Gamecocks a leg up in 2013.
Pressure Murray
Aaron Murray has struggled in games against Top-25 teams, and as he showed against Clemson, he can still be rattled by pressure. If Jadeveon Clowney and Kelcy Quarles can get penetration and put some hits on Murray, things could fall apart early for Georgia.
Stop the Run
At times, even the great Clowney has been neutralized by a strong running game. Todd Gurley was a true bright spot for the Bulldogs against Clemson, as he brought home SEC Offensive Player of the Week honors for his 12-carry, 154-yard, two-touchdown performance.
If South Carolina's game plan is to disrupt Murray, taking away his running game is crucial.
Hit the Short Ones
Georgia's young defensive backs struggled to wrap up playmakers like Sammy Watkins on Saturday. Connor Shaw needs to have confidence in his receivers to make plays for him. Short passes against the Dawgs can turn into long gains.
Players to Watch for Georgia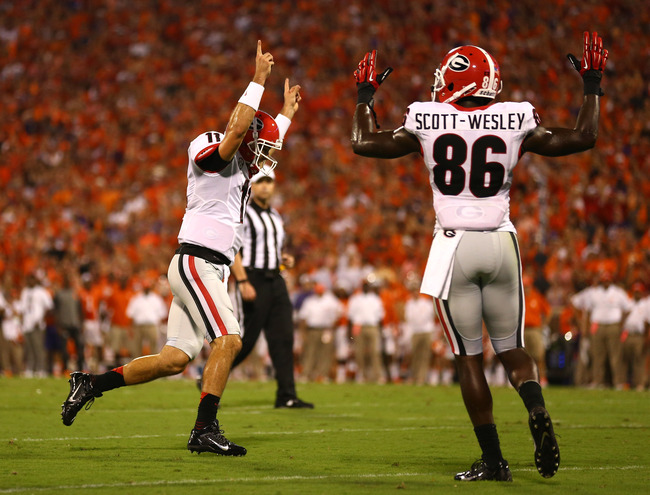 Streeter Lecka/Getty Images
Aaron Murray
Most of the focus this week has been on Murray's two turnovers and the time he spent on the ground, but he quietly hit on 69 percent of his passes and threw for 323 yards against Clemson. Murray needs to piece together a solid day passing with fewer mistakes against South Carolina.
He struggled mightily last year (11-of-31 passing for 109 yards, no touchdowns and one interception) but played well against Clowney and Co. in 2011 at home (19-of-29 passing for 248 yards, four touchdowns and one interception). The home crowd should help him this week.
Justin Scott-Wesley
In 2012, Scott-Wesley struggled to hold onto the football and, as a result, managed just six catches as a freshman. Last week, the speedy wide receiver hauled in four passes. He needs to step up in a big way to help account for the loss of Malcolm Mitchell. He is listed as a captain for this game.
Amarlo Herrera
Herrera disappeared at times against Clemson. He needs to be much more active from his middle linebacker spot against the Gamecocks, as he will be essential in keeping Connor Shaw in check. If outside linebackers and defensive ends overpursue, Herrera needs to intervene and prevent Shaw from slipping by for positive yardage.
Players to Watch for South Carolina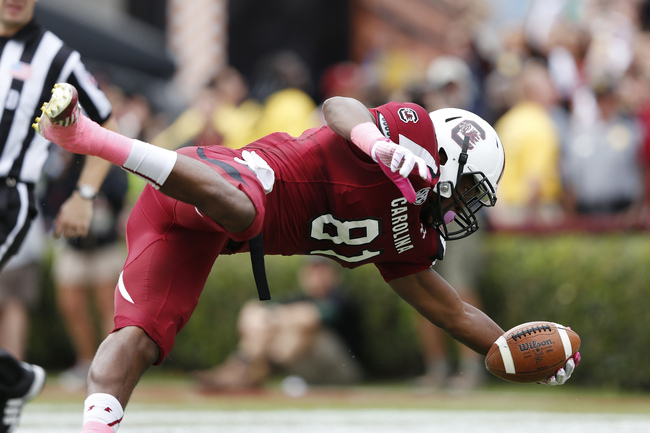 Joe Robbins/Getty Images
Mike Davis
Georgia's trouble against the run dates back to last season. Each of Georgia's last five opponents (Clemson, Nebraska, Alabama, Georgia Tech and Georgia Southern) ran for 195 or more yards. The Bulldogs have allowed nearly 280 yards per game in those five contests. Mike Davis will have the opportunity to bruise an already battered Georgia defense. He must take advantage.
Kelcy Quarles
Tagging Jadeveon Clowney as a "Player to Watch" is too easy. So keep an eye on defensive tackle Kelcy Quarles as he opens up space in the middle of the Georgia offensive line and bulldozes toward Georgia center David Andrews.
Rory Anderson
A junior tight end out of Georgia, Anderson is listed as probable for Saturday's game after missing the season opener with a hamstring injury. Anderson hauled in just 14 passes last season, but five were touchdown catches. He was named to the Mackey Award Preseason Watch List.
What They Are Saying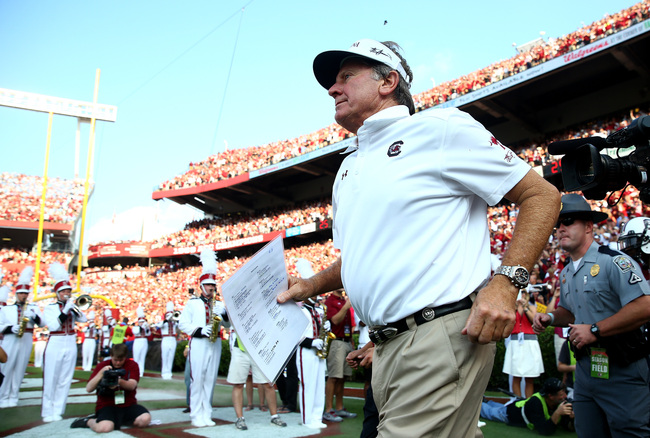 Streeter Lecka/Getty Images
The Challenge Connor Shaw Presents
Mark Richt told ESPN that "Connor Shaw is a very difficult quarterback to manage in how he runs the football." Richt later added that Shaw throws the ball well.
Todd Gurley's Health
Gentry Estes of 247 Sports tweeted about Todd Gurley's leg injury, saying, "Richt says he thinks RB Todd Gurley is fine for this week after missing snaps at Clemson with strained quad muscle."
Poor Offensive Line Play for Georgia
Richt told the media, via Seth Emerson of The Macon Telegraph: "There were times where we looked like we were in the first grade out there. The offensive side of the ball is supposed to be the mature side of the ball for us, but most of the penalties were on offense."
Steve Spurrier on Clowney's Season Opener
Spurrier offered the following to The Post and Courier:
We all watched what happened out there, and obviously Jadeveon was not up to par. I'm not going to give him any excuses. You have to give that North Carolina tackle pretty good credit because he did a good job blocking, and their quarterback was pretty nifty moving around in the pockets.

I think Jadeveon learned that the camera is on him every play. He needs to know that that camera is on him every play this year and hopefully he learns from that. He needs to play like he's capable of playing.
Prediction
Streeter Lecka/Getty Images
The truth of the matter is that we don't know a whole lot about either of these teams yet. Yes, Georgia is 0-1 and South Carolina is 1-0. But, what did we learn from last week?
South Carolina showed very little with a home win over North Carolina. Jadeveon Clowney stole headlines, Mike Davis ran hard and Connor Shaw was unspectacular.
We know that if Georgia loses the turnover battle, gets flagged for twice as many penalty yards and botches field-goal snaps, the Bulldogs might lose a close game on the road against a Top-10 team.
For Georgia, South Carolina's offense should be easier to contain than Clemson's, but the Gamecocks' pass rush will be stout. For South Carolina, the hostile environment and an angry Bulldogs team both pose legitimate roadblocks.
Georgia has registered more wins and more SEC East crowns over the past six years than South Carolina, but the Gamecocks are 4-2 against the Bulldogs over that time frame. In that regard, Georgia is due for a win.
Prediction: Georgia 33, South Carolina 27
Keep Reading

Georgia Bulldogs Football: Like this team?