Pre-Training Camp Power Rankings for Philadelphia 76ers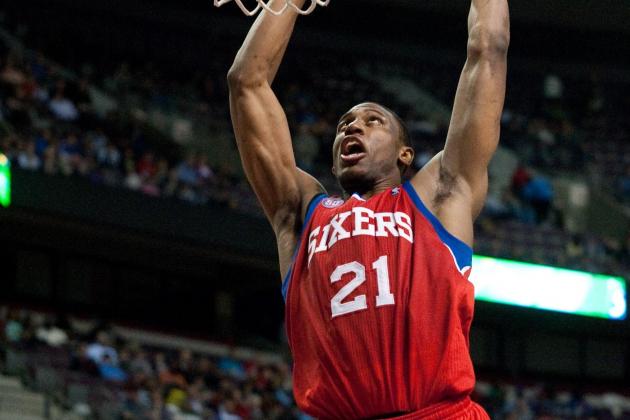 Tim Fuller-USA TODAY Sports
Is Thaddeus Young Philadelphia's best player?
The 2013-14 NBA season is less than two months away, so it feels like a good time to come up with the Philadelphia 76ers' pre-training-camp power rankings.
It's important to remember that these rankings are based off of the 2012-13 season and what we currently know about a player going into a new year. Philadelphia's power rankings at the end of the season will most likely be much different than what you're about to read.
That just happens to be the beauty of basketball and sports as a whole.
Begin Slideshow

»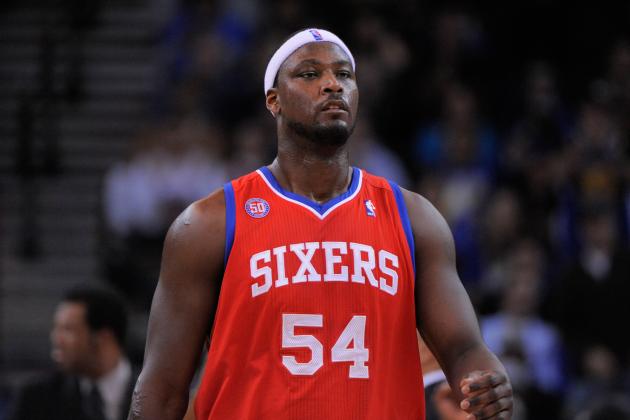 USA TODAY Sports
Brown might not be in a Sixers jersey for much longer.
These guys will spend the majority of their time on the bench. Still, an injury or something drastic could force them to play.
No. 13: Kwame Brown
There's a strong chance of Brown's $3 million contract being bought out and for Philly to waive the veteran center.
Definitely don't feel bad if you caught yourself clapping a little.
Brown doesn't have a solidified spot on this roster, and that won't be changing anytime soon.
At least he's going to get some money, though. Good for him.
No. 12: Tim Ohlbrecht
Ohlbrecht's 2013-14 contract isn't guaranteed, so it's not the time to get too used to his name. He only played in garbage time for the Houston Rockets, so most of his game is unknown.
He'll need to prove he can either bring something unique to the Sixers or that he has the potential to grow into a solid role player if he wants to make the team.
No. 11: James Anderson
Anderson has been around for three years now, but he's yet to live up to what some thought he could turn into. His scouting report before getting drafted was all about how good of a shooter he was. Everything from spotting up to pulling up off the dribble.
The kid was supposed to be able to shoot.
He might not have demonstrated his abilities thus far, but playing for the Sixers could give him a great opportunity to do just that. More playing time should give Anderson more chances at showing people that his pre-draft reviews were accurate.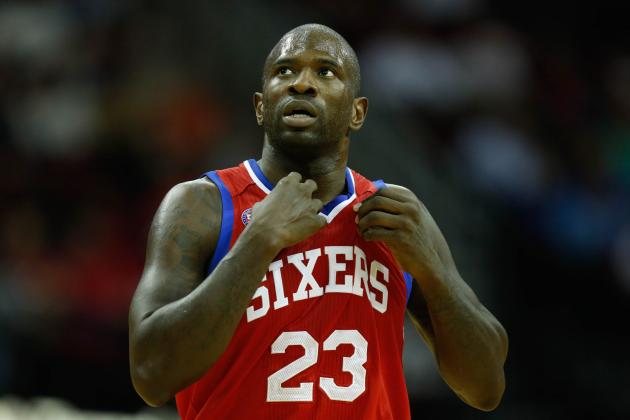 Thomas Campbell-USA TODAY Sports
Richardson could miss the 2013-14 season.
If you're a Jason Richardson fan, then it might be best for you to skip this slide.
Richardson underwent season-ending knee surgery after playing in only 33 games during the 2012-13 season. It looks as though he is still recovering from the surgery and might actually miss all of the 2013-14 season.
This is very sad news, but especially sad when it's about a veteran who has been a class act on and off the court. You just hate to see their careers cut short by injury problems.
Richardson would be ranked around No. 7 on this list if he were healthy and ready to go, but his injury ends up costing him a few spots. Richardson probably isn't too concerned about his place on a power-rankings list and just wants to get back to playing.
Most Sixers fans want the same.
The video above is a little sample of what Tony Wroten Jr. is doing to amateurs over the 2013 summer.
It would certainly be great if he could bring a little of this to the NBA game!
Wroten Jr. will be the backup point guard, and his size is extremely similar to Philadelphia's current starter, Michael Carter-Williams. Both players are around the 6'5" and 6'6" range, making them exceptionally tall for playing point.
Wroten Jr. only played 7.8 minutes per game in his rookie year. Don't be surprised to see his minutes hitting around the 15.0 mark with the Sixers during the 2013-14 season.
Philadelphia might be a little weak in the backcourt, but the players they have are definitely not short.
At least they have that going for them.
Nick Laham/Getty Images
Seeing White play in the NBA would be spectacular.
Royce White's position on this list is based off of what he could be.
Not what he currently is.
White's situation is simple to explain. If he can overcome his fear of flying, then he has a chance at being one of Philadelphia's most surprising players. If he can't, then he'll continue to spend his days in the NBA D-League.
It might be simple to explain, but it is far from simple to understand. Hopefully White gives us an opportunity to really relate to him on a personal level and to see why it was so hard overcoming his anxiety.
Hopefully, hopefully, hopefully.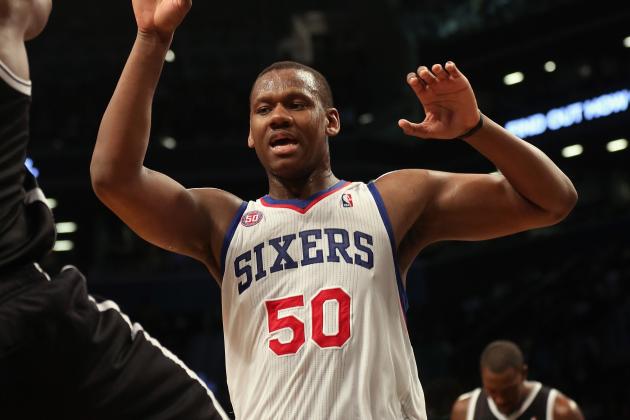 Bruce Bennett/Getty Images
Allen needs to want to get better before he actually can achieve it.
The 2013-14 season will be here before we know it, so let's take a look back at a quote Lavoy Allen gave about his progression from his rookie year to his sophomore season during the 2012-13 season. Christopher A. Vito of the Delco Times interviewed Allen saying this about what he had learned:
What have I learned? I mean, what have I learned? That's a good question. Uhh, nothing really. I didn't have to do any rookie duties this year, so that's good, I guess.
Rereading the quote a second time is just as funny as the first time you read it. It's such a bone-headed answer, and hopefully he's improved more over the summer than he did last year.
Allen went from looking like he could have been a steal for the Sixers to putting the future of his career in jeopardy. It happened ridiculously fast.
He can't afford too many more quotes or years like the one from the 2012-13 season.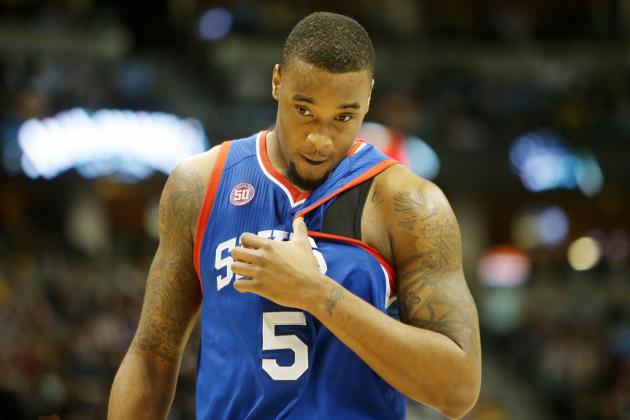 Chris Humphreys-USA TODAY Sports
Moultrie is skilled enough to have a breakout year.
If Philadelphia is going to have a breakout player, then it's going to be Arnett Moultrie. The young power forward showed flashes of talent all year. His only problem was that he was never in the game long enough for those flashes to turn into anything permanent.
Moultrie should be trying to throw new coach Brett Brown a party right now. A new coach gives Moultrie a new chance at being evaluated as the kind of player he really is.
A good one.
He has the chance of moving up Philadelphia's power rankings as the season goes on. Look for him to develop some kind of steady role as a 10.0-point, 7.0-rebound-a-night kind of guy.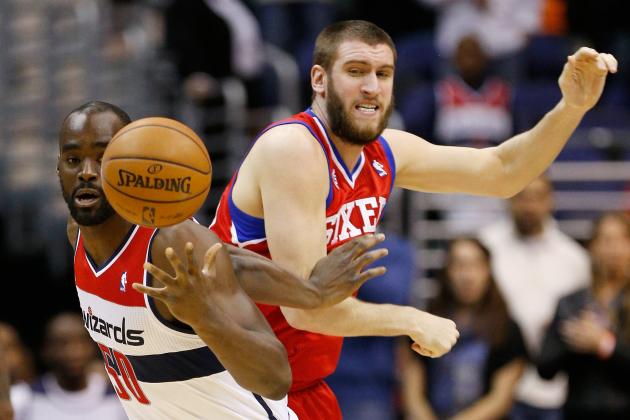 Rob Carr/Getty Images
You know what you'll get out of Hawes every night.
Spencer Hawes is far from the most talented player on the Sixers. He doesn't do any one thing particularly well. Sure, he's a good perimeter shooter and has the ability to block shots, but he doesn't do either at a high level.
His specialty comes in always playing hard—a trait that few NBA players currently carry.
There will be times where his numbers in the box score are absolutely forgettable, but he still changed the game just by being out there.
Now, averaging 11.2 points and 7.2 rebounds is good. I'm definitely not trying to downplay what he does on the court. In fact, his numbers are even more impressive because of the facts previously stated.
Hawes is one of Philadelphia's more consistent players. You know what the team will get out of him, and it's comforting to know that you won't have to worry about what he does on the floor.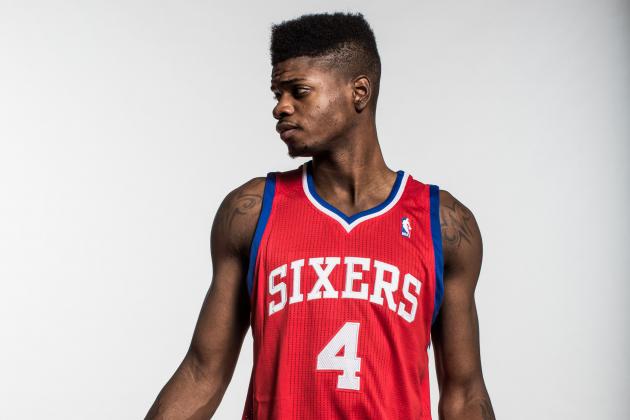 Nick Laham/Getty Images
Noel's future depends on his knee.
I fully believe that Nerlens Noel should sit out the entire 2013-14 season in order to come back 100 percent healthy from a torn left ACL. Then again, I also believe that some humans actually do have superpowers and that mayonnaise might be the worst food invention of all time.
So what do I really know?
There's a small chance of Noel sitting out for the entire season, and he's already talking about returning around Christmas. Returning around Christmas sounds like it's far away, but it's only a little over three months away.
Crazy to think about.
He needs to get healthy, develop an offensive game and put on around 30 pounds. Knocking these three items off his list will be the difference between being another athletic big man and being a franchise center.
Hopefully he ends up as the latter.
Mark J. Rebilas-USA TODAY Sports
Turner's days are probably limited.
Evan Turner might come in at No. 3 on Philadelphia's power rankings, but there's a good chance of him not ending the season on the Sixers.
To be honest, though, this might be for the best.
Turner set career highs in points, rebounds and assists per game last year, averaging 13.3 points, 6.3 rebounds and 4.3 assists. The issue is that he did all of this while only shooting 41.9 percent from the field and playing 35.3 minutes. His previous highs of 9.4 points, 5.8 rebounds and 2.8 assists came while averaging 26.4 minutes per game and shooting 44.6 percent.
Turner's numbers just didn't improve much. Even with a drastic increase in minutes.
People (myself included) keep expecting something out of Turner that we've only seen in flashes. He hasn't ever been able to play at a consistent enough level to warrant these kinds of expectations.
Moving Turner to another team could benefit both parties. For Philadelphia, fans wouldn't have to always be let down by his performances. For Turner, his new team wouldn't think about how he was the No. 2 pick and that he hasn't done as well as some thought he would.
It might not be that glamorous, but it could be exactly what both sides need.
What's taking place right now just isn't working.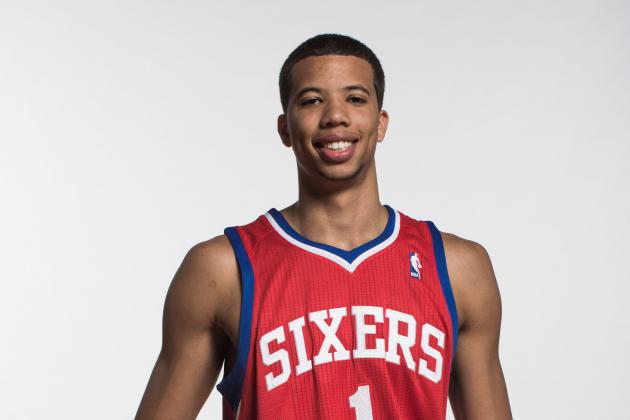 Nick Laham/Getty Images
Carter-Williams could be Philadelphia's future.
He's only a rookie, but a large portion of Philadelphia's future rests on Michael Carter-Williams. This large responsibility doesn't put him at No. 2 on the Sixers' power rankings, though. No, his position is based off his skill level and value.
Noel is luckier than Carter-Williams because he isn't a point guard. Being a big gives Noel a bit more leeway because the ball won't always be in his hands. Having the role of point guard puts Carter-Williams in a much more difficult position.
One where his future could be decided much earlier because of his position.
A point guard doesn't have much time to struggle with playing well at the professional level. There are far more short players who can handle the basketball than big guys with good footwork and athleticism. If a point guard can't pick up his play, then there are a bunch of others waiting to take their spot.
That might be the story for most people playing Carter-Williams' position, but the good news is that he is more than equipped with enough skill to overcome most of these challenges. There will definitely be some bumpy spots, but his size and passing ability will push him to a level where people will become sure of him.
Expect a better-than-average rookie season out of Carter-Williams.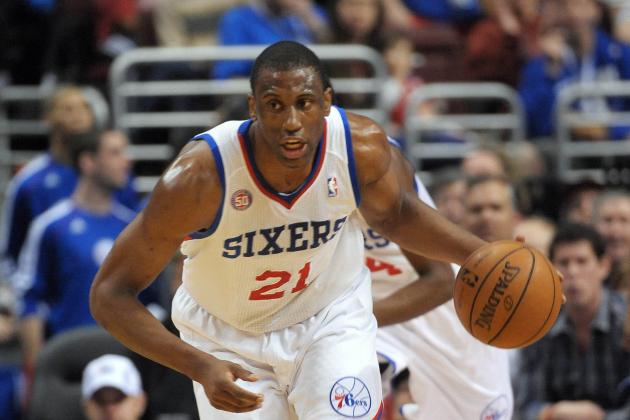 Eric Hartline-USA TODAY Sports
Young is at the top of Philadelphia's power rankings.
Thaddeus Young tops the power rankings. His 2012-13 season was more than Philly could have asked for, considering he was playing at power forward instead of his natural position as a small forward.
Young was an absolute class act this past year. He rarely got any plays called his way, yet he still averaged 14.8 points. He was consistently playing against guys who were taller and outweighed him, but he managed to grab 7.5 rebounds per game. To top it all off, Young used his lack of size to his advantage and set a career high in steals per game at 1.8.
All of the numbers were great, but playing with heart is what ends up setting Young apart from the rest of the team. He's only 25 years old, but the potential for his playing style to rub off on the rookies is priceless.
Young should have similar numbers during the 2013-14 season, regardless of what position he's playing. His status as Philadelphia's best player won't change.