Identifying Top NHL Superstars' Kryptonite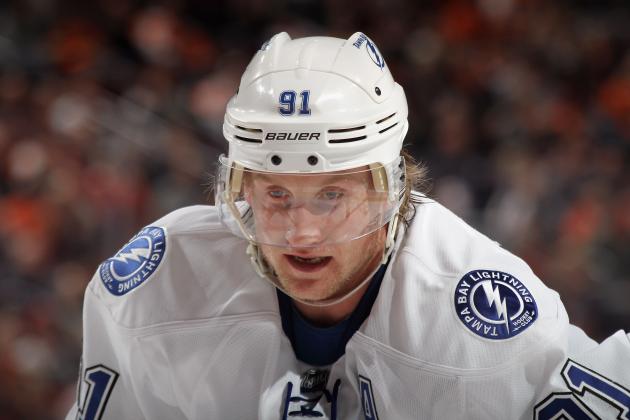 Bruce Bennett/Getty Images

The NHL is full of superstars like Sidney Crosby, Steven Stamkos and Alex Ovechkin, but even the best of players have a kryptonite that ails them. These players may excel most of the time, but there are players or situations that can render them powerless.
Using each player's weakness as a road map for success is something that teams have utilized, and here is each top superstar's kryptonite.
*This is a follow up piece to a previously published article with the addition of some players that readers felt were wrongly omitted. If there are others that should be listed, feel free to comment below.
Begin Slideshow

»
Evgeni Malkin is a great hockey player, but his own temper is his kryptonite. He is a fierce competitor that loves to win, but Malkin has a reputation of allowing his temper to get the best of him. This leads to bad penalties that take him off the ice, and as a result he is thrown off his games.
There have been a number of times in which Malkin's temper has caused him to retaliate, and often he can be his worst enemy because of his level of intensity.
Jonathan Quick is an amazing goalie, but his biggest weaknessI deleted is when he plays the puck. While Quick may have great reflexes, he is inept when it comes to retrieving the puck behind the goal.
He isn't the only goaltender in the NHL with this problem, but he has been burned multiple times over the past few years. Until Quick learns to stop playing the puck, teams will continue to exploit his kryptonite.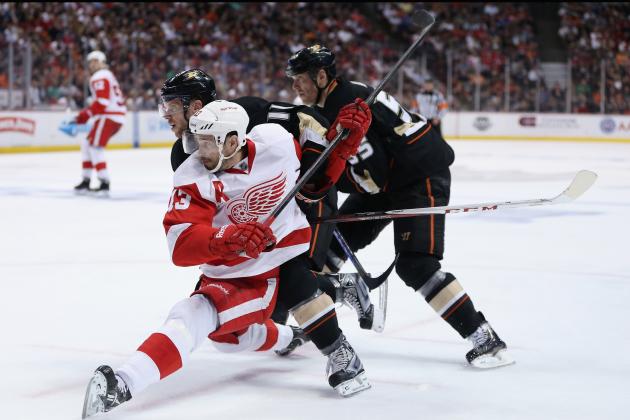 Jeff Gross/Getty Images
Datsyuk's body is not built to take hits well.
Pavel Datsyuk is a 5'11" forward whose kryptonite is physicality. He is a small forward, and when targeted he has a tendency to become frustrated. He may be a fluid skater who can make moves out of thin air, but often times he is on the receiving end of a tough check when trying to get creative.
Datsyuk has missed over 30 games the past two full-seasons, and wearing him down physically is the key to shutting down "the Magic Man."
Zdeno Chara is the NHL's biggest player and a great defender, but "Big Z" has his own share of struggles. Given his size he isn't the NHL's most agile player, and he often struggles when trying to defend speedy forwards.
He isn't great at pivoting or turning on a dime, and occasionally he will get beat by some of the league's swiftest players. During Game 6 of the Stanley Cup Final, Chara was on the ice and was unable to pick up Bryan Bickell before he scored the game-tying goal.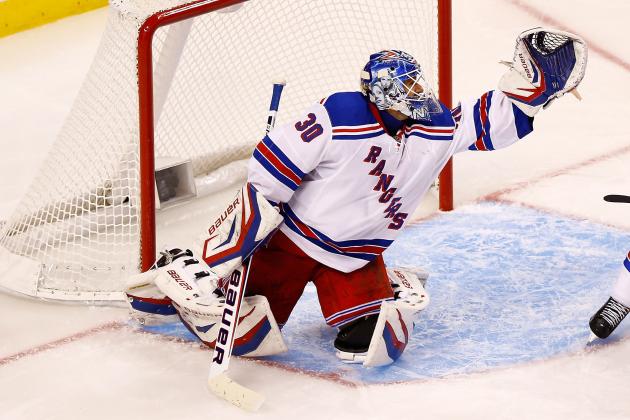 Jared Wickerham/Getty Images
Lundqvist gets beat on his glove side a lot.
Henrik Lundqvist is a solid netminder for the New York Rangers that has a Vezina Trophy on his resume, but his kryptonite is high glove-side shots.
John Buccigross of ESPN tweeted out a picture of graphical heat map that illustrated where Lundqvist surrendered the majority of goals. The heat map was red hot for his glove side, particularly for shots that went in the top corner.
All goalies have a tendency to give up goals on their glove side, but Lundqvist appears to surrender goals past his glove more frequently.
Sidney Crosby is one of the NHL's top players, but when he is targeted physically he is easily knocked off his game. During this year's playoffs against the Boston Bruins, he was visibly rattled when matched up with Patrice Bergeron, Milan Lucic and Zdeno Chara.
Crosby even tried to "fight" the behemoth defender, and at that moment it was clear that the key to shutting down the Penguins' star was by wearing him down physically.
Jonathan Toews is an elite two-way center and a great leader, but he is thrown off his game when pitted against Henrik Zetterberg.
During this past year's playoffs, Zetterberg completely neutralized Toews to the point that Joel Quenneville altered his lines whenever the Red Wings' captain was on the ice.
Toews is a solid player, but he isn't at his absolute best whenever he is matched up against a speedy two-way forward like Zetterberg.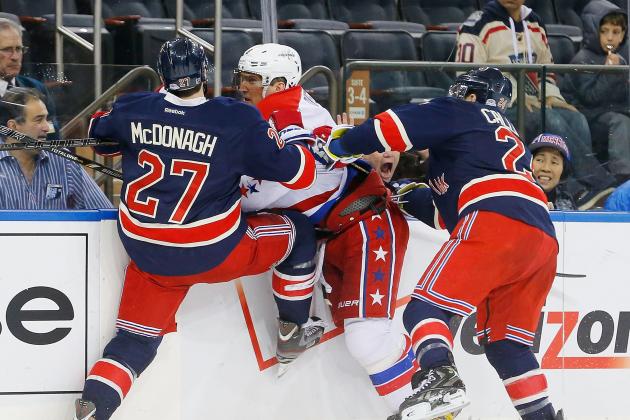 Paul Bereswill/Getty Images
Ovechkin was unproductive against McDonagh and the Rangers.
Alex Ovechkin is a solid goal scorer, but he is rendered useless against most shutdown defenders. One of the more recent examples comes from this year's playoffs in which Ryan McDonagh rendered the Washington Capitals captain useless.
Although Ovechkin is a speedy player with great instincts, he is unable to produce when sent up against speedy shutdown defenders.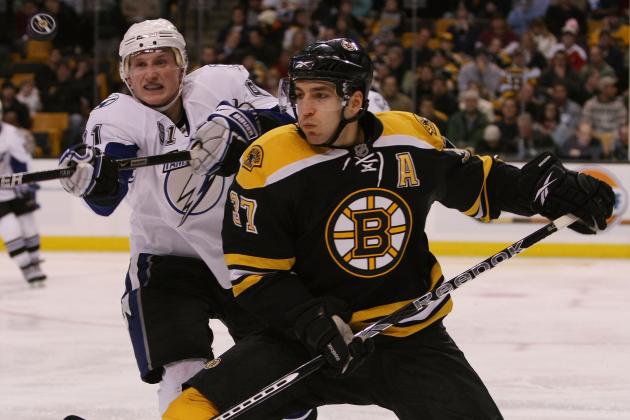 Elsa/Getty Images
Stamkos is a great offensive player, but can be shutdown by talented two-way forwards.
Steven Stamkos is an elite offensive player, but his defensive game could be a lot better. He has never been great at winning faceoffs, he doesn't kill penalties and his offensive game is well scouted.
Stamkos has become known for his booming shot, and he is at his best when he has possession of the puck. However, against talented two-way forwards he often has to work harder to get the puck, and his offensive effectiveness declines.
Patrice Bergeron in particular did a good job neutralizing Stamkos back in the 2010-11 playoffs, and it was a big reason why the Bruins eliminated the Tampa Bay Lightning and advanced to the Stanley Cup Final.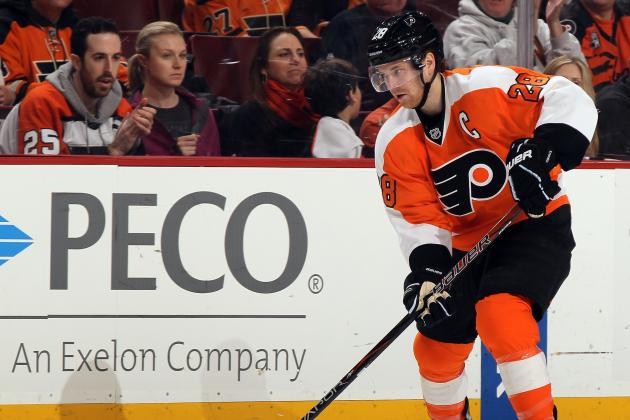 Elsa/Getty Images
Giroux is a solid passer, but he could stand to shoot more.
Claude Giroux is a great passer, and that trait is a blessing and a curse. While Giroux has made a nice living over the past few years piling up assists, he is prone to making an extra pass instead of shooting the puck.
Giroux has illustrated that he has an amazing shot, but he needs to use it more often so he can become a better offensive player.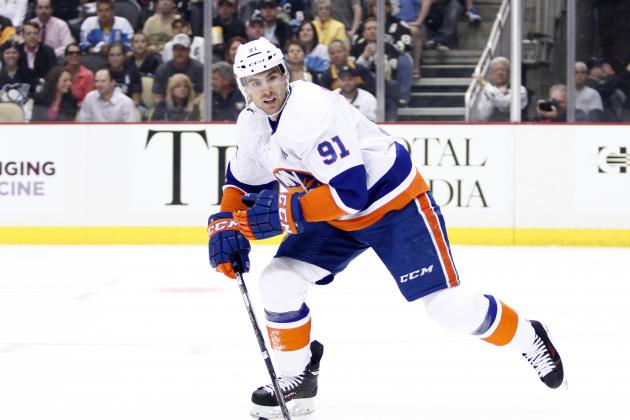 Justin K. Aller/Getty Images
Tavares is a solid player, but his skating holds him back.
John Tavares is an elite offensive center who is trending to become one of the NHL's best players. Despite his ability to be a skilled scorer and passer, Tavares is neutralized whenever he goes up against teams that use an East-West system.
Tavares has never been a strong skater, and he has a tough time being a factor when the opposition slows the on-ice action down to a crawl with grinding and forechecking.
If Tavares can improve his skating he can get better at escaping these situations, and he will be more of an all-around factor for the New York Islanders.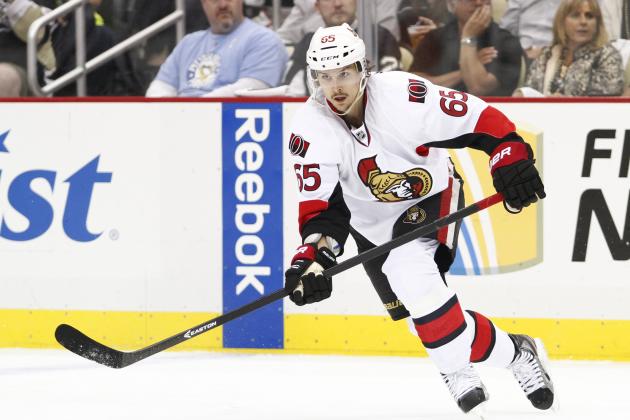 Justin K. Aller/Getty Images
Karlsson could stand to improve his play without the puck.
Erik Karlsson is one of the NHL's top defenders, but he struggles when he doesn't have the puck. He is a skilled skater, passer and power-play quarterback, but he needs to get better in situations that he doesn't have the puck.
Karlsson is a facilitator that makes things happen, and for that reason he is still a bit shaky in the defensive zone while making coverage reads. His three-zone game has grown tremendously since making his NHL debut, but play without the puck is still a weakness of his game.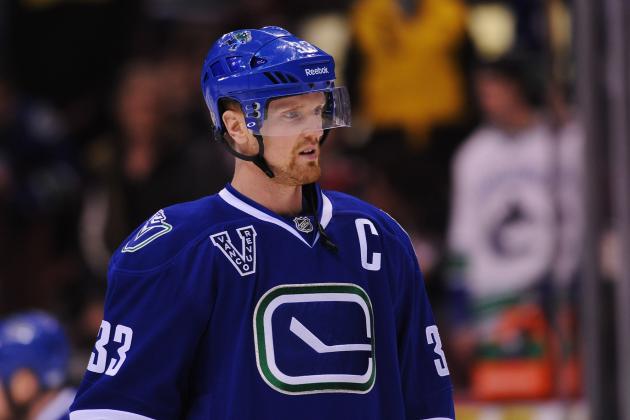 Derek Leung/Getty Images
Sedin used to be great in the playoffs, now he is just average.
Henrik Sedin has been one of the NHL's best players over the past few years, but his kryptonite has been playoff hockey. If you take a look at his regular season stats, you will see that he has a career points-per-game average of 0.84.
When you look at his playoff stats that statistic drops to a points-per-game average of 0.75. It is a drop of only nine points, but if you isolate Sedin's last two playoff runs, the number would plummet.
Sedin has also been called soft, and maybe there is some credence to that claim because he doesn't perform during tight playoff hockey.
Bruce Bennett/Getty Images
Letang is a great offensive player, but he takes chances that make him a defensive liability.
Kris Letang is an amazing offensive defenseman for the Pittsburgh Penguins, but his overzealousness on offense gives opportunities for opponents to exploit him defensively. The Boston Bruins did this during the playoffs, and Letang was not much of a factor.
Letang is always looking to make a play offensively because he acts like a fourth forward while on the ice. While he provides tremendous value for the Penguins, Letang needs to play more of a three-zone game to be an effective all-around defender.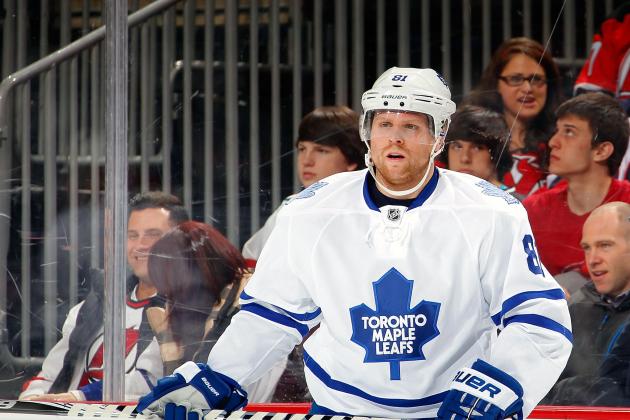 Paul Bereswill/Getty Images
Kessel has been considered a soft player for most of his career.
While Phil Kessel is a great goal-scorer and offensive player, his NHL peers don't respect him. In a 2012 poll with Sports Illustrated, Kessel was voted easiest to intimidate.
He has carried the label of being of soft, and that is because he is often thrown off his game when he goes up against physical opponents. Even Kessel's former coach Claude Julien was critical of his soft play while he was a member of the Boston Bruins.
Being 6'2" and 202 pounds allows Kessel to use speed to score, but it doesn't help him when trying to drive through traffic on the ice. While Kessel is a great player whose career is still on the rise, he can be thrown off his game very easily.