Texas Longhorns vs. BYU Cougars: Complete Game Preview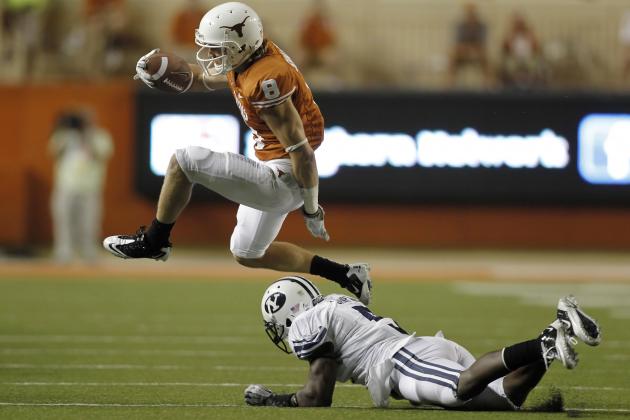 Erich Schlegel/Getty Images

Week 2 will not be a breeze for the Texas Longhorns as they head to Provo, Utah, to take on the BYU Cougars.
Texas looked like an improved team in its season opener against New Mexico State, but a lot of questions remain unanswered. The Longhorns' offense produced 256 yards and 14 points in the first half, but 123 of those yards came in the final two minutes.
The light switched on for the Texas offense in the second half and led to a 56-7 win. A slow start in Provo may not be as easy to overcome against BYU's defense, which ranked third nationally in scoring defense and total defense in 2012.
BYU did not start the season the way the Cougars wanted, losing 19-16 on the road at Virginia. Quarterback Taysom Hill was 13-of-40 passing and threw an interception in the fourth quarter that led to a game-winning Virginia touchdown.
But Week 1 may not have accurately displayed what BYU is capable of doing. The Cougars endured a two-hour weather delay and played the majority of the second half in a heavy downpour.
Both BYU and Texas have switched to up-tempo offenses, and both offenses had rocky season debuts. The Longhorns and the Cougars will be looking for improvement Saturday when they face off in Provo.
When: Saturday, September 7, 7 p.m. ET
Where: LaVell Edwards Stadium, Provo, Utah
TV: ESPN2
Radio: Local KSL 1160 AM/102.7; National BYU Radio - Sirius XM 143
Spread: Texas (-7), per VegasInsider.com
Begin Slideshow

»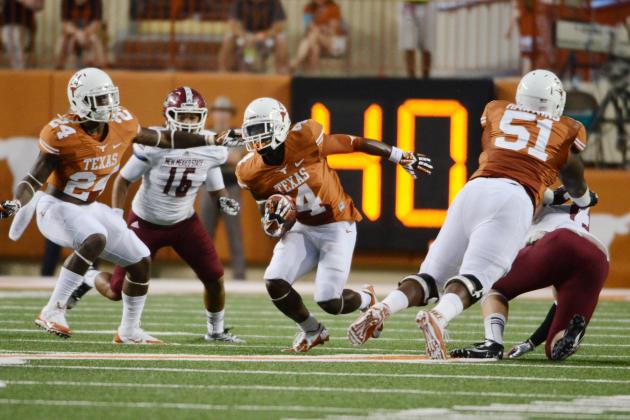 Brendan Maloney-USA TODAY Sports

Offense
The Longhorns are coming off a school-record 715 yards of total offense and put up 56 points against New Mexico State, but those numbers will be drastically different Saturday against BYU's strong defense.
The Cougars' return five starters—nose tackle Eathyn Manumaleuna, linebackers Spencer Hadley and Kyle Van Noy and safeties Daniel Sorenson and Craig Bills—from a defense that ranked third nationally in scoring and total defense and second nationally in rushing defense in 2012.
Texas' offense will be challenged early and often when lining up against the Cougars' defense.
Defense being prepared for tempo
After the Cougars' poor offensive performance against Virginia, the Texas defense should expect the BYU offense to be ready to prove itself. BYU's offense has shifted to an up-tempo approach, so we will see how much going against its own up-tempo attack this summer has paid off for the Texas defense.
When asked about the Longhorns' level of preparation in facing an up-tempo offense, safety Adrian Phillips said: "We have no choice but to be prepared. We have been working against [tempo] offense for months; it's all we have been doing in the offseason."
Depth
Texas has a legitimate amount of depth, which will be put to the test Saturday on the road against a tempo offense and a tough defense. A big emphasis for the Longhorns has been preparing for the change of altitude in Provo, Utah. Mack Brown said the Longhorns worked out wearing oxygen masks during summer conditioning to prepare for their game at BYU.
In his Monday press conference, Brown did not seem to be too concerned with the altitude.
"I think we're in pretty good shape," Brown said. "There will be an adjustment, but I think we have plenty of depth, so we will be OK."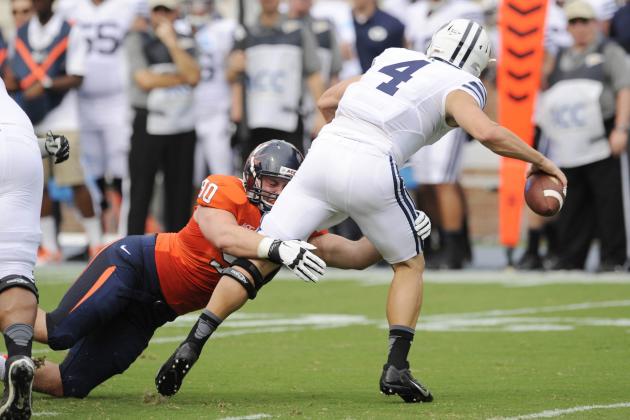 Rafael Suanes-USA TODAY Sports

Offense
BYU's offense was not nearly as good in Week 1 against Virginia as it is expected to be this season. The Cougars' standout wide receiver Cody Hoffman did not play because of an injured hamstring, and the rain and a two-hour weather delay on the road are not easy to overcome.
Saturday will provide the stage to display BYU's new up-tempo offense against a Texas defense that nationally ranked 67th in total defense and 88th in rushing defense in 2012. If the Cougars want to test the progress of the Texas defense, they should do it with sophomore running back Jamaal Williams, who rushed for 144 yards in Week 1.
Defense being prepared for tempo
Similar to Texas, BYU's offseason preparation will be put to the test when it faces Texas' up-tempo offense. The Longhorns have a variety of weapons to use in both the run and passing game, so BYU's defense will need to start this game on its toes.
Last season, BYU's defense played a big role in keeping the Cougars in close games. The defense will likely be called upon once again Saturday to keep its offense in the game.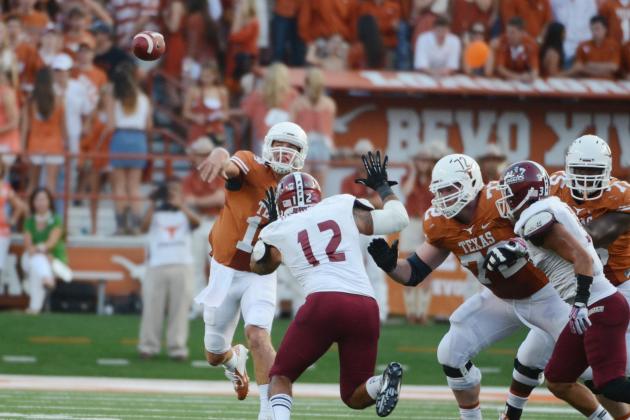 Brendan Maloney-USA TODAY Sports

Quarterback David Ash
Texas quarterback David Ash was part of the reason Texas had a slow start in Week 1 against New Mexico State. Ash threw back-to-back interceptions in the second quarter before ultimately shifting the momentum in Texas' favor with just two minutes left in the half.
Shifting the momentum from New Mexico State to Texas was not a difficult task, considering New Mexico State's defense finished 100th or worse in 11-of-14 defensive statistical categories in 2012. On Saturday against BYU, Ash will need to start the game poised and prepared to face a defense more talented than he saw against the Aggies.
Texas secondary
Keep an eye on the Texas secondary. Cornerbacks Carrington Byndom and Duke Thomas, safeties Mykelle Thompson and Adrian Phillips and nickel Quandre Diggs will need to be ready to face BYU's up-tempo spread offense that threw the ball 40 times against Virginia, in the rain.
The Longhorns have a lot of talent in the secondary but struggled with missed tackles last season. That stigma will follow them until they show they know how to tackle.
Saturday's game will be a good place to start proving that point.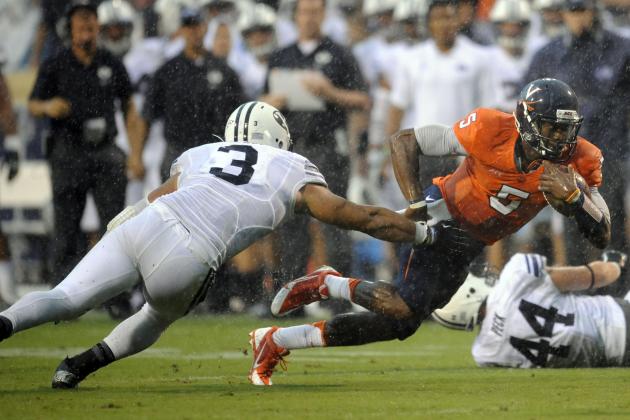 Rafael Suanes-USA TODAY Sports

Quarterback Taysom Hill
BYU quarterback Taysom Hill has a lot to prove this season, starting with completing more than 33 percent of his passes.
Hill's primary target should be senior wide receiver Cody Hoffman, who led the Cougars' with 1,245 receiving yards and 11 touchdowns last season. Hoffman missed BYU's season opener against Virginia with an injured hamstring, but BYU head coach Bronco Mendenhall said Monday that he's hopeful Hoffman will be cleared for Saturday's game.
If Hoffman is ready to play, the Longhorns' defensive line will need to put the pressure on Hill, and the secondary will need to stop Hoffman from making explosive, long-yardage plays.
Running back Jamaal Williams
Cougars running back Jamaal Williams led the team in rushing last season, averaging 4.7 yards per carry. He also scored 12 touchdowns.
Williams also finished second in receiving yards for the Cougars in 2012. He rushed for 144 yards against Virginia last weekend, so expect the Cougars to use him Saturday against Texas' work-in-progress rush defense.
Weak-side linebacker Kyle Van Noy
Linebacker Kyle Van Noy is the best player on the Cougars' defense. He finished 2012 with 53 tackles, 22 tackles for loss, 13 sacks, two interceptions and six forced fumbles. Needless to say, Van Noy is a difference-maker.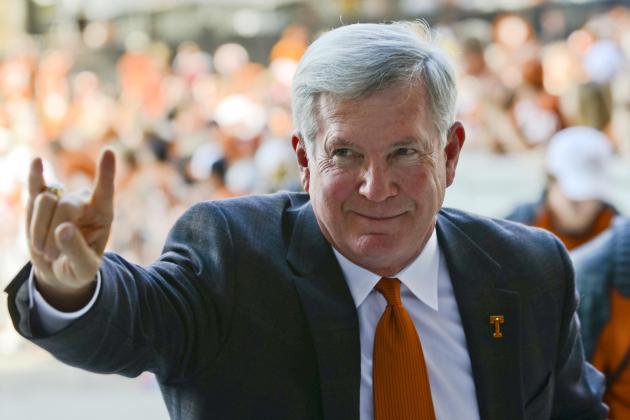 Brendan Maloney-USA TODAY Sports

Texas head coach Mack Brown
Brigham Young had a tougher opener than we did. They had a two-hour-and-nine-minute delay and the second half was raining so hard you couldn't even see. We haven't seen the Brigham Young team we're going to see Saturday.
Texas offensive coordinator Major Applewhite
[BYU defense] prides themselves on being very tough. They're very sound. You don't see a lot of mental errors or guys out of place. You see 11 guys that fly to the ball and have very few busts. You see a very mature and disciplined team. And guys that enjoy tackling.
Texas defensive coordinator Manny Diaz
You look at the [Virginia] tape and you see who they are and what they are trying to accomplish. But you cannot evaluate [BYU's offense] level of execution because after the first quarter the game was played on a Slip-N-Slide.
Texas defensive end Cedric Reed: "The Big 12 is full of dual-threat quarterbacks, so we've played against plenty of them. We have to have the right mindset to contain [Taysom Hill] and pressure him Saturday.''
BYU head coach Bronco Mendenhall - via BYUCougars.com
[Texas] is a talented team. A lot of their personnel is similar to what we played two years ago and a lot of their scheme is similar as well. They're using some personnel in different regards. But they're talented.
BYU linebacker Spencer Hadley - via BYUCougars.com
[Texas] is a great team, and I expect us to come out and play well. I expect us to come out and play hard, and I expect it to be a battle. We didn't play up to our expectations last week. We have to change our mindset to turn this thing around in the right direction.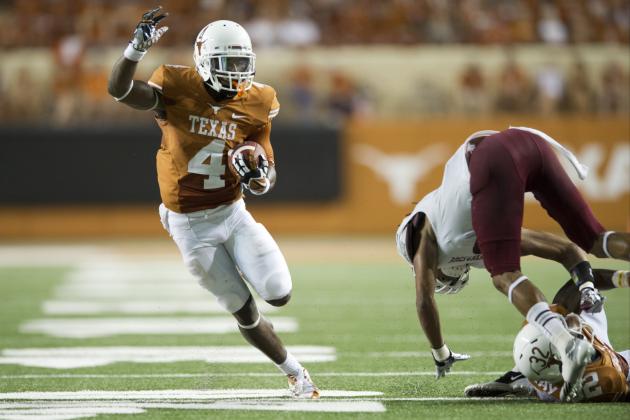 Cooper Neill/Getty Images

This is not an easy game to predict. BYU's Week 1 game film is not the offense Texas will face Saturday. And Texas' offense struggled to gain momentum in the first half of its season opener against a New Mexico State team that ranked 100th or worse in 11-of-14 defensive statistical categories in 2012.
Still, Texas has more talent and weapons than BYU.
The verdict is still out on the Longhorns' defense, but the same can be said for the Cougars' offense. BYU has a difference-maker in running back Jamaal Williams, and if wide receiver Cody Hoffman is available to play, the Texas secondary will have a tough time containing him.
On offense, the Longhorns have a better quarterback in David Ash. They also have a stable of running backs with Johnathan Gray, Malcolm Brown, Joe Bergeron and wide receiver/running back Daje Johnson that will be their best offensive weapon in 2013.
BYU's defense is stout and linebacker Kyle Van Noy is a monster. There's a good chance that this game will be close because BYU's defense keeps the Cougars in it, but BYU's offense is not good enough to pull off the win.
Prediction: Texas 31, BYU 21
Follow Taylor on Twitter: @Taylor_Gaspar
Unless otherwise noted, all quotes were obtained firsthand.