Pre-Training Camp Player Power Rankings for LA Lakers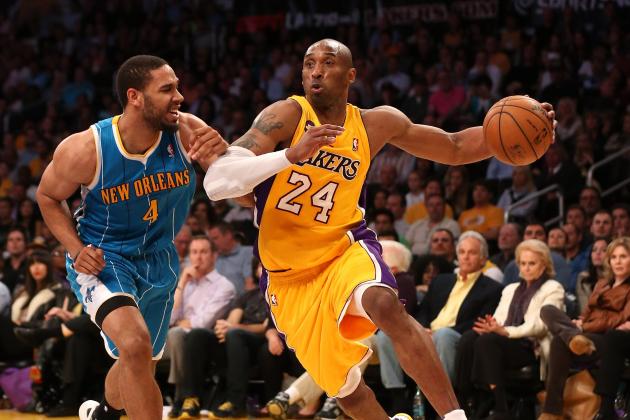 Stephen Dunn/Getty Images

With an influx of new talent, the Los Angeles Lakers have a roster that has the potential to contain a bevvy of breakout contributors.
Full of young prospects and returning veterans, Mike D'Antoni should be able to establish a rotation that should at least be competitive in a very talented Western Conference.
While last year's dramatic events dominated the Lakers' season, this season should be much more straight forward.
In exchange for two of their best defensive players and several other key contributors, the Lakers have received a myriad of athletes and shooters that should make them more fluid on offense and much more vulnerable on defense.
Molding a roster that is more conducive to running a D'Antoni-style offense should make these Lakers more entertaining while they try and tread water until the major rebuilding phase that is expected to occur next offseason.
The key to their success this season will depend on their ability to clearly define roles and expectations for their players.
It is clear that veterans like Kobe Bryant and Pau Gasol will be expected to carry the load. Defining and adjusting the offensive and defensive responsibilities of each Laker player will make it possible for the Lakers and their fans to have realistic expectations this season.
Begin Slideshow

»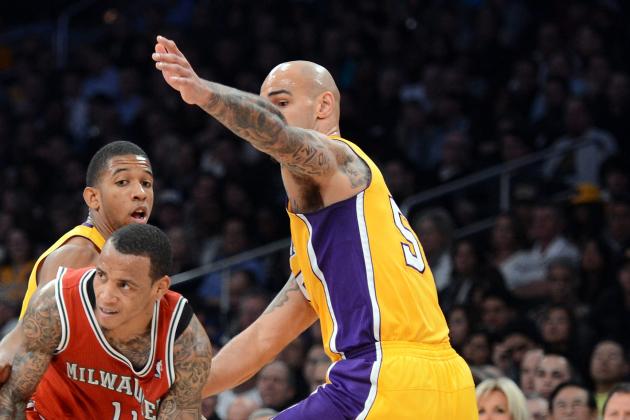 Harry How/Getty Images

13. Shawne Williams
Another big man who can stretch the floor, Williams doesn't bring much else to the table besides his shooting stroke and his size.
He should see spot minutes at both forward positions and potentially even center due to his size and shooting touch out to three-point land.
12. Elias Harris
A big man with range, Harris will definitely not see a lot of playing time due to the stigma that comes with being an undrafted player.
If he does not lose hope and works at it, he can carve out a nice niche in Mike D'Antoni's system over time due to his ability to stretch the floor.
11. Robert Sacre
The only true center besides Chris Kaman, Sacre won't see a lot of playing time this season. Pau Gasol, Jordan Hill and Kaman will take up most of the time at power forward and center.
While Sacre has the size of an NBA center and the ability to guard the post, he isn't adept at much else.
A below-average athlete and average rebounding presence, Sacre needs to develop a lot more before he can be productive on the NBA level.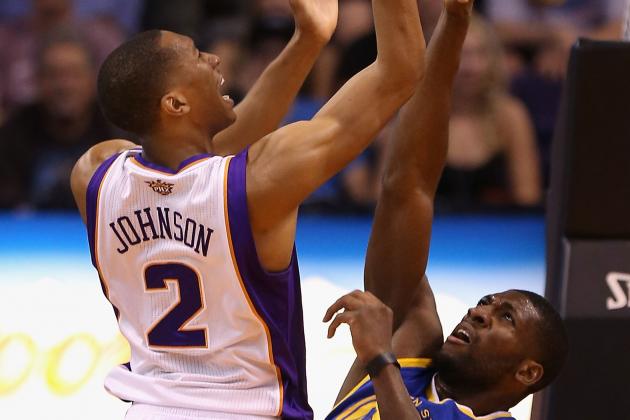 Christian Petersen/Getty Images

Wesley Johnson could worm his way into the starting lineup if the Lakers don't decide to go small ball for the entirety of the season with Nick Young as the starting 3.
Shooting only 40.0 percent from the field in 23.1 minutes per game during his career, Johnson is obviously very raw offensively.
Despite being a gifted athlete, Johnson hasn't gotten any better offensively during his three year career thus far.
Though he does have a decent percentage from three-point land (33.6 percent), he will have to either improve his efficiency or his range in order to keep himself on the court.
Not known as a defensive stopper, Johnson may not see a lot of playing time despite being the only conventional small forward on the team.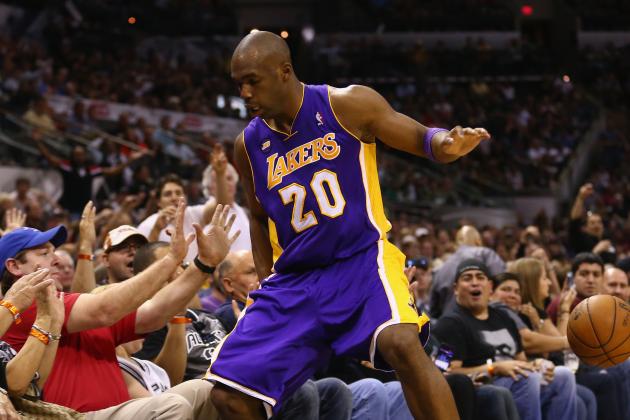 Ronald Martinez/Getty Images

An adequate three-point shooter and a potent defender, Meeks will split time with Nick Young as Kobe Bryant's backup.
Like Young, Meeks doesn't have the facilitating ability to play the point guard position, but he could see some time at the small forward position due to lack of depth.
While he does have some upside, his primary role will be to stretch the floor and score on his open jumpers.
His quick feet and defensive reputation may give him some extended minutes, but Young could potentially usurp those minutes if he can learn to use his scoring talents more efficiently.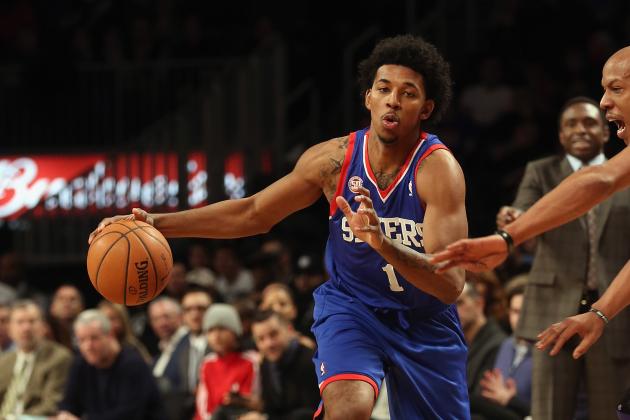 Bruce Bennett/Getty Images

Talent-wise, Nick Young has the most upside on this team.
Falling only behind Kobe Bryant, Pau Gasol and Steve Nash, Young has shown flashes of All-Star talent and has been a consistent scorer when given the touches and the minutes.
Averaging 17.4 points in 31.8 minutes per game during the 2010-2011 NBA season proves this point.
Despite his scoring pedigree, Young joins a team that already has an incumbent shooting guard in Kobe Bryant, who isn't going anywhere soon.
Bryant should still eat up over 30 minutes per game.
Young still has to compete with Steve Blake, Jordan Farmar, Jodie Meeks and Wesley Johnson for playing time at the 2-guard spot.
While Young is primarily a two, he'll have to split time with Jodie Meeks for the shooting guard minutes that aren't gobbled up by Bryant.
He doesn't possess the passing ability to compete with Blake and Farmar for time at the 2. However, Blake and Farmar both have the ability to play alongside each other or other guards at either guard spot.
Another option sees Young at the three spot, where there is very little competition for him. Although this could work in spurts and could give rise to Young's playing time, the Lakers would be very vulnerable defensively.
Ronald Martinez/Getty Images

A capable three-point shooter, passer and free-throw shooter, Steve Blake can fill a very important niche for Mike D'Antoni's system.
While he isn't the passer that Steve Nash, Kobe Bryant and possibly even Jordan Farmar are, his shooting stroke, especially from the right corner, put him right up there as one of the best spot-up shooters on the team.
At age 33, Blake may not have the foot speed or the athleticism that Farmar has. However, he could still play well over 10 minutes per game because of his ability to stretch the floor.
Blake could also fit in well playing alongside Bryant for stretches. With Bryant showing his ability to distribute the basketball, Blake would be a natural fit creating lanes for Bryant with his outside shot.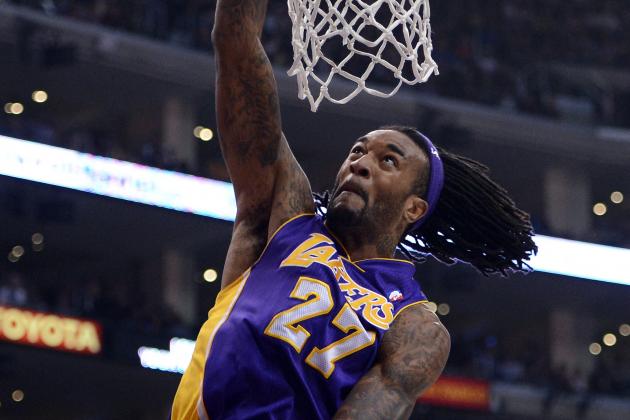 Harry How/Getty Images

As the Lakers best garbage man, Jordan Hill should see roughly 15-20 minutes per game as a backup center and power forward.
Possessing an unpolished offensive game and no jumper whatsoever, Hill generates his baskets through tip-ins, offensive rebounds, positioning and from the charity stripe.
He shoots a relatively decent percentage from the line for a big man at 67.4 percent for his career.
Hill should have no problems finding playing time on a team that desperately needs his energy and rebounding ability to fill in for the gaping hole left by Dwight Howard's departure.
Although he definitely needs to make some offensive strides to garner upwards of 20 minutes per game, his athleticism and energy should allow him to make an impact for a team that is looking to run-and-gun this season.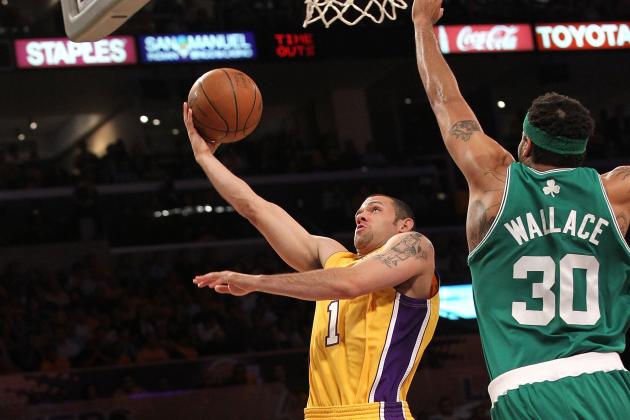 Ronald Martinez/Getty Images

While Steve Blake may be the incumbent substitute for Steve Nash at the start of the season, Jordan Farmar has a great opportunity to reestablish himself as a productive NBA player and fight for a very tangible amount of playing time.
He brings back his versatile set of skills that will be necessary for the Lakers to stay competitive.
Farmar was a decent defender during his initial tenure in the NBA. However, a renewed focus on the defensive end could mean that he usurps a lot of playing time from Blake, who isn't much of a defensive upgrade from Nash.
With his ability to stretch the floor with his 36.7 percent shooting from three-point range, he could even fit into D'Antoni's system as a spot-up shooter as well.
Utilizing his versatility will be key for him in terms of usurping Blake's position as the primary point guard off the bench.
At only 26 years old, Farmar has far greater upside than Blake and is the more logical option as Nash's eventual successor.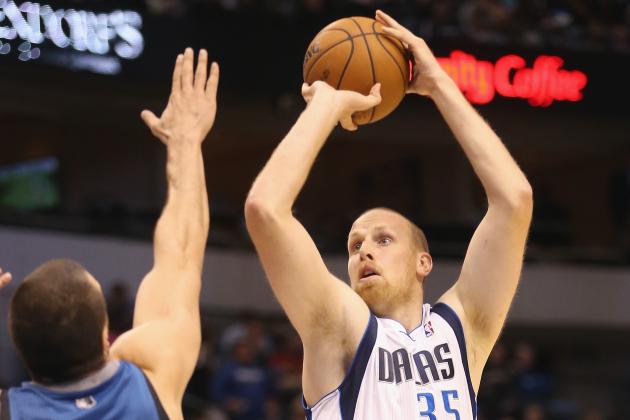 Ronald Martinez/Getty Images

A player with glimpses of All-Star talent during his day, Kaman comes in as a veteran with the ability score in the post.
While he is a very competent interior scorer, he might not see a lot of time in the post with Pau Gasol being the main interior option.
This could mean one of two things for Kaman.
He could start alongside Gasol and be more of a garbage man or he could be a substitute and become the bench mob's primary interior scorer.
Either way, Kaman should still see over 20 minutes per game due to the relative lack of frontcourt depth.
It may be more feasible for Kaman to be the primary interior force off the bench due to the fact that Jordan Hill may be a better option to play alongside the versatile Gasol as a part of the starting unit.
All they can expect from Kaman is to rebound the basketball at around his career average of over eight rebounds per game while giving them an option in the paint.
With D'Antoni capable of implementing his run-and-gun system with the bevvy of shooters and young athletes the Lakers have acquired, don't expect Kaman to score much more than the 10.5 points per game he averaged last season.
In fact, don't be surprised to see a dip in scoring from the big man.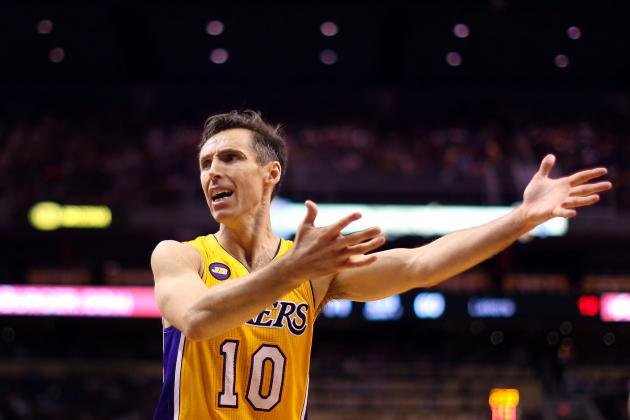 Christian Petersen/Getty Images

Steve Nash flopped big time last season. While it wasn't his fault for the most part, the Lakers are going to need him to step up and be the playmaker they expected when they signed him.
While injuries and an inconsistent offensive system derailed his season, Nash will be asked to prolong father time by being more durable this season.
Playing a supplementary role to Kobe Bryant, Nash will still see stretches where he'll be asked to create for others in transition, via the drive-and-kick and through the pick-and-roll.
He'll likely see a minutes cap to conserve him for a late season push or a potential playoff appearance.
At this point in his career, Nash is going to need a lot of help on defense. Whether it's bringing help or sending a double to try and prevent dribble penetration, Nash is going to be a defensive liability.
Although it may be unreasonable to expect him to average more than 10 assists per game given the potential minutes cap and the fact that Bryant will be the primary offensive option, Nash should still hover around that area if D'Antoni is able to fully establish his system this season.
All the Lakers can expect from Nash is his ability to stretch the floor, pass the basketball and an earnest effort not to be a defensive liability despite his high mileage and relative lack of athleticism.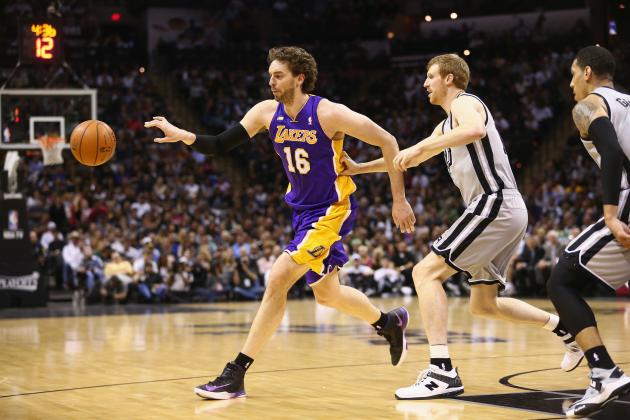 Ronald Martinez/Getty Images

Like it has been even before the Dwight Howard era, Pau Gasol continues to be Kobe Bryant's second-in-command.
The interior force to Bryant's perimeter dominance, Gasol will be tasked with being the conduit through which much of the half-court offense runs through.
While it will still fall upon Bryant to use his bevvy of moves to create for himself and others most of the time, Gasol has the chance to establish himself as the primary post and pick-and-roll option again following Howard's departure.
Alongside Steve Nash and Bryant, Gasol will need to help create offensive opportunities for others. He can do this by passing out of the high and low posts like he has his entire career.
Without Superman clogging the paint, Gasol should see his scoring numbers shoot up to around the 18.4 points per game he has averaged for his career.
Of course, it will be impossible for Gasol to match Howard's defensive contributions even with the back injury he had to deal with. The only thing he can do is be a presence in the paint in terms of altering shots and rebounding the basketball to the best of his abilities.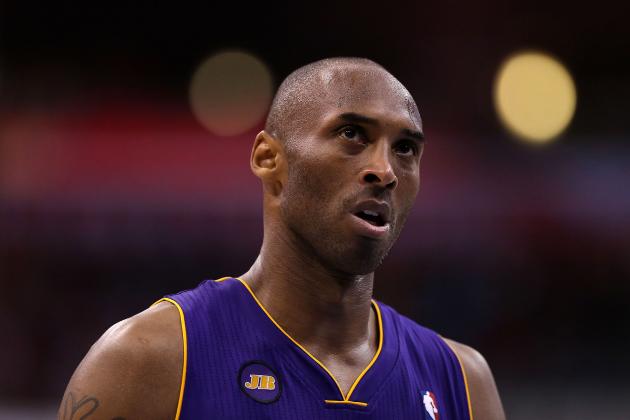 Christian Petersen/Getty Images

Regardless of age or injury, the Los Angeles Lakers will go as far as the Black Mamba takes them.
Kobe Bryant is still the heart and soul of the NBA's most storied team. Recovering nicely from his Achilles tendon injury, Bryant looks to return as the same player he was prior to his injury.
Even if Bryant loses a step due to this injury, he will still be tasked with both creating offense for himself and for others. On top of that, Bryant will still be tasked with defending the opposition's most dangerous perimeter threat in stretches.
Proving himself as a very capable facilitator last season, Bryant will have to rely more on his distribution skills if his athleticism takes a measurable hit due to the Achilles issue.
Regardless, it will be Bryant rather than Steve Nash or Pau Gasol who controls the ball most of the time. While this has been the meta for the Lakers post-Shaquille O'Neal, it will be interesting to see whether or not Bryant can continue to dominate with all the mileage he has accumulated over the years.
While it may not be realistic to expect Bryant to score around 27.3 points per game like he did last season, he should still be able to generate at least six assists per game as the primary offensive option.