Week 1 of the NFL season is almost here, and the Cincinnati Bengals are one of the underdogs that will win their opener.
Picking the favorites is tough to do for the first week. There are a couple of teams that are sure things to win, but most of the opening games will be toss-ups.
Home teams get the nod if it's a close call, but home-field advantage doesn't always guarantee a victory in the first week.
Here's the full schedule for Week 1 along with the predicted winner for each game.
NFL Schedule Week 1

| | | | | |
| --- | --- | --- | --- | --- |
| Date | Time (ET) | Away | Home | Predicted Winner |
| 9/5 (Thursday) | 8:30 p.m. | Baltimore Ravens | Denver Broncos | Broncos |
| 9/8 (Sunday) | 1 p.m. | Cincinnati Bengals | Chicago Bears | Bengals |
| 9/8 | 1 p.m. | New England Patriots | Buffalo Bills | Patriots |
| 9/8 | 1 p.m. | Miami Dolphins | Cleveland Browns | Dolphins |
| 9/8 | 1 p.m. | Minnesota Vikings | Detroit Lions | Vikings |
| 9/8 | 1 p.m. | Oakland Raiders | Indianapolis Colts | Colts |
| 9/8 | 1 p.m. | Atlanta Falcons | New Orleans Saints | Falcons |
| 9/8 | 1 p.m. | Tampa Bay Buccaneers | New York Jets | Buccaneers |
| 9/8 | 1 p.m. | Tennessee Titans | Pittsburgh Steelers | Steelers |
| 9/8 | 1 p.m. | Seattle Seahawks | Carolina Panthers | Seahawks |
| 9/8 | 1 p.m. | Kansas City Chiefs | Jacksonville Jaguars | Chiefs |
| 9/8 | 4:25 p.m. | Arizona Cardinals | St. Louis Rams | Cardinals |
| 9/8 | 4:25 p.m. | Green Bay Packers | San Francisco 49ers | 49ers |
| 9/8 | 8:30 p.m. | New York Giants | Dallas Cowboys | Giants |
| 9/9 | 7 p.m. | Philadelphia Eagles | Washington Redskins | Redskins |
| 9/9 | 10:15 p.m. | Houston Texans | San Diego Chargers | Texans |
Kyle Newport
Here is a list of underdogs that will win their openers, with lines provided by Bovada via ESPN.com.
Cincinnati Bengals (+3) at Chicago Bears
The Bengals are a popular pick to win the AFC North, but they are seen as the underdog in their opening game. They have to visit Soldier Field on Sunday to face the Chicago Bears, who aren't an easy team to play on the road.
Andy Dalton needs to prove that he can beat good teams, but he has an improved supporting cast this season. Tight end Tyler Eifert and running back Giovani Bernard were drafted to add to the offense.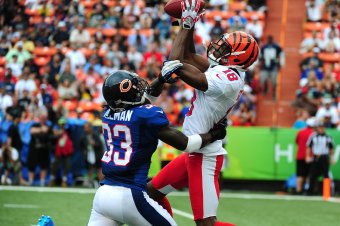 Scott Cunningham/Getty Images
A.J. Green is an elite receiver, and Bears corner Charles Tillman will have his hands full. Pro Bowl tight end Jermaine Gresham and Eifert will create mismatches all over the field, and they will give Dalton options close to the line of scrimmage.
BenJarvus Green-Ellis ran for 1,094 yards last season, and he will team up with Bernard to give the Bengals a good one-two punch. Green-Ellis will be used early in each series to pick up the tough yards, and Bernard will come in to provide speed.
The defense is starting to get the recognition it deserves. Geno Atkins is the best defensive tackle in football. Michael Johnson and Carlos Dunlap are about as athletic and quick as defensive ends get. The trio of linemen will make it tough for Jay Cutler to get comfortable and force him to make quick throws.
Leon Hall has quietly become one of the better cornerbacks in football, and he will try to neutralize Brandon Marshall.
Chicago is a talented team, but Cincinnati is one of the most balanced teams in the NFL. The Bengals have Pro Bowl playmakers on offense, and they have the best defensive line in football. Add those together and Cincinnati comes away with a victory.
The last two times Cincinnati has faced the NFC North, the Bengals have gone on to win the AFC North. Keep an eye on the Bengals this season.
Prediction: Cincinnati Bengals 20 - Chicago Bears 14
Arizona Cardinals (+4.5) at St. Louis Rams
The Cardinals upgraded their roster as much as anyone in the offseason, but they are big underdogs against the St. Louis Rams.
St. Louis added receiver Tavon Austin and tight end Jared Cook to give Sam Bradford options in the passing game. He hasn't had many weapons to work with, but he finally has a couple of playmakers. Austin will stretch the field with his speed, and Cook is a sleeper to watch this season.
However, the Rams lost Danny Amendola and Steven Jackson in the offseason. They will miss Jackson, who rushed for over 1,000 yards in every year since his rookie season. Daryl Richardson will be the starter, but he will have to have a huge year in order to replace Jackson.
The Cardinals have a new secondary, including rookie Tyrann Mathieu. He was a risky pick but has the potential to be a solid defensive player. Patrick Peterson has quietly turned into a star playmaker, both on defense and special teams. He may even get some action on offense.
Carson Palmer gives Arizona a legitimate quarterback. He will have a big season with Larry Fitzgerald, Michael Floyd and Andre Roberts at wideout.
Coach Bruce Arians likes to take risks on offense, and Palmer is a quarterback who can fit his system.
Arizona started last season 4-0, and they will start this season with a victory.
Prediction: Arizona Cardinals 21 - St. Louis Rams 7
New York Giants (+3) at Dallas Cowboys
This divisional matchup will be intense. Both teams have strong offenses, and they have playmakers on defense. This game is going to come down to which offense makes the most plays.
Tony Romo has Dez Bryant and Jason Witten. Both are talented playmakers, and they could both make the Pro Bowl this season.
However, they won't be able to get past their division rivals on Sunday.
Eli Manning and the New York Giants finished 9-7 last season but missed the playoffs. He will be motivated to start the year off with a win after having some disappointing losses last year.
Victor Cruz and Hakeem Nicks are as good of a tandem as there is in the NFL. Cruz is a deep threat, and Nicks can catch anything thrown his way.
The Giants own the edge in the running game. David Wilson will take over as the top back, and he had a good rookie season as a backup. He averaged five yards per carry on 71 attempts. It's a small sample size, but he should be able to do enough to keep defenses honest.
New York is 4-0 at AT&T Stadium—formerly known as Cowboys Stadium. Their dominance will continue in the opener.
Prediction: New York Giants 24 - Dallas Cowboys 17
*All stats are courtesy of NFL.com