Predicting World Cup 2014's 5 Young Sensations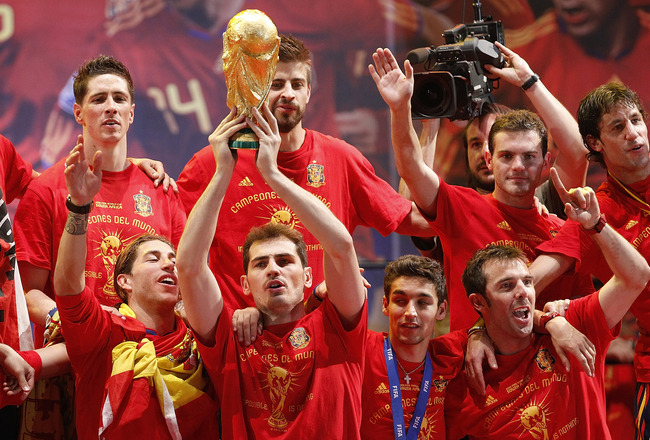 Angel Martinez/Getty Images
It is now less than a year until the start of the 2014 FIFA World Cup in Brazil, and international managers are looking to ensure their place in South America next summer as the race for qualification hots up.
The 20th incarnation of the tournament will return to the scene of the 1950s finals, when the heavily fancied hosts failed in their quest for a first success, being beaten in the final by rivals Uruguay 2-1 at the Maracana. Since then of course the Selecao have gone on to win the trophy on five separate occasions.
Over time, with the opening up of world borders and the onset of mass globalisation, the World Cup has changed. Whereas in previous eras players arrived as unknowns and came from seemingly nowhere to become international sensations overnight, that is not the case anymore.
With television and the internet making international parameters ever smaller, it is becoming increasingly more unlikely that a largely unheard of player takes the tournament by storm.
Nonetheless, that doesn't mean that young players can't make a name for themselves at international football's premier competition—it's just that we're already largely aware of their talents beforehand.
With all that being said, here's an attempt at predicting the five young sensations who may take next summer's tournament and make one hell of a splash, truly announcing themselves and their talent on the world stage.
Criteria:
Players must be 21 or under by the time the tournament roles around—thus the likes of Mario Goetze, Isco and Bruno Martins Indi are considered too old.
Players selected are expected to either start for their team or make noticeable impact appearances for their country as a vital 12th man—therefore the likes of Julian Draxler, Bernard, Lucas Digne and Adam Maher miss the cut.
Keep Reading