Ranking the 10 Most Well-Rounded NHL Prospects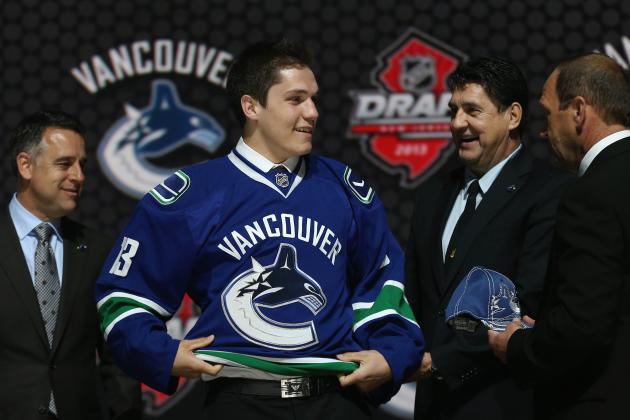 Bruce Bennett/Getty Images

Most of the top NHL prospects weren't drafted because they had the word "two-way" appear frequently on their scouting report. The likes of Jonathan Drouin and Nathan MacKinnon aren't elite-level youngsters because they backcheck and win 60 percent of their faceoffs.
No, they're elite-level youngsters because they are capable of taking over the game in the offensive zone on any given shift. They can score goals in bunches and have a tendency to make defensemen look silly.
Having a team full of make-ya'-miss young guns doesn't equal success in the NHL though—just ask the Edmonton Oilers and Tampa Bay Lightning about that.
Successful squads have a good mix of electrifying offensive talents and two-way guys. While these groups aren't mutually exclusive, and players can eventually be developed into Pavel Datsyuks and Loui Erikssons, it takes years of practice and hard work for a young player to turn into a Selke candidate.
There must be an innate understanding of how the game works in all three zones before a player can develop into a top two-way player in the NHL, and there are several prospects that come to mind when thinking about who the most well-rounded prospects are.
Begin Slideshow

»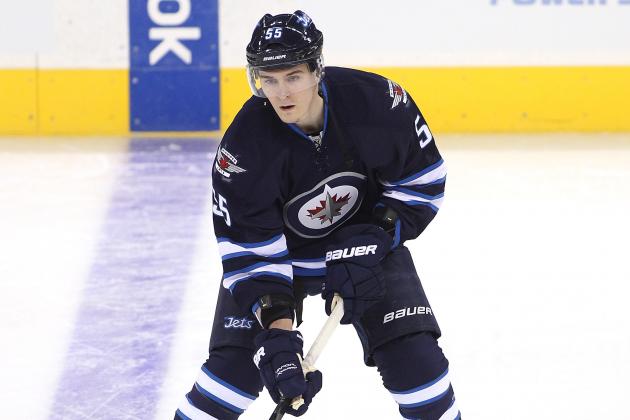 Marianne Helm/Getty Images

The Winnipeg Jets made it clear from the moment they were relocated from Atlanta that they wouldn't be rushing their top prospects to the NHL like the Thrashers did. One needn't look any further than their inaugural first-round Mark Scheifele for proof.
It's arguable that the lanky center could have made the jump to the NHL when he was only 18. The Jets knew that he could use some work in the defensive zone and some time to develop muscle, so they gave it to him.
Two years later, Scheifele is one of the top prospects in hockey and seems poised to make an immediate impact at the professional level this season. He's been a plus player over the last two years with the Barrie Colts after finishing with an atrocious minus-22 in his draft year, showing that Scheifele has taken the extra time to round out his defensive game.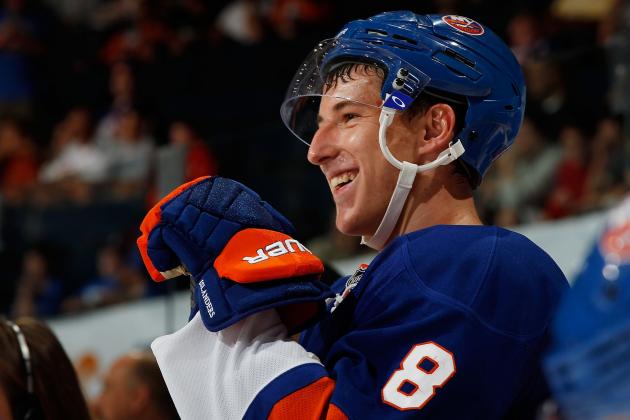 Mike Stobe/Getty Images

Like the Winnipeg Jets and Mark Scheifele, the New York Islanders have taken their sweet time with Ryan Strome. The result is an offensive powerhouse of a forward—a player that is capable of taking over entire games with his puck-possession abilities and skill.
In his last 109 with the Niagara IceDogs, Strome has posted a ridiculous 268 points while dominating his opposition in just about every way.
While he's not an otherworldly force in the neutral zone, he plays a strong possession game that doesn't allow the opposition to get anything going offensively. Tack on a strong presence in the faceoff circle and an elite-level hockey IQ and you have one of the most well-rounded offensive prospects around.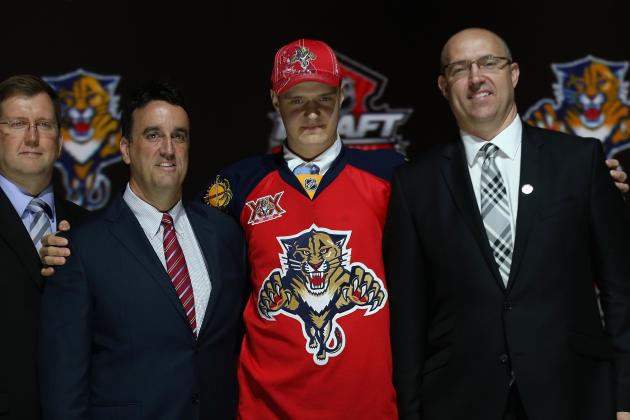 Bruce Bennett/Getty Images

Arguably the most NHL-ready forward available at the 2013 draft, Aleksander Barkov is a dynamite center that has already played against grown men with success as a teenager. The Florida Panthers let Jonathan Drouin and Seth Jones slip to grab the top-ranked European player, and while it was surprising to some, it shouldn't be considered a misstep.
Not by a long shot.
Barkov has been a plus-player in the SEL for two seasons now, and is capable of embarrassing defenders with his skill and vision. While he doesn't play a power-game, the 6'3", 209-pound Barkov knows when to lean on people and can create plenty of space with his body.
His hockey-IQ is off the charts, and with another year or so of experience could be an excellent two-way threat.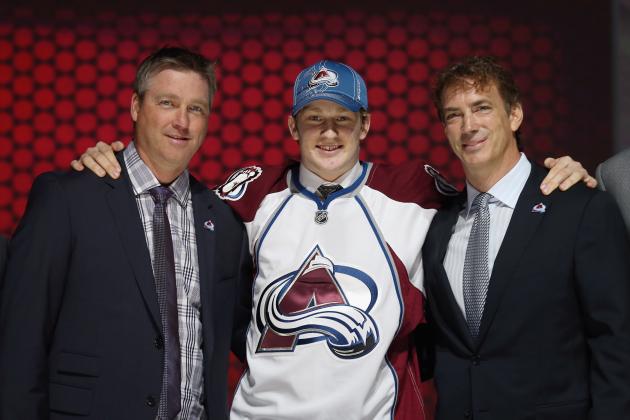 Bruce Bennett/Getty Images

We mentioned him in the opener as being an offensively brilliant player that became the No. 1 selection based on what he could do as an attacking forward. That doesn't mean that Nathan MacKinnon can't take care of business in the other two zones though.
His skating is Pavel Bure-like, and his wheels allow him to backcheck with ferocity and haste. It's rare that MacKinnon isn't in control of the play when he's out on the ice, so it's tough to judge how he performs as a true two-way player.
Combine that amount of speed and smarts though, and it's tough to imagine MacKinnon being just a fly-by artist in the NHL. While he's not noted for his defensive prowess, we have a feeling that this will change in the very near future.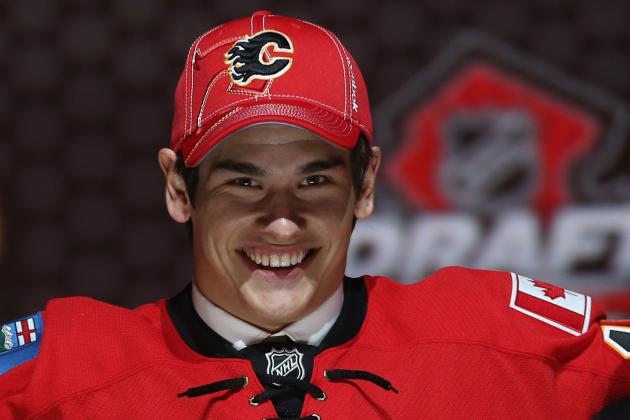 Bruce Bennett/Getty Images

The Calgary Flames drafted Sean Monahan to cure a disease that has plagued the franchise for nearly two decades. Since dealing Joe Nieuwendyk for Jarome Iginla back in December of 1995, the Flames have constantly been a team with question marks down the middle.
It's 2013 now and Calgary has apparently had enough of stop-gap No. 1 centers. The sixth-overall pick from 2013 is regarded as an outstanding north-south player that is effective while utilizing a simple game plan.
Not a lot of flash here—just results.
His minus-18 last year doesn't do Monahan's two-way efforts justice. He was out on the ice in all situations for a bad Ottawa 67's team and was victimized by a weak team defense on a nightly basis.
Consider the fact that he was a combined plus-49 during the two seasons prior to 2013 and you'll get a better feel for what Monahan can do in all three zones.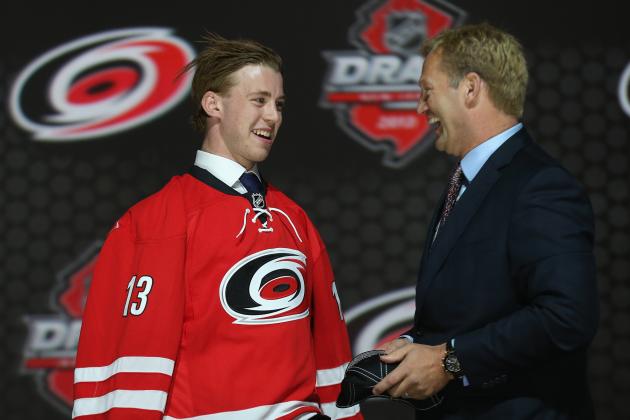 Bruce Bennett/Getty Images

In Elias Lindholm, the Carolina Hurricanes drafted a center that has already played important minutes in the SEL as a teen. He scored 30 points in 48 games for the Brynas IF Gavle while also playing a remarkably responsible two-way game.
While he's not an offensive wunderkind like Nathan MacKinnon, his work ethic in the neutral and defensive zones is downright impressive.
Lindholm is a hard worker that is an absolute hound on the puck. He rarely loses battles along the boards and has a visible disdain for losing. Combine that high level of competition with a good amount of skill and you have one of the more well-rounded prospects in all of hockey.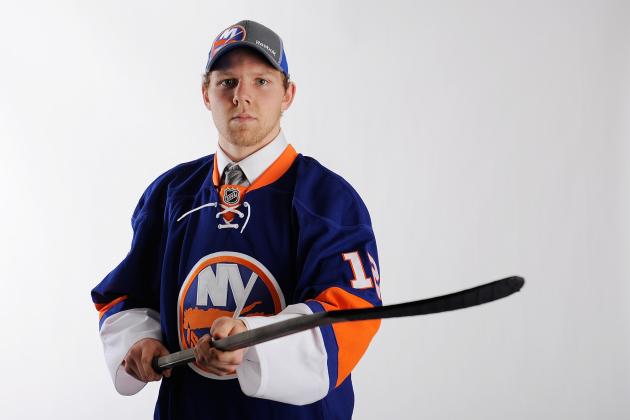 Jamie Sabau/Getty Images

It's possible to watch an entire game that Griffin Reinhart is playing in without noticing him. That was the case in his draft year in 2012, and that's still the case now—and in no way is that a bad thing.
Defensemen are typically offensive studs or defensive anchors when they're selected in the first round. One aspect of their game tends to be there, but they need to really iron out the kinks in the rest of their game. Ryan Pulock, Morgan Rielly and even Jon Merrill are all great examples of this.
Then you have the rare blueliner like Reinhart. He's a rock in his own zone and doesn't panic under pressure. His outlet passing is outstanding and he has a respectable shot from the point. There really isn't anything that he does that'll show up on highlight reels, but Reinhart is above-average in just about every way.
Aside from Seth Jones and Ryan Murray, there isn't a more complete defensive prospect out there.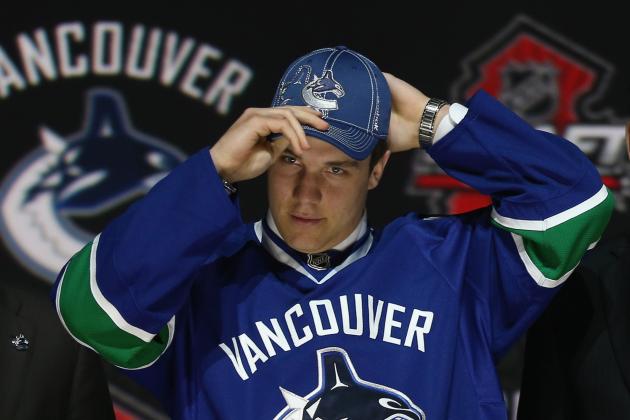 Bruce Bennett/Getty Images

The Vancouver Canucks waited for nearly two years to solve their goaltending issue. They never found a fair value (or a taker) for Roberto Luongo, so they decided to trade Cory Schneider instead. After all that time of looking for a good deal it was Bo Horvat that eventually came back to the Canucks.
The ninth-overall selection in 2013 is as complete of a package as you'll be able to find in a teen player. He isn't likely to blow anyone away with his stat lines once he reaches the NHL, but Horvat is a guy that is committed to doing all the little things that eventually lead to victory.
He is lethal in the faceoff circle—when is the last time you've seen a prospect heralded for their ability in the circle?—and has enough hustle to fill up at least three failed all-flash-no-heart Columbus Blue Jackets draft picks.
Horvat is a proven leader and will be an outstanding two-way player to build around for the next ten-plus years for Vancouver.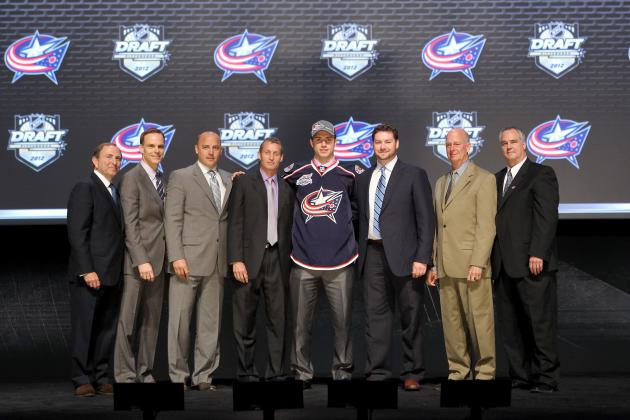 Bruce Bennett/Getty Images

Ryan Murray would already be a mainstay for the Columbus Blue Jackets had an injury not derailed his 2013 season. He was NHL-ready prior to being drafted at No. 2 in 2012, and will only be stronger and improved heading into the upcoming season.
He's so solid that he's been compared to NHL greats such as Scott Niedermayer. NHL central scouting's B.J. MacDonald had this to say about him prior to the '12 draft:
"I think Murray is more like a [Scott] Niedermayer; he just does everything under the radar and so smooth you hardly notice it. His skating is probably the best in the [WHL]... He never gets out of position and I've never seen him lose a one-on-one battle. He's always, defensively, in the right spots. He just does everything so seamlessly that he reminds me of Niedermayer only because he does everything so well at such a high level and after a while, you don't even notice it."
That's high praise for a teenager, and the Jackets will finally be able to ice this defensive anchor in the 2013-14 season.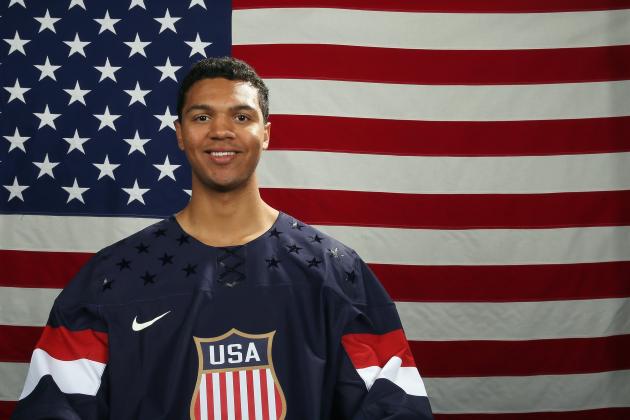 Bruce Bennett/Getty Images

Despite slipping to No. 4 at the 2013 draft, there's still no denying that Seth Jones is a special kind of player. Chris Peters, who operates the CBS Big Board, sums it up nicely:
The single biggest reason Jones has been at the top of this board all season is this: rarity. It is very rare for a defenseman like him to come along. He thinks the game at an elite level, has added more offense to his top-end defensive game, he skates well and at times has the ability to take a game over, which is hard for a defenseman to do.
Nothing changed for Jones heading into the draft. His play didn't slip and he didn't start partying or lose his focus. The Colorado Avalanche, Florida Panthers and Tampa Bay Lightning just (alarmingly) decided that they didn't need a generational defensive talent on their roster.
Their loss will be the gain of the Nashville Predators, who could use him as a top-pairing defenseman as early as this season.