UFC Hall of Fame: Does Sean 'The Muscle Shark' Sherk Belong?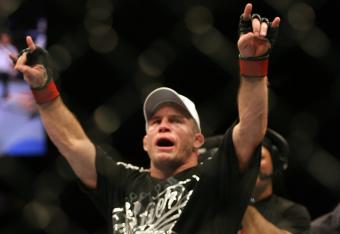 Tasos Katopodis/Getty Images
Quick, name the best lightweight in UFC history.
The majority of people will of course name B.J. Penn and that's fair. But there's another name, one that many people will likely forget to mention in terms of guys who helped grow the 155-pound division.
Sean "The Muscle Shark" Sherk was very instrumental in putting the 155-pound division on the map.
He became the second ever UFC lightweight champion by defeating Kenny Florian at UFC 64. It would be the high point of Sherk's career, as his final years were spent being under constant scrutiny, mixed results in the cage, and a litany of injuries outside it.
Prior to UFC 64, Sherk had become a very good welterweight in the promotion. He eventually earned a title shot at UFC welterweight champ Matt Hughes at 42 but was unsuccessful.
Sherk worked his way back into title contention once again, but fell short when he met current welterweight champ, Georges St-Pierre at UFC 56.
With the UFC reintroducing the lightweight division, Sherk dropped down to 155 pounds, and would find continued success. His win over Hermes Franca at UFC 73 would become a lightning rod for negative attention for "The Muscle Shark."
A failed drug test caused Sherk to be fined, and suspended by the California Athletic Commission. Although Sherk had the suspension reduced by a subsequent appeal, the fans had already made up their minds on how to view Sherk.
It also didn't help that Penn (still an overwhelming fan favorite at the time) jumped on the bandwagon of bashing Sherk over steroids.
Sherk would lose his last title shot against Penn at UFC 84 in devastating fashion, and would never again come close to title contention. He finished his UFC tenure on a 2-1 run although many fans felt Evan Dunham should've won their Fight of the Night bout at UFC 119.
Now that Sherk has decided to officially retire, can he expect a UFC Hall of Fame plaque to be coming soon?
He certainly sports a good enough record to warrant such an invite with a 36-4-1 overall record. Included in those wins were victories over Nick Diaz, Tyson Griffin, Evan Dunham, Kenny Florian, and two against Karo Parisyan (before the meltdowns).
His four losses have all come to former world champions and three of those are/will be UFC Hall of Famers themselves. The other, Frankie Edgar, may end up there if he can add a featherweight title to his resume.
Fans will likely eagerly point to his failed drug test along with being stripped of the title, but if Stephan Bonnar and his multiple failed tests, and Royce Gracie can make it, surely that's a moot point when considering Sherk's credentials.
He may not have had a lot of signature wins or been viewed as a future Hall of Famer during the time he was active, but he was one of the pioneers in the return of the lightweight division. He was also competing at a high level for such a long period of time in multiple weight classes.
With all these credentials it's hard to deny "The Muscle Shark" a place in the UFC Hall of Fame.
Lead image courtesy of ufc.com.
This article is
What is the duplicate article?
Why is this article offensive?
Where is this article plagiarized from?
Why is this article poorly edited?