Penn State Nittany Lions vs. Eastern Michigan Eagles Complete Game Preview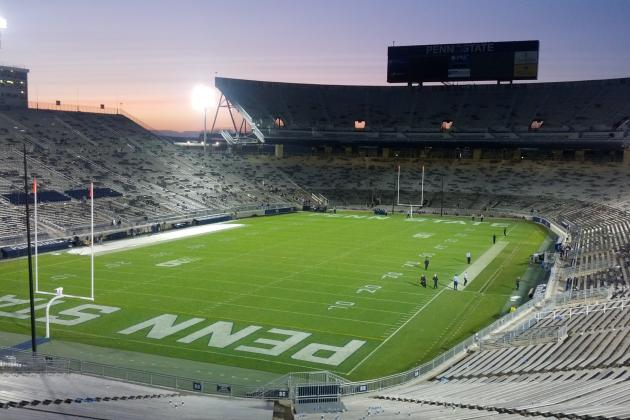 Penn State escaped MetLife Stadium last week with a 23-17 win over Syracuse, while Eastern Michigan came from behind in the fourth quarter to beat Howard, 34-24.
The two 1-0 squads will match up this Saturday after not facing each other in 2012. In 2011, when the two met, Penn State was still embedded in a quarterback battle between Rob Bolden and Matt McGloin. The two of them combined for four touchdowns en route to a 34-6 win over the Eagles.
Eastern Michigan is coming off a 2-10 season and would love to upset the Nittany Lions in their home stadium. It would be the biggest win in program history. Penn State will look to this game as a primer before the tough stretch of their schedule. It's imperative that the Nittany Lions don't get caught overlooking this opponent.
Time: Noon EST
Place: Beaver Stadium, State College, Pa.
TV: Big Ten Network
Radio: Penn State Network Affiliates
Spread: Penn State opened as a 27-point favorite, but the line has moved down to 23, meaning early money has been on the Eagles, per VegasInsider.com.
Begin Slideshow

»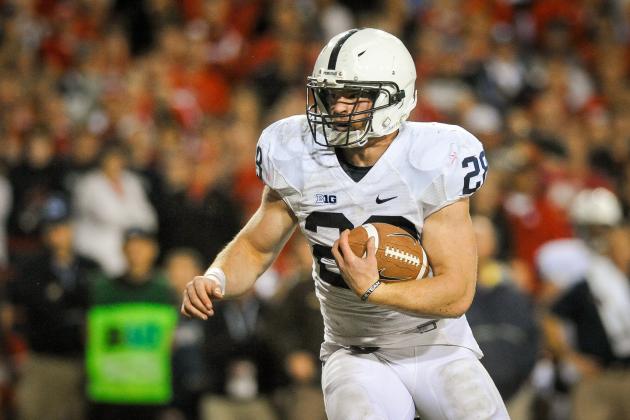 Eric Francis/Getty Images
Zach Zwinak needs to be an integral part of Penn State's offense.
Lean on Zach Zwinak
The Nittany Lions' workhorse was corralled last week by Syracuse and mustered just 61 yards on 24 carries. Expect to see heavy doses of both Bill Belton and Akeel Lynch to complement Zwinak, but there's no question he is the lead back.
Having a reliable run game will be necessary to take pressure off the young quarterback.
Don't Turn the Ball Over
Seems simple enough, but turnovers almost cost Penn State the Syracuse game. This defense looks like it will be able to keep the team in games, but not if the offense keeps putting it in harm's way.
Convert on Third Down
Penn State converted on just 1-of-16 third-down attempts last week. It wasn't a matter of being in third-and-long all day, the Nittany Lions just failed to execute. More than any other facet of their game from last week, converting on third downs may be where they need to improve the most.
These all seem like cookie-cutter "ways to win," but they are legitimate areas of concern for Penn State coming out of Week 1. The benefit to scheduling low-level MAC teams in Week 2 is the opportunity it affords teams to correct mistakes.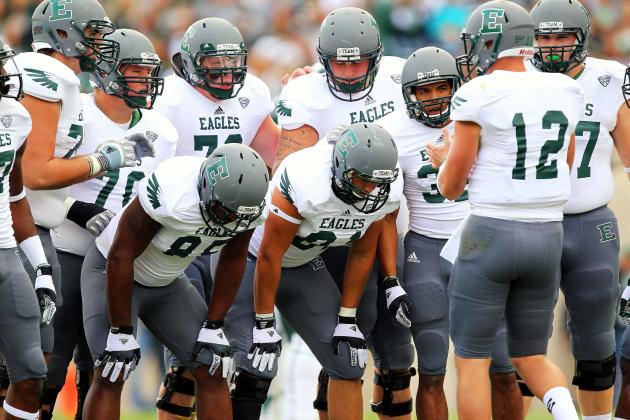 Mike Carter-USA TODAY Sports
Eastern Michigan Keys to Victory
Control the Ball
The Eagles do not want to get in a shootout with a bigger, stronger, faster Nittany Lions offense. To keep Penn State off the field, they'll need to rely heavily on a ground game that averaged over four yards per carry last week while producing a 100-yard rusher.
Put Hackenberg Under Pressure
As Syracuse did last week, EMU will need to rush the passer. In doing so, look for some unique blitz schemes in an attempt to confuse the young QB. They should make Hackenberg prove to them that he isn't prone to making the same mistakes that cost him two interceptions last week.
Force Turnovers
Whether it be on special teams or defense, EMU will need to get some extra possessions to wear down the Penn State defense. The Nittany lions turned the ball over four times last week, and the Eagles will need to exploit that for any chance to leave Happy Valley victorious.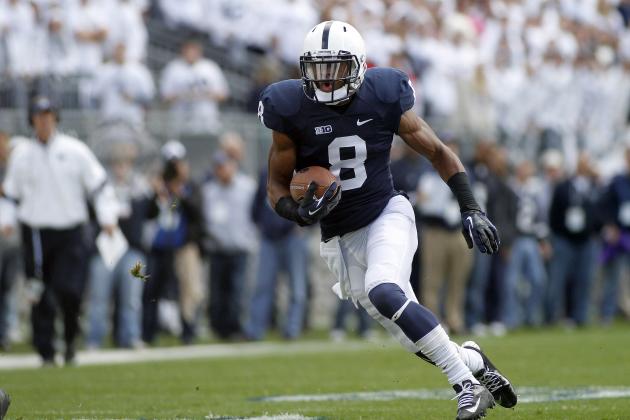 Justin K. Aller/Getty Images

WR Allen Robinson
After missing the first half against Syracuse, Robinson returned and amassed enough catches to put him atop the Big Ten in receiving. With a full game against what appears to be inferior competition, Robinson may put together a highlight reel.
TE Jesse James
After having only four catches in Week 1, look for O'Brien to get his tight ends more involved on Saturday. With Matt Lehman lost for the year, James could be in line for a big day.
DT DaQuan Jones
Personally, I'm eager to see if the senior defensive tackle can duplicate his nine-tackle performance from last week. If so, Jones will land himself early All-American consideration and will keep future opposing coaches up at night.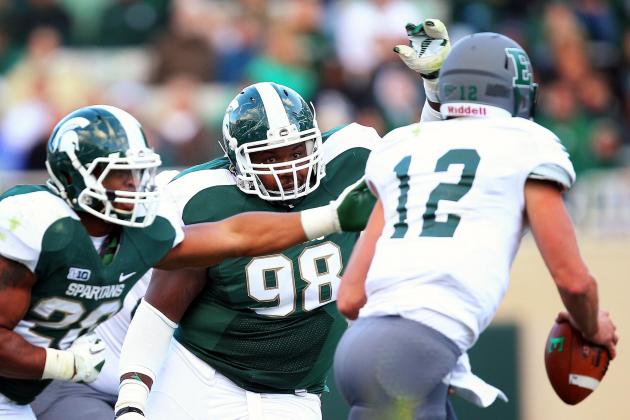 Mike Carter-USA TODAY Sports

QB Tyler Benz
The junior quarterback was 19-of-26 last week and will look to find success against the Penn State secondary that hasn't yet been truly tested. While the young PSU corners looked good, Benz will need to challenge them early and often in hopes to find a weakness.
RB Bronson Hill
Hill rushed for 900 yards as a sophomore and picked right up where he left off, going for 100 yards and a pair of touchdowns last week. He'll need to find success where the Syracuse running backs were unable to in order to keep his defense off the field. Expect his backfield partner, Darius Jackson, to see some more action after his seven-carry, 64-yard performance last week.
LB Sean Kurtz
In the first extensive action of his career, Kurtz recorded a 13-tackle performance and added an interception. He'll need to make big plays this weekend in order to contain Zwinak and slow down the Penn State offense.
Key quotes from Bill O'Brien's Tuesday teleconference, per GoPSUSports.com:
Defensively they (Eastern Michigan) pose problems scheme-wise. They line-up in different fronts and coverages, and they're going to pressure you. They play tough, they have some kids that can really run and you better be on your P's and Q's because they're going to come after you. I think offensively it's similar to what Syracuse was. You're going to see spread gun run-type things and schemes that try to take advantage of your schemes.
Regarding Christian Hackenberg:
"Christian is the starter and Tyler [Ferguson] needs to be ready to play, but Christian is the starter....I think he's mature, well-spoken, he's bright, humble, he loves his teammates and he loves Penn State. Here is a guy, just like a lot of these guys in the freshman class that could have gone anywhere. He had scholarships to over 50 schools, and he committed to us before the sanctions came out, and he stuck with us when the sanctions came out. Down the road, no matter what happens in his career, 10 years down the road he's all of these guys that did that, because there is more than just him, they're better men for having done that."
On dealing with the loss of tight end Matt Lehman:
...it's not about limiting, it's about what personnel groups are we going to use now that we don't have Matt Lehman? When you lose a good player, it's not good for anybody but it is about the "next man up," and that might be a receiver, a running back, another a guy that you move over from defense to do things for you."
On Stephen Obeng-Agyapong's versatility:
He's one of our guys who is a multirole guy. Yesterday he practiced with the linebackers, and today he will practice with the safeties, and tomorrow he's going to practice with the fullbacks, and the next day he might practice with the tight ends, and Friday maybe special teams. I'm being serious. We have a lot of guys like that. He's a multipurpose guy, and he understands that and he will fill those roles admirably.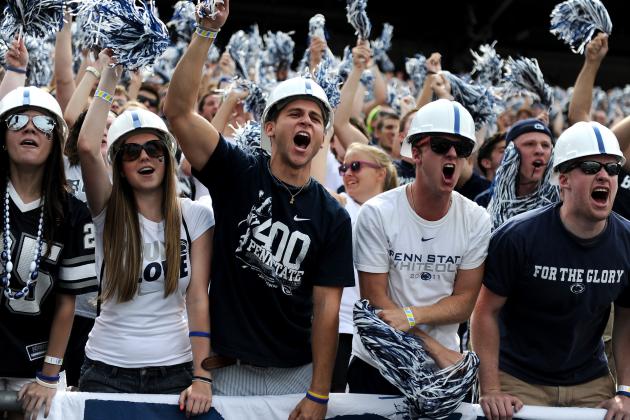 Patrick Smith/Getty Images

I look for Penn State to find success on the ground, giving Zwinak, Bill Belton and Akeel Lynch each their share of work. Bill O'Brien will also look to use this game as an opportunity to open things up for Christian Hackenberg, who will shine with his full stable of receivers available for four quarters.
The Eastern Michigan offense will have little success running the ball and will be forced to air it out, which will give fans a good look at the new secondary's abilities. From what we saw last weekend, Jordan Lucas and Trevor Williams are more than capable of handling the challenge.
Despite a big play on offense and a couple of forced turnovers, the Eagles of Ypsilanti will not have enough firepower to keep up with the Nittany Lions.
Prediction: Penn State 34, Eastern Michigan 10