WWE Night of Champions 2013: Updated Card Predictions for PPV Event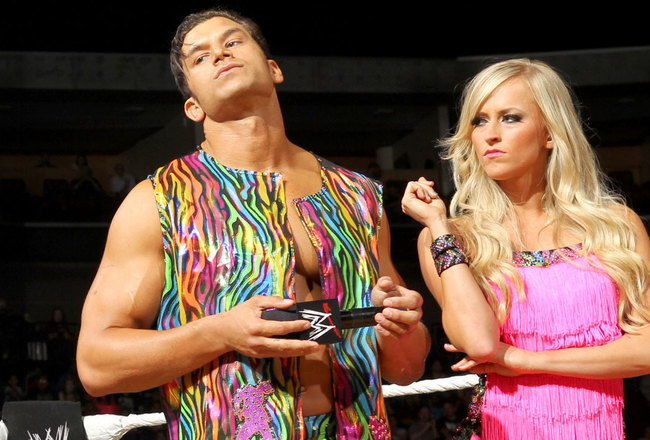 (Photo: WWE.com)

The Night of Champions puzzle is starting to slide into place.
The pay-per-view event has added several confirmed matches over the last few weeks, but what will the rest of the card look like? Who will challenge for the tag titles, the U.S. title and find their way onto the show on non-title matches?
Recent events on WWE programming have taken some rumored bouts off the table.
Mark Henry's hamstring injury and Triple H firing Cody Rhodes has it looking like we won't see The World's Strongest Man challenge The Shield or Rhodes continue his feud with Damien Sandow. Other Superstars get a shot in their stead.
The following is a set of predictions that build the Night of Champions card based on those recent happenings and emerging rivalries and patterns.
Confirmed Matches
As of now, four matches are already set.
Daniel Bryan takes on Randy Orton for the WWE Championship, CM Punk looks to gain revenge against Paul Heyman and Curtis Axel, and Alberto Del Rio defends his world title against Rob Van Dam.
Monday's WWE Raw gave us another official bout when Stephanie McMahon announced that AJ Lee would have three challengers at Night of Champions.
AJ must face Brie Bella, Natalya and Naomi. Those are some of the women the Divas champ trashed in a vicious promo on last week's Raw who will surely look to get her back for her harsh words.
The Shield vs. the Prime Time Players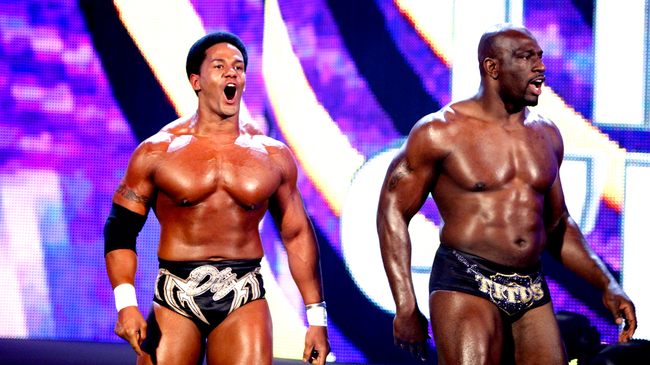 (Photo: WWE)

Mark Henry's hamstring holds him and his giant partner back as The Prime Time Players step in and take their place.
Henry not appearing on Monday's WWE Raw leads one to the conclusion that the company is worried about his injury and holding him out of action. That means his impending collision with Roman Reigns and Seth Rollins has to be put on hold.
With their recent victories over The Real Americans and 3MB, Darren Young and Titus O'Neil have become the de facto No. 1 contenders for the title. The Shield's other options for challengers include The Usos, but we've seen less of that team onscreen since their last few attempts at claiming the championships.
The Prime Time Players' recent face turn puts them in perfect position to take Big Show and Henry's place, but enter as huge underdogs against the Triple H-backed champs.
Miz vs. Fandango
The first feud ever started by a wrestler interrupting another one's SummerSlam hosting duties will continue into Night of Champions, despite the lack of gold on both Miz and Fandango.
In between emotional matches like the CM Punk vs. Paul Heyman and Curtis Axel war and Daniel Bryan challenging for Randy Orton's WWE Championship, WWE is going to need something light, something to cleanse the palate.
Miz and Fandango's feud is perfect for that role.
Fans have seen Miz imitate Fandango and spin Summer Rae around outside the ring in what's been a filler rivalry. Expect some mid-match dancing for WWE to play up Miz injuring Fandango's nose on Monday's Raw and for Summer Rae to get involved.
Bray Wyatt vs. Christian
This prediction is more of a blind guess than the others, as nothing on WWE programming has hinted at this.
Both Bray Wyatt and Christian are without a match and without a feud at the moment and could find themselves paired together based mostly on being among the last remaining pieces to plug in. Wyatt needs a pay-per-view match to keep his momentum going and Christian is an opponent who will produce an exciting match with him.
Wyatt needs a new victim with Kane out. Christian's veteran status and popularity make a victory over him a boost to Wyatt's resume.
Kane will surely return and seek to get the "Eater of Worlds" back, but Christian plays Wyatt's prey for the time being.
Dean Ambrose vs. Dolph Ziggler
Dolph Ziggler's comments about how the SummerSlam main event played out made him one of Triple H's early targets during his recent reign of terror. It's been The Shield who have doled out the punishment to Ziggler.
Follow that up with Dean Ambrose attacking Ziggler before his match against Ryback on Monday's WWE Raw and it appears that the recent world champ will get a shot at the United States Championship.
Ambrose is without another clear option at this point and, against Ziggler, not only looks to extend his title reign but also to cause Ziggler to suffer.
Keep Reading