Picks, Predictions and Prognosis for Every Week 2 SEC Football Game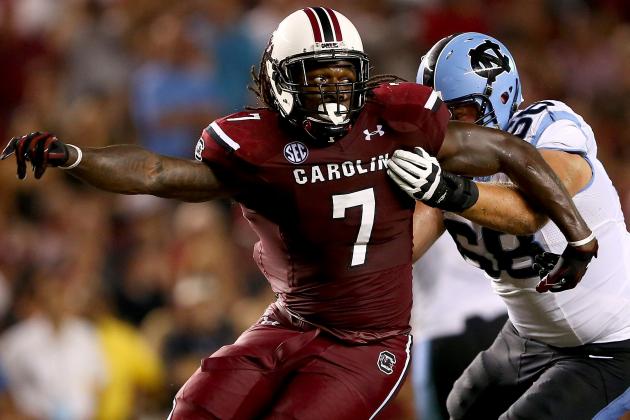 Streeter Lecka/Getty Images
South Carolina DE Jadeveon Clowney
Week 1 is in the books, and questions remain in the SEC.
Georgia will look to rebound in its SEC opener versus South Carolina, after falling to Clemson in Death Valley on the first weekend of the season. The winner of that game will establish itself as the front-runner in the SEC East and will play with a target on its back until further notice.
Florida will look to build off its dominating win over Toledo during a trip to Miami to take on the Hurricanes, in what is undoubtedly the second-most intriguing matchup of the weekend. Will Florida's defense stop 'Canes running back Duke Johnson, or will Johnson run wild?
Our picks for those two games and the rest of Week 2 action in the SEC are in this slide show.
2013 Record: 11-2 (8-3 ATS)
All Lines Courtesy: VegasInsider.com
Begin Slideshow

»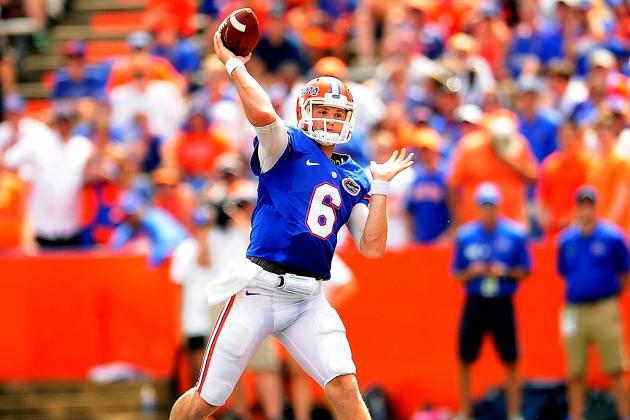 Stacy Revere/Getty Images
Florida QB Jeff Driskel
Saturday, Sept. 7 at noon ET
The good news for Florida is that the Gators found out in Week 1 that they can win in the exact manner they did last year: with a stingy defense and a punishing running game.
The bad news for Florida is that the Gators found out in Week 1 that they can win in the exact manner they did last year: with a stingy defense and a punishing running game...and not finding out anything else.
In other words, "they are who we thought they were."
The downfield passing game was non-existent for the Gators against Toledo. Sure, quarterback Jeff Driskel was solid in completing 17-of-22 passes for 153 yards and a touchdown, but he averaged just seven yards per attempt.
Getting running back Matt Jones and cornerback Loucheiz Purifoy back is nice, but neither answers the Gators' biggest question.
Florida didn't find out if it could dig out of a hole with an effective downfield passing game, and Miami has the type of offense that can put Florida in a hole very quickly.
Miami's Duke Johnson looked like a Heisman Trophy candidate last week versus Florida Atlantic, rushing for 186 yards and a touchdown. If Florida suffers a couple of blown assignments on defense or misses a key tackle or two, Johnson is fully capable of flipping the script and forcing Florida to open things up.
That's exactly what will happen, even though linebacker Antonio Morrison will be part of a host of Gators returning to action.
Miami's offense versus Florida's defense will be fun to watch. Johnson will top the century-mark on the ground and put too much pressure on a Florida offense that's entirely too one-dimensional.
Prediction: Miami 24 - Florida 21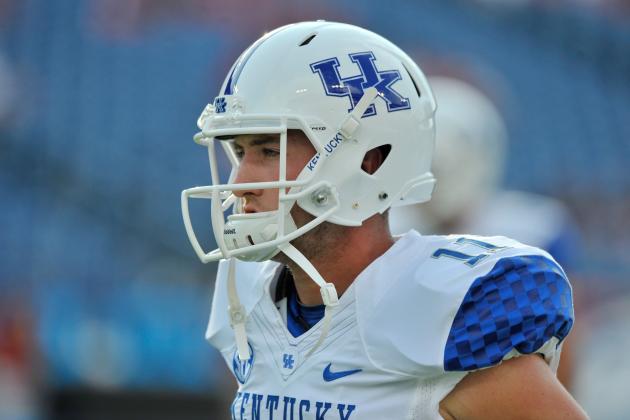 Jim Brown-USA TODAY Sports
Kentucky QB Maxwell Smith
Saturday, Sept. 7 at noon ET
The Mark Stoops era at Kentucky kicked off with a resounding thud, as the Wildcats dropped their opener 35-26 to Western Kentucky.
Maxwell Smith will start at quarterback after emerging as the top option against the Hilltoppers with 125 yards passing and a touchdown. Now that Smith will provide some stability, expect the passing game to improve and for running back Raymond Sanders—who rushed for 98 yards last week—to get more involved out of the backfield.
While the offense drew headlines because of the quarterback, it's the defense that needs work. Kentucky gave up 487 yards to Western Kentucky, which was moving the ball at will.
Miami got run 52-14 by Marshall last week. If Kentucky's defense suffers more breakdowns against this crew, sound the alarm bells Big Blue Nation.
Kentucky will get back on track, but they better relish this win because there won't be many more this year.
Prediction: Kentucky 31 - Miami (Ohio) 17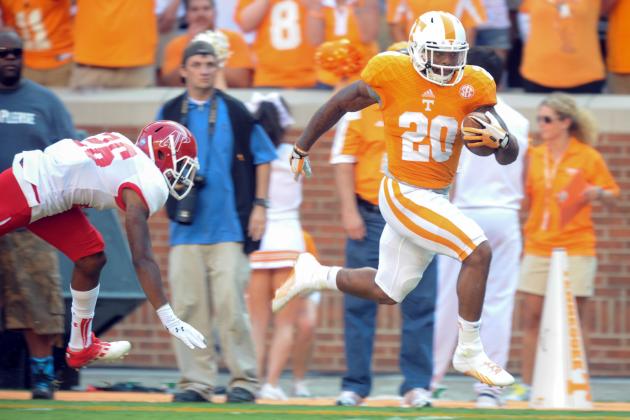 Randy Sartin-USA TODAY Sports
Tennessee RB Rajion Neal
Saturday, Sept. 7 at 12:21 p.m. ET
Austin Peay didn't challenge that new-look Tennessee defense last week, but Western Kentucky sure will. The Hilltoppers will look to go 2-0 versus the SEC on their trip to Rocky Top—a trip that should have the attention of Vol Nation.
Tennessee's defense didn't suffer any breakdowns or blown assignments last week, which is good considering the trials and tribulations of last season. But this is Western Kentucky, not Austin Peay. The Vols will have their hands full trying to corral running back Antonio Andrews and the rest of Bobby Petrino's squad.
Petrino is smart enough to coach his team to the end zone, but not enough to keep this one close. Tennessee running back Rajion Neal will build off the momentum from his 141-yard effort, quarterback Justin Worley will air it out a bit and the Vols will get some much-needed momentum heading into back-to-back road trips against Oregon and Florida.
Enjoy it, because Tennessee handling its business against lesser teams is certainly a step in the right direction.
Prediction: Tennessee 35 - Western Kentucky 17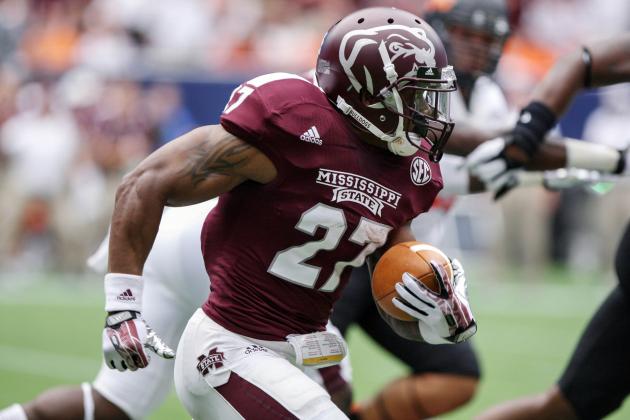 Troy Taormina-USA TODAY Sports
Mississippi State RB LaDarius Perkins
Saturday, Sept. 7 at 3:30 p.m. ET
Be careful, Dan Mullen. If you're not careful, Alcorn State could come in to Davis-Wade Stadium a...
...ok, I'll stop.
Mississippi State's season didn't get off to the best start on Saturday in a 21-3 loss to Oklahoma State in Houston, but the Bulldogs will get back on track this week against Alcorn State. Quarterback Tyler Russell is doubtful after suffering a head injury last week, but backup Dak Prescott is capable of handling the load.
Mullen's crew needs to get back to its bread-and-butter—running the football with LaDarius Perkins. Perkins rushed for 50 yards and caught three passes for 52 yards last week, but was a non-factor in the second half. That's a credit to Oklahoma State's defense, but if you're Mullen, you have the get the ball in the hands of your star—especially behind that stout offensive line.
Prediction: Mississippi State 49 - Alcorn State 9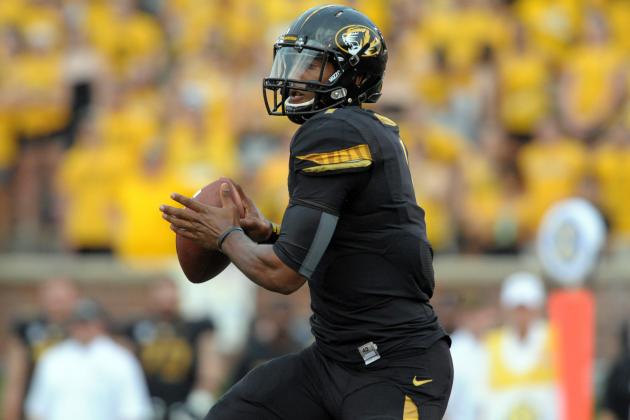 Denny Medley-USA TODAY Sports
Missouri QB James Franklin
Saturday, Sept. 7 at 3:30 p.m. ET
Missouri looked great in a 58-14 win last week over Murray State, but the competition kicks up a notch this week with the Toledo Rockets coming to town.
The Rockets were stymied by Florida last week; but make no mistake, this offense can move up and down the field. It'll be a good test for that Tiger defense after it toyed with the Racers last week.
Offensively, expect another balanced approach from head coach Gary Pinkel's crew—led by running back Henry Josey, who rushed for 113 yards and a touchdown in his return after sitting out all of last season with a knee injury.
He and fellow running back Russell Hansbrough both topped the century-mark last week, quarterback James Franklin spread the ball around to a variety of receivers for his 318 passing yards, and the Tiger offense looked like a well-oiled machine.
You know, the kind that worked well in the Big 12 two years ago?
The Tigers will build some more momentum as their non-conference schedule continues.
Prediction: Missouri 42 - Toledo 20
Saturday, Sept. 7 at 4:30 p.m. ET
The biggest game of the weekend (sorry Michigan vs. Notre Dame) takes center stage Saturday afternoon when South Carolina visits Georgia in what could be the de facto SEC East Championship Game.
Georgia's defense remains the subject of much speculation after giving up 38 points in a loss to Clemson last week, but it is the team's inability to protect quarterback Aaron Murray tops the list of things to fix this week, especially with Jadeveon Clowney and Co. coming between the hedges.
Say what you will about Clowney's "conditioning" issues, but the Gamecock defense was strong last week, allowing just 293 yards to a North Carolina team that topped the 400-yard mark in each game last season.
Expect Georgia to run some no-huddle early on in order to find out if Clowney's issues were a result of a stomach bug or a product of poor offseason conditioning. Once they find out that he's fine—and yes, he's fine—this will turn into an old-fashioned slugfest between two physical teams that is going to be won and lost in the trenches.
In the end, Georgia will get a big play or two from running back Todd Gurley, and that will be enough to put the 'Dawgs on top.
Prediction: Georgia 21 - South Carolina 17
Saturday, Sept. 7 at 7 p.m. ET
Are you a believer in LSU yet? After that performance versus TCU on Saturday night, you should be.
The Tigers looked the part of a title contender in a 37-27 victory over the Horned Frogs at JerryWorld, and they answered virtually every outlying question in the process. Quarterback Zach Mettenberger looked like an NFL prospect throwing for 251 yards and a score, Terrence Magee and Alfred Blue filled in for Jeremy Hill at running back with no speed bumps, and the defense held TCU to just 259 yards.
That's strong, really strong.
Now UAB rolls to town for the Tigers' home-opener simply looking for that paycheck, because a win is out of the question.
Troy quarterback Corey Robinson completed 30-of-32 passes on the Blazers last week, as the Trojans rolled up 497 yards on UAB.
Do you think LSU can top that output? Of course it can.
Mettenberger will post his first career 300-yard game, LSU will build depth in its talented wide receiving corps, and the defense will make another statement—well, as much of a statement as it can make against UAB.
Prediction: LSU 45 - UAB 3
Saturday, Sept. 7 at 7 p.m. ET
Johnny Manziel will get a full contest (well, at least in theory) to fine tune his game against Sam Houston State in preparation for next week's showdown against Alabama in College Station.
What should we expect from "Johnny Football?"
He needs to continue his work on becoming a better pocket passer. You saw him go through his progressions last week before bailing, and he needs to do more of that this week. It was a stated goal of his all offseason, and doing it in game action with a new crop of receivers that he needs to become more comfortable with should be his priority in this one.
He'll go north of 400 total yards, toss three touchdowns and generally light up the scoreboard—or, as Manziel calls it, "a normal Saturday."
His "antics" dominated headlines in Week 1, but it was the defense that has Aggie fans worried. Giving up 509 yards and 31 points—even with several starters suspended—isn't going to cut it by any stretch of the imagination.
Linebacker Steven Jenkins, defensive end Gavin Stansbury and cornerback De'Vante Harris will stay suspended versus the Bearkats, and cornerback Deshazor Everett will miss the first half after being ejected for targeting in the second half of last week's contest, according to Jeff Miller of USA Today. Defensive lineman Kirby Ennis and safety Floyd Raven will return, and they need to help build some confidence in a defense that can't be confident after what Rice did to them in the opener.
Prediction: Texas A&M 55 - Sam Houston State 20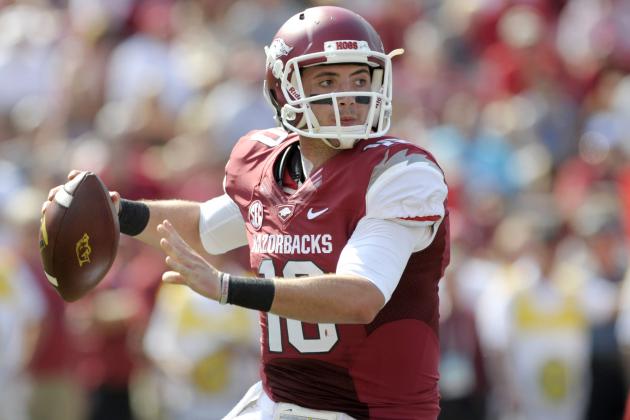 Beth Hall-USA TODAY Sports
Arkansas QB Brandon Allen
Saturday, Sept. 7 at 7 p.m. ET
With apologies to Tennessee's Butch Jones, Arkansas' Bret Bielema had the most impressive debut of the four new SEC coaches. Two Hogs—Jonathan Williams and Alex Collins—topped the 130-yard mark on the ground, and quarterback Brandon Allen was solid in completing 15-of-22 passes for 230 yards and three touchdowns.
That'll work.
Bielema's offense gets another tuneup with FCS foe Samford coming into to Little Rock, fresh off a win at Georgia State.
Expect the exact same game, but flip the script on the running backs and expect Collins to out-rush Williams. Williams briefly left the game last week with a shoulder injury, and even if he's 100 percent, the Hogs are best-served to play it cautious with Williams and let the freshman Collins continue his transition to college ball.
This one will get ugly because that's the way Bielema wants it.
Prediction: Arkansas 42 - Samford 13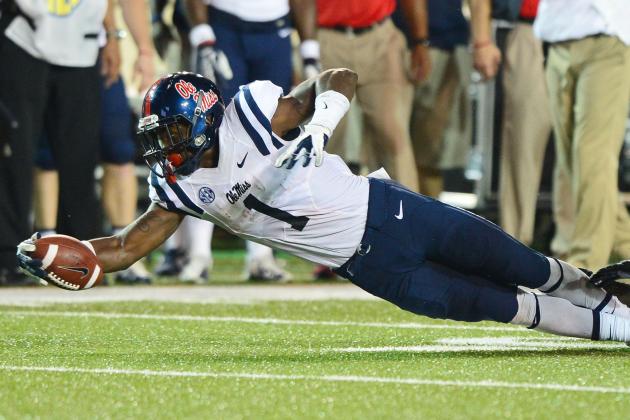 Don McPeak-USA TODAY Sports
Ole Miss WR Laquon Treadwell
Saturday, Sept. 7 at 7 p.m. ET
This is the last sure win on Ole Miss' schedule before its Oct. 26 meeting with Idaho, so expect the Rebels to have a little fun in their home-opener versus Southeast Missouri State.
This game is all about building depth.
Getting Jaylen Walton, I'Tavius Mathers (if he's healthy) and the rest of the unproven running backs ready to go behind starter Jeff Scott is priority No. 1. Also, giving Barry Brunetti some more of the playbook in passing situations and figuring out exactly how that defense is going to function without linebacker Denzel Nkemdiche are the other goals for this one.
All of them will be accomplished.
Expect the Rebels to come out a little bit sluggish but kick things into high gear in the second quarter as they waltz to an easy win.
It'll be the first and last easy win for these Rebels until the leaves start changing colors.
Prediction: Ole Miss 55 - Southeast Missouri State 10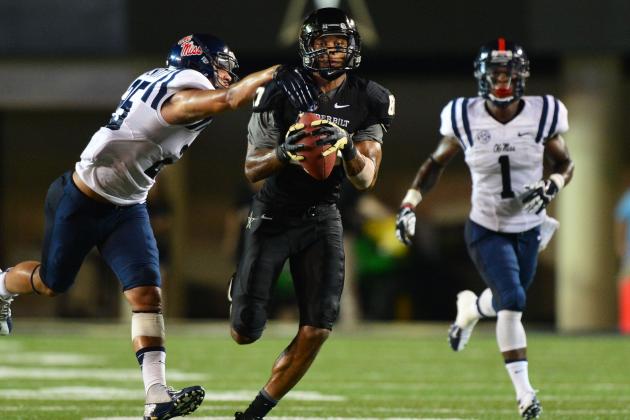 Don McPeak-USA TODAY Sports
Vanderbilt WR Jordan Matthews
Saturday, Sept. 7 at 7:30 p.m. ET
After playing Tennessee last week, Austin Peay wraps up its two-week SEC tour of the state with a trip to Nashville to take on the Vanderbilt Commodores. Don't expect this week to be any different for the Governors.
Vanderbilt lost a heartbreaker to Ole Miss on opening night, and they will come out angry on Saturday night. We saw just what kind of offense Vandy has last week, as they rolled up 426 yards, Jordan Matthews hauled in 10 passes for 178 yards and a score, and running backs Wesley Tate, Jerron Seymour and Brian Kimbrow all got touches in a variety of ways.
Head coach James Franklin's defense got caught up in Ole Miss' wave of momentum in the second half last week, stirring up some questions about Vanderbilt's depth. Here's a perfect chance to build that depth.
This one will get ugly because Vanderbilt is angry—and, you know, because it's Austin Peay.
Prediction: Vanderbilt 55 - Austin Peay 13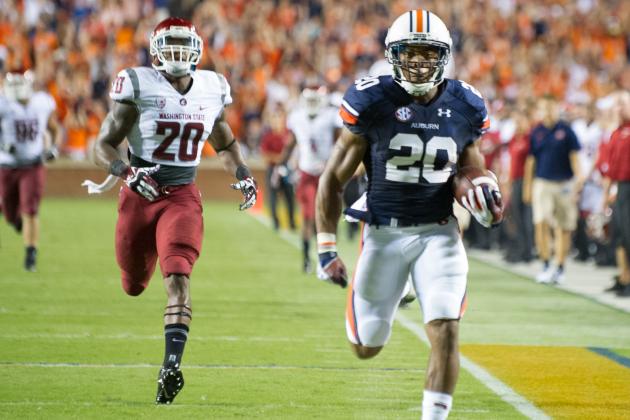 Michael Chang/Getty Images
Auburn RB Corey Grant
Saturday, Sept. 7 at 7:30 p.m. ET
Auburn head coach Gus Malzahn takes on his former team in just his second game on the Plains, as the Tigers host Arkansas State on Saturday night at Jordan-Hare Stadium.
Malzahn's history with the Red Wolves makes this game interesting. Some folks in Jonesboro weren't happy with the way Malzahn left, and his former players will undoubtedly want to make a statement against their former coach.
Conversely, Malzhan is familiar with virtually that entire roster, which gives the Tigers a major advantage over the out-manned Red Wolves. That's a big reason why the line in this one jumped from six to 13 in a matter of hours on Monday.
In the end, this game is all about quarterback Nick Marshall. Marshall didn't turn the ball over last week against Washington State which was a step in the right direction. But he still wasn't consistent enough in the passing game to be considered the dynamic playmaker he needs to be for the Tigers to be successful.
Arkansas State rolled up 672 yards and 62 points in a win over Arkansas-Pine Bluff last week, which means Auburn's defense—which had three picks last week—better come to play.
Can you say shootout? Because that's what this will turn into in a hurry.
Marshall will top 300 total yards and account for four touchdowns, Tre Mason, Corey Grant and Cameron Artis-Payne will all be big factors as running backs and receivers out of the backfield, and Auburn will win a wild one.
If Marshall makes a couple of turnovers at the wrong time, though, don't be surprised if the Tigers get upset.
Prediction: Auburn 47 - Arkansas State 38