Full Week 1 Stat Predictions for San Francisco 49ers Offense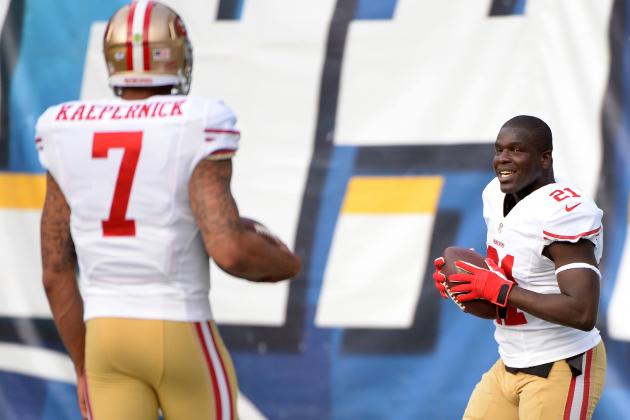 Harry How/Getty Images

With the preseason finally wrapped up, we can focus all our attention on the much-anticipated start of the regular season. For the San Francisco 49ers, the Green Bay Packers are first at-bat.
As we all know, these two teams have a history.
Last year's divisional playoff matchup between the Packers and 49ers demonstrated two things. The first points to how the 49ers exposed the Packers defense.
This brings me to my second point. While the entire Packers defense collapsed, most Green Bay fans blame Kaepernick and his darn running ability for all the headaches.
Can we blame them?
Kaepernick was fantastic. In fact, the entire 49ers offense was fantastic. Though, the other parts tend to get lost when your quarterback runs for over 180 yards in a single game.
The Packers and 49ers will face off once again in Candlestick Park, but will the outcome be any different?
Let's take a look at some stats for this riveting Week 1 matchup.
Begin Slideshow

»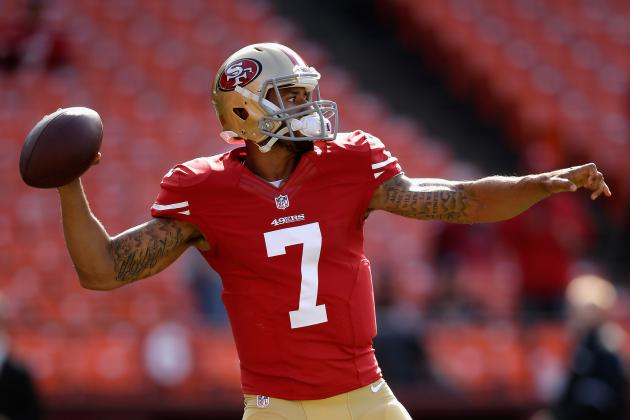 Ezra Shaw/Getty Images

Colin Kaepernick will have finally have his shot as the full-time starter at quarterback. Many will watch this game to determine if Kaepernick is the real deal.
As a dual threat quarterback, Kaepernick can gouge opposing defenses with both his legs and arm.
Kaepernick isn't just a running quarterback, as many 49ers fans have countlessly restated. Is he polished product as a pocket passer? No, but from what I saw in preseason, Kaepernick looks far more comfortable in the pocket.
More importantly, it seems his ability to read defenses is improving. Also, I saw a handful of instances in the preseason where Kaepernick was making excellent progression reads.
This is important considering his early struggles against the Packers in last year's playoff matchup.
Nevertheless, I still expect Kaepernick to have a solid game against the Packers. Don't expect Kaepernick to have a historic rushing performance, but the former Nevada product should still shine against a suspect Packers defense.
Colin Kaepernick: 24/31, 264 yards, 10 carries 80 yards, 3 total TDs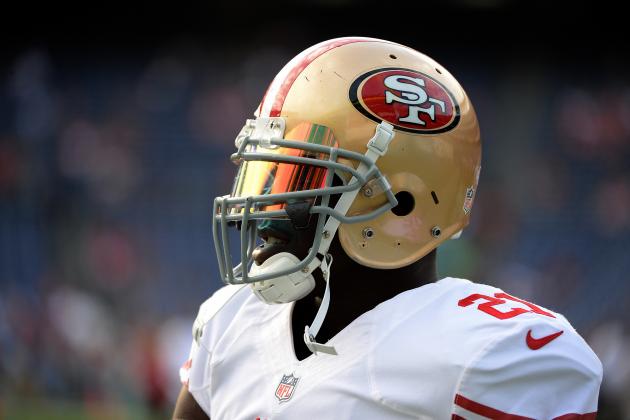 Harry How/Getty Images

Kaepernick was fantastic on the ground in last year's playoff matchup against the Packers, but Gore also had a nice day rushing the football.
Gore accumulated 119 yards on the ground, while also adding nearly 50 receiving yards to boot. His performance was fantastic, and yet we hear little to nothing of the underrated star.
Look for Gore to have a big day on the ground once again.
This Packers defensive line welcomes rookie starter, Datone Jones. If you don't know Jones, maybe this will refresh your memory.
Despite some new additions, this Packers defense will trot out most if not all of the same starters that underperformed last year against the 49ers.
I can see some improvement in the secondary because of improved health, but this defensive line can still be pushed around by a physical front. Unfortunately for the Packers, the 49ers return all five starters at offensive line.
Remember, this is the same offensive line that paved the way for Frank Gore to run for over 1,200 rushing yards, with a 4.7 yards per carry average. Not to mention, this offensive line has two All-Pro linemen in Joe Staley and Mike Iupati.
Also, we shouldn't forget that Gore had success against the Packers in their Week 1 tilt during the regular season last year. Gore ran for 112 yards, while backup running back Kendall Hunter contributed 41 rushing yards on just nine carries.
Frank Gore: 19 carries, 107 yards, 2 catches, 20 yards, 1 TD
Kendall Hunter: 6 carries, 25 yards
Anthony Dixon: 2 carries, 6 yards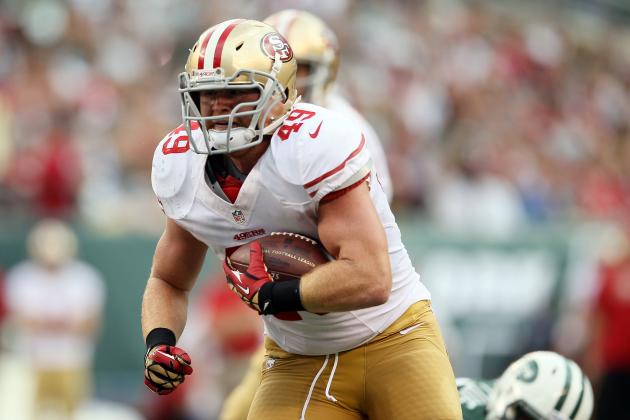 Elsa/Getty Images

The fullback position is a dying breed in this pass-happy NFL. Fortunately, the 49ers still employ the services of a fullback and a darn good one at that.
Bruce Miller, who was a former defensive end, mainly serves as the lead blocker for this 49ers rushing attack. However, Miller is athletic enough to be a factor in the passing game.
In the last two bouts with the Packers, Miller didn't factor much in the passing game. He did have a nice 15-yard reception in last years opening game against the Packers, but again, the 49ers rarely use him as a receiver.
Miller has deceptive speed and nimble feet to go along with his brute strength. I think we see some of that in the 49ers Week 1 matchup with the Packers.
Now, I don't expect Miller to put up career numbers this Sunday. A few catches should do the trick, but don't be surprised if Miller converts on a few key third downs.
Bruce Miller: 3 catches 25 yards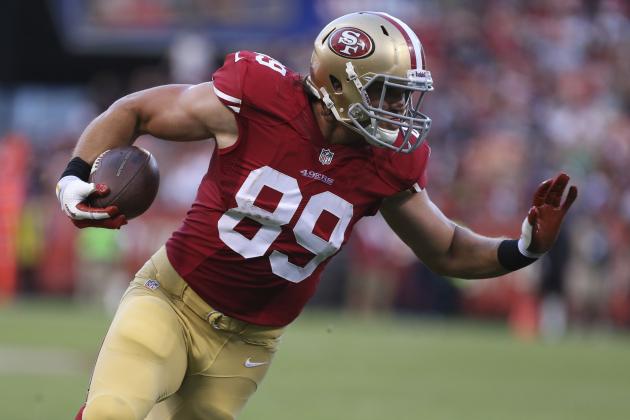 Kelley L Cox-USA TODAY Sports

Vernon Davis should be the main attraction in the passing game, but watch out for Vance McDonald this Sunday against the Packers.
Davis should see an uptick in his receiving stats this season, but I think he'll have a quiet game this Sunday. Just look at the 49ers last two matchups with the Packers.
In the 49ers postseason victory last season, Davis recorded only one reception. Davis had a better performance in the last year opening game versus the Packers. He caught three passes for 43 yards and touchdown.
Look for the Packers to keep Davis in check once again. However, the Packers should have trouble with Vance McDonald.
The rookie out of Rice was a fantastic grab for the 49ers in the second round of the 2013 NFL draft. As a receiver, the 49ers can line him up in the slot or in-line. His blocking has also improved from what I saw during the preseason.
McDonald could have a sneaky performance against a somewhat overrated linebacker group for the Packers.
Vernon Davis: 2 catches, 25 yards, 1 TD
Vance McDonald: 5 catches, 65 yards, 1 TD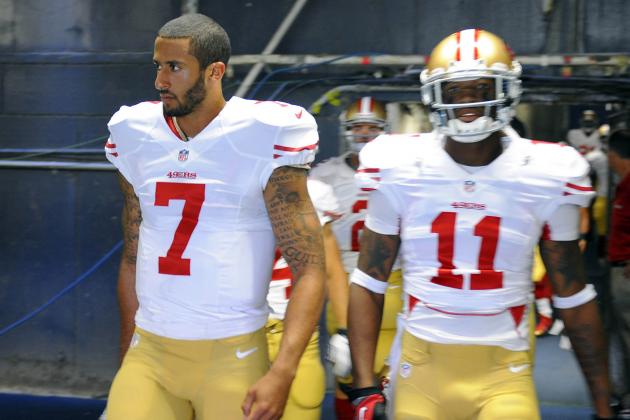 Christopher Hanewinckel-USA TODA

In the last two meetings against the Packers, Crabtree recorded 16 catches for an impressive 195 yards receiving. Crabtree could return before the season, but for now, the 49ers must rely on some of their young receivers to make up the void.
Quinton Patton is one receiver that could make an impact in Week 1. The rookie receiver came on strong in the last two-preseason games, which should help his cause against an inconsistent Packers secondary.
Like Vernon Davis, I believe Anquan Boldin could have a quiet day. The Packers will likely focus on Boldin and Davis in the passing game, which should open up opportunities for both Patton and McDonald.
Anquan Boldin: 4 catches, 35 yards
Quinton Patton: 5 catches, 75 yards
Kyle Williams: 2 catches, 14 yards
Marlon Moore: 1 catch, 5 yards