Glover Teixeira seems to be next in line for a shot at the light heavyweight title, but he'll have to knock off a perennial contender who is looking for another shot first. Ryan "Darth" Bader has been considered a top-flight fighter at 205 pounds for the past two years, but losses to Lyoto Machida, Tito Ortiz and Jon Jones have left him short of his goal to become champion.
In the main event of UFC Fight Night 28 from Belo Horizonte, Brazil, the two men will meet to see who takes a step forward and who has to go to the back of the line.
Bader vs. Teixeria is the main event, but there are five other fights on the main card and five preliminary bouts scheduled for the evening. Here's a look at the complete card, predictions and viewing information.
Below the table is an in-depth prediction for the main event and co-featured bout pitting veteran Yushin "Thunder" Okami against UFC newcomer, Ronaldo "Jacare" Souza.
UFC Fight 28 Card, Predictions and Viewing Information

| | | | |
| --- | --- | --- | --- |
| Preliminaries Begin at 4:30 p.m. ET online and switch to Fox Sports 1 at 5 p.m. | Live from Belo Horizonte | | |
| Matchup | Weight Class | Prediction | Fight Night Bonus Pick |
| Yuri Villefort (6-2) vs. Sean Spencer (9-2) | Middleweight | Villefort by submission | |
| Keith Wisniewski (28-13-1) vs. Ivan Jorge | Welterweight | Jorge by submission | |
| Joao Zeferino (13-5) vs. Elias Silverio (8-0) | Middleweight | Silverio by KO | |
| Lucas Martins (12-1) vs. Junior Hernandez (8-4) | Lightweight | Martins by KO | KO of the Night |
| Felipe Arantes (15-4-1) vs. Kevin Souza (13-3) | Featherweight | Souza by KO | |
| Fox Sports 1 Main Card at 7 p.m. ET | | | |
| Marcus Vinicius (20-5-1) vs. Ali Bagautinov | Featherweight | Vinicius by submission | Submission of the Night |
| Rafael Natal (16-4-1) vs. Tor Troeng (16-4-1) | Middleweight | Troeng by KO | |
| Francisco Trinaldo (13-2) vs. Piotr Hallmann (13-1) | Lightweight | Trinaldo by KO | |
| Joseph Benavidez (18-3) vs. Jussier Formiga (15-2) | Flyweight | Benavidez by decision | |
| Yushin Okami (30-7) vs. Ronaldo Souza (18-3) | Middleweight | Souza by submission | |
| Glover Teixeira (21-2) vs. Ryan Bader (16-3) | Light Heavyweight | Teixeira by KO | Fight of the Night |
UFC.com
Jacare Will Steal Okami's Thunder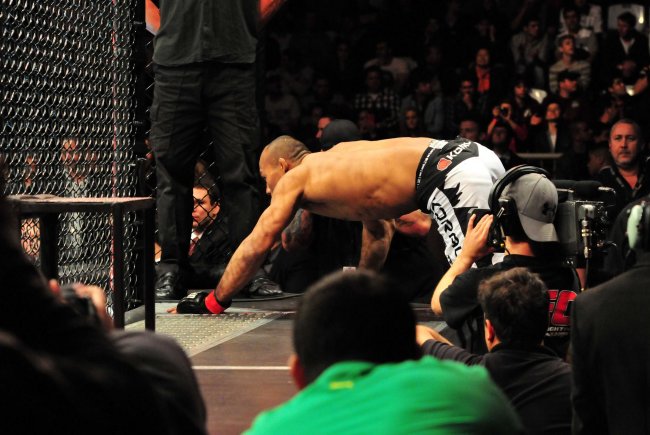 Jason da Silva-USA TODAY Sports
Jacare is one of the most exciting newcomers in the UFC. Though he's had just one fight in Dana White's promotion, the 33-year-old is a well-known and respected mixed martial artist with a record of 18-3. He's a marvelous submissions artist as evidenced by his victory over Chris Camozzi in his UFC debut in May.
Jacare slapped on the arm-triangle choke and defeated the rugged Camozzi en route to earning Submission of the Night honors.
His battle with veteran Yushin Okami should render another impressive win. Okami hasn't always demonstrated the best stamina, and against a skilled grappler like Jacare, his conditioning will be tested. I'm betting Okami can't keep up the pace and Jacare seizes the opportunity to earn his second straight submission victory.
The Dark Side Won't Prevail in the Main Event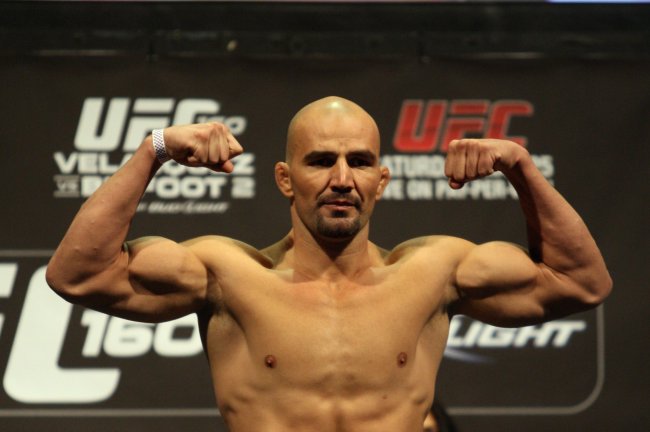 Bruce Fedyck-USA TODAY Sports
Forgive my Star Wars reference in the subheadline; I couldn't resist. Bader looks the part of a champion. He's a big, physical light heavyweight with toughness, power in his fists and a strong wrestling background, but he has always failed to get it done on the biggest stage.
Which fight will be more entertaining?
His career is starting to look a lot like Michael Bisping's.
Both Bisping and Bader are well-respected competitors who haven't taken advantage of their opportunities. Teixeira has been a wrecking ball for the last seven years, and he hasn't lost any momentum since his UFC debut in May 2012.
He's a skilled and powerful striker with a strong jiu-jitsu background. His combination of skills should be good enough to hand Bader yet another disappointing defeat.
Just for kicks, I created Teixeira on UFC Undisputed 3 and put him in a simulated bout against Bader to see who would come out on top. Teixeira's ratings were based on his FightMetric.com statistics.
In the simulation, Bader knocked out Teixeira in the third round. It was a brutal, back-and-forth battle. Fans can only hope the real fight is as thrilling.
Follow me and witness my passion for sports and video games.