A successful first performance for a rookie quarterback can come any number of ways, but for New York Jets quarterback Geno Smith, the plan is simple: Do what you do best—and don't be Mark Sanchez.
On Wednesday, the Jets announced that Smith would be the starter for their Week 1 game against the Tampa Bay Buccaneers, per Eric Allen of team's official website, which seemed like a formality given Sanchez's shoulder injury in the Jets' third preseason game.
The Jets are aware of exactly how much the Buccaneers improved, acquiring Darrelle Revis—regarded previously by Rex Ryan as the best cornerback in the NFL—in a pre-draft trade that may have enabled the Jets to wait until the second round to nab Smith.
The first thing Geno can do to ensure a successful debut? Don't book any trips to Revis Island:
Darrelle Revis in coverage

| | | | | | | | | |
| --- | --- | --- | --- | --- | --- | --- | --- | --- |
| Year | Tgt | Rec | Cth % | Yds | TD | INT | PD | Rate |
| 2009 | 127 | 48 | 37.8 | 502 | 2 | 8 | 24 | 29.1 |
| 2010 | 67 | 28 | 41.8 | 411 | 3 | 0 | 13 | 77.4 |
| 2011 | 85 | 35 | 41.2 | 508 | 1 | 4 | 16 | 45.6 |
| 2012 | 8 | 3 | 37.5 | 15 | 0 | 1 | 1 | 6.3 |
ProFootballFocus.com
When healthy, Revis has been a nightmare for opposing quarterbacks, allowing completions on just 39.7 percent of throws in his direction over the past four years. Coming off a torn ACL that sidelined him for much of the 2012 season, Revis probably isn't going to play to the level of his 2009 campaign this year. That being said, there are other cornerbacks on the Buccaneers roster who should be "picked on" before Revis.
Depending on matchups, rookie cornerback Johnthan Banks may be the one for Smith to target. Like Smith, Banks has a lot of potential but remains a work in progress. As the No. 2 cornerback on the team, he could be matched up with Stephen Hill or Jeremy Kerley depending on the situation. Targeting Banks until he proves he's up to the challenge seems like a good way to get started.
Perhaps it would help if they drew in some read-option elements to keep the defense honest. That may be a fruitless endeavor, however, as the Buccaneers allowed just 3.5 yards per carry in 2012.
The No. 1 thing Smith must do in his debut is avoid turnovers.
The Jets are moving away from former starting quarterback Mark Sanchez in part because of his shoulder injury, but largely due to his penchant for coughing up the ball to the opposing team, with a league-leading 52 turnovers over the past two season (36 interceptions, 16 fumbles lost).
An outing like the one we saw from Smith against the New York Giants—when he threw three brutal interceptions, each more brutal than the one before it—would be all the proof anyone needs to know that the Jets' current quarterback situation is not much better than their previous one.
Over the past two years, the bar has been set very high for a rookie quarterback in the first game of his NFL career. Smith needs to be careful to be true to himself and not to try to emulate those quarterbacks.
Panthers quarterback Cam Newton set the NFL record for most passing yards by a quarterback in his debut, lighting up the Cardinals for 422 yards in a narrow loss. Redskins quarterback Robert Griffin III torched the Saints defense for 320 passing yards and two touchdowns as the Redskins won in hostile territory.
Yet they both went about it differently.
Newton did most of his damage on downfield throws, hitting six of his seven passes traveling 20 yards or more through the air past the line of scrimmage:
RG3 relied on a short-to-intermediate passing attack, and only took two shots downfield of 20 yards or more, hitting one:
So there are as many paths to the top of the mountain as there are quarterbacks who can chuck a football over them mountains.
There's one thing both quarterbacks did in those performances that Smith should do his best to emulate: throw to open receivers. Cam Newton hit 64.9 percent of his throws in that first game, and RG3 hit 73.1 percent of his throws. Both of those were in the top 10 for a rookie in his debut, per Pro-Football-Reference.
One other thing you'll notice as a common thread between the two videos above is that both quarterbacks have all the time in the world to throw the ball. The Jets need to protect Geno from a defensive line that features Adrian Clayborn, Da'Quan Bowers, Akeem Spence and Gerald McCoy: The four combined for just 12 total pressures and one sack in the preseason.
Running the ball may be a fruitless endeavor, but if it keeps their defensive line honest and slows down the pass rush, the benefit will be great enough to make it worth their effort.
While it's up to Smith to execute the game plan, there's pressure on the Jets' coaching staff to draw up a game plan that can work with Smith as the trigger man.
In ways, Smith is a perfect marriage for the West Coast offense because he thrives as a timing passer, but the Jets can't be afraid to take shots downfield. It will be tough against the safety duo of Mark Barron and Dashon Goldson, but considering Geno's strengths when throwing in rhythm, the Jets need to make sure those safeties aren't creeping up and narrowing the windows on his short and intermediate throws.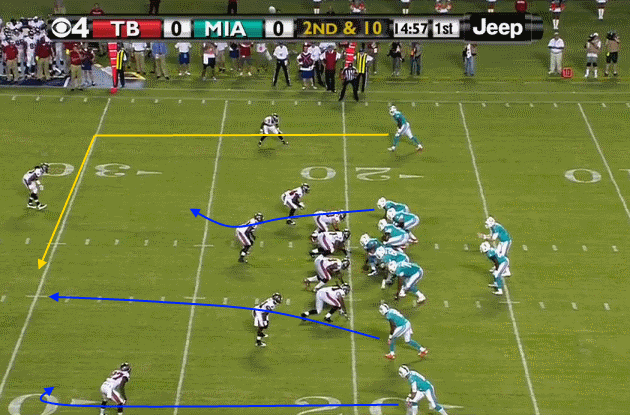 The Dolphins didn't see much off-coverage in 2012, but that was because they didn't have a deep threat like wide receiver Mike Wallace last season.
In the third preseason game, the Buccaneers' cornerbacks gave the Dolphins' receivers a lot of cushion at the snap because they understood that the deep threat is a presence that must be respected. If the Jets are able to at least create the illusion of the deep threat, they can really open the windows for some easier completions.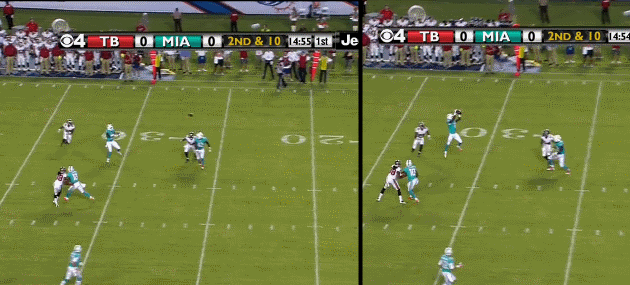 The pass seen above from Dolphins quarterback Ryan Tannehill wasn't even on the money—Wallace had to go up and grab it. Still, it was complete because Wallace had enough space and time to make the grab, and it was all a function of the corner playing off the line of scrimmage.
Football is always a chess game, so the Jets have to be careful not to be too one-dimensional, but the best thing the Jets' coaching staff can do for Smith is to play to his strengths as much as possible.
That should be enough if Smith is truly the best quarterback prospect in the 2013 NFL draft class.
Erik Frenz is also a Patriots/AFC East writer for Boston.com. Unless otherwise noted, all quotes obtained firsthand or via team news releases. This article was modified from its original version to reflect the Jets officially naming Smith as the Week 1 starter.