Peyton Manning overcame multiple neck surgeries to lead the Denver Broncos to an AFC-best 13-3 record last season, and the four-time NFL Most Valuable Player will lead his team to the AFC's best record once again in 2013.
In his first season with the Broncos, Manning put up numbers that usually would have earned him another MVP. He completed 68.6 percent of his passes and threw for 4,659 yards, which set a new career high. He had 37 touchdowns to only 11 interceptions. He had thrown for more touchdowns only one other time in his career, and that was in his record-setting 2004 season. The 11 interceptions were his fewest since 2006.
Denver got off to a 2-3 start before going on an 11-game winning streak. Manning threw 26 touchdowns and only eight interceptions during the streak.
It was a great all-around season for Manning, but the Broncos should be even better this season.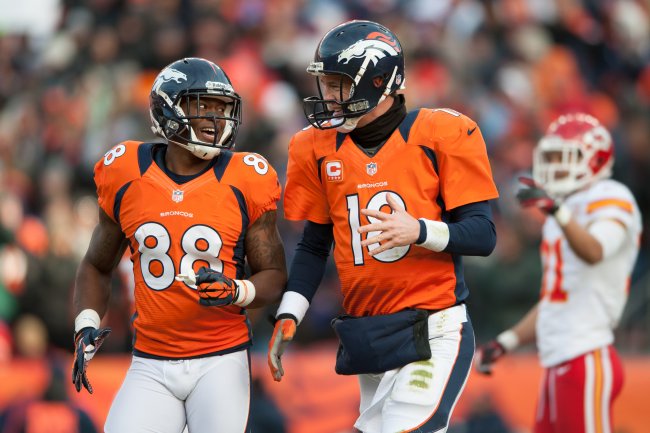 Dustin Bradford/Getty Images
Wide receivers Demaryius Thomas and Eric Decker have turned into one of the league's best duos, and Wes Welker joined the team in the offseason. Thomas had 1,434 yards and 10 touchdowns on 94 catches, and Decker had 1,064 yards with 13 touchdowns on 85 catches. Welker had 1,354 yards and six touchdowns on 118 catches last season with the New England Patriots.
Manning was able to get his receivers big numbers, and he now has one of his rival's best players from a year ago.
The Broncos struggled against good teams early on in 2012. They went 0-3 in the first five weeks against teams that made the playoffs last season. Once Manning had some time to establish chemistry with his teammates, the team won its next two games against playoff teams.
Take a look at this year's schedule:
Denver Broncos' 2013 Schedule

| | | |
| --- | --- | --- |
| Week | Opponent | 2012 Rank Against Pass |
| 1 | vs. Baltimore | 17 |
| 2 | at New York Giants | 28 |
| 3 | vs. Oakland Raiders | 20 |
| 4 | vs. Philadelphia Eagles | 9 |
| 5 | at Dallas Cowboys | 19 |
| 6 | vs. Jacksonville Jaguars | 22 |
| 7 | at Indianapolis Colts | 21 |
| 8 | vs. Washington Redskins | 30 |
| 9 | BYE | |
| 10 | at San Diego Chargers | 18 |
| 11 | vs. Kansas City Chiefs | 12 |
| 12 | at New England Patriots | 29 |
| 13 | at Kansas City Chiefs | 12 |
| 14 | vs. Tennessee Titans | 26 |
| 15 | vs. San Diego Chargers | 18 |
| 16 | at Houston Texans | 16 |
| 17 | at Oakland Raiders | 20 |
NFL.com
Denver will play five games this year against teams that made the playoffs a season ago, starting with the opener against the Baltimore Ravens.
The last time the Broncos played a game, they lost a heartbreaker to the Ravens at Sports Authority Field at Mile High. That loss has stuck with the team all offseason and should serve as motivation for this season.
More importantly, Baltimore lost most of its key names on defense, including Ray Lewis, Ed Reed, Bernard Pollard, Dannell Ellerbe, Paul Kruger and Cary Williams, so Denver should be able to have its way with the Ravens on Thursday night.
The rest of Denver's schedule sets up favorably for Manning and his receivers.
How many games will the Denver Broncos win in 2013?
Not many teams on the Broncos schedule fared well against the pass last season. Thirteen of the team's 16 games come against teams that ranked 16th or lower against the pass last year, including three of the bottom five.
When looking at the schedule, there aren't many games that will be tough on the Broncos. Thursday night will be one of the more challenging home games, and Robert Griffin III will visit Denver at the end of October.
The Broncos will have a few road games that will test them too. The Manning brothers will meet in Week 2 in New Jersey, and Peyton will have a few extra days to prepare for that game. Manning will return to Indianapolis for the first time in October, so he will be ready to show his former team that they made a mistake.
A Sunday night game in November at New England will be the game to keep an eye on, and the Patriots were the last team to beat the Broncos in the regular season. Home-field advantage in the playoffs will likely be on the line when the two teams meet, but Welker will be on the opposite sideline this time around.
The Houston Texans will host the Broncos in Week 16, but Denver may or may not have much to play for in that game. The division should be wrapped up by then, but home-field may be up for grabs. If home-field is still up in the air, Denver will be playing to win.
The last time a Manning-led team's city hosted the Super Bowl, Eli led the Giants to a championship. This time it's Eli's team that will be hosting the Super Bowl, so Peyton would love to match his brother with two rings.
Ultimately, Denver has maybe one home game that will present a serious challenge (Washington), but Von Miller will be back in time for that contest. There are a couple of road games that the Broncos may drop, however.
Manning should put up even bigger numbers this season. He is healthy and had a full season to gain chemistry with his receivers. Adding Welker will take some time to adjust to, but Manning is talented enough to make everything work.
The Broncos need to use last year's devastating playoff loss as motivation to never let up this year.
Meanwhile, the AFC North will be a battle. The Cincinnati Bengals have the edge over the other three teams in the division, but it won't be easy. The Ravens and the Pittsburgh Steelers will still be ready to play every week. That division is difficult for one team to sweep all six division games, so those teams will be beating up on each other.
The AFC South will be a two-team race. The Texans and the Colts will be battling each other and shouldn't have much trouble beating up on the other two teams in the division. However, the AFC South is paired up with the NFC West this season. The schedules will be tough on this division.
As always, the New England Patriots will lead the AFC East. They will put up a fight for the top seed in the conference. The Miami Dolphins will be a sleeper this year, but they won't be contending for home-field advantage. The best record in the conference could come down to a head-to-head tiebreaker. Although Denver will be the road team, the Broncos are the better team and should win that game.
At the end of the season, Manning should have another MVP trophy and will have led his team to the AFC's best record.
*All information is courtesy of NFL.com